Some competitors in first 2 tourneys of men's CGA championship season will be playing for a good cause — in addition to a victory
By Gary Baines – 4/26/2021
The 2021 CGA championship season begins on Friday with the Four-Ball at Legacy Ridge Golf Course in Westminster. But beyond the competition, camaraderie and just plain having fun, there will be something else at play for some of the participants.
The CGA and a number of players are spearheading an effort to combine the Four-Ball — as well as the CGA Senior Four-Ball May 25-27 at Thorncreek Golf Course in Thornton — with a fund-raising effort for a good cause.
In an idea that was the brainchild of competitor Chris Thayer, who did it on his own at last year's CGA Four-Ball, some players in both the 2021 Four-Ball and the Senior Four-Ball will participate in a "Charity Challenge" that will raise money for the Youth on Course initiative.
YOC is an ever-growing non-profit program which makes golf more accessible for juniors by capping their cost for a round at $5 at participating facilities. Youth on Course was founded in 2006 and was first rolled out in Colorado in 2018 by the CGA in conjunction with the Colorado PGA through the Junior Golf Alliance of Colorado.
For the Four-Ball and Senior Four-Ball, players have the option of participating in the Charity Challenge and can solicit donations — fixed amounts, on a per-birdie/per-eagle basis or otherwise — that will be forwarded to Youth on Course.
To see the CGA Four-Ball competitors who are participating and/or those contributing to the cause, CLICK HERE. For the Senior Four-Ball, CLICK HERE.
Last year, Thayer said he raised about $2,600 for YOC while giving his idea a try.
The resident of Golden said recently via email that he "was just inspired by some other tournaments I had seen it done with. Most notably, the Illinois PGA has a similar event, but they play one day for as many holes as they can do. I wanted to do something that would leverage an existing event with minimal additional work by the CGA — so this idea was born.
"Last year I raised about $2,600; it was overwhelming the support I got from friends and family. As a tournament golfer, we don't usually have the opportunity to give back in this way. I think that aspect really appeals to most of our tournament players. It's kind of our one chance to make a difference through our play, which we do for fun anyway — so it's a Win/Win!"
Thayer is both a high-level amateur — last September he won the CGA Mid-Amateur for the third time — and a member of the CGA board of directors since late 2019.
This weekend at Legacy Ridge, he'll be participating in a personal YOC fundraiser for the second straight year. His teammate in the 54-hole CGA Four-Ball that will conclude on Sunday is Bryan Rusin of Overland Park Golf Course.
"We have good participation (in the Charity Challenge) so far, and my hope is that this will become more well known and continue to grow as we get the word out. (YOC) is a great program and (I'm) really happy to help the CGA with it."
This YOC fundraising effort comes on the heels of one conducted by the Junior Golf Alliance of Colorado seven months ago. That "100 Hole Hike" brought in more than $23,000 for Youth on Course.
Nowadays, there are 1,335 Youth on Course members in Colorado as every JGAC member is enrolled. In all, 39 Colorado courses participate in YOC. Last year in the state, 3,756 Youth on Course rounds were played, with $20,762 subsidizing those rounds.
Nationwide and in Canada, Youth on Course includes more than 100,000 members, and over the years the program has subsidized more than 1 million rounds. About 1,400 courses total participate in the YOC program. Over the last 15 years, roughly $8 million has subsidized Youth on Course rounds.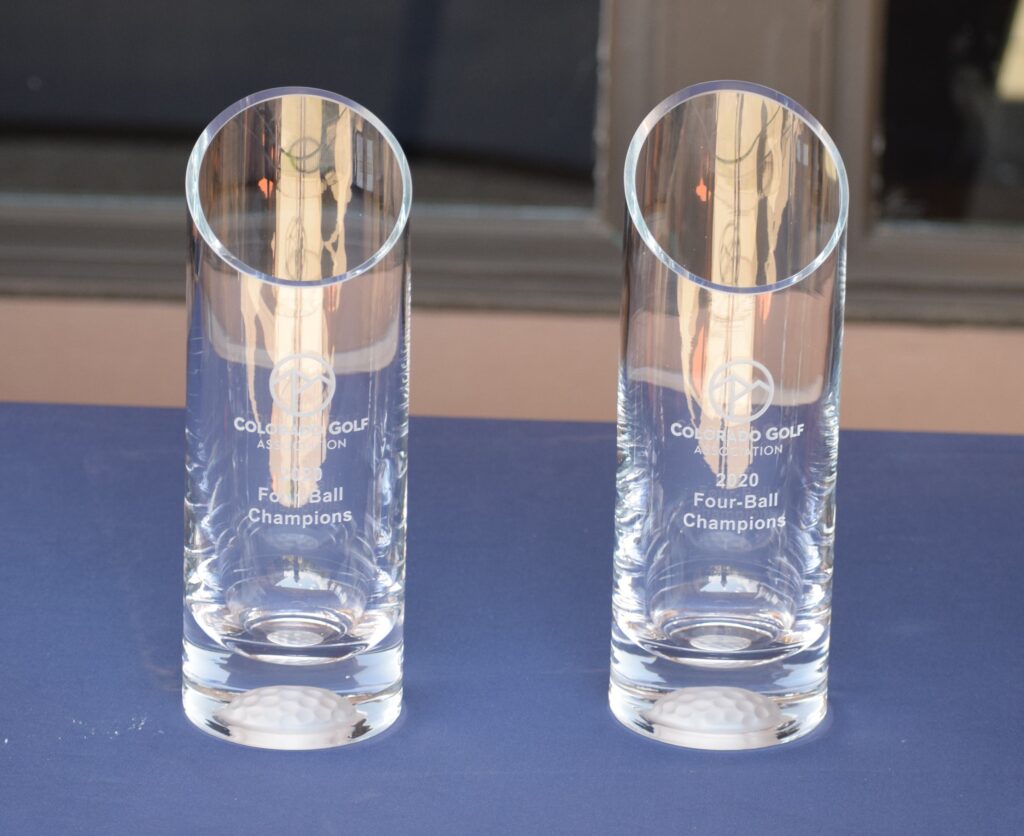 As for the CGA Four-Ball per-se, 52 two-person teams are entered. Charlie Soule of CommonGround Golf Course and Charlie Sahlman of Cherry Creek Country Club will defend their title in the scratch better-ball event.
Colin Prater of Cherokee Ridge Golf Course, the 2020 CGA Player of the Year, and 2019 Four-Ball champ Nick Nosewicz of Meadow Hills Golf Course also figure to be a formidable pair. Likewise entered are Tyler Bishop and Ryan Burke, who will be competing in the U.S. Amateur Four-Ball next month in University Place, Wash.
In all, nine former champions are in the CGA Four-Ball field, including multiple-time winners Jon Lindstrom (four-time champ, now partnering with Brooks Ferring), Steve Irwin (three-time champ, now partnering with past European Tour winner Matthew Zions), and Richard Bradsby (two-time winner, now partnering with Brian Dorfman).
For Friday's first-round pairings at the CGA Four-Ball at Legacy Ridge, CLICK HERE.