In wake of recent victories by Mickelson and Langer, it's worth remembering who winningest player on major tours after age 45 has been: Irwin, who shot his age — or better — 3 times over the weekend on PGA Tour Champions
By Gary Baines – 02/18/2019
In recent years, there has been a lot of attention paid to the stellar crop of twentysomething players on the PGA Tour.
And rightly so.
Six of the top eight players in the World Golf Rankings are in their twenties, and four of those are 25 or younger: Justin Thomas (25), Bryson DeChambeau (25), Jon Rahm (24) and Xander Schauffele (25).
But the flip side of that coin is just as interesting. Which is to say, the old guys — relatively speaking — who have been doing well lately on the world's top tours:
— Phil Mickelson, whose only USGA title to date came at Cherry Hills in the 1990 U.S. Amateur, went almost five years without winning on the PGA Tour before capturing two titles in the last year. A week ago, he claimed victory at the AT&T Pebble Beach Pro-Am four months shy of his 49th birthday.
— Matt Kuchar, who went winless for 4 1/2 years, has earned two titles since turning 40 last year. 
— And on PGA Tour Champions — where the oldest winner ever was exactly 63 years old — already in 2019 61-year-old Bernhard Langer has won once and finished second in a playoff, and Tom Lehman was victorious less than two months before turning 60.
Which brings us to the local angle for this story. 
Hale Irwin, the World Golf Hall of Famer who graduated from Boulder High School and the University of Colorado, is front and center in any discussion of the most successful older-age PGA Tour and PGA Tour Champions players of all time.
Even this past week at the PGA Tour Champions' Chubb Classic in Naples, Fla., Irwin was still showing he can make his mark at a tournament. Less than four months shy of turning 74, Irwin shot his age — or better — for all three rounds of the event, going 70-72-73 and finishing 58th.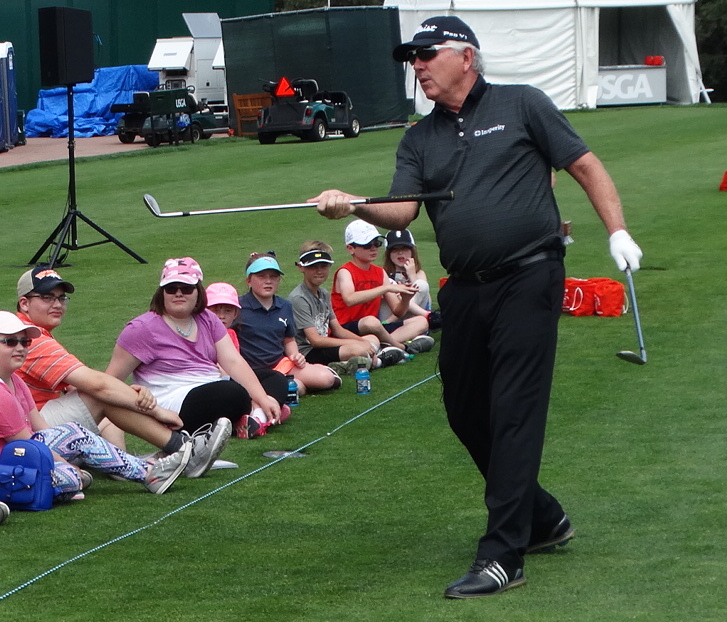 Irwin has now shot or bettered his age 42 times on PGA Tour Champions, a record total for the circuit, which began keeping that statistic in 2000.
But what makes Irwin arguably the most successful older-age golfer of all time on major tours? Here are a few reasons:
 — He still holds the record for PGA Tour Champions career victories, with 45. That's six more than second-place Langer, who is doing his best to make a run at a mark once considered unassailable. Among Irwin's 45 Champions wins are seven senior majors, including two U.S. Senior Opens.
— Irwin remains the oldest winner of a U.S. Open, with his third Open victory coming at age 45 in 1990.
— That U.S. Open win was one of three Irwin posted on the PGA Tour after age 45. The others were the Buick Classic in 1990 — just six days after a U.S. Open playoff — and the MCI Heritage Golf Classic in 1994, when less than two months before turning 49 he defeated Greg Norman by two strokes. That was also the year that Irwin was the U.S. team captain in the inaugural President's Cup.  
— On PGA Tour Champions, Irwin has won three times since turning 60, second only to Langer's six. In 2005, Irwin became the first player 60 or older to win two events in the same year. Early in 2007, he notched Champions victory No. 45 about 4 1/2 months before turning 62.
The bottom line is that, combining wins on the PGA Tour and PGA Tour Champions, Irwin has won a remarkable 48 times since turning 45.
Kenny Perry, another player who has enjoyed considerable PGA Tour and PGA Tour Champions success after age 45, certainly appreciates what Irwin has accomplished.
"Hale Irwin, he's a freak," Perry said last year. "It's unreal how incredible that man is. He's 70-something years old and still beats his age every time he goes and tees it up."
Among the most successful PGA Tour players in their post-45 careers are Sam Snead (seven wins, including one just short of age 53, which remains the record), Julius Boros (five victories, including the PGA Championship at age 48), and Perry (five wins).
And though PGA Tour Champions didn't come around in time for Snead to compete regularly, he did win the Senior PGA Championship six times and the Legends of Golf two-man team event twice, including the month before turning 70. Boros, meanwhile, won two Senior PGAs and one Legends of Golf.
By the way, Irwin isn't the only Colorado Golf Hall of Famer to win on the PGA Tour after age 45. Craig Stadler, long a resident of the Centennial State, captured the 2003 B.C. Open a month and a half after his 50th birthday. On PGA Tour Champions, Stadler won at age 60. Also claiming a Champions title at age 60 was par-time Colorado resident Dale Douglass.