Leigha Devine of Ptarmigan CC completes sweep of 2021 CGA women's majors, winning Stroke Play at Boulder CC
By Gary Baines – 6/27/2021
When Leigha Devine couldn't go to college in person during the fall semester due to Covid-19 safety concerns, there was a silver lining to the situation.
Devine had the opportunity to work in person with her instructor — impending Colorado Golf Hall of Famer Ed Oldham — pretty regularly from last June to January of this year.
All the instruction proved to be invaluable, and the fruits of that labor are now apparent for the golfer from Ptarmigan Country Club and Rutgers University.
On Sunday, Devine capped off a magical month of June by winning the 74th CGA Women's Stroke Play at Boulder Country Club. With that, Devine completed a single-season sweep of CGA women's major championships, having captured the title in the CGA Women's Match Play a couple of weeks ago at Colorado Golf Club in Parker. Oh, and by the way, she also competed in the U.S. Women's Open this month.
"I think having those eight months at home were crucial for me," the 20-year-old said on Sunday. "(Covid times) were a little bit of a blessing in disguise for me because I got to be home with my swing coach and that helped my game immensely for sure."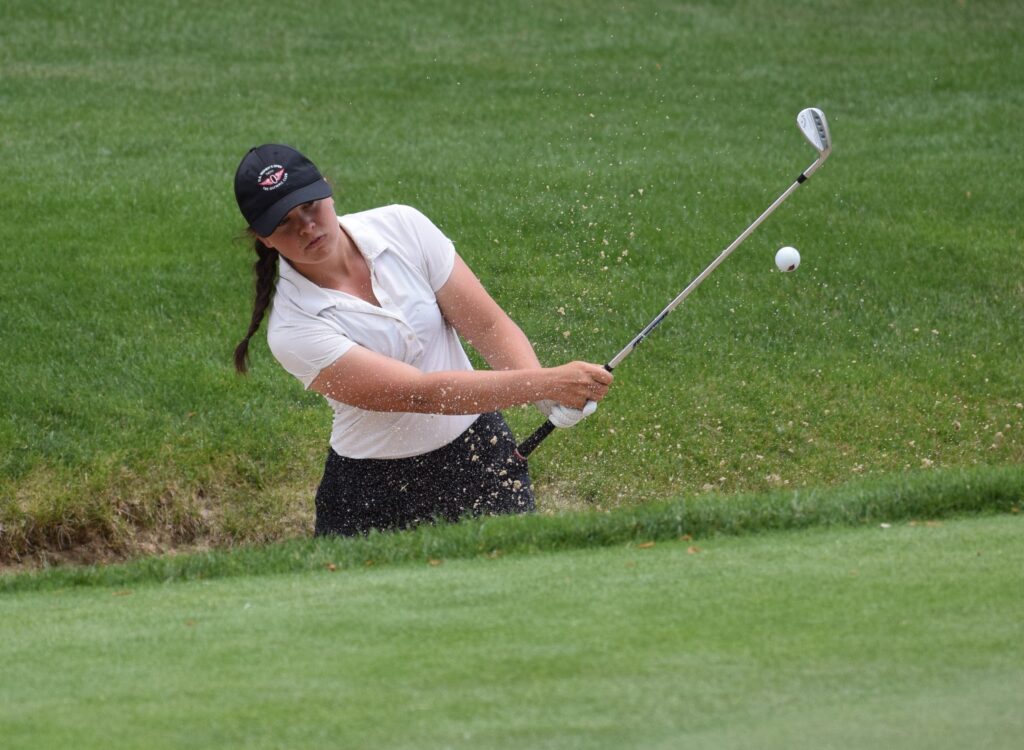 Devine's accomplishment this month marked the 17th time a single-season sweep of CGA women's majors has occurred, but just the fourth since 1990, as Devine joined Kim Eaton (2004), current LPGA standout Jennifer Kupcho (2016) and Mary Weinstein (2019). Previously accomplishing the feat were Wendy Werley (1988 and '89), Tami Jo Henningsen (1987), Carol Flenniken (1969, '70, '72 and '76), Marcia Bailey (1963 and '67), Joan Birkland (1964), Sally Hardwick (1957 and '59) and Mrs. James A. Roessler (the name provided by CGA records, 1952).
"It means a lot" to join that elite company, Devine said. "I've been putting a lot of work in recently and the game has been coming together. To see it all cultivate and put numbers on the board was really nice."
Suffice it to say June of 2021 will remain a fond memory for Devine for a long time. Competing in arguably the world's most prestigious women's golf tournament and winning two big-time state amateur championships will do that.
"This is a bit of a breakout summer for me," she said. "And all it's doing is motivating me to get back to practice. I love this feeling and I hope to have it in the future."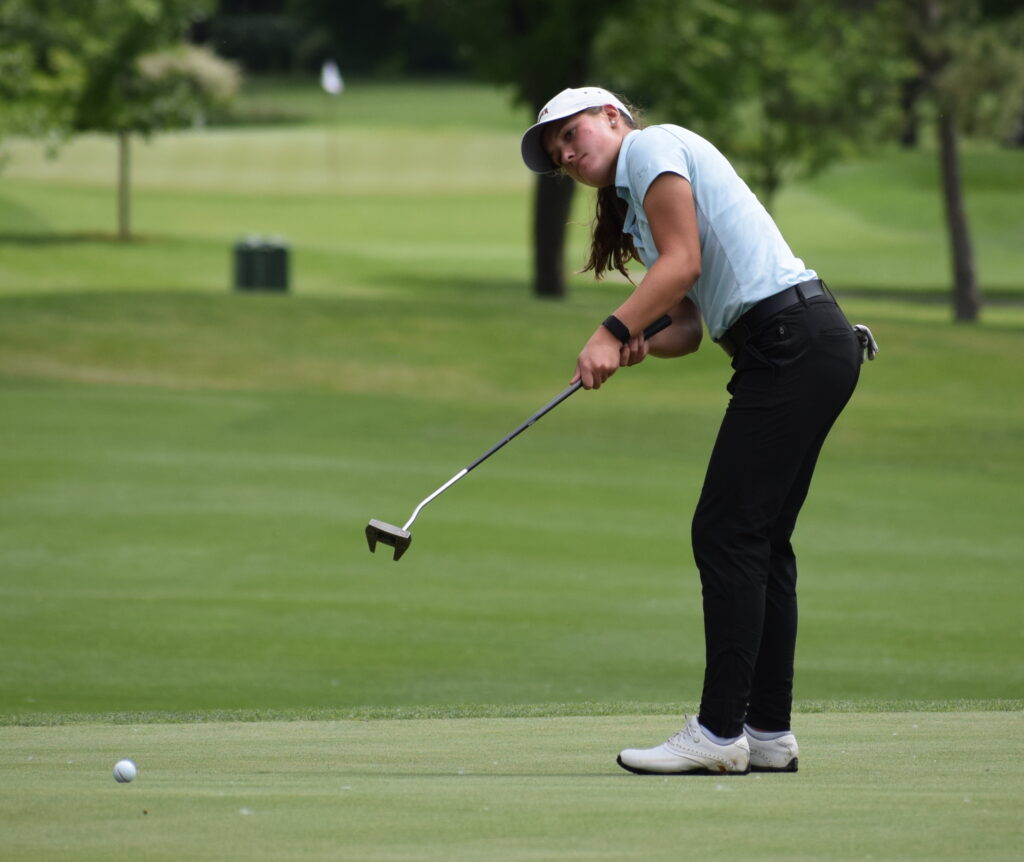 Devine came into Sunday's final round of the Women's Stroke Play tied for the lead with Kelsey Webster of Boulder Country Club. But a 12-foot birdie on the second hole gave Devine the outright advantage and she eventually posted a score of 1-over-par 71 on Sunday — matching the best tally of the final round. Her 54-hole total of 4-over 214 gave her a two-stroke victory over Caroline Jordaan of Cherry Hills Country Club and the University of Denver.
CU golfer Hailey Schalk of Colorado National Golf Club, the low amateur at this month's CoBank Colorado Women's Open, placed third at 218 after closing with a 72. And Webster, who is transferring to Oregon State from CU, finished fourth at 219 after a balky putter led to a Sunday 76.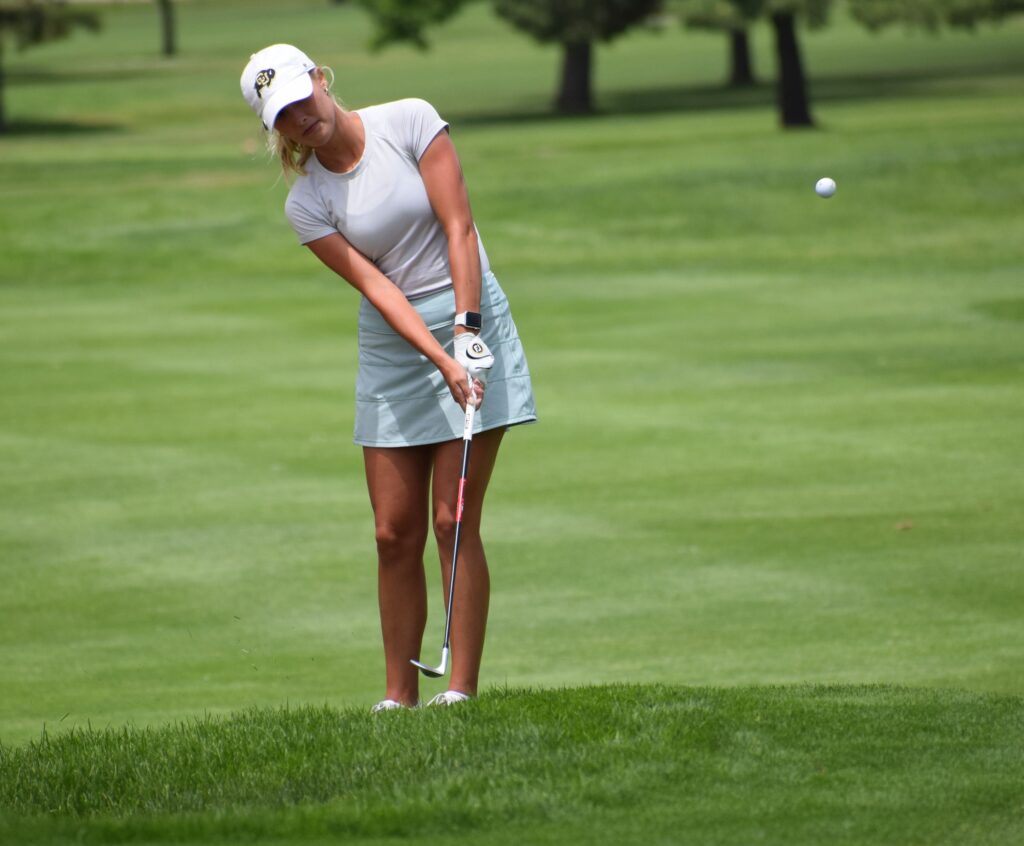 Devine has certainly been playing well in general, but it didn't hurt that the Women's Stroke Play was held at Boulder CC, where she finished third in the 5A girls state high school tournament in 2018 while she was a junior at Fossil Ridge.
"It sets up pretty well for me," she said of BCC. "I was also just hitting it good, so that always helps. It's definitely gettable and I love that. The more birdie opportunities, the better. But it fits my eye good. I like it. It's nice."
A good start on Sunday set the tone for the day. Devine almost holed a birdie chip in No. 1, made a birdie on No. 2, then made a solid par on the sometimes-troublesome par-3 third.
"It was really nice to have that to get it going to start the round," she said. "I was like, 'Let's go. We're going to play good today.'"
But though Devine stayed atop the leaderboard the rest of the day, Jordaan did put on some pressure down the stretch. She not only played her final six holes in 1 under par, but there was potential for a big swing in her favor on the par-4 17th. There, Devine pulled her tee shot into a lake — "I was a little nervous," she said — and she needed a good pitch to save her bogey. Meanwhile, Jordaan had an 8-foot putt for a birdie, but missed it. What could have been a two- or three-shot swing turned into just one. And when both players parred 18, the winning margin was two.
"I didn't have my best game out there today, but I managed to get it around and give myself opportunities, which is good," said Jordaan, a 20-year-old who earlier this month finished 15th at the Colorado Women's Open and was a semifinalist in the CGA Women's Match Play. "I kind of got it going on the back a little bit, but ultimately Leigha played better than me. She played a great round."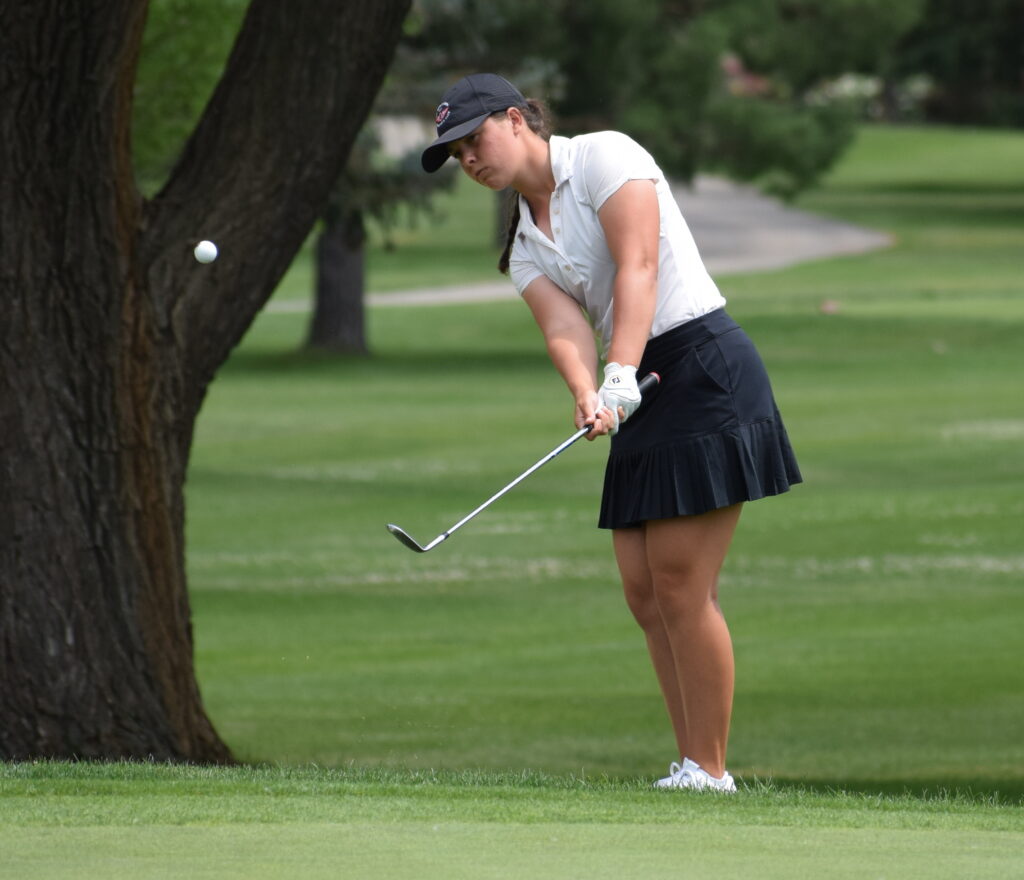 The bogey on No. 17 turned out to be one of just two Devine made all day, with the other being via a three-putt on No. 11. Like at the final day of the Women's Match Play, Devine had her dad, Mark, caddying for her.
"I came out here today and almost tried to play it like a match play — tried to stay that one stroke up all the way through 18," she said. "And I did it. That was nice."

CGA Women's Stroke Play
At Par-70 Boulder CC
OPEN-AGE CHAMPIONSHIP TOP FINISHERS
Leigha Devine, Ptarmigan CC 75-68-71–214
Caroline Jordaan, Cherry Hills CC 71-73-72–216
Hailey Schalk, Colorado National GC 72-74-72–218
Kelsey Webster, Boulder CC 72-71-76—219
Ashley Kozlowski, The Club at Ravenna 72-77-71–220
Alisa Lau, Colorado National GC 75-73-72–220
Kelsey Sample, Southern Colorado eClub 74-73-73—220
MID-AMATEUR STROKE PLAY TOP FINISHERS
Kristine Franklin, The Ranch CC 74-70-75–219
Kasha Scott, Wellshire GC 76-77-81–234
Janet Moore, Cherry Hills CC 82-82-74–238
Marilyn Hardy, Dos Rios GC 80-81-78–239
Kathy Malpass, Hiwan GC 76-87-80–243
FIRST FLIGHT WINNERS
Jennifer Hocking, Cherokee Ridge GC 81-86-82–249 (gross)
Leanna Rosenow, West Woods GC 71-78-74–223 (net)
SECOND FLIGHT WINNERS
Karen Lesko, Metro Denver eClub 89-94-94–277 (gross)
Molly Huntsman, Broken Tee GC 75-77-75–220 (net)
For all the scores from Boulder CC, CLICK HERE.