CSU men rally to keep win streak intact at their Ram Masters Invitational; UNC's Jack Castiglia chalks up perhaps his most satisfying individual college victory
By Gary Baines – 9/21/2021
Nine years ago, Colorado State University's first Ram Masters Invitational was held at Fort Collins Country Club. It was Christian Newton's second tournament as a college head coach, and in that event he was to a large extent overseeing the whole show as the host coach.
"I was drinking water through a fire hose," Newton recalled of the 2012 tournament. "It was crazy."
That year and the next, CSU went through the agony of finishing second — by a single stroke — in the team standings of their own tournament.
But since those first two Ram Masters, the hosts have known nothing but success in the event. On Tuesday, they won the RMI for the seventh consecutive year.
But after capturing the titles by double-digit margins each of the past three times the event has been held, this one was different. The Rams trailed by four entering Tuesday's final round after a brutal 36-hole day on Monday that featured 25-30 mph sustained winds, firm greens and very difficult pin placements.
When conditions returned to normal on Tuesday — ideal really — CSU stepped up with the best score of the day by 11 strokes, a 5-under-par 275 — to win going away, by eight strokes over runner-up Pacific.
Not a bad way to start a new season.
"It felt really good," Newton said. "I'm very proud of the boys. This is certainly a special one. Going through what we went through yesterday, it was so difficult. We talked about it last night. We felt we could do something special today. And they did. They came out and did an awesome job. I'm so proud of them."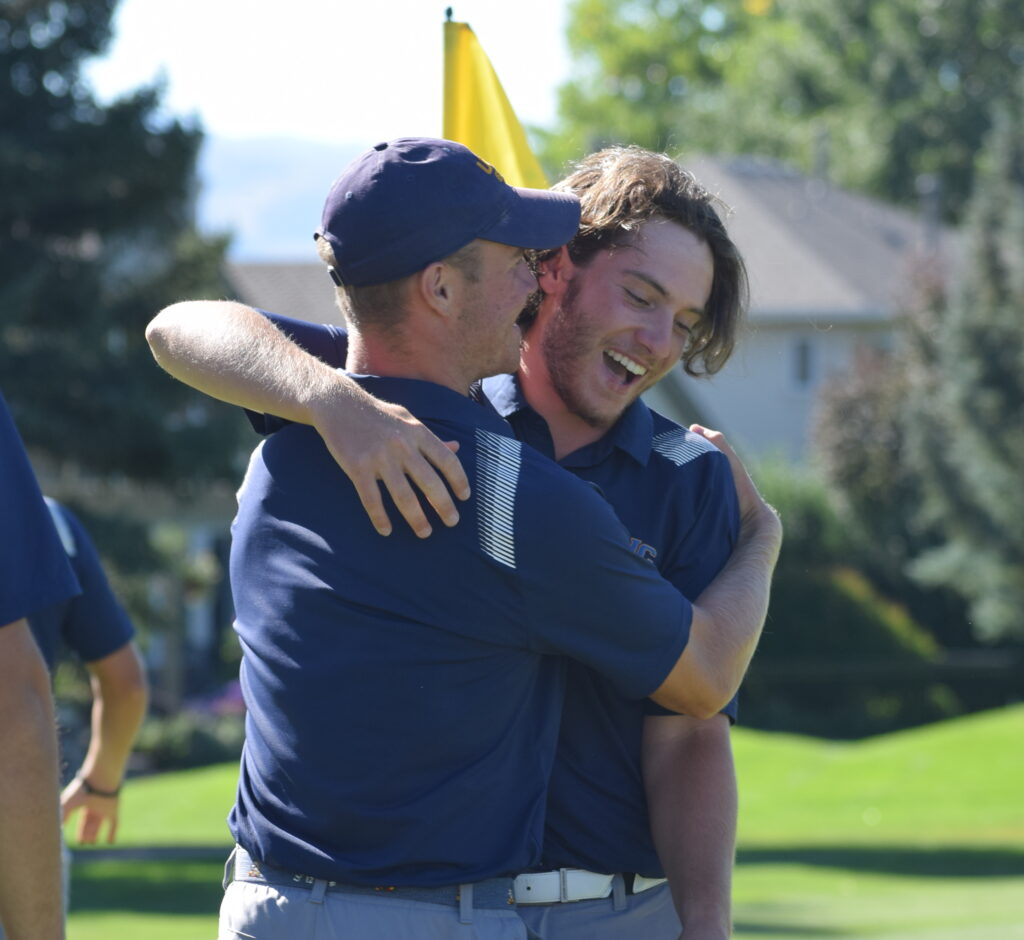 Meanwhile, another "local" can be equally proud of himself for prevailing for the individual title on Tuesday as University of Northern Colorado senior Jack Castiglia, a product of Lakewood, fended off all challengers and recorded a four-stroke victory. It technically marked his third individual college victory — all coming in Colorado — though in one of those he went on to lose in a playoff.
Castiglia was particularly impressive on Monday. On a day the average score was over 80.5, he carded rounds of 73-71, which left him 4 over par. (He went on to shoot a 72 on Tuesday, finishing at 6-over-par 216.)
"To shoot 4 over par for 36 holes in those conditions was unbelievable," noted Pat Tait, a PGA professional who watched Castiglia both days as Tait's son, Marcus, is a UNC teammate.
Castiglia won't argue the point.
"I've never played a course with conditions like that," he said. "I talked to TJ (Shehee) on our team and another kid who qualified for the U.S. Am at Oakmont this year and they were saying yesterday was way harder than Oakmont. You couldn't hold a green, you had to deal with the wind. I was hitting really good shots when I had a green light. When I didn't have a green light, I would hit it in a spot where I could easily get up and down."
Castiglia took a four-shot lead into the final day and won by that same margin, but it was a roller-coaster ride. He played his first six holes in 3 under on Tuesday, but went 6 over in the six holes from No. 8 through 13. But a 7-foot birdie on 14 and a pitch-in for eagle from 40 yards on 15 gave him a big cushion again, and not even bogeying the last two holes was a problem.
"Once I made the birdie on 14, that kind of got me back on track," he said. "To drop eagle on 15 was just a bonus. I was just trying to chip that close and make birdie. Once that went in, I knew I could coast a little bit."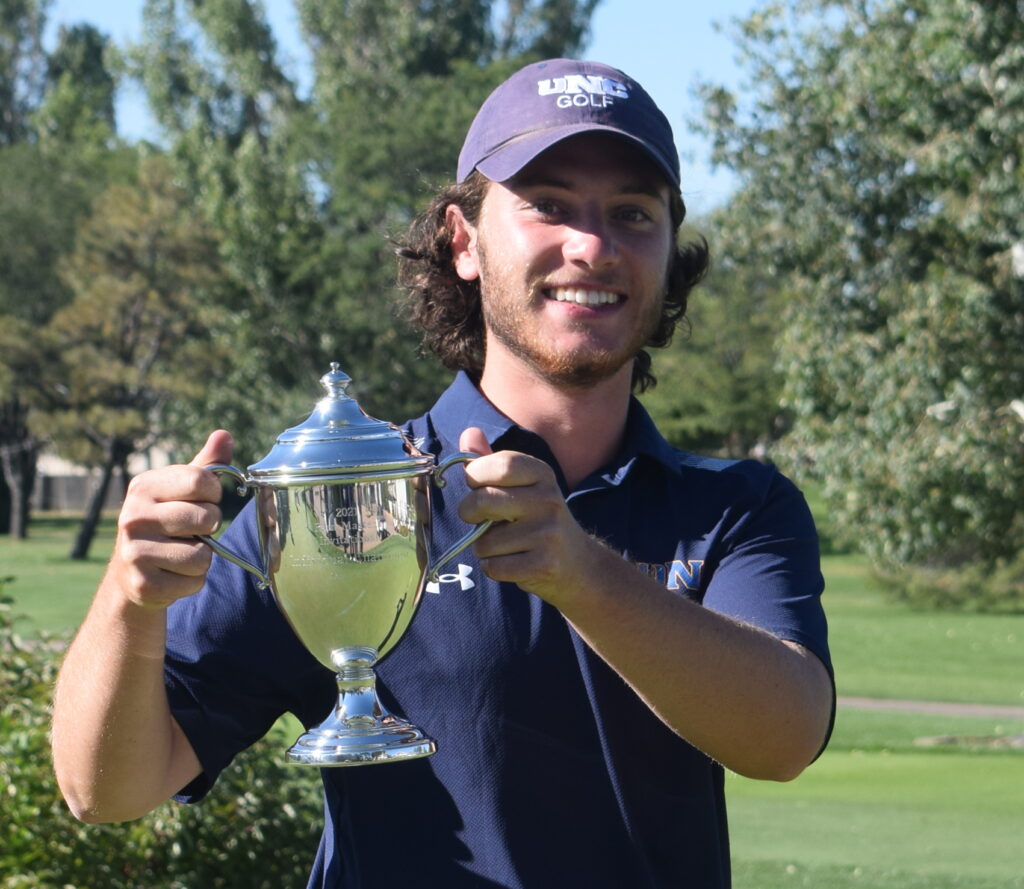 So how does this rank among Castiglia's career golf achievements?
"This is definitely up there," he said. "It's a great field — a lot of good teams — and I played really well yesterday obviously with all the hard conditions. I've been struggling a lot with my golf game last year and this summer. It's not how I wanted to play. Just to be able to grind it out here and find out all the hard work was paying off makes this up there near the top."Once this sinks in, it may be No. 1."
CSU senior Davis Bryant, a product of Aurora, tied for second place individually, four behind Castiglia, after closing with a 67.

Bryant rebounded from a double bogey on No. 17, where his ball lodged itself in a tree and had to be shaken down, to make a 10-foot birdie on the last.
In three Ram Masters Invitationals, Bryant has now finished sixth, second and second. And last year, when the RMI wasn't held due to Covid-19 safety concerns, he won the GCAA Amateur at Fort Collins CC, which had a feel very similar to the Ram Masters.

"I love this place," Bryant said of Fort Collins Country Club. "It suits me well. I like the small greens. Ever since I started playing here six or seven years ago, I just love it. It brings out some good things (in me)."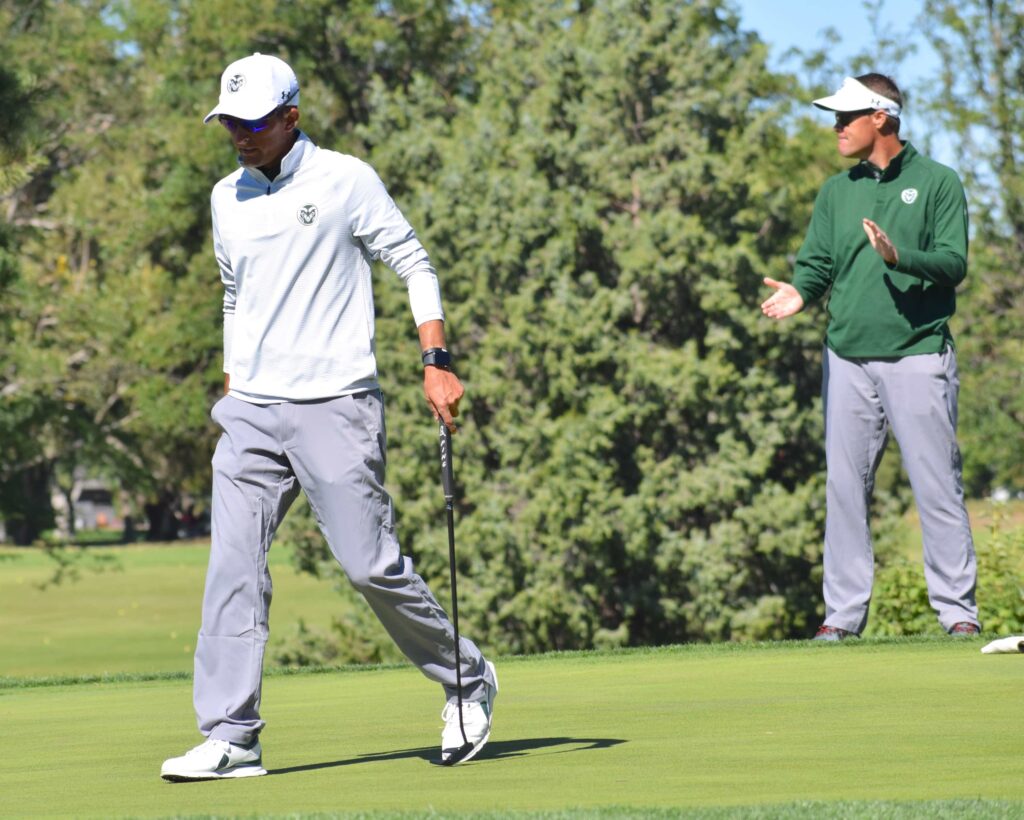 And apparently in the CSU men's golf team in general. Winning the RMI for the seventh straight time attests to that.
"It's awesome," Bryant said of the streak continuing (the Rams are 3-0 in the event since Bryant arrived). "Yesterday was just a wild day. I've never seen anything like it. The course conditions were really hard, so to bounce back how we did … We just really hit the reset button last night. We knew we could make a lot of birdies (in normal conditions in the final round). We knew what we were capable of. We knew it was going to be more scoreable.
"So we were able to play really well today. I'm happy for the boys (his teammates), especially all the new guys that just started. We know what it's like to win a tournament, but they didn't know what it was like to win a team event. It's cool for them to experience that. It's a great way to start the season."
Christoph Bleier, a CSU freshman from Austria, notched a top-10 individual finish in his college debut, tying for sixth at 222 after a 67 on Tuesday. And Connor Jones of Westminster, a transfer from the University of Denver, placed 11th in his inaugural tournament for the Rams.
Team-wise, UNC placed ninth after leading through 36 holes, while the Air Force Academy was 14th in the 16-team field.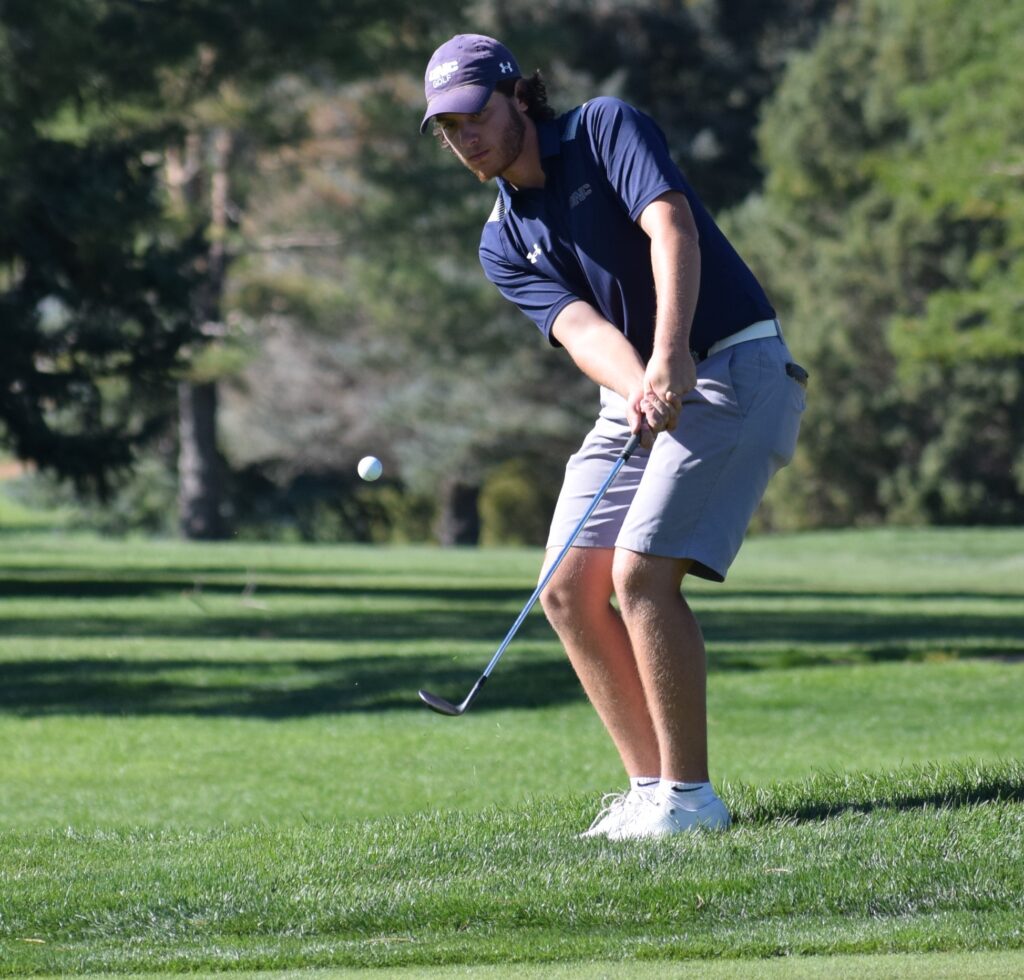 CSU's winning total of 61 over par — all the product of Monday's brutal conditions — was by far the highest by an RMI team champion. In fact, the previous high was 19 over by Wichita State in the inaugural tournament nine years ago.
"I was shocked when I pulled up Golfstat (scoring) after yesterday and saw that 62 (over par) was leading," Bryant said. "Holy crap, it was really hard."
Added Newton: "I felt like if we could figure out a way not to have our heads fall off yesterday that we could have a good chance today."
For all the scores from the Ram Masters, CLICK HERE.