John Hornbeck claims title in his super-senior debut as Wyoming resident prevails in CGA Super-Senior Amateur at Pueblo CC; Greg Mokler best in Masters division
By Gary Baines – 8/8/2023
It was a first in a couple of ways for John Hornbeck this week.
His first time competing in a CGA super-senior championship? Check.
And his first CGA super-senior championship win? Check.
The resident of Saratoga in southern Wyoming, a regular in high-level Colorado senior amateur tournaments for close to a decade, claimed another title in the Centennial State, this one Tuesday in the CGA Super-Senior Amateur held at Pueblo Country Club.
So Hornbeck is now 1-for-1, victory-wise, as a super-senior amateur (age 65 and older).
"That's a good thing," he said. "I'm just the junior on the senior circuit now."
The 65-year-old added the Super-Senior Am title to the three other CGA state championships he's earned — the 2018 Senior Match Play, the 2019 Senior Amateur and the 2021 Senior Four-Ball (with Robin Bradbury). Besides that, Hornbeck is a 2018 inductee of the Wyoming State Golf Association Hall of Fame, having won 13 WSGA titles.
But this victory wasn't by any means easy. Not only did the competitors have to deal with the formidable greens at Pueblo CC, but Adam Kugler of the Clubs at Cordillera made it a contest down the stretch. Kugler — who has won a Metropolitan Golf Association Senior Open, an MGA Senior Amateur and a New Jersey State Golf Association Senior Am — rallied to tie Hornbeck with birdies on 11 and 14 Tuesday after starting with 10 straight pars.
But a double bogey by Kugler on No. 16, where he had tree trouble after pulling his drive, then three-putted. With a two-stroke lead, Hornbeck bogeyed No. 17, missing a 3-foot downhill putt. But the Wyoming resident was rock sold on No. 18, hitting an 8-iron approach to 10 feet and just missing his birdie try, while Kugler couldn't sink a 35-foot birdie attempt that would have forced a playoff.
"It felt great" to get the win," Hornbeck said. "I knew this was going to be a pretty good test after the practice round. The greens are so penal if you miss them in the wrong place. Everyone was struggling with three- and four-putts — just like they did at Greeley Country Club (for the recent U.S. Senior Amateur qualifying).
"But I only had one three putt (for the 36 holes). I kind of kept the ball below the hole, like I had planned on doing. I didn't make a lot of putts, but I didn't make too many mistakes either."
With a birdie and two bogeys on Tuesday, Hornbeck closed with a 1-over-par 72, which left him at even-par 142 for two rounds. Kugler, who had made just six pars in Monday's first round, carded 15 of them on Tuesday to go along with two birdies and a double bogey. That added up to 71, putting him one back of Hornbeck. Perhaps not coincidentally, the two also finished 1-2 at the U.S. Senior Am qualifying July 24 in Greeley.
"He's a really good player," Hornbeck said of Kugler.
Two former CGA Super-Senior Am champs tied for third place on Tuesday: Colorado Golf Hall of Famer Kent Moore of Cherry Hills Country Club (the 2016 winner) and Kary Kaltenbacher of Glenmoor CC (2014). They both checked in at 4 over par, Kaltenbacher after a 70 (which tied the best score of the tournament) and Moore following a 71. Another past champ, Sean Forey of Bear Creek Golf Club (2018), took fifth place at 7 over after closing with a 76.
For Hornbeck, Colorado has become a sort of home away from home, golf-wise — both in terms of success and how often he competes in the state.
"I love it down here because we get to play all these new venues that I've never played before," he said. "I don't have a bunch of (mental) scars from any of the holes, so I just shoot a number (to the pin) and fire at it. It really is kind of fun."
And Hornbeck is a pretty fair player elsewhere, as well. This year will mark his fifth U.S. Senior Amateur, and he was a quarterfinalist in the 2016 national championship. He also played in the 2016 U.S. Senior Open.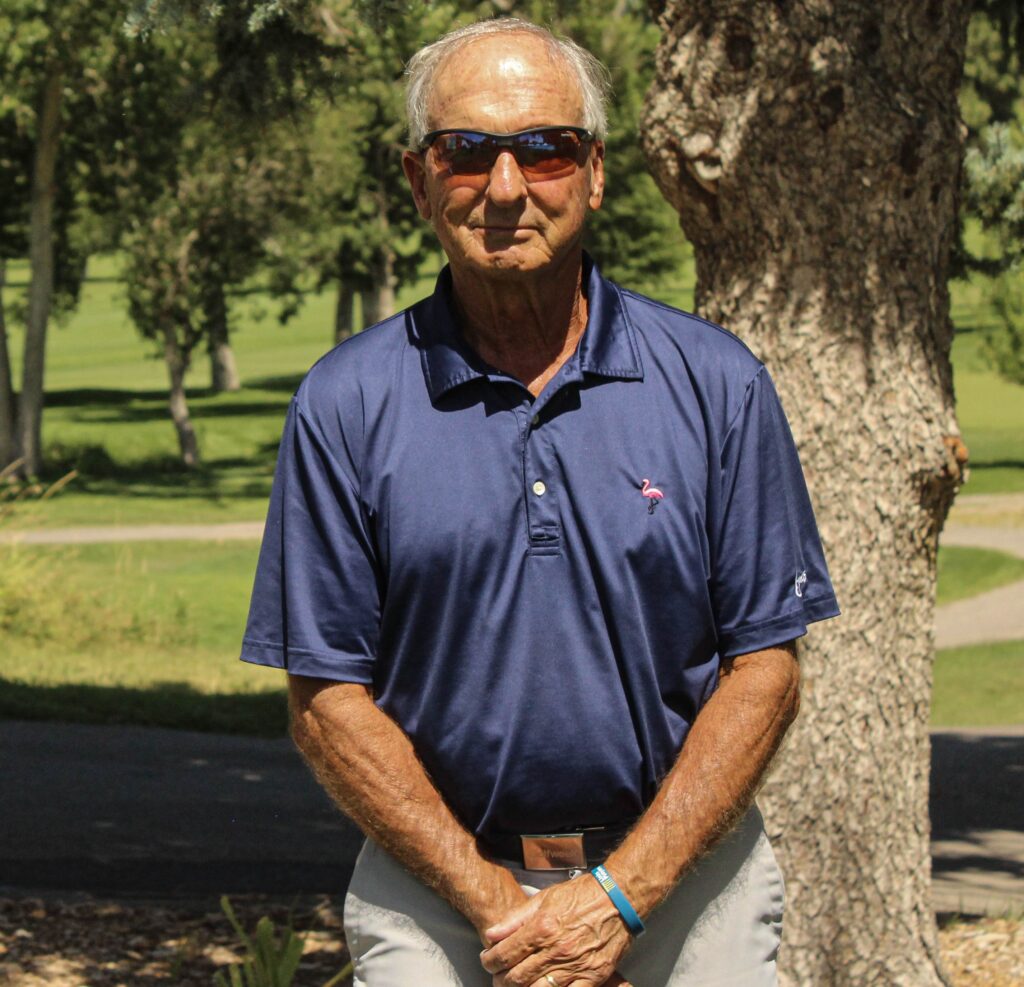 Greg Mokler of Harmony Club was tops in the Masters division at Pueblo CC.



In the Masters Division of the CGA Super-Senior Am — for competitors 70 and older — Greg Mokler of Harmony Club prevailed by one stroke after recording the low score of that competition — by two shots. Mokler carded a 73 on Tuesday that included three birdies and five bogeys, which left him with a winning total of 8-over-par 150.
First-round co-leader Tom Warren of Collindale Golf Course placed second at 151 after a 75 on Tuesday. Jeffrey English of CommonGround Golf Course was third (75 for a 155 total).
For all the scores from the 12th annual CGA Super-Senior Amateur, CLICK HERE.

About the Writer: Gary Baines has covered golf in Colorado continuously since 1983. He was a sports writer at the Daily Camera newspaper in Boulder, then the sports editor there, and has written regularly for ColoradoGolf.org since 2009. He was inducted into the Colorado Golf Hall of Fame in 2022. He owns and operates ColoradoGolfJournal.com