Kristine Franklin claims her third CGA Women's Senior Stroke Play title, this one at her home course; Kim Eaton finishes runner-up for fifth straight time in CGA women's senior majors
By Gary Baines – 8/17/2021
When Kristine Franklin won her first CGA Women's Senior Stroke Play, the victory at Greeley Country Club in 2018 came roughly 50 miles from her home. When she won her second one the following year at the Country Club of Colorado in Colorado Springs, it was almost 90 miles from her residence.
But when Franklin claimed her third Senior Stroke Play title, she received her trophy perhaps 100 yards from her home, which sits adjacent to the course at The Ranch Country Club in Westminster.
Suffice it to say this victory definitely had a homey feeling. And the fact that her husband, Brent, was caddying for her, and that their sons, Jaxon and Walker, followed the action on Tuesday just added to that feel-good atmosphere for Kristine.
"It's definitely comfortable to be on your home course," said the 55-year-old former touring golf professional. "But you also have your nemesis holes. The best thing is not having to drive (to get to the tournament). Our house is right there."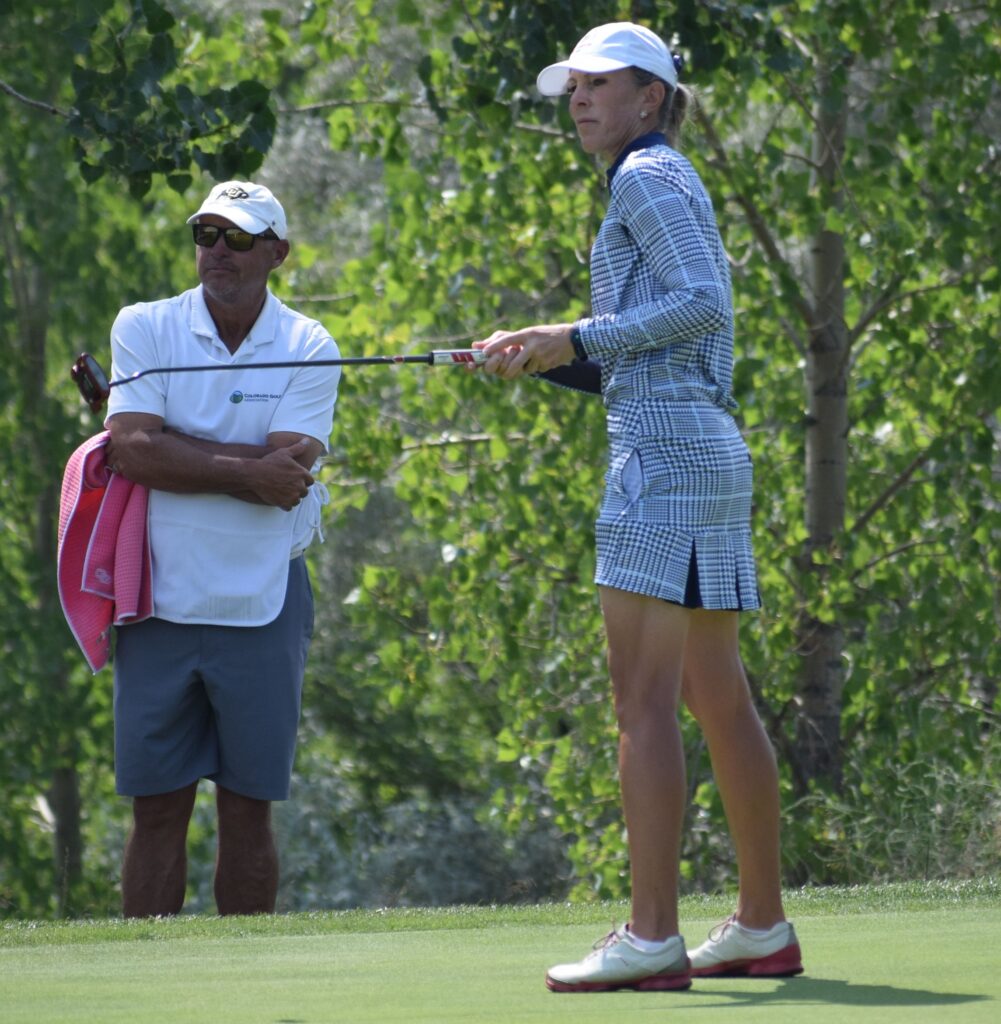 For the second consecutive year, the championship was settled with a six-stroke margin of victory. A year after Marilyn Hardy won by that amount over Franklin and Colorado Golf Hall of Famer Kim Eaton, Franklin prevailed by a half-dozen over Eaton on Tuesday.
Franklin has now won five CGA women's senior majors — three stroke plays and two match plays — and seven CGA women's championships overall, with the 2021 CGA Women's Mid-Amateur Stroke Play and the 1986 Women's Stroke Play being the others.
"I don't really count (the titles)," Franklin said. "I just focus on each one — and each won has its own special reason that I want to do well.
"When I started counting (when trying to win a fifth consecutive women's senior major), I faltered, so no more counting."
So what was the special reason Franklin wanted to do well this week?
"It was my mom's (83rd) birthday on Monday," Franklin said of her mother, Jean Hoos, matriarch of well-known golfing family in Colorado. "We ended up celebrating her birthday on Sunday so I could focus (on this tournament). I thought that was very kind of her. It was kind of her birthday gift (from me) to try to win."
Mission accomplished.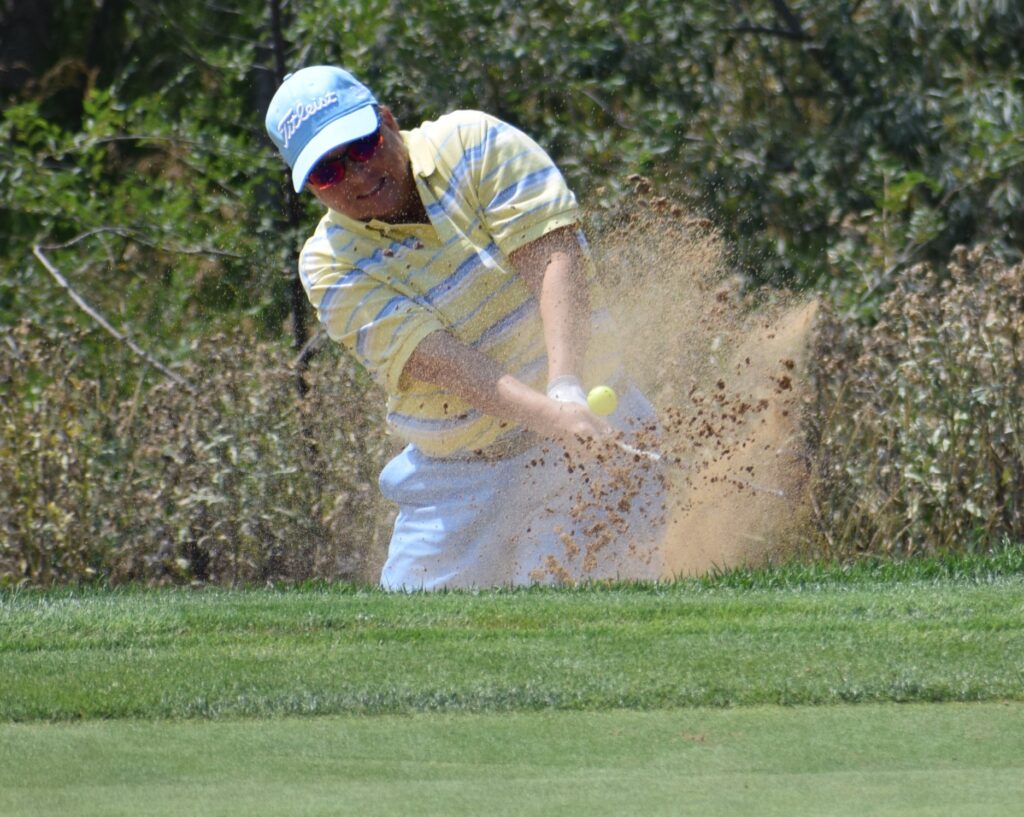 But it wasn't easy on Tuesday — at least not in the early going.
Eaton, winner of this championship five times, came into the day two back but tied Franklin on the third hole, where Eaton made birdie and Franklin bogey. But bogeys by Eaton on 5 and 7 dropped her two back again, but still well within striking distance.
However, 10 and 11 proved very costly for Eaton, who is tied with fellow Colorado Golf Hall of Famer Carol Flenniken with 25 career CWGA/CGA women's titles. A tee shot left into the trees on 10 led to Eaton needing to get up and down for a bogey, which left her three back of Franklin. But her second shot on the par-4 11th proved far more penal.
Franklin pushed her approach shot into the water that guards the right side of the 11th green. Then, after pitching on, she proceeded to three-putt for a triple bogey. And with Franklin having gotten up and down for par, Eaton was now six ahead. And the two players matched scores for the final seven holes, giving Franklin the six-stroke victory.
"I just wasn't swinging very good today," Eaton said. "I guess that's this game. I thought maybe I would have had a chance after yesterday because I played well yesterday. I didn't really like anything on the back nine (today) other than I got it up and down quite a bit."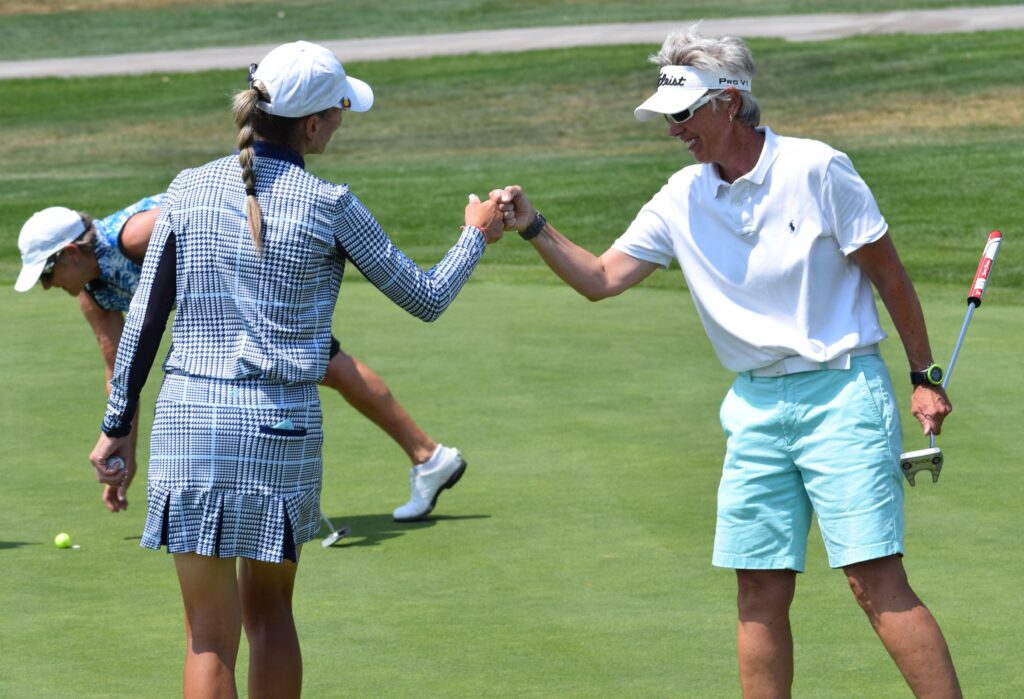 But Franklin, Eaton's partner in the CGA Women's Mashie team event earlier this year, gave few openings on Tuesday in making 16 pars and two bogeys.
"She is such a good putter," Eaton said of Franklin. "She makes putts like nobody's business. And plus it's easier when it's your home course. But she deserves to win. She played well."
Franklin's rounds of 71-73 gave her a 2-over-par 144 total. Eaton went 73-77 to run her streak of consecutive second-place finishes in CGA women's senior majors to five.
"Lots of runner-ups this summer," Eaton said, noting she was second in the Mashie, Senior Match and Senior Stroke.
Eaton said this was her final CGA championship of this year, and that shoulder surgery may await her in the offseason. So asked about her prospects for CGA women's title No. 26 next year, Eaton said, "You just never know. I've got to wait and see what happens this winter."
Meanwhile, Franklin has now won five of the last seven CGA senior women's majors. And when she captured the CGA Women's Mid-Amateur Stroke Play this year, it was by 15 strokes.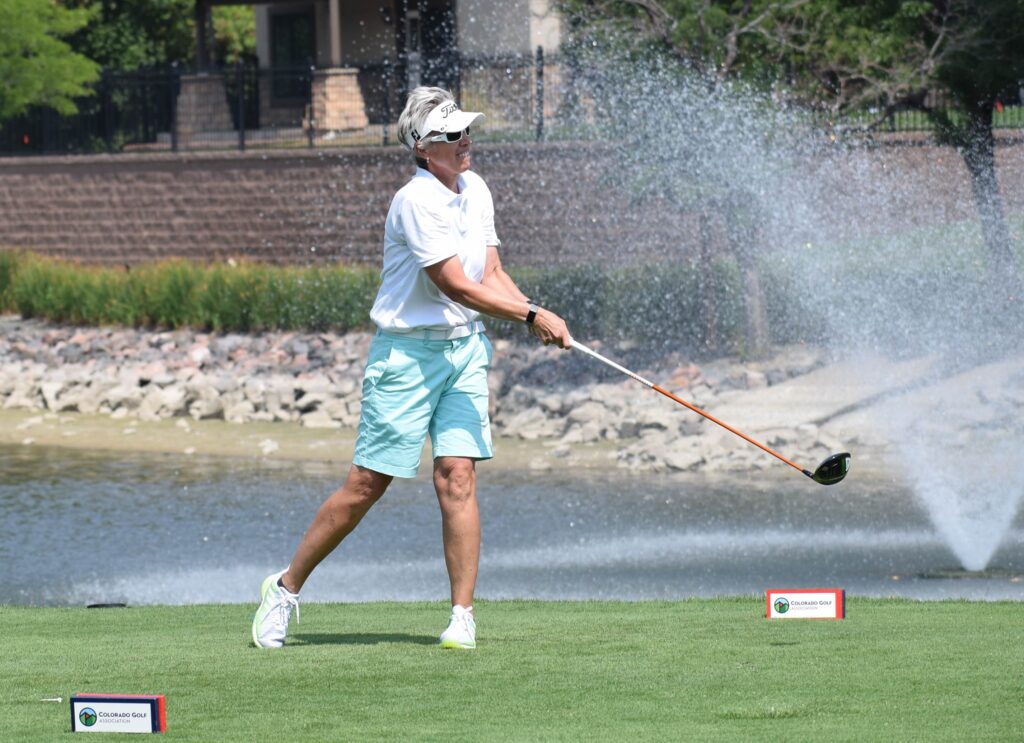 But this Senior Stroke Play title, with it coming at her home course, was of particular importance. The Franklins have been members at The Ranch since 2019. Kristine estimates she's played about 50 rounds at the course, though she also gets in quite a few four- or five-hole loops with her sons in the evenings.
"Everybody thinks you're supposed to be good and you should win at your club," she said. "With that comes extra pressure. I better win. And I didn't ask to have it hosted here. I thought, 'I hope people don't think I asked for it since I didn't win last year,'" she noted with a smile.
But with Eaton being such a formidable competitor, Franklin wasn't sure what to expect this week.
"She's been playing so well and hitting her irons so sharp and putting well this whole year," Franklin said of Eaton. "I thought, 'If it's her time it's her time, but at least don't give it to her.'
"When she knocked it in the water (on 11) … it's always nice to have that cushion, but you feel bad for a person."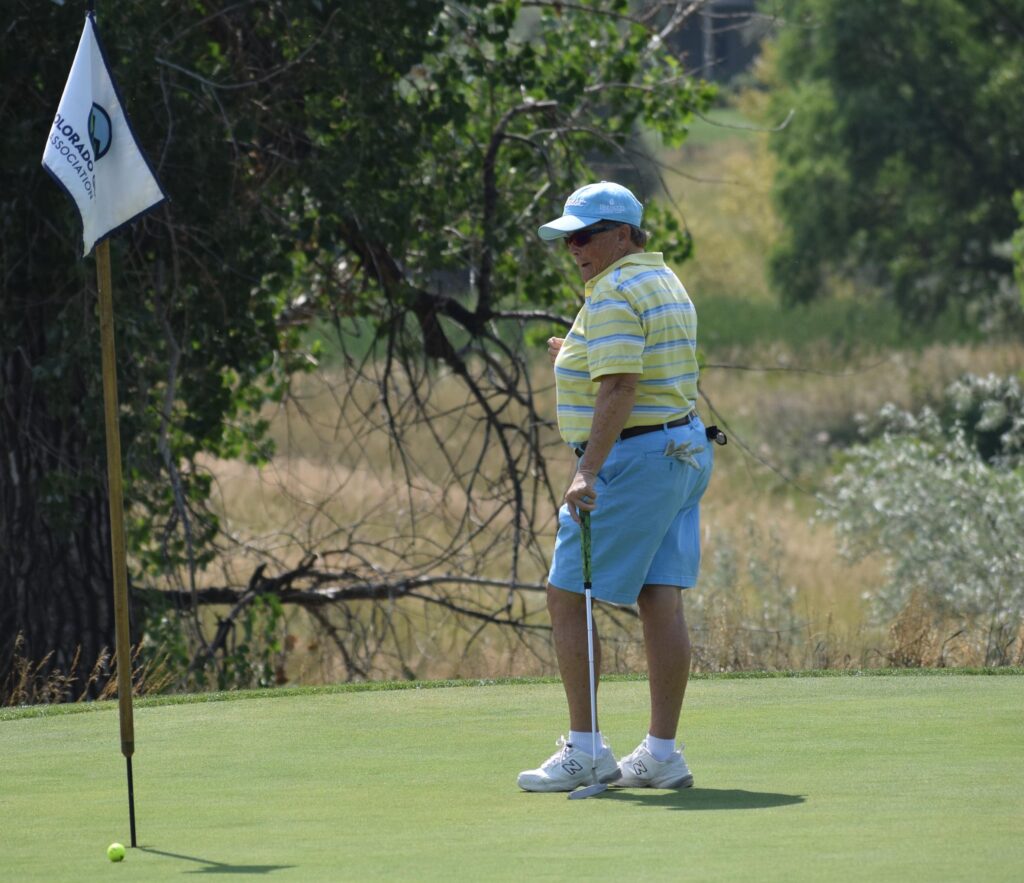 Stacey Arnold of West Woods Golf Club finished third on Tuesday, nine back of Franklin, after shooting a final-round 77. Hardy, the defending champ, checked in fourth at 155 after going 77-78.
In the masters division for players 70 and older, Karen Chase of Foothills Golf Course prevailed (80-78–158), while Dorothy Walker of Fox Hollow claimed low-net honors (72-73–145).
For all of the award winners from the Women's Senior Stroke Play, see below.

CGA Women's Senior Stroke Play Winners
At The Ranch CC in Westminster
CHAMPIONSHIP FLIGHT
Low Gross — Kristine Franklin, The Ranch CC 71-73–144
Low Net — Susan Hartwell, West Woods GC 69-74–143
MASTERS (AGE 70+)
Low Gross — Karen Chase, Foothills GC 80-78–158
Low Net — Dorothy Walker, Fox Hollow 72-73–145
FIRST FLIGHT
Low Gross — Laurie Steenrod, Saddle Rock GC 76-80—156
Low Net — Karen Chase, Foothills GC 70-68–138
SECOND FLIGHT
Low Gross — Carla Stearns, Wellshire GC 83-83–166
Low Net — (tie) Trish Swanson, Colorado State Senior WGA 68-77–145; Jean Miller, West Woods GC 76-69–145
THIRD FLIGHT
Low Gross — Molly Huntsman, Broken Tee 85-91–176
Low Net — (tie) Kay Geitner, Littleton GC 70-76–146; Cindy Ortega, Foothills GC 72-74–146
FOURTH FLIGHT
Low Gross — JoAnn Smith, Foothills GC 82-95–177
Low Net — Maia Rudibaugh, Lakewood CC 72-67–139
FIFTH FLIGHT
Low Gross — Dorothy Shadrick, Murphy Creek GC 101-100–201
Low Net — Carol Casteel, Valley CC 75-75–150
For all the scores from The Ranch CC, CLICK HERE.