Fort Collins resident Craig Chester recently defied the odds by shooting his age (or better) — for the 1,000th time
By Gary Baines – 7/7/2021
To say that Craig Chester tends to play a lot of golf is like stating that the sun tends to rise in the east.
Well, that may be a bit of an overstatement — but not much.
"Some people call me 'Everyday Craig,'" Chester said this week. "Even during the winter, if the course is open, I'll probably be out there — even if we've got frozen greens. It's my main form of exercise, though I do go to the gym about three times a week."
But let's quantify it: Chester, a member at Ptarmigan Country Club in Fort Collins since 2000, keeps an Excel spreadsheet that includes how many rounds of golf he's played — along with plenty of other information. And according to the spreadsheet, the now-83-year-old played 2,758 rounds from Jan. 22, 2009 through June 30, 2021.
That translates into more than 220 rounds of golf per year, on average. And, it's certainly worth adding, he plays almost all those rounds as a walker; very seldom will you find him riding in a golf cart, octogenarian or not.
But all that is not what this story is about — at least not primarily. Rather, it's the feat that Chester has accomplished while playing all those rounds — usually as a walker.
A week ago — last Wednesday, June 30, to be precise — Chester did something that might seem mind-boggling to the average golfer. He shot his age — or better — for the 1,000th time. Yes, you read that right: 1,000 times.
"Most people don't play 1,000 rounds of golf in their lives, let alone shoot their age once," noted Greg With, a fellow Ptarmigan member, a prominent golf rules official in Colorado and beyond, and a member of the CGA board of directors.
For the record, Chester reached No. 1,000 on June 30 by shooting a 9-over-par 81, fittingly at Ptarmigan, where he plays the great majority of his golf. He was paired with Air Force Academy graduate and retired airline pilot John Buckner, who friends often call "Buck." There to take a few photos — and offer congratulations — after Chester sank a 3-foot putt to cap off his round at 3:46 p.m., was With.
"I love the game and I play a lot of golf," Chester said in a phone interview this week. "I'm healthy — I have not had any real medical problems — and I've just kept going. I realize that it's something few people do, but lo and behold, I hit a thousand last week. (Originally), I never thought I would reach a number like this."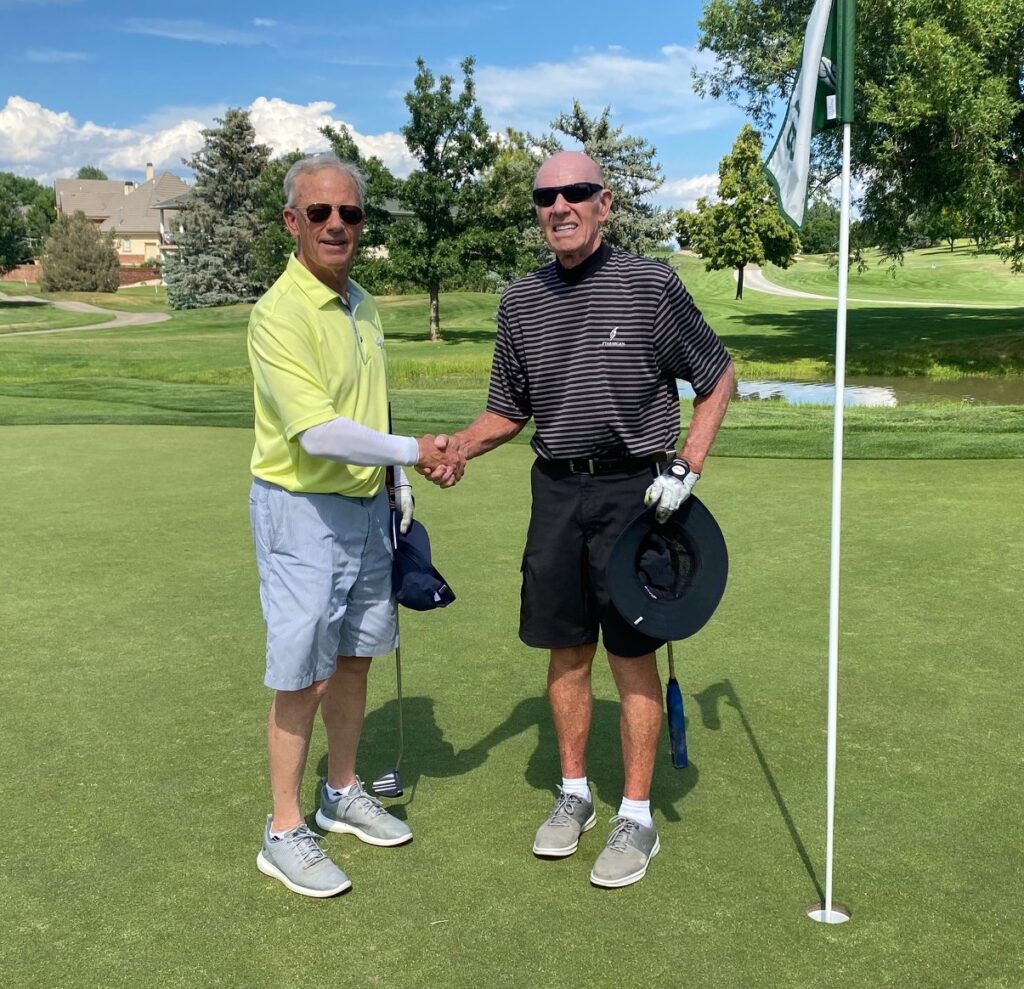 Some people knew about Chester's march toward 1,000, but many didn't.
"I haven't boasted that much about the number of rounds," the Fort Collins resident said. "If someone asks me, I tell them how many rounds I've shot my age or better."
With has been an occasional playing partner of Chester's over the years.
"Craig is a quiet, humble guy who is more interested in playing golf than setting records," With said. "Craig plays a lot of golf. I've driven by Ptarmigan in the winter months when it was 40 degrees and the wind was blowing (only) to see a lone golfer trudging down the fairway. It was always Craig bundled up in his stocking cap playing when even the most hard-core golfers wouldn't be out there.
"Craig has a smile for everyone and the only thing that upsets him is when the group in front of him is taking more than 3 hours and 45 minutes to play their round."
All told, it took Chester roughly 12 1/2 years from the first time he matched or bettered his age to No. 1,000. He first accomplished the feat in 2009 at age 70 years and 10 1/2 months.
"It was a nice, clean round — four birdies and two bogeys," he recalls of that day. "And I birdied the 18th hole to shoot 70."
From there, it took Chester a while to reach double digits for matching/bettering his age in a calendar year for the first time (2012), and a few more years to reach triple digits in a season initially (2015). But each year from 2015 through 2020, he ranged from 111-158 times managing the feat before adding 63 more in the first half of 2021.
How does he know this in such detail? Because he's kept meticulous records that he updates after each round he plays. In addition to recording his scores, he notes numerous statistical details about each round.
"I keep all sorts of records and Excel spreadsheets," he said. "This was just one thing I started keeping back in 2009 when I shot my age for the first time."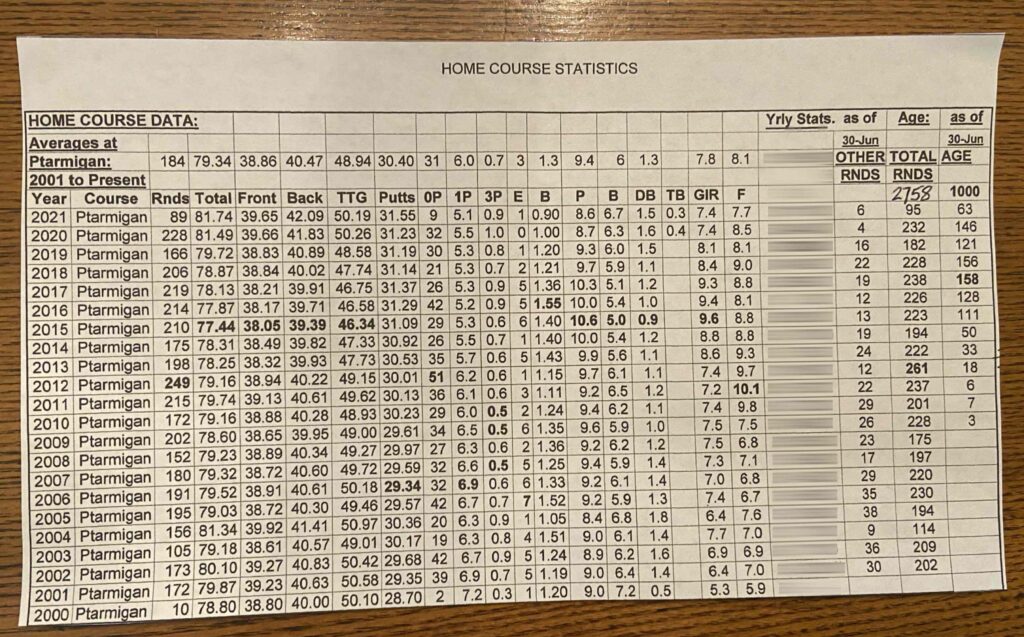 Helping expedite Chester's advancement toward 1,000 — besides being able to shoot a stroke higher as each birthday passed to qualify as matching or bettering his age — was playing a different set of tees. He moved from mainly the blue tees at Ptarmigan (which are around 6,700 yards) to a combination blue/white (about 6,300). He made that switch at roughly age 75, though there remain exceptions to the norm.
"I started using the combo tees pretty regularly, and my statistics really took off," he said. "At 75 I just decided, 'I want to have fun, and I haven't been enjoying myself as much from the blue tees as I was getting older.' So I started playing the combo tees, and my statistics really started going up as far as shooting my age or better."
While matching or bettering your age is a major accomplishment for the great majority of golfers, it's been almost commonplace for Chester in recent years. Since 2017, almost two-thirds of the times he tees it up, he reaches that standard. These days, his typical scores are in the low 80s and high 70s. He currently owns a 9.6 USGA Handicap Index.
"Generally I'm pretty consistent," Chester said of his golf game. "My woods are real strong. I've never been a strong iron player. I don't hit down on the ball; I'm kind of a scooper. I hit a 5-iron 150 yards. I'd call myself a consistent golfer."
As with many longtime golfers, Chester learned a love of the game — and of walking when playing — as a caddie. He was a looper in Chicago, where he played high school golf and competed in the state tournament as a senior. With his work as a caddie, he earned a full-academic and housing Evans Scholarship to the University of Michigan.
Professionally, Chester had a career of more than 30 years at the National Security Agency, where as a Russian linguist he did intelligence research. In early 1996 he retired, and in late 1999 he and his wife moved from Maryland to Colorado to be closer to their kids and grandkids.
During his working years, Chester played a pretty decent amount of golf, perhaps two or three times a week, on average. But when he retired, then joined Ptarmigan, those numbers began to skyrocket.
"I just love the game and obviously my statistics show that," he said.