Following historic win at Augusta National Women's Amateur, Kupcho joins Fassi in making rounds in New York City, with appearances on Today Show, Tonight Show Starring Jimmy Fallon, Morning Drive
By Gary Baines – 04/08/2019
About six hours after winning the inaugural Augusta National Women's Amateur on Saturday, Jennifer Kupcho noted how she'd just completed more than four hours of post-tournament obligations at Augusta National Golf Club in Georgia.
"I was going ever since I got off (the course)," the Westminster resident said on Saturday night. "They're pulling me everywhere."
Later, she added, "You just have to be patient and accept it and go along for the ride and know that I can sleep this week."
Well, it turns out, maybe later this week.
Early on Sunday morning, the Wake Forest senior was back at Augusta National, presenting the trophy in the girls 7-9 division at the Drive, Chip & Putt National Finals and being interviewed on Golf Channel's national telecast of the event.
Then on Monday, the media tour really hit high gear as Kupcho and ANWA runner-up Maria Fassi, a friendly rival who competed in a handful of USGA qualifiers in Colorado as a teenager, made the rounds in New York City with appearances at major NBC-affiliated shows.
First, it was the Today Show in the morning, where the two did a couple of different on-air interviews.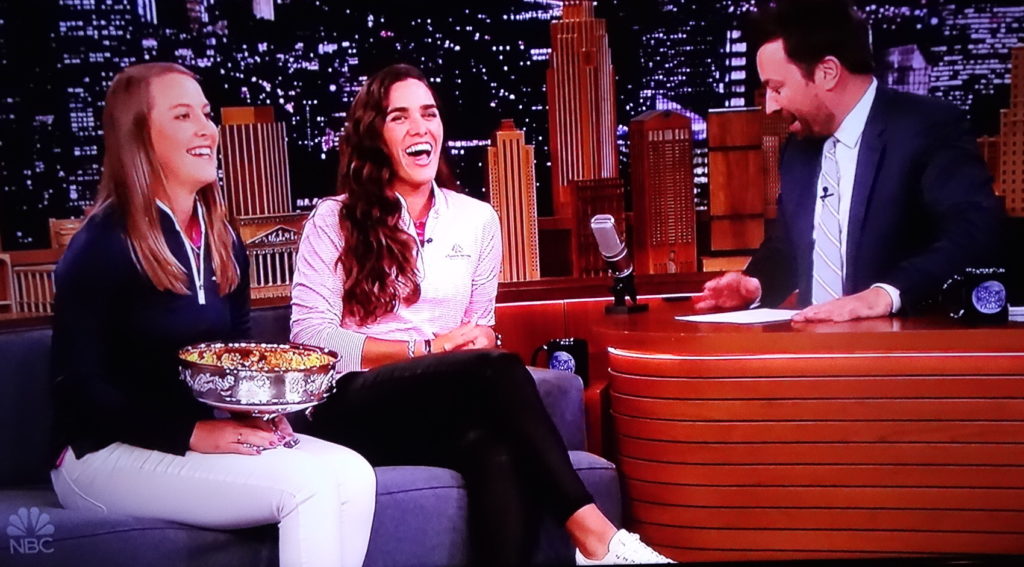 Later, it was on to The Tonight Show Starring Jimmy Fallon. Kupcho told Fallon about the migraine headache that affected her mid-round on Saturday saying, "I just couldn't see. It was kind of like looking at a cotton ball through tupperware."
Asked on the Today Show where she will put the ANWA trophy that was on the set with them, Kupcho said, "I don't know how I'm going to get it back to my hometown, Denver, but I think I'm going to leave it at Wake Forest for now."
But that was hardly the extent of media blitz. Scheduled were Monday appearances on Golf Channel's Morning Drive, a chat with Sky Sports News and another one possible on CNBC's Power Lunch.
They talked about their experiences during Saturday's final round at Augusta National, their reaction in the wake of the event, and the sportsmanship they displayed toward one another as the lead went back and forth. Kupcho even hit a putt on a small artificial putting green set up in studio for one of the Today segments.
I'm "very tired. It's been a long week," the lifelong Coloradan said on Today. "But I'm so excited to be here. It's just awesome to get all this representation from everything and see everyone really watching us. …
"We had a lot of fun out there (on Saturday) and I hope everyone saw that. Golf is a fun game and that's how it's supposed to be played."
On Saturday, Kupcho overcame the mid-round migraine to play her final six holes in 5 under par in rallying to win the Augusta National Women's Amateur by four strokes over Fassi. 
Both will be among the favorites in next month's NCAA Division I finals — Kupcho is the defending individual champion and Fassi will be playing on her team's home course in Arkansas — before starting their LPGA Tour careers later this spring.