Seminars, collaboration, looping and listening all on the agenda for second CGA Western Slope Golf Summit
By Gary Baines – 2/17/2020
With the CGA holding its second Western Slope Golf Summit this weekend, Frank Wilkinson seems especially qualified to provide a variety of perspectives on the event.
After all, he's a longtime golfer in Colorado, he lived in the Denver metro area for more than a decade but has been a resident of the Western Slope since 1993, and he's served on the CGA Board of Directors for close to 10 years.
Given that background, Wilkinson is happy to see the CGA taking an active role in western Colorado golf. One way in which the association does so is with the CGA Western Slope Golf Summit, which will be held on Saturday at Bookcliff Country Club in Grand Junction.
"It's the CGA showing a presence and giving the golfers here (on the Western Slope) the opportunity to take advantage of what the CGA has to offer," said Wilkinson, who attended last year's Western Slope Summit and is planning to be on hand this weekend as well. "The CGA is one of the top-notch amateur golf associations in this country, so the more its presence can be funneled over here and create opportunities for interface between golfers and the CGA (the better)."
The CGA's offices are based in the Denver metro area, but there's keen awareness there that the association represents golfers from Fruita to Burlington, from Trinidad to Red Feather Lakes — and everywhere in between. That's why a healthy percentage of the staff is taking the 500-mile round trip to Grand Junction this weekend.
"For us, it's to get to know our members over there — and that they have different needs than our members on the Front Range," said Erin Gangloff, managing director of programs for the CGA, and the association's point person for the Western Slope Golf Summit. "We are the Colorado Golf Association; we're not just the Denver Metro Area Golf Association. It's an opportunity to get over there and hear what's on their minds and bring our (programs and benefits) to them. We value them just as much as we value a member over here."
The CGA held the inaugural Western Slope Golf Summit early last April, and while Wilkinson hoped for better attendance than what the event drew — about 30 people — he certainly sees the Summit as worthwhile for both Western Slope golfers and the CGA.
"I'm one of the board members from the Western Slope," he said. "We try to do whatever we can to make sure that we see the presence of the CGA over here as much as possible to take care of our constituents.
"It's a two-way street. I see both sides of it. The CGA does a wonderful job and there are opportunities out there for everyone in this state to take advantage of."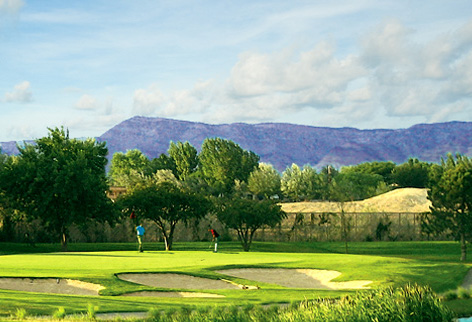 The CGA certainly has a variety of events planned for 2020 in western Colorado, beyond this weekend's Summit:
— One of the Member Play Days — non-competitive one-day events for CGA members to play at top courses across the state — is scheduled for Dalton Ranch Golf Club in Durango on July 20.
— Three CGA Women's Clinics — high-quality group instruction provided by LPGA and/or PGA golf professionals in a friendly, welcoming environment — are planned for western Colorado: April 18 at Battlement Mesa Golf Club in Parachute, June 13 at EagleVail Golf Club in Avon, and July 19 at Chipeta Golf Course in Grand Junction.
— Regarding tournaments, the CGA's annual Western Chapter Championship will be conducted Aug. 8-9 at Tiara Rado Golf Course in Grand Junction; the CGA Parent-Child Championship will be held May 30-31 at Eagle Ranch Golf Club in Eagle; the Super-Senior Amateur is Aug. 11-12 at Gypsum Creek Golf Course; the CGA Mid-Amateur is Sept. 18-20 at River Valley Ranch in Carbondale; U.S. Senior Open qualifying is May 18 at Country Club of the Rockies in Edwards; and the CGA Women's Dunham Chapman is Sept. 12-13 at Keystone Ranch Golf Course.
In addition, the CGA has taken on a larger role at the Grand Junction-based Rocky Mountain Open in recent years. The RMO, which dates back to 1939, will be played this year Aug. 20-23 at Tiara Rado.
"That's all worked out really well, how the CGA has supported the Rocky Mountain Open and kept on elevating it to the level that it makes it a really outstanding event," said Wilkinson, who also serves on the RMO board of directors.
In addition, it should be noted that last year's CGA season-long Team Interclub champion came from the Western Slope — Rifle Creek Golf Course to be exact — as it defeated Battlement Mesa Golf Club to win the title at Aspen Glen Club in Carbondale.
As for Saturday's Western Slope Golf Summit, on the agenda are:
— CGA executive director — and former USGA Rules of Golf Committee member — Ed Mate doing a session on the Rules of Golf.
— Aaron Guereca, the CGA's manager of club and facility services, providing an overview of the new World Handicap System, and conducting a WHS club certification for handicap chairpeople.
— Gangloff will do a session on the benefits of CGA membership, which includes the aforementioned, plus various golf-related discounts and support of the association's community-outreach efforts.
"That's kind of been our big drive this year: 'Membership Means More,'" Gangloff said. "You're going to get your USGA handicap, you're still going to be able to sign up for tournaments like you always have. But we offer so much more, and we want to make sure our members understand that.
"We have our Member Play Days, we have our Women's Clinics, we have all these discounts and offers, and people may not realize that. When they sign up, a lot of times they think it's just that handicap. But we are offering so much more, and we keep adding to it. So we're getting our message over there to those guys and we support them. Whether it's their leagues, their tournaments, we want to help them out over there."
— Emily Olson, manager of caddie development for the CGA, will give an update on the Grand Junction-based chapter of the Solich Caddie & Leadership Academy, which debuted in 2017. The great majority of the Solich Academy caddies in Grand Junction did their loops at Tiara Rado last year, though there were some at Lincoln Park Golf Course as well.
"We also really appreciate the Grand Junction community because we do have a Solich Caddie & Leadership (chapter) over there," Gangloff said. "So we want to get more people involved to take our caddies over there so we can grow that program because there's some great kids over there that could easily be Evans Scholars in the future. (The Evans Scholarship is a full tuition and housing grant to the University of Colorado for caddies who qualify.) This also gives us an opportunity to promote that program."
There were five Solich Academy caddies based in Grand Junction last year.
One thing CGA staffers took away from last year's Western Slope Golf Summit was that the golf schedule in much of western Colorado is somewhat different than it is in the Denver area.
"Over there, it's a different atmosphere," Gangloff said. "Over here we're like, 'Oh my gosh there's snow on the ground' (for much of the winter and early spring). Especially in March and the first part of April, we're kind of hit and miss. Over there, it's beautiful. They're playing golf. I think that's one of the big takeaways that we tend to forget — that they can play golf earlier than us, and they want to. All of us over here, it's cold and we're cranky, and they're out playing golf. So we're trying to get to know their membership better and what they need."
For those interested in attending Saturday's CGA Western Slope Golf Summit, registration is open through Wednesday at 5 p.m. (CLICK HERE.)