Back-to-back eagles lift Aspen's Hughes into boys lead at AJGA Hale Irwin Colorado Junior; Kansan Propeck fires 66 in girls tourney
By Gary Baines – 06/04/2019
To say that Tuesday was a wild day for Aspen's Jack Hughes at the AJGA Hale Irwin Colorado Junior doesn't do it justice.
Let's count the ways:
— In the middle of the front nine at Walnut Creek Golf Preserve in Westminster, the future University of Colorado golfer had back-to-back eagles, a personal first.
— The initial eagle came on the par-4 fifth hole, where he drained a 155-yard shot on one hop with a pitching wedge. The eagle on the next hole was more "routine" — if eagles are ever routine. He hit a 3-iron second to 10 feet and made that one.
"I was just like, 'Today is my day,'" the 17-year-old said. "To have (back-to-back eagles) happen today, I just knew it was going to be a low one. I was feeling good about it. It was lucky."
— On hole 17 at Walnut Creek, Hughes canned a 35-foot birdie putt, marking his third birdie in five holes following a birdie-bogey-double bogey start to the back nine.
— Hughes made only eight pars on the day.
— And finally, in what might have been the most bizarre development, after hitting the par-5 18th green in two, a violent microburst came out of nowhere, blowing Hughes' eagle attempt almost off the green. Instead of an almost-sure two-putt birdie, fate dealt him a three-putt par.
"That was unfortunate," he said. "I probably would have made birdie, but that's how it is."
And with all that, the Aspen resident shot a 5-under-par 67 and holds a one-stroke lead in the boys competition after Tuesday's opening round at Walnut Creek.
"Today was very sporadic," Hughes said. "It was very hot and cold, but I managed to do more good than bad."
In his final AJGA tournament ever, Hughes holds a one-stroke advantage over defending champion Dillon Stewart of Fort Collins and Davis Cooper of Overland Park, Kan.
Last year, Hughes tied for 10th at the AJGA Hale Irwin Colorado Junior, with a low round of an even-par 72.
"It shows you how much you can improve," he said. "This was definitely my best and lowest round of the year."
Last fall, Hughes led Aspen to the 3A boys state high school title, and placed second individually.
Meanwhile, Stewart, an Oklahoma State signee, is looking for his third AJGA title in a year, and an unprecedented second at the AJGA Hale Irwin Colorado Junior. And with a seven-birdie day on Tuesday, the Junior Golf Alliance of Colorado's Boys Player of the Year in 2018 is on the right track.
On the two par-3s on the front nine, Stewart holed birdie putts of 30 and 60 feet.
"I putted great," he said. "These greens, there's just something about them where I can read them well and my speed is great. It lets the ball go in the hole. That's what kind of saved me today and let me fire in the 60s."
No golfer — male or female — has won the AJGA Hale Irwin Colorado Junior more than once.
"It feels great" to have that opportunity, Stewart said. "It's nice because it's in the home state of Colorado, so it makes it that much more special because we have one (AJGA) tournament where in Texas they've got one a week almost. It feels good because you want to see someone from Colorado take it. Obviously I want to see myself do it. It feels great coming back.
"I love this golf course; it suits my eye very well. If I (keep this up), I think I'll be in a good spot."
Meanwhile, Cooper was 6 under through 14 holes on Tuesday, but dropped back a bit with his first bogeys of the day — on holes 16 and 18.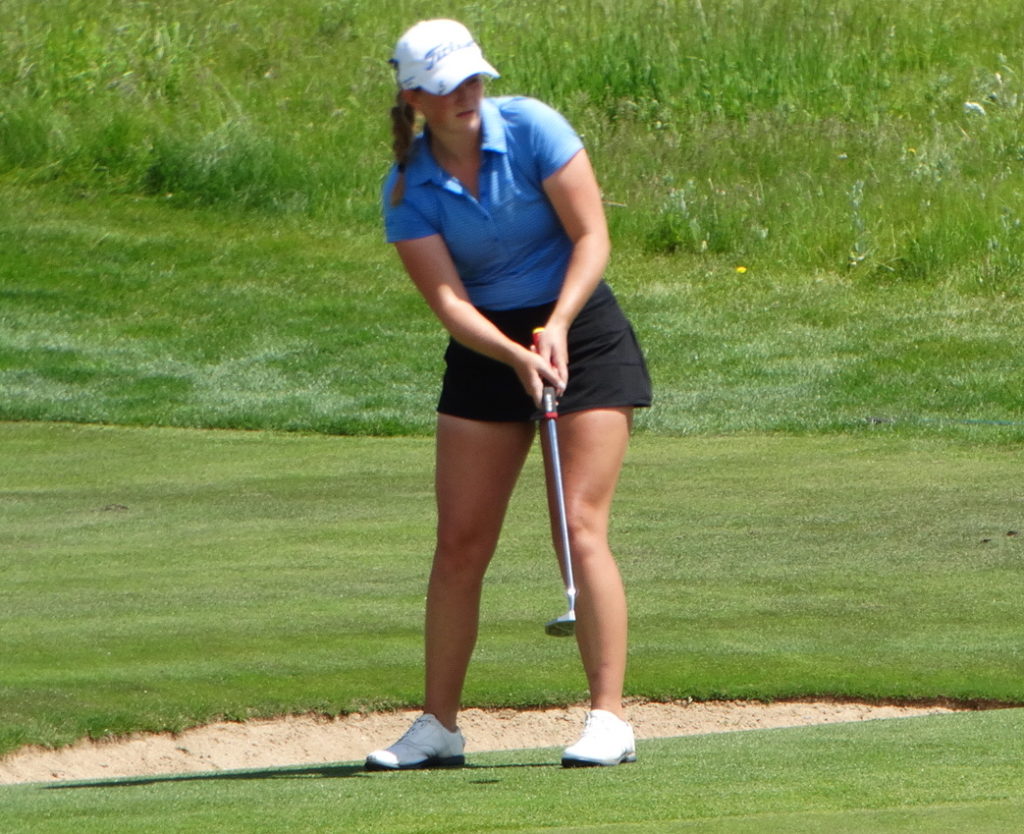 In the girls competition, Megan Propeck of Leawood, Kan., who has won Missouri girls state high school individual titles as a freshman and a sophomore, opened up a four-stroke lead with a stellar 6-under-par 66.
The 16-year-old made seven birdies and one bogey on the day while competing in this event for the first time. She came within a stroke of the low score ever by a girl in this event — a 65 shot by current University of Denver golfer Trussy Li in 2017.
"I definitely didn't come out thinking I was going to shoot a 66 today, but I'm obviously really happy with it," said Propeck, winner of the girls division of the Kansas Girls Junior Amateur each of the past two years. "There were some (putts) I made that I definitely didn't expect to make. I was really happy with it."
Asked where Tuesday's 66 ranks among her better rounds, Propeck said, "One of the best I would say. I was putting really well today, and I haven't been putting like I wanted the last couple of months. It was good to go out and have a good round with the putter. I was hitting my iron shots in close. I think I just missed one green (in regulation). It was a good day."
Lauren Lehigh of Loveland, who finished third in this event last year, holds down second place among the girls at 2-under-par 70, the same score she shot in the opening round in 2018.
"I'm pretty happy being in the top three," said Lehigh, a future University of New Mexico golfer who last month won her second girls state high school individual title. "It's always a good feeling to get a trophy and stuff like that. I just want to come out and play my best, and if somebody beats me that's good for them. If I win, cool. That's great too."
Lehigh, the 2018 Junior Golf Alliance of Colorado's Girls Player of the Year, made six birdies, two bogeys and a double bogey on Tuesday.
Charlotte Hillary of Cherry Hills Village, winner of two JGAC Tour Championships, was the only other player under par for the girls as she carded a 1-under-par 71, good for third place. Hillary eagled the par-4 15th hole on Tuesday.
The Hale Irwin Colorado Junior is conducted annually by the American Junior Golf Association with the help of the Junior Golf Alliance of Colorado and local volunteers from the CGA and JGAC.
For scores from the AJGA Hale Irwin Colorado Junior, CLICK HERE.