9-birdie day by Roos lifts he and Fields to title in CGA Senior Four-Ball; they prevail on third hole of sudden death; Cloud/Reynolds win super-seniors
By Gary Baines – 05/01/2019
The first CGA championship of 2019 yielded two first-time CGA champions and a final-day birdie-fest by one of the winning players.
On a very chilly day at Thorncreek Golf Course in Thornton, Thomas Roos of Spring Valley Golf Club drained an 18-foot birdie putt from the fringe to give himself and partner Denny Fields of Walnut Creek Golf Preserve a playoff victory in the CGA Senior Four-Ball.
Roos, 60, made eight birdies in regulation on Wednesday to go along with the one on the third hole of sudden death to provide the spark for the first CGA title for him and the 62-year-old Fields.
"We've been doing this for 10 years" as partners, Fields said. "We were just hoping for a top-five (finish), but Tom got hot today — got very hot, and played very well." Indeed, Roos carded a 3-under-par 69 on his own ball in the final round.
Despite three best-ball bogeys on Wednesday, the winning partners shot 6-under-par 66 for a 7-under 137 total in the event that was shortened to 36 holes due to snow earlier this week. The result was more than Roos and Fields had hoped for going into the day.
"Trust me: When we teed off today, we just hoped we'd play well," said Roos (pictured at right with Fields both above and below). "And we didn't start off very well (making bogey on their first hole, a par-5)."
Also at 137 were Gary Driber of Meridian Golf Club and Brian Woody of The Ridge at Castle Pines North. Driber sank a 9-foot par putt on the first extra hole to extend the playoff, which featured both teams parring the first two extra holes.
But on the par-3 seventh hole — the third of the playoff — Roos hit an 8-iron from 140 yards to the front fringe. Under the lift, clean and place rules in effect on Wednesday, he moved his ball a couple of feet to the edge of the fringe, then promptly knocked in the tournament-winning putt.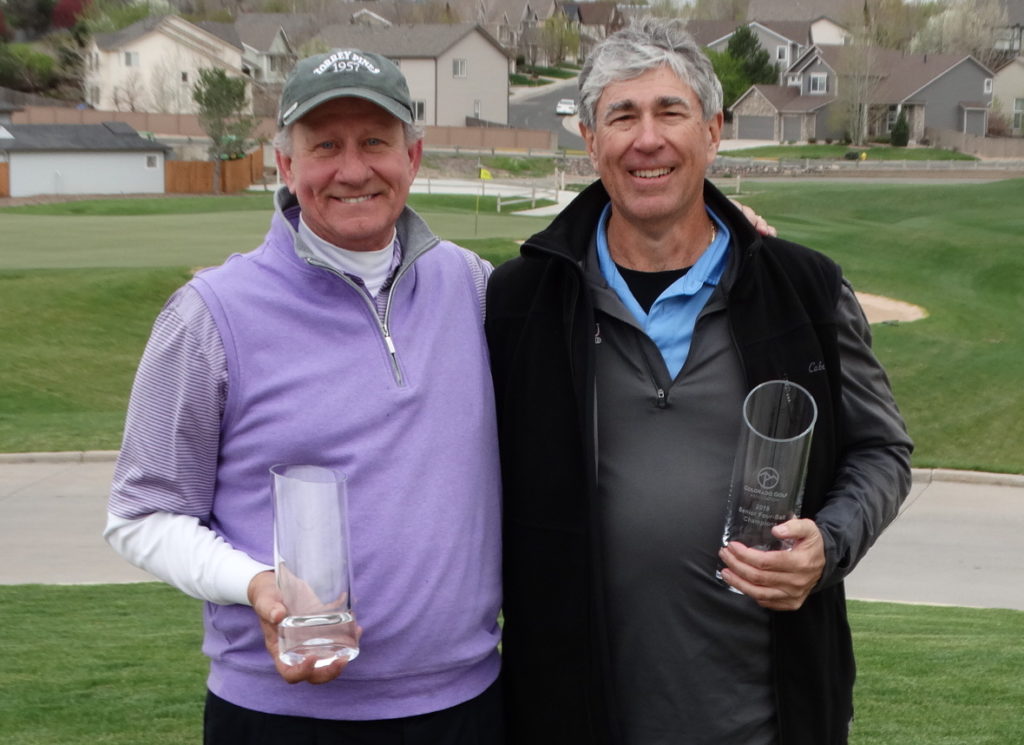 "I could get a little closer to the green, so I didn't have to go over (much fringe)," Roos said of being allowed to move his ball. "I think that helped a little bit."
While that birdie putt clinched the victory, a bogey during regulation also loomed very large for Roos and Fields. 
Both of us hit it left into the water (on No. 2, their 16th hole)," Roos noted. "I hit (my third shot) in the bunker and got up and down for bogey. We (had been) both looking at doubles."
As for Driber and Woody, they closed with a 67 on Wednesday, settling for second place following the playoff.
Robert Polk of Colorado Golf Club and Bill Fowler of The Club at Rolling Hills, winners of this event together in 2016 and '18, took third place at 138 after a 68 on Wednesday.
"We know these guys (in this event) are good, all of them," Fields said. "It's great for us to win it."
The champions called Wednesday's result the highlight of their golfing careers.
"I'm 62 and he's 60," Fields noted with a laugh. "We don't have much more left."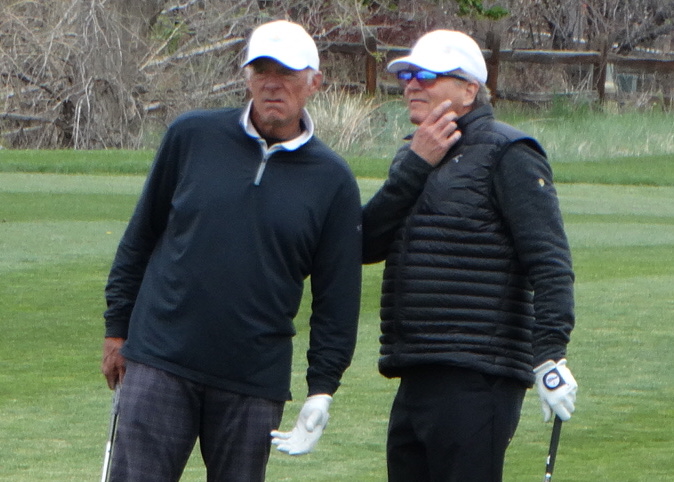 Super-Senior Division: Bob Cloud of CommonGround Golf Course and Jim Reynolds of Bear Creek Golf Club, who held a two-stroke lead going into the final day, tied for fourth overall but captured the super-senior division title for players at least 63 years old. They shot a 71 on Wednesday for a 139 total.
"It's a little bittersweet," said the 67-year-old Cloud, winner of the CGA Super-Senior Stroke Play in 2013. "We played well enough on Monday to be in contention today. I'll say straightaway my partner Jim played really well today. If I would have helped him a little bit more, we would have had a little better score today and maybe been right there at the end.
"But a state event, a state win — regardless of age category — is something to be proud of, and I am."
Neither Cloud nor Reynolds, both U.S. Senior Amateur qualifiers in the past, had given much — or perhaps any — thought of winning the super-senior division on Wednesday. Their focus was on the overall title. But the over-63 victory is a nice consolation prize.
"It feels great to take the super seniors because we totally forgot about that," said Reynolds, 65. "We just didn't play well enough to win the (overall) state championship. The super seniors was the farthest thing from our minds.
"But in a way we got a state championship together."
The overall CGA Senior Four-Ball Championship is limited to players 53 and older.
For all the scores from the Senior Four-Ball, CLICK HERE.