Former Fort Collins resident Drew Stoltz, winner of CGA Amateur and 5A state high school title in Colorado, has found a prominent niche talking golf on radio and podcasts
By Gary Baines – 2/26/2020
To this day, Drew Stoltz's favorite personal memory in golf came at the 5A boys state high school tournament in 2001 at Patty Jewett Golf Course in Colorado Springs.
As a senior at Poudre High School in Fort Collins, Stoltz had a dream finish to his high school golf career, rallying from behind with back-to-back chip-ins near the end of his final round — for eagle on No. 16 and for birdie on 17 — that led him to the state title.
"I've played in some cool events, but one memory sticks out," Stoltz said in a recent chat with ColoradoGolf.org. "Guys who won the state tournament were a big deal to me. You just got one shot at it per year, and everyone wanted to win. My junior year I was runner-up, and I didn't want to go through high school without winning it. I was one back with three holes left and I chipped in at 16 for eagle and 17 for birdie — so back-to-back chip-ins. I'll never forget that. I still have that wedge. I'll go grab it and hold it every once in a while. It was the way I won it. I had to have it, and I did it. It wasn't the biggest tournament in the world, but it was the biggest to me as a high school kid. That's my favorite memory in golf."
Stoltz, a Fort Collins resident from 1992 to 2008, would go on to win the 2004 CGA Amateur at Lakewood Country Club, play college golf at Texas Christian University (sharing the title at the 2005 Conference USA Championships) and compete professionally for seven or eight years. He played in one PGA Tour event — the 2011 Mayakoba Golf Classic — five tournaments on the Korn Ferry Tour and 29 on PGA Tour Canada.
Nowadays, though he doesn't compete much anymore, you could say that Stoltz has chipped in twice in a row again — figuratively-speaking. The 35-year-old, a resident of Scottsdale, Ariz., for the last dozen years, has recently made a name for himself among sports fans who love golf talk. Since last spring — Masters week to be exact — he's co-hosted a show on SiriusXM PGA Tour Radio called "Gravy & The Sleeze" with former PGA Tour regular Colt Knost. The show now airs three times a week — Monday, Tuesday and Wednesday — from 11 a.m.-1 p.m. (MT).
That exposure led to a weekly podcast with Knost on the Golf.com platform — titled "Golf Subpar with Colt & Drew" — which debuted this month, typically drops on Tuesdays (available on iTunes, Spotify, YouTube, etc.) and features extended chats with prominent guests. For instance, the first two such guests who joined Stoltz and Knost in their studio were Jon Rahm, currently the No. 2-ranked golfer in the world, and 2019 U.S. Open champion Gary Woodland.
"I just enjoy having conversations with people," Stoltz said last week in the phone interview with ColoradoGolf.org. "It just so happens that golf is where I have access to the big-name people or people that the average guy out there would want to listen to. I just like to have fun, have good conversations and golf is kind of my platform to do that right now."
It should be noted that Stoltz isn't the only golfer who grew up in Colorado who recently added a podcast. "Playing-A-Round With Paige Renee", an iHeartRadio podcast hosted by 2015 CGA Women's Match Play champion Paige Spiranac, debuted earlier this month.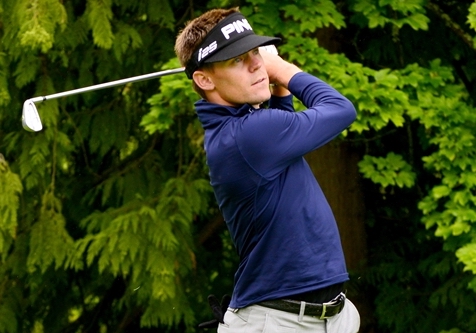 Here's an edited Q&A we conducted last week with Stoltz:
Q: How did you get into radio and podcasting about golf?
DS: Initially when I first got out of playing golf professionally (about 2015), I was approached right out of the gates by a good friend of mine, (then-CBS golf broadcaster) Gary McCord, about doing a show with him on SiriusXM. I was all excited about that — it was a dream scenario for me — but at the 11th hour Gary wasn't given the green light to do the show. He said, 'Hey man, really sorry. Why don't you go out there and get as much experience as you can, do whatever you can do and we'll check back as soon as I'm done doing TV. I shopped around a little bit and got involved (in 2018) with a company called the Action Network — a sports gambling company — and I started doing some podcasts for them. I'm not the brains behind sports betting or anything like that but I can tell you about the golf course and the players and stories and things like that. I did that for a little over a year and a half — one podcast a week — and I just enjoyed doing it more than anything else. 
I stopped this past year because I got into radio with a friend of mine, Colt Knost, who just stopped playing on the PGA Tour. Our first show there was Masters week last year. We were one day a week for one hour at the time it started. They said 'Look, let's give this a try. If it's good, we'll talk at the end of the year. If it doesn't go anywhere and (we) hate it, we'll shake hands and say, 'good try.' We had a good run, we've had some great guests, and they liked it, so we got to where we're now three days a week and two hours a day, which is really fun.
As that show progressed, that's how I got contacted by Golf.com. They heard the show and wanted to bring a fun, less serious, more personality-type of a podcast to their lineup, so that's how Colt and I got involved with that. Those are really fun and we've had some good guests. Jon Rahm was our first guest. We got him to rap a bit at the end of the podcast. The video went around the internet, which was cool. Our second one was with Gary Woodland. Then we have Kiradech Aphibarnrat (this week), which is a really fun one. Then we have Gary McCord. (Note: Denver native Wyndham Clark, who recently moved to Scottsdale, is also a future guest.)
Q: What's the difference between the radio show and the podcast you do now?
DS: We have a lot of great guests on Sirius as well, but for shorter time periods. And you have commercials and things like that, so it's harder to get super in-depth, unlike the podcast, where you can have unlimited time. If a guy is sitting there and we're having a good conversation and it's fun, we'll let them go as long as they want. On the radio, I feel like we hit more hot topics in golf — what's going on that day or the day before, we talk about the tournament that just happened or the one upcoming. On the podcasts we kind of let them go wherever they want to go.
I think the best responses that we get are about the parts that have nothing to do with golf — where (guests) talk about personal stuff or funny stuff. People have seen all these guys give the cliche golf interviews a million times. We want to be the opposite of that. We want it to be, 'Oh my God, I've never been asked that' or 'I've never talked about this before.' We want to go outside the box. It's not that we don't care about their golf games or 'How do you feel about next week' type of stuff, but we'd rather not cover that and try to show the personal side and the fun side of these guys. There's a lot of fun dudes out there.
Q: Obviously, you had wanted to make it as a professional golfer, but after you gave that up, was this something you definitely wanted to pursue, or did it just kind of happen?
DS: It really just kind of happened. Gary McCord, being a close friend of mine, is a guy I go to for advice and things like that. As scary as that is — a guy as crazy as Gary McCord being my life coach — he said, 'I know this business and I know guys that can be good in this kind of business. You're one of those guys.' I never knew how to get my foot in the door. What do I do? I don't just sign up or fill out a resume and they go, 'Oh, you're hired, you're on TV or radio.' You've got to put the word out a little bit.
A little bit of it was luck for me. Colt got out of playing golf, and he's been interested in doing this as well. Between the two of us, we got in contact with the right people at Sirius, and that kind of took off a little bit. Then the Golf.com people heard about it and they wanted us to do something, so it just kind of snowballed from there.
Q: With the shows you've done, who have been the most interesting guests are far as you're concerned?
DS: That's a great question. On the golf side, Kiradech Aphibarnrat (of Thailand) is a guy who I've been a big fan of for a long time. I'm not a huge fanboy in golf, if you know what I mean, but I grew up with a lot of these guys. You know them more as the guy who was sleeping at your hotel than the guy who was holding the trophy. I knew very little about him other than what I had seen on TV. He was nice enough to sit with us for an hour, and he was the nicest, best guy. He's got a very different story than a lot of the guys who come up in the U.S., with their upbringing and stuff like that. Here's a guy who would be hitting balls at a double-decker range on mats, scraping together money, and he turned himself into one of the best players in the world. On top of that, he's super likable, genuine guy. I really enjoyed talking with him.
On the radio side, another golfer I loved was Viktor Hovland, who we had on when he was super hot, just out of the U.S. Open (and) turning pro. He had all the attention. He was incredible. He's got a great personality, and I think we showed a lot of that on our show.
We've gotten to do a lot of guys who aren't golfers, which l love. I like to hear about other sports. (Former Kansas City Royals All-Star and National Baseball Hall of Famer) George Brett is an all-timer. He's one of those guys you could turn on the microphone and say, 'Our next guest is George Brett' and then 30 minutes later you say, 'And that was George Brett' without you even having said a word. He could tell stories over and over and over. He was incredible.
We did a show live from the 17th tee at the Phoenix Open where we were just pulling golfers and celebrities that were coming through (during the pro-am). I got to talk to J.R. Smith for a little while. I'm a big Nuggets fan, so I loved talking with J.R. Smith, and the fact that he's as into golf as he is is pretty wild. There's not a lot of NBA guys who are huge into golf. So he was awesome.
The other one I thought was special was Gary McCord's interview right after he didn't get (his contract) renewed by CBS. That was a really good interview for us — kind of a tell-all and the first time he had spoken about it. That was a cool one.
Q: Speaking of that, how did you get to know Gary McCord so well?
DS: I moved down to (Scottsdale) in 2008 after I finished playing golf at TCU. I had some friends at a club up north called Whisper Rock. I used to go up and play with them every so often. I met Gary up there. I got to hang out with him a few times. Fast forward about a year and a half, I actually got an invitation to join that golf club. I was out there every day, sun up to sun down, that I wasn't traveling for tournaments. And Gary McCord was pretty much the same way when he wasn't working, so he and I overlapped a ton. Pretty much from the first time, we hit it off. I love to talk, he loves to talk. We joke around and give each other tons of crap out there. He was a guy I really gravitated toward. He was so nice to me. I've grown up watching him cover golf and all of a sudden here we are just me and him out on the course drinking. It was a cool deal for me. He's someone I really look up to. And while everyone knows him as super funny and kind of a quirky guy on TV, there's a lot of depth to him as well. He's a guy I've gotten to be super close with over the years, and that's a really fun relationship for me because he's a one-of-a-kind guy.
Q: I know Whisper Rock has a lot of prominent members. That must be a fertile ground for getting guests for the shows.
DS: There's 20-something PGA Tour pros up there — major champions, Ryder Cup members, big-name guys, a litany of other professional athletes: Larry Fitzgerald, Jason Kidd, Toni Kukoc, Justin Upton, Mark Mulder, Mike Modano, Ray Whitney. Then there's super successful businessmen that you've never heard of. It's a melting pot up there, which makes it really cool.
Phil (Mickelson) is a member there; he designed one of the golf courses there. There's also Martin Kaymer, Paul Casey, Geoff Ogilvy, Wyndham Clark, Max Homa, Bryce Molder, Chez Reavie, Ricky Barnes, Kevin Chappell, Brandon Hagy, Tim Herron. There's so many guys, it's crazy.
That's part of the reason the radio and the podcast (work) because these guys are huge in the world of golf, but these are the guys Colt and I were just drinking with last night. They kind of open up to us a little bit more than a typical media request. It doesn't feel like a media obligation to them. (Instead it's) 'I'm going to hang out with my buddies for an hour and talk like we're sitting around the table.' That's what hopefully can make our stuff different is there's a comfort level there because we have relationships with so many of these guys — and it's not from a media perspective. We grew up with them or we know them or we hang out with them and stuff like that. Whisper Rock is incredible.
We've had a ton of those guys on the shows. Colt and do the show from Scottsdale — literally from Colt's house. If there are guys from Scottsdale and they're in town during an off week, we try to get them to come to the studio, to Colt's house basically, and sit with us for an hour. It's so much better than doing it on the phone; it's a totally different conversation. It's easier, it flows better, you can see body language and stuff like that. Whenever we can have somebody in the studio, we do it. All the Whisper Rock guys have been super nice to us. They're more surprised that we have a radio show than anything else. 'Oh my God. You all are on the radio? Are you out of your mind. Sirius is going to (hell).' Then there's guys that stop into Scottsdale, play and practice for a week getting ready for a tournament or something like that, we'll grab those guys too. It's a perfect place for what we do to be located out of. We could do three shows a week for an entire year and not do anybody outside of Scottsdale and still have a great year.
Q: Speaking of which, isn't Wyndham Clark (the 2010 CGA Amateur champion) living there now?
We're recording with 'Dub' today for the podcast. It'll be the next one after McCord. He used to stay at my house for AJGAs as a kid. I've known Dubs since he wasn't the Wyndham Clark (he is now). He's a close, close friend and he just moved down here recently. He lives a mile or two down the road from me. He's an unbelievable, great kid. I love that kid. He just joined Whisper Rock as well.
Q: How did you get to know Colt so well?
DS: Colt and I met in college actually. I went to TCU in Fort Worth at the same time he was entering SMU, which is right down the road in Dallas. At the beginning of each year, each team would play a tournament for the first qualifier and part of that qualifier involved the Fort Worth men's city amateur, which is a three-day event. And Colt and I got paired in that one year. We got to know each other and stayed friends through our time in college. He lived in Dallas for most of his PGA Tour career and moved to Scottsdale three or four years ago. And he called me and said 'can you help me where to live, where to play, all that stuff?' I helped slide him toward the Rock and showed him where to live, and he's been loving it.
Q: And how did you end up doing the shows together?
DS: The last year or two Colt has had injury problems. He had so much down time, and I think he'd been really interested in getting into the broadcast world, like the on-course CBS guys, similar to a Gary McCord. He started talking with some media agents and started shopping around. He called me and said, 'Dude, I talked to my agent and we want to talk to the Sirius guys about getting a radio show. I need another guy to do it and I want to do it with you and I don't really have another option of who I want to do it with. I'm like, 'I'm 1,000 percent in. If you can get a radio show on Sirius XM, I'm a million percent in. Count me in. If I need to meet with them, whatever. Turn the charm on and go get this thing done.' So he met with some people at Sirius and called me later that day and said, 'We're going to get one hour a week starting at the Masters. Get ready to go.' I'm like, 'Perfect, here we go.' So that's how it started.
Q: How does it work for you two as far as booking guests?
DS: I don't know how big-time radio shows work. I mean, Howard Stern is probably not calling up celebrities to be on his show. But between Colt and I, it's literally us sending texts to our boys. 'Yo, Tuesday morning, you want to hop on for 30 minutes at 11:15?' We know who's playing and who's not playing that week. It's literally us reaching out to our boys. And the more guys we've had on and have had a good time, the more it might help with guys neither of us are close with. Like Justin Thomas comes on and he might tell one of his boys, 'That's fun. It's not like a real interview. You should go on.'
So now we've got guys reaching out to us (wanting to go on the show). That's cool too. And then we'll have some random athletes and entertainers that will hit us up on Twitter. 'Yo, heard you all's show the other day. Would love to come on anytime you all want me.' That's been cool too. But it's been pretty guerrilla style, just us texting and calling people right now.
Q: Do you take the radio show to tour sites very often, or keep it in Scottsdale?
DS: It has been (only) in Scottsdale until just recently. On Wednesday of Phoenix Open week, we were literally on the tee box — we could reach out and touch guys as they were teeing off on 17 (for the pro-am). We'd do 5-6 minutes with each guy while the amateurs were hitting. It was awesome. We had some really fun, fast-pace interviews.
The people in New York at Sirius really liked that show and got really good response to it and said, 'We need to do more of this.' So they flew us out to Riviera (for the Genesis Invitational); that was our first time traveling to an event. We got out there early Wednesday. All the big-name guys were going first off — Tiger, Justin, Rory, Brooks, DJ — so we snagged all those guys. We did little 4-5 minute interviews with them as they were warming up and packaged all those together for a show that Wednesday out there. When you can get that many guys in one swoop — you get six of the top 10 in the world to sit down and give you five minutes — and for it be funny too, that's pretty cool. So we may end up doing more of that. They've asked us to go to the Tahoe celebrity event (the American Century Championship in July). We're both excited about that.
In four stalls right next to each other, a couple of yards apart (at Riviera), there was Tiger, JT, Rory and Brooks. I was thinking, 'This is pretty cool right here. This is not a bad four-ball.'
Q: How did you get the 'the Sleeze' or 'the Sleezyman' moniker?
DS: That was given to me by a very good friend of mine — a guy I've played a million rounds of golf with — Derek Tolan (the former University of Colorado golfer who has won two Colorado Open titles). Derek was in Scottsdale staying with me for a few weeks — we were playing the Gateway Tour down here. In between events, we'd go to Whisper Rock to go play a match. It was a day I didn't have my best from a ball-striking perspective. I'm hitting slap drives, missing the greens with irons. It wasn't clean that day. Derek was hitting it good — fairway, on the green, two-putting, making par. I was getting up and down from everywhere — places you have no business getting up and down from. Through seven holes we were all square or something like that.
On the eighth hole I hit it into the desert — dead, no chance. I hit this flop shot out of the desert to like 2 feet and make par. Tolan two-putts for par. He looks at me and says, 'These are some of the sleaziest pars I've ever seen.' No one thought anything of it; it was just a throwaway statement. For the rest of the day, whenever I'd miss a green, he was like, 'Well, here comes the Sleaze — things like that. Every time I'd get up and down it would be like 'Sleaze!' We went into the grill and Derek called me Sleazy D. 'Sleazy D hit two greens and shot even' or something like that. It just stuck like glue. I had no idea at the time that this will be your nickname for the next decade, you no what I mean? It was like a nothing thing, but somehow it stuck. But now everyone, especially at Whisper Rock … I haven't been called Drew up there in eight years. I can thank Derek for that.
Q: Do you still compete at all?
DS: I applied for amateur reinstatement after I quit (as a pro player, around 2015) and knew I was done. The last year I had a Web.com card and didn't play any good out there. I wasn't having fun playing the Mondays (trying to qualify for individual events). It was like, 'You know what? I retire.' So I filed for reinstatement and it took three years. Since then, I've played some fun events, but the first thing I tried to do as an individual was I tried to qualify for the (2019 U.S.) Mid-Am, which was at Colorado Golf Club, one of my favorite places in the world. The qualifier was in the middle of the summer, which for us is the offseason. And last year I had a baby girl at the beginning of the summer and I played literally no golf. I flew to Arkansas (for the qualifying tournament) and ended up missing by a shot (and being first alternate, after shooting 71). Going to the Mid-Am at Colorado Golf Club would have been cool to me. I love that place; that's where I qualified for the U.S. Amateur in college.
So I'll probably play Mid-Am qualifiers and start playing the (U.S. Amateur) Four-Ball qualifier and a smattering of fun amateur events at cool places around the country. I'll start throwing my hat in the ring for some of these USGA events. I don't have any interest in playing state amateur stuff. I like competing but I don't necessarily need a million events.
I feel like I can compete. That's what will be fun — being able to contend and potentially win some of these events. That will still get my juices going. It's just the practice doesn't get my juices going. That's the tough part. I want to be good at golf. I just don't want to put in the time anymore. I've got to figure out that dynamic.
Q: Do you still have family and friends in Colorado?
DS: Last year was the first year my family (wasn't in Colorado since moving there in '92). They had the same house I grew up in in Fort Collins, but they just sold it. They're down here now (in Scottsdale). They were spending winters in Palm Springs and summers in Colorado. Then Scottsdale to Fort Collins. Just last year they sold their place in Fort Collins and are in Scottsdale and in the summer they go to Flagstaff (Ariz., in the warm months). Me being down here and having a kid, they want to be close to (her). It's great having them close by. I get to play golf with my dad a handful of times a year. I see my parents all the time.
Q: Speaking of which, in addition to winning the state high school title and the 2004 CGA Amateur in Colorado, there were CGA Parent-Child titles with your dad Steve in 2003 and '06. How special were those?
DS: To share those (wins) with my dad … I still remember some of the shots (from those tournaments). I can't remember what I did yesterday but I can remember that.