7 players with strong Colorado connections have been finalists in the U.S. Girls' Junior, which will be contested in the state this year; Hollis Stacy (3 times) and Carol Flenniken claimed the national title
By Gary Baines – 5/22/2023
For golf trivia fans out there, there are these tidbits regarding Colorado and the U.S. Girls' Junior Championship:
Since the U.S. Girls' Junior debuted in 1949, what was the only year that the championship was not held? Answer: 2020, when the tournament had been scheduled for Eisenhower Golf Course in Colorado.
And … When this year's (rescheduled) Girls' Junior is contested at Eisenhower GC at the Air Force Academy, it will mark the first USGA championship hosted by a military course.
Also … This year will be the fourth time the U.S. Girls' Junior has been conducted into Colorado. Only three states have hosted the championship more times — California (7), New Jersey (6) and Pennsylvania (5). For the record, the three previous times the U.S. Girls' Junior has paid a visit to the Centennial State were 1957 (Lakewood Country Club, with Judy Eller winning), 1965 (Hiwan Golf Club, where Gail Sykes prevailed) and 1982 (Greeley Country Club, where Heather Farr was the champ).
Sticking with that local angle of this national championship, it's notable how many players with strong Colorado connections have made it to the match play finals of the U.S. Girls' Junior. By our count, seven "locals" have achieved that feat — two who won the title (a total of four times) and five who finished runner-up.
Here's the rundown of those local finalists:
— Hollis Stacy, Part-Time Colorado Resident (U.S. Girls' Junior winner in 1969, '70 and '71)
When it comes to the U.S. Girls' Junior, no competitor has ever been more successful than Hollis Stacy.
Simply put, she's the golf standard for this national championship.
Hollis won the USGJ three consecutive years — 1969, '70 and '71 — a feat that remains unmatched. And, perhaps appropriately, she capped off that run by beating a fellow World Golf Hall of Famer, Amy Alcott, in 19 holes in the 1971 final at Augusta Country Club in Georgia, Stacy's home state at the time.
Frank Hannigan, who would later become a USGA executive director, called it "the most exciting match" he ever officiated.
"It still means a lot to me," Stacy told ColoradoGolf.org a few years ago, referring to the U.S. Girls' Junior. "The kids love it. I call it the 'Baby Open.'"
Despite her three victories in the event, Stacy never dominated in the championship. She won her final matches 1 up (in 1969 over Jane Fassinger in Dallas), 1 up (in 1970 over Janet Aulisi in Rye, N.Y.), and in 19 holes (in 1971 over Alcott). Against Alcott, Stacy went 4 under par in the final. According to the USGA, "from the third through the 17th holes, neither player made a bogey; between them they made nine birdies."
Stacy went on to an outstanding pro career, with her 18 LPGA Tour victories including four majors, three of them being U.S. Women's Opens.
Before and after being inducted into the World Golf Hall of Fame in 2012, Stacy has periodically helped conduct the U.S. Girls' Junior qualifier in Colorado. For most of the years since the 1990s, she's been a Colorado resident either part-time or full-time. And for quite a while, she played an active role in the USGA Girls' Junior Committee.
"We watched after the kids, making sure they were the top priority," she said. "We wanted it to be a great championship for them. And I saw myself as them. Yes, sometimes they were really disappointed. I understand that. But it's process."
Suffice it to say the U.S. Girls' Junior has played an important role in Stacy's life.
"When Amy Alcott, Nancy (Lopez), Pat Bradley and I were playing junior golf, we were excited to see little girls like ourselves playing golf," she said. "I only played in four or five junior events every year. Now they have the AJGA and it's one a week — as much as the parent can afford or the association will allow.
"I was so excited to be around little girls like myself who loved to play golf and loved to compete just like me. It helped that I had a great short game and I could putt and I was good at match play.
"It was an exciting part of my year to fly into the Juniors and play in this. I saw my friends, who eventually became my friends for my whole life. It was just so exciting to have been raised in the competitive golf environment."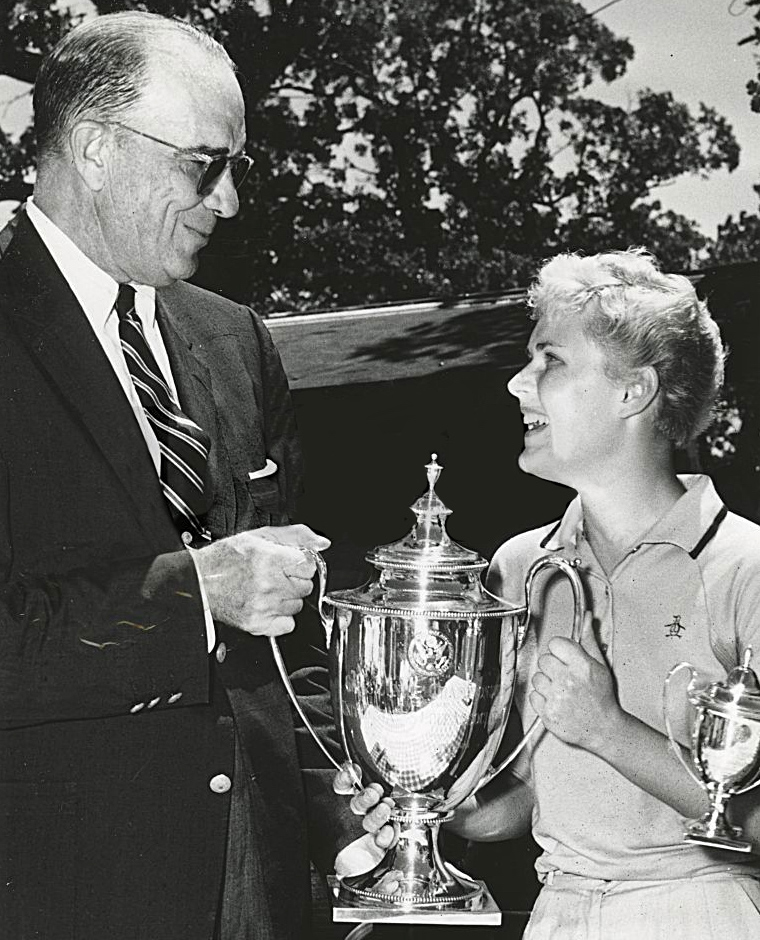 Carol Sorenson (Flenniken) is presented the 1960 U.S. Girls' Junior trophy by then-USGA vice president John Winters Jr. (Photo: USGA)



— Carol Sorenson Flenniken, Longtime Colorado Resident and Colorado Golf Hall of Famer (U.S. Girls' Junior winner in 1960)
Flenniken a resident of Colorado for all but three years since 1966 after growing up in Wisconsin, claimed the U.S. Girls' Junior title in 1960. After sharing stroke-play medalist honors at 76, Flenniken defeated Sharon Fladoos of Dubuque, Iowa in the finals in Tulsa, 2 and 1.
But Flenniken had to work hard for it. Back in the days when the event featured a match-play bracket of 32 players (1956-78) — instead of the current 64 — she shared the record for most match-play holes in five matches, with 91. She went 18 holes or more against four of her five opponents.
"I went with the idea that I was going to win," Flenniken said. "I didn't know it was going to be that difficult.
"It was awfully hot and humid in Tulsa in August 1960. I played a lot of good players, but somehow I pulled it off. That's all I can say. The good Lord was looking down on me I guess."
Among the players in the field in 1960 was Sandra Haynie, who went on to win 42 LPGA Tour events, including four major championships. She's been inducted into the World Golf Hall of Fame. In 1960, Haynie lost in the quarterfinals to eventual finalist Fladoos.
"Back in those days for (girls) there were only two major tournaments — the USGA Girls' and the Women's Western Junior," Flenniken told ColoradoGolf.org a few years ago. "Nancy Lopez and a lot of young ladies won that before they turned professional. Those were the only two tournaments that really meant anything."
The U.S. Girls' Junior "was a huge win — a very important win," Flenniken added. "I competed against basically the best girls under 18 in the U.S., so it was a biggie."
The U.S. Girls' Junior had a different scope back then. There were 91 entries that year, and no off-site qualifying tournaments. For comparison's sake, there were 1,599 entries in 2022. And this year, there will be 45 qualifying events leading up to the championship, including one at the Country Club of Colorado on June 20.
"Girls golf has come a long ways," said Flenniken, who in 1960 was a 17-year-old high school senior-to-be from Janesville, Wis. "Most of the girls didn't come from the Midwest (back then). We didn't play golf all year around."
Flenniken, known as Carol Sorenson until she married Bill Flenniken in 1966, had nothing short of a stellar national and international record in her teens and early 20s.
In 1964, she became the then-youngest champion (age 21) at the British Ladies Amateur, won the Women's Trans Miss, scored the clinching point as the U.S. team defeated Great Britain & Ireland in the Curtis Cup Matches, and tied France's Catherine Lacoste for low individual honors out of a field of 75 in the Women's World Amateur Team Championship. (Lacoste, of course, is best known as being the lone amateur to win the U.S. Women's Open, in 1967.) That stellar 1964 season led to Flenniken being named Wisconsin Athlete of the Year — regardless of gender, beating out Bart Starr of the Green Bay Packers, among many others.
Flenniken also won the women's national collegiate title in 1962 to cap her freshman year at Arizona State, and went on to claim four women's collegiate national team titles in her four years at ASU. She was victorious in the 1962 Women's Western Amateur, and captured the 1959 title in the Women's Western National Junior — one of the two most prestigious girls golf events at the time.
As an adult in Colorado, Flenniken has won 25 CWGA titles, which tied for the most ever until Kim Eaton pushed ahead last year. Most notably, Flenniken's total includes four state Match Play championships and a record eight Stroke Play titles. In the decade from 1968-77, of the 20 CWGA Stroke Plays (at the time the tournament was called the Denver Women's Invitational) and Match Plays contested, Flenniken claimed 11 titles. And that's despite skipping a tournament here and there.
In fact, Flenniken was such an outstanding golfer that in 2016, when the CWGA celebrated its 100th anniversary, she was named the association's Golfer of the Century.
It's little wonder why she was just third woman inducted into the Colorado Golf Hall of Fame, being enshrined in 1975.
— Barbara McIntire, Longtime Colorado Springs Resident and Colorado Golf Hall of Famer (U.S. Girls' Junior runner-up in both 1951 and '52)
In the early years of the U.S. Girls' Junior, one of the most prominent contenders for the title was Barbara McIntire, an Ohioan who would become a fixture at The Broadmoor in Colorado Springs starting in 1962 — and one of best female amateurs in the country in the 1950s and '60s.
McIntire won't go down as a winner of the Girls' Junior, but she remains tied for the most times being a runner-up. In both 1951 and '52, she ended up second — in both cases losing in the finals 1 up.
After falling to Arlene Brooks in the 1951 finale in Lake Forest, Ill., McIntire in 1952 finished second to one of the best women's players the game has ever seen. Mickey Wright, who went on to win 82 times on the LPGA Tour, including 80 by age 33, claimed the USGJ title in '52. At one point in 1962, she once held all four major women's golf championship titles at the same time.
In the two years McIntire was runner-up, the fields were small but formidable, numbering 32 in 1951 and 49 in 1952.
McIntire would go on to great things in women's amateur golf, most notably by winning the U.S. Women's Amateur twice, in 1959 and '64, beating JoAnne (Gunderson) Carner in the final in the latter. McIntire also captured the British Ladies Amateur in 1960 and finished second in an 18-hole playoff at the 1956 U.S. Women's Open. She competed on an amazing six U.S. Curtis Cup teams, a number surpassed only by Carol Semple Thompson (12) and Anne Quast (8).
McIntire has been inducted in both the Colorado Sports Hall of Fame (1974) and the Colorado Golf Hall of Fame (1998).
— Maggie Martin Giesenhagen, Longtime Colorado Resident, First CWGA Executive Director and Colorado Golf Hall of Famer (U.S. Girls' Junior runner-up in 1961)
Maggie Giesenhagen narrowly missed adding a national championship to her golf resumé. In 1961, she not only advanced to the final of the U.S. Girls' Junior, but she went to the 18th hole in the title match, falling 1 up to Mary Lowell in Seattle.
Giesenhagen went on to win the women's Big Ten individual championship — while competing for Ohio State — in 1965. She played in three U.S. Women's Opens and nine U.S. Women's Amateurs and claimed the 1974 CWGA Match Play title. A resident of Colorado since 1967, she was inducted into the Colorado Golf Hall of Fame in 2002.
After serving as the first executive director of the CWGA — and the first full-time E.D. for a women's golf association (1988-92), Giesenhagen spent 19 years working for the USGA, including as a director of regional affairs and a director of rules and competitions.
"In my opinion, she is the premier woman golf administrator in the world," Mark Passey, a fellow USGA staffer, said in 2010 when Giesenhagen was getting ready to retire.
— Lauren Howe, Longtime Colorado Resident and Colorado Golf Hall of Famer (U.S. Girls' Junior runner-up in 1974)
In the mid-1970s, Colorado Springs resident Lauren Howe was among the top female junior golfers in the country. Her record in the U.S. Girls' Junior says as much.
In 1974, Howe advanced to the finals in Portland, but the force that was Nancy Lopez was too much for her as Lopez won her second U.S. Girls' Junior title in three years. The 7-and-5 margin remains tied for the largest in the Girls' Junior finals.
Then the next year, Howe shared stroke-play medalist honors in the championship with a 36-hole total of 148 in Dedham, Mass. And in 1976, Howe was the solo medalist with a 146 total.
In addition, shortly before turning 14, Howe won the San Francisco Women's City Championship in 1973. In 1975, at age 16, she captured titles not only in the CWGA Junior Match Play, but the open-age CWGA Stroke Play. In 1976, she qualified for the U.S. Women's Open and won the Mexican Women's Amateur. And in '77, she captured the Women's Western Amateur title.
Howe went on to earn medalist honors in qualifying for the LPGA Tour in 1978, and in 1983 she claimed victory in the LPGA's Mayflower Classic.
— Nancy Abiecunas, Born and Grew Up in Northern Colorado (U.S. Girls' Junior runner-up in 1999)
In the late 1990s, Nancy Abiecunas was a force with which to be reckoned in her home state of Colorado and well beyond.
In 1996 and '97, she won three of a possible four girls golf "majors" in Colorado — the CWGA Junior Match Play in 1996 and '97, and the Junior Stroke Play in 1996.
But it was in 1999 that Abiecunas nearly won a USGA title. The Fort Collins resident went to the final of the U.S. Girls' Junior in Owing Mills, Md., pushing 13-year-old Aree Wongluekiet to the 18th hole where the Floridian won 2 up. Wongluekiet became the youngest USGA champion in history to that point. Abiecunas had led 2 up after seven holes in the final.
Abiecunas, a Rocky Mountain High School graduate who won five times on the AJGA circuit, went on to play college golf at the University of Arizona and won the women's competition at the World Long Drive Championship in 2003 — with a distance of 332 yards.
— Kimberly Kim, University of Denver Golfer For a Season (U.S. Girls' Junior runner-up in 2009)
In 2009, just before her one and only season playing at the University of Denver (2009-10), Kimberly Kim advanced to the final of the U.S. Girls' Junior, where she suffered a 6-and-5 defeat at the hands of Amy Anderson at Trump National in Bedminster, N.J.
Kim's name is sprinkled throughout the U.S. Girls' Junior record book:
— In 2007, she tied for the lowest round in USGJ history, a 62, en route to stroke-play medalist honors.
— Her 23-hole loss to Stephanie Kono in 2007 is one of the five longest matches in USGJ history.
— Kim competed in the U.S. Girls' Junior six times, just one off the record. (It should be noted that current Coloradan Becca Huffer played in the USGJ five times, as did former Parker resident Elizabeth Wang.)
All of that was part of Kim's illustrious history in USGA championships.
In 2006, she became the youngest winner in the history of the U.S. Women's Amateur (14 years, 11 months, 21 days in 2006). And three other times, she finished runner-up in USGA championships — twice in the U.S. Women's Amateur Public Links to go along with the one time in the U.S. Girls' Junior.
After her one season at DU, Kim qualified at The Broadmoor and made her pro debut at the 2010 U.S. Women's Open. Then in the fall of that year, she earned her LPGA Tour card in her first time trying as a pro. But after competing on the top women's tour in the world, the Hawaii native lost her card at the end of 2011.

About the Writer: Gary Baines has covered golf in Colorado continuously since 1983. He was a sports writer at the Daily Camera newspaper in Boulder, then the sports editor there, and has written regularly for ColoradoGolf.org since 2009. He was inducted into the Colorado Golf Hall of Fame in 2022. He owns and operates ColoradoGolfJournal.com