Coloradans Jake Staiano and Derek Fribbs share lead with Wyoming's John Murdock IV going into final round of CoBank Colorado Open; Sam Saunders, back as Colorado resident, jumps into top 10
For scores from the CoBank Colorado Open, CLICK HERE
By Gary Baines – 7/31/2021
Considering the name of the tournament, Coloradans don't win the CoBank Colorado Open as often as a casual observer might think — at least not in recent years.
After Colorado residents prevailed for the title in three straight years beginning in 2011 (Ben Portie, Derek Tolan and Zahkai Brown), just one Coloradan since 2014 has won the tournament. Jonathan Kaye, the 2017 champion, lives part of the year in Boulder. In fact, in 2020, just one of the top 10 finishes — James Love of Denver (fourth place) — was a Colorado resident.
But this week, Coloradans have set themselves up pretty nicely for potential success. Two Centennial State residents — Jake Staiano of Englewood and Derek Fribbs of Aurora — are tied for the lead at Green Valley Ranch Golf Club with John Murdock IV of Laramie, Wyo. And Sam Saunders of Fort Collins, who has competed in 155 PGA Tour events, is four out of the lead.
Staiano, for one, certainly would like to add his name to the championship trophy, both for his sake and his supporters'.
"It's fun to have my buddies come out," the 24-year-old said. "They don't get to come watch me hardly at all. To be in contention and have them come out and root me on, it definitely feels good. At the same time, I've got to definitely stay in my own zone. I've got to keep focused. But I appreciate the support and I've gotten a lot of texts and phone calls from people.
"I know they're watching, and I'm trying to make Colorado proud."
Both Staiano and Fribbs played junior golf in the state and are former CGA Players of the Year — Staiano in 2017 and Fribbs in 2013. And both played their college golf in-state — Staiano at Colorado State and Fribbs at the University of Colorado.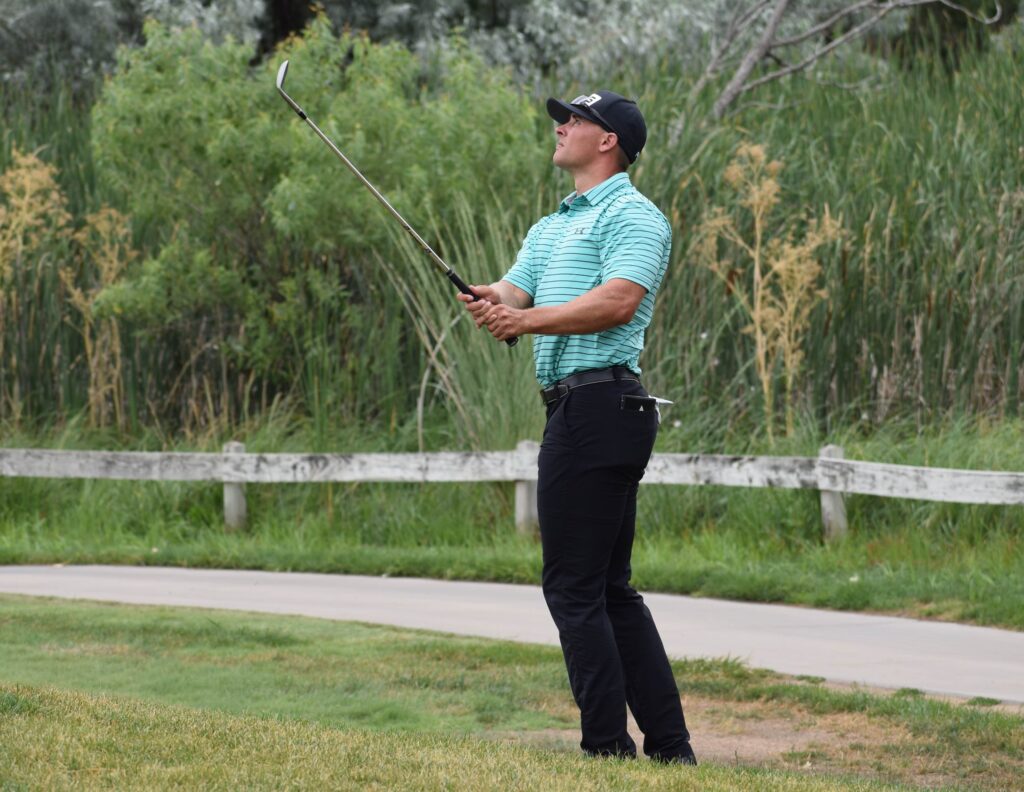 The prestige of a potential Colorado Open title, combined with a first prize ($100,000) that is seldom seen outside of major tour-affiliated golf, will mean much is on the line come Sunday.
For his part, Fribbs estimates he's played in the Colorado Open 10-11 times over the years. And to have the opportunity to win it this time is no small matter.
"I've been working hard and I've improved a lot," the 30-year-old said. "So get your mind out of the way and let your ability that you've been practicing on take over."
But, as Fribbs noted, "Anything is possible out here" so there are literally dozens of players who will feel they have at least an outside chance to win going into Sunday.
Murdock, a former University of Wyoming golfer, shot the low round of the 2021 tournament on Saturday, a 9-under-par 63, despite bogeying his final hole as he couldn't get up and down from a greenside bunker, missing an 8-foot par putt. He, like Fribbs and Staiano, stand at 14-under-par 199 for three rounds.
Going into the third round six out of the lead, "I definitely didn't think I would be where I am right now," Murdock said following his nine-birdie round. "But I knew I needed a couple of really good scores. Luckily today, a bunch of putts fell in and I'm in the place that I am. I'm just excited about it and ready to play tomorrow."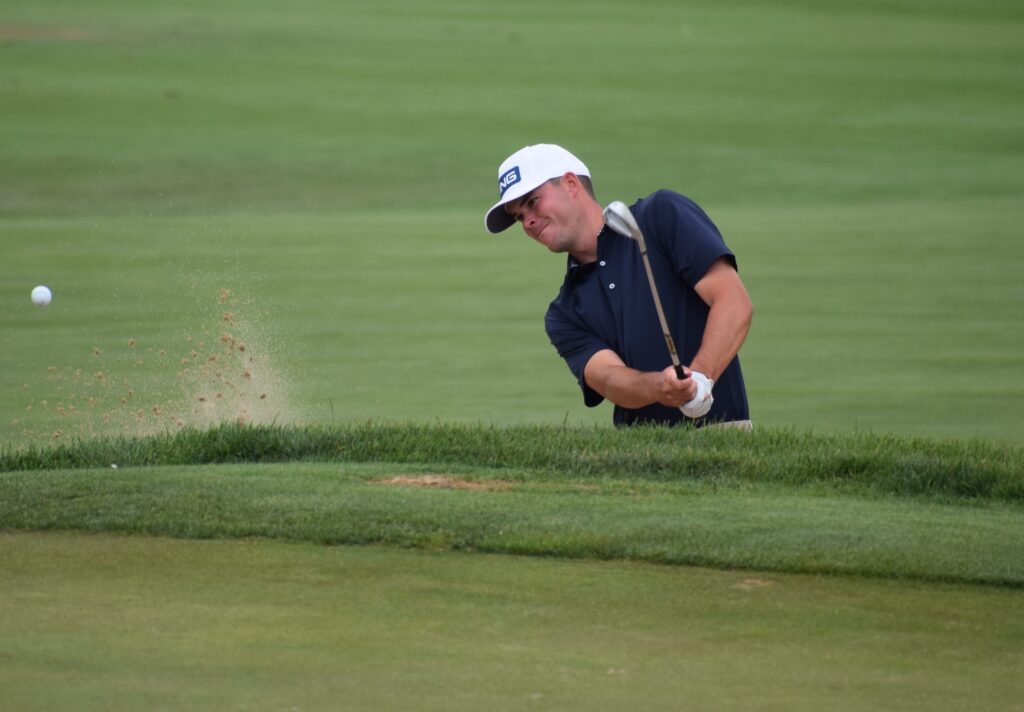 Meanwhile, Fribbs went bogey-free in shooting a 64. He carded five birdies, but the highlight of the day came on the 348-yard fourth hole, where he hit his tee shot to 11 feet and made eagle.
And Staiano, who trailed by one after two rounds, posted a Saturday 68. He birdied four of seven holes starting on No. 9, but three-putted No. 16.
"I can't complain. I didn't shoot myself out of it," said Staiano, who is looking for his second professional victory. "I definitely didn't convert as much as I did (Friday), which is hard to do back-to-back days. But I stayed in it, didn't get frustrated, stayed patient and stuck to my game plan. It'll be fun to be in the last group tomorrow."
An amateur, Easton Paxton of Riverton, Wyo., sits in fourth place, one back of the leaders. The North Carolina State golfer, who had to qualify to get into the Colorado Open field, carded a 64 with nine birdies.
Dru Love of Sea Island, Ga., the 2018 champion who led after rounds 1 and 2, was atop the leaderboard much of Saturday, but a rough finish dropped him into a share of fifth place at 12-under 201 with Alex Weiss of Pickerington, Ohio and Olin Brown Jr., who like Love is the son of a longtime PGA Tour regular.
Love, who didn't make a bogey until his 41st hole of the tournament, converted an eagle from 3 feet after a 288-yard 3-wood on No. 9. But after adding a birdie on 14, poor tee shots on 16 and 18 proved costly.
In both cases, he hooked tee shots into penalty areas, with a double bogey resulting on No. 16 and a bogey on No. 18.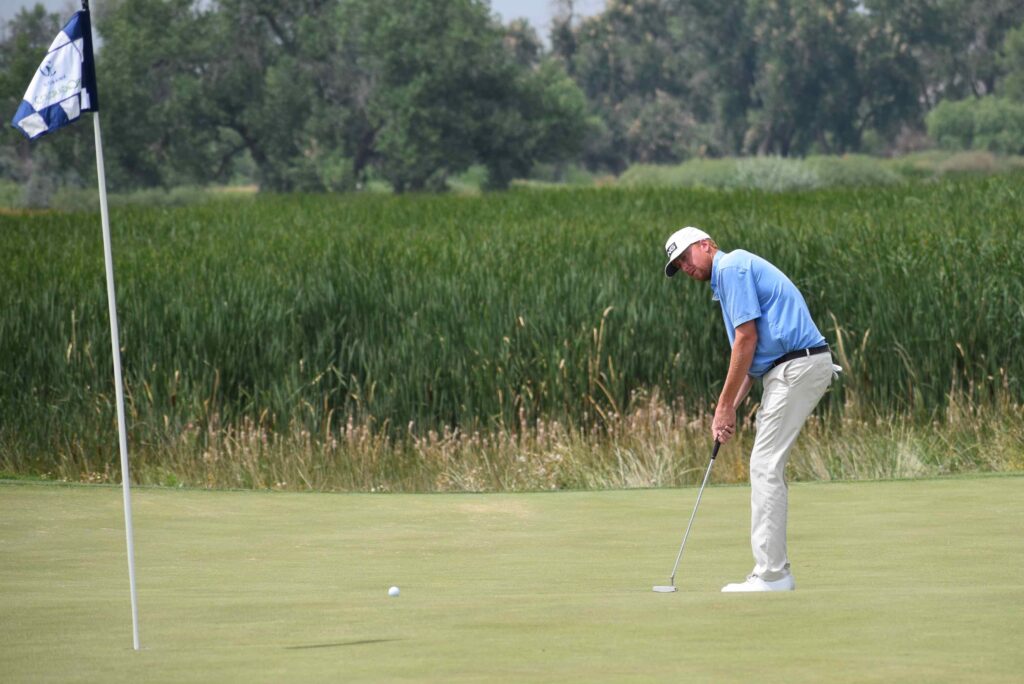 "I can be very honest when I say this: Those are the only two swings off the tee that I've made that have been bad all week," Love said after his round of 71. "They both went in the hazard. I had two bad swings all day.
"So it's a bit of a regroup. I'm obviously upset. I'll get the putter rolling tomorrow and hit some fairways and I can track these boys down."
Asked how much he's been in communication with his dad, World Golf Hall of Famer Davis Love III, this week, Dru said, "He's called me every day and just asked me how it's going and told me 'Good playing' and 'Keep it up' and stuff like that. He tries to stay as far out of it as he can. If I ask for (advice), he helps. If I don't ask for it, he doesn't say anything.
"I think he'll have some things to say this afternoon, mostly all positive, and he'll tell me that my worst round that I could have possibly shot was even-par, and I'm only two back. If I play good tomorrow, I'll win."
While Love has won the Colorado Open before, Staiano was in the final group on the last day in 2017 as an amateur. He birdied the first two holes to tie for the lead, but ended up placing eighth.
This time, even more will be on the line: In addition to the title, a potential $100,000 payday.
"A hundred grand is a lot of money; it's always in the back of your head," he said. "The money is one thing, but I'm a competitor. I want to go win. My first check when I won last year was $3,500 or $4,000 or something.
"For how hard I work and everything I put into this game, it's not really about the money for me; it's just about the satisfaction of winning and continuing to try to win and getting opportunities to win. Because I know down the road, this probably isn't going to be my last opportunity, so everything is a learning experience. So now I'll just try to go get it done."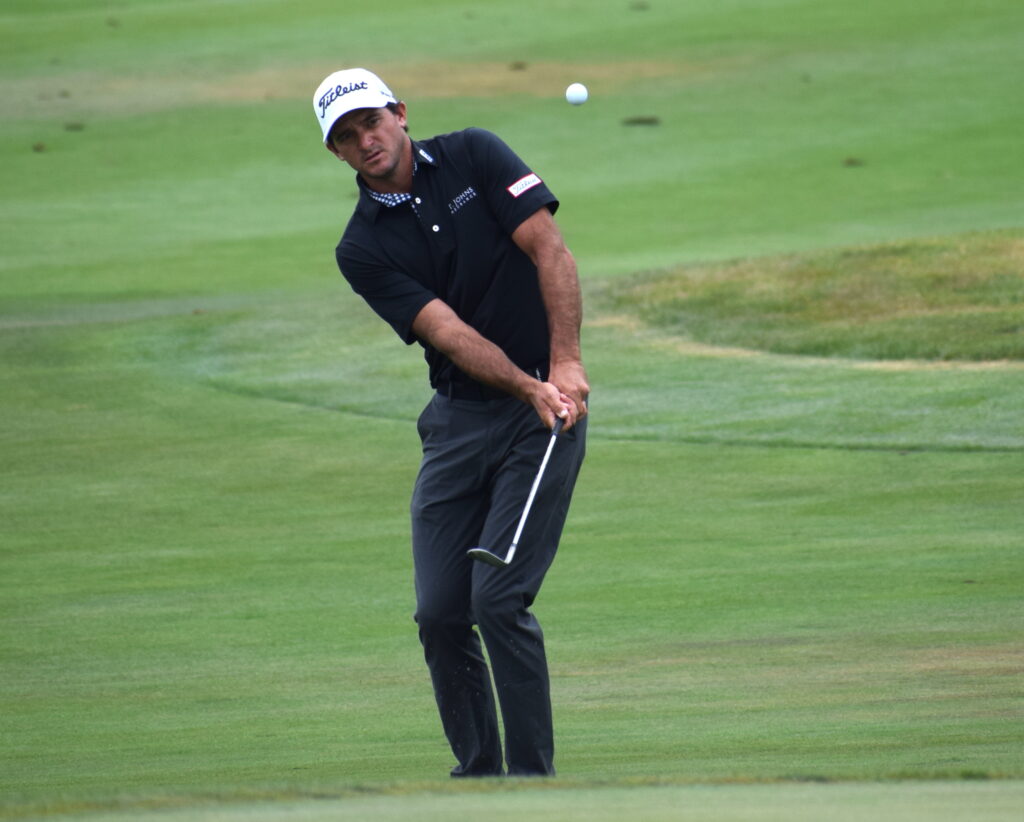 Sam Saunders Makes Inroads In His New (Old) Home State: Sam Saunders has his focus set on trying to return to the PGA Tour. But because he's now a Colorado resident again — after a 4 1/2-year hiatus in Atlantic Beach, Fla. — and because he wants to be in peak form in order to reach his goal, he's happily playing in the Colorado Open this week for the first time.
Saunders, Arnold Palmer's grandson, in December moved back to south Fort Collins, where he and his family lived previously. And now he's taking aim at the three-tournament Korn Ferry Tour Finals, which start in three weeks and where the top 25 performers overall will earn 2021-22 PGA Tour cards. Saunders was a regular on the PGA Tour from 2015-19.
"I live an hour away, which is always nice," Saunders said Saturday after shooting a 6-under-par 65 at GVR. "I'm waiting to play in the Korn Ferry finals and playing Reno (the Barracuda Championship on the PGA Tour) next week. It worked out perfectly. I've been wanting to play in (the Colorado Open) for years, so glad to finally be out here."
Going into Sunday's final round, Saunders shares 10th place at 10-under-par 203. He's four back of the leaders.
Saunders suffered a broken left leg while skiing at Beaver Creek in mid-January, but is largely back to normal, aside from a plate in his leg that will be removed in the coming months. At this point, he's laser-focused on earning one of the 25 PGA Tour cards that are at stake in the Korn Ferry Finals. He will have Korn Ferry Tour status next season if he doesn't make the top 25, but is determined to make that backup plan irrelevant.
"I'm not letting that be an option," said Saunders, who turned 34 on Friday. "To me, it's PGA Tour or bust. I'm at a point in life, I've got two older boys and have been at this long enough. Those guys on that Korn Ferry Tour, they're too young and hungry. I can't compete out there, but I still can be quite successful out on the PGA Tour. It's a little bit different type of golf out there. I can still compete pretty well out there, I think."
In 155 PGA Tour starts, Saunders has 10 top-10 finishes, including a second place.
But however things play out, Saunders and his family are happy Coloradans once again.
"We were in a great spot in Atlantic Beach, Fla. Loved it there," he said. "But this just feels like home to us. I really wanted my kids to grow up here and living in the great outdoors that we have here. We like to ski and bike and do all that stuff. We moved back to the same neighborhood. For the kids to be able to walk or ride bikes to school all the way through high school is a pretty unique thing and we've got a lot of our good friends here. So we decided it was the right thing to do and where we wanted to raise our kids for the long haul."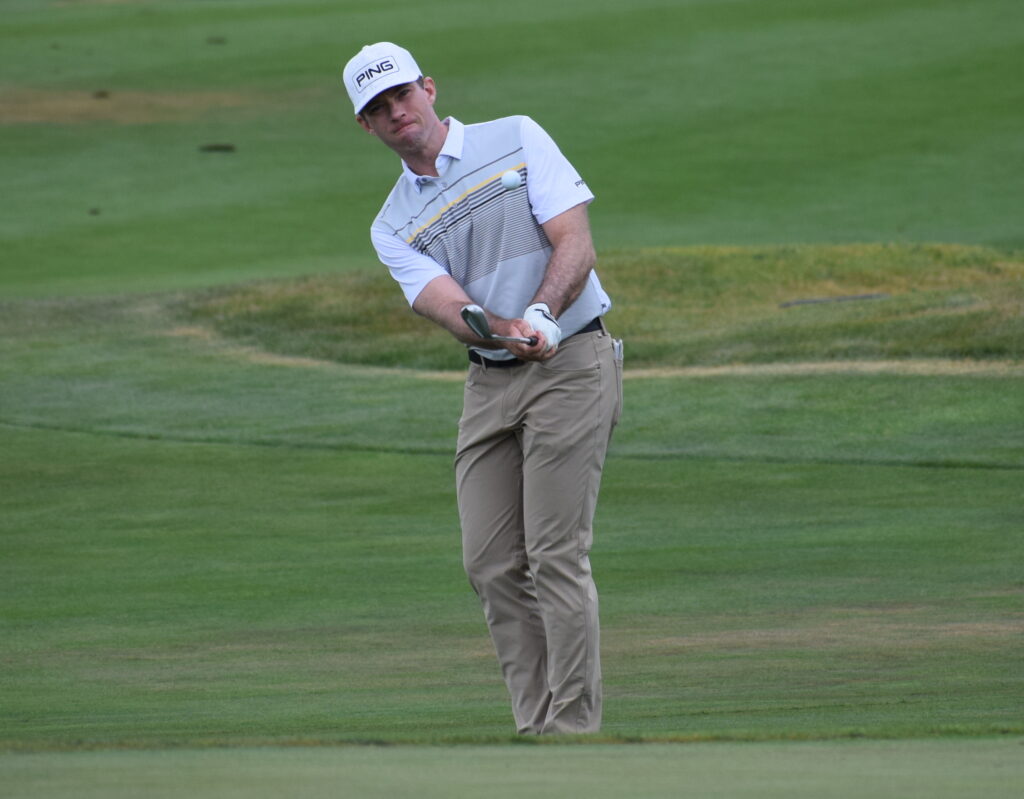 Michael Lee Foundation Benefitting From Marty Jertson's Play: Marty Jertson, vice president of fitting for Ping, is playing for a cause this week, besides having some fun. Jertson, a former Colorado School of Mines golfer and winner of the 2001 CGA Amateur, said on Twitter on Friday that he's dedicating the week to fellow Mines alum Michael Lee, and will be donating half of his Colorado Open earnings to the Michael Ray Lee Foundation.
Lee, the 2011 CGA Match Play champion, passed away on Dec. 22 after battling Covid-19. The 2021 CGA men's championship season has been dedicated to the memory of Lee.
"It just felt like the right thing to do," Jertson said on Saturday. "I met Michael many times playing golf. He was someone who always had a smile on his face; that's what he was known for. And he was such a great player. Obviously we were hit pretty hard with Michael's loss.
"It's fun to be back in Colorado and have my week in honor of him. It's the right thing to do."
Jertson, a highly accomplished PGA professional who has competed in five PGA Championships and one U.S. Open, sits in 21st place heading into Sunday's final round of the Colorado Open. He's posted rounds of 65-69-71.
Jertson said it's his first Colorado Open since 2004 — the first year the event was contested at Green Valley Ranch.
"I hadn't played here in so long," he said. "Everyone was like, 'You should go play the Colorado Open.' And it was the perfect time of year. My family came up and got out of the (Phoenix) heat earlier this week, then flew home. We kind of used it as a combination trip and I did a little bit of work."

An Eye on Northern Ireland for Kupcho Clan: The timing probably wasn't ideal for Mike and Janet Kupcho. Both their kids were competing at the same time at important golf tournaments.
The two were following son Steven, who was playing in the third round of the Colorado Open at GVR. And, at the same time, daughter Jennifer was competing at the ISPS Handa World Invitational in Northern Ireland. And not only competing, but Kupcho, who is looking for her first LPGA victory, grabbed a share of the lead through 54 holes. After going 66-69-70, she sits at 13 under par and tied with Pajaree Anannarukarn and Emma Talley.
As with the Colorado Open, the final round of the ISPS Handa World Invitational is on Sunday.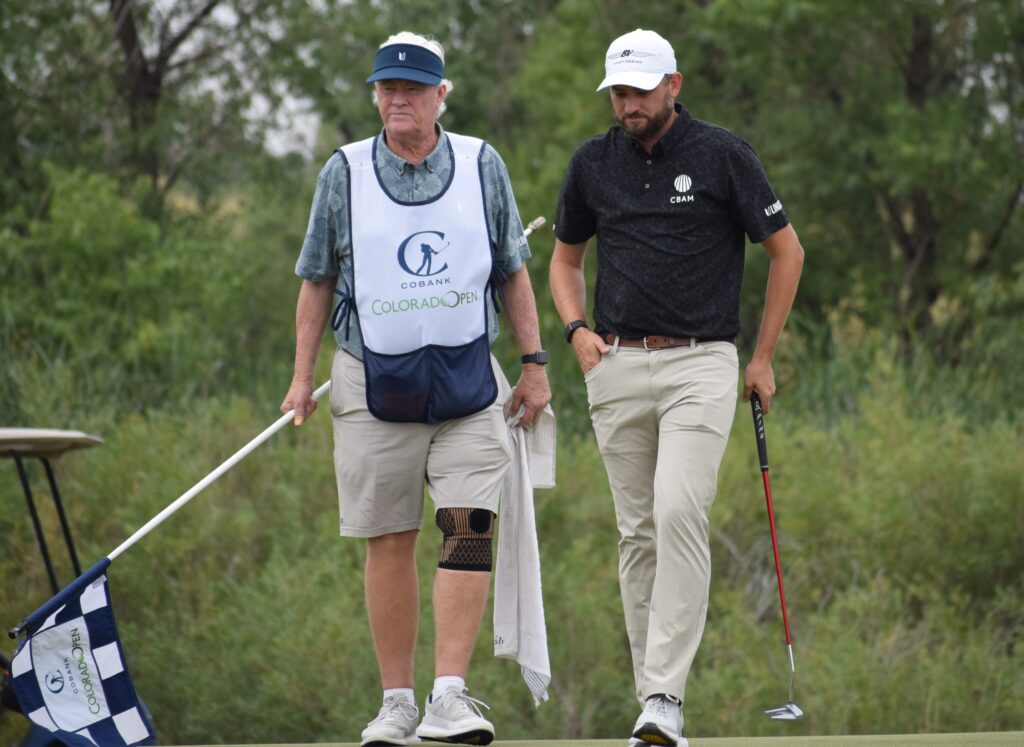 Notable: Paxton, who sits at 13 under par, will take a four-stroke lead in the low-amateur competition into the final day. University of Denver golfer Cal McCoy (69 Saturday) sits in the No. 2 spot among ams. The 2020 low-am, Colin Prater of Colorado Springs (70 Saturday), shares third among amateurs at 8 under with Parker Edens of Fort Collins (72). … The overall co-leaders — Staiano, Fribbs and Murdock — will tee off for Sunday's final round at 9:25 a.m. (TEE TIMES)