First Tee of Green Valley Ranch's Hunter Swanson and Kyle Leydon selected to compete alongside PGA Tour Champions players at Pebble Beach
By Gary Baines – 7/6/2021
Hunter Swanson and Kyle Leydon, the Coloradans who both posted top-10 finishes on June 24 at The First Tee National Championship in South Carolina, were selected on Tuesday to compete in the pro-junior portion of the PURE Insurance Championship Impacting The First Tee, a PGA Tour Champions event that will take place Sept. 24-26 at Pebble Beach Golf Links and Spyglass near Monterey, Calif.
Swanson, of Denver, and Leydon, of Commerce City, are both members of The First Tee of Green Valley Ranch in northeast Denver. They are two of the 81 First Tee members nationwide — and internationally — who were chosen to play in the event alongside PGA Tour Champions professionals. The First Tee kids selected were revealed on Tuesday on Golf Channel. They were chosen "based on their understanding and application of the values and life skills learned through First Tee's programs, as well as their playing ability."
The First Tee is a youth development organization which aims to help young people learn life skills and build character through the game of golf.
Swanson was the 2020 Junior Golf Alliance of Colorado Boys Player of the Year and he recently finished second in a playoff at both The First Tee National Championship and the Colorado Junior PGA Championship. He was also a quarterfinalist in the CGA Match Play Championship and tied for fifth in the AJGA Hale Irwin Colorado Junior. The Northfield High School senior-to-be, who will play his college golf at the University of Colorado, is a fourth-year member of the CGA's Hale Irwin Player Program.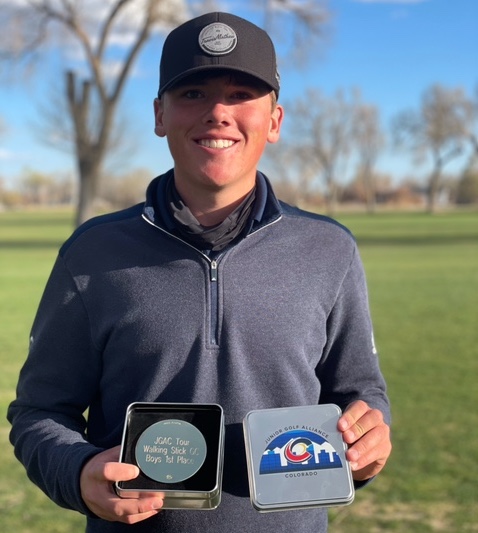 Leydon, the JGAC's most-improved male player of 2019, won the Alliance's first boys Tour event of 2021, in Pueblo. Like Swanson, he's part of the Hale Irwin Player Program; in his case, he's entering his third year. He's a junior-to-be at Brighton High School.
Swanson and Leydon become the third and fourth players from First Tee-GVR to be selected to play in the PGA Tour Champions event, following Austin Powell (2012) and Davis Bryant (2015).