Coloradan Calli Ringsby and former Stanford teammate Shannon Aubert shake off rust to qualify for U.S. Women's Amateur Four-Ball
By Gary Baines – 9/1/2021
To the best of their recollection, Calli Ringsby of Denver and Shannon Aubert of Orlando had last played competitive golf two and three years ago, respectively.
The 25-year-old former Stanford golf teammates — and onetime roommates — have gone on to business careers after graduating in 2018. And coincidentally, both have undergone surgery on their left wrists by the same doctor after years of wear from beating balls.
All things considered, each estimates she's played less than 15 rounds of golf of any sort in the last three years.
But when you've competed so much golf as a kid and a college player, apparently it becomes second nature. Despite whatever rustiness they experienced, the two teamed up on Wednesday to earn medalist honors in qualifying at Meadow Hills Golf Course in Aurora for the 2022 U.S. Women's Amateur Four-Ball Championship.
They shot a better-ball score of 4-under-par 66, capturing the lone available berth into the U.S. Women's Four-Ball, which is set for April 20-24 in Puerto Rico.
"It's the first tournament in a while for both of us," Ringsby said. "It was great to get back out. And Puerto Rico is a little bit of an extra bonus. So we're pumped.
"Not playing very often, you don't know what you're going to get necessarily, so we were excited to be able to spend the day together. It worked out decently. We just were having fun out there. It was a good day."
Added Aubert: "We're really excited. We decided to do this last minute. I reached out to Calli just saying, 'Hey, what do you think?' She's like, 'Awesome. Let's do it.' So we're happy to be back out and playing tournaments."
Make no mistake: Both Aubert and Ringsby were formidable competitors growing up.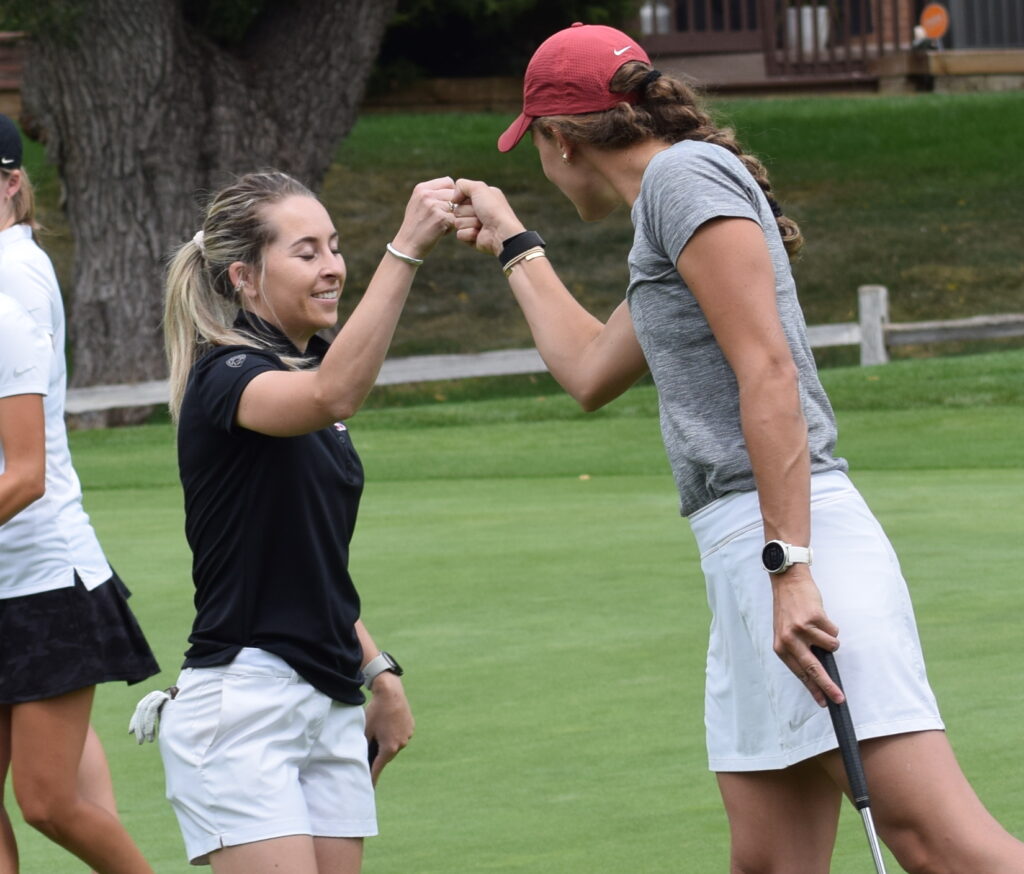 Aubert played in U.S. Women's Opens as a 16-year-old and 17-year-old in 2012 and '13, and competed in multiple U.S. Girls' Juniors and U.S. Women's Amateurs. In fact, the longtime French national player — she was born there — was stroke-play medalist by four shots in the 2017 U.S. Women's Am and made it to the match play round of 16. She also helped Stanford win the women's NCAA team title in 2015.
As for Ringsby, she swept the two CJGA girls majors in 2012 and captured the 5A state high school title in 2013 while at Cherry Creek. And she's played in a U.S. Women's Amateur and a U.S. Girls' Junior.
However, Ringsby, whose last tournament had been 2019 U.S. Women's Amateur Four-Ball qualifying with her mom, estimates she's only teed it up 12-15 times since dusting off the clubs following a post-college layoff. Aubert's wrist problems kept her sidelined from golf from 2018-20, and she's played perhaps 10 times since.
"There's almost a 'big head syndrome' where you don't think you've gotten any worse," Aubert explained. "You're used to how good you used to play. I think we were both seeing this as a fun opportunity to get back out there as a teammate and friend. It made it a little less serious, where could go out and enjoy ourselves."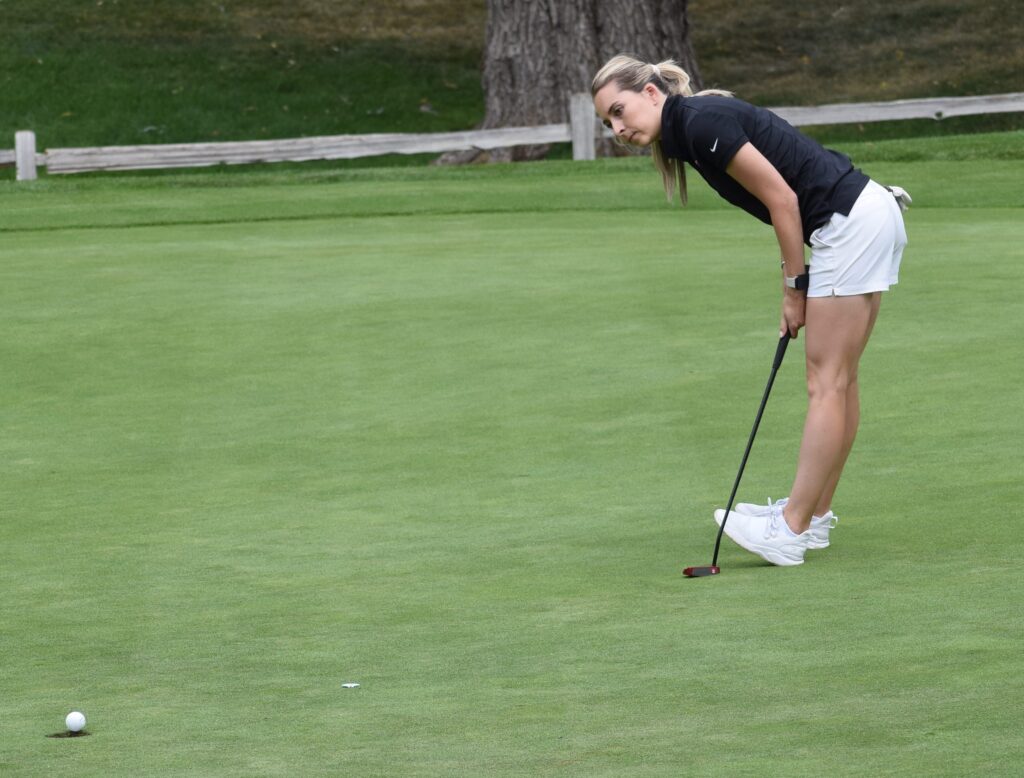 On Wednesday, the two posted five better-ball birdies and both bogeyed the 17th hole. On the back nine, they separated themselves a little by Ringsby draining a 20-foot birdie on No. 14 and Aubert sinking a 10-foot birdie on 18. Ringsby carded three on the day and Aubert two.
Two teams shot 68 on Wednesday and finished two back of Ringsby and Aubert. Kaylee Chen of Parker, winner of the 2019 Colorado Junior Amateur, and University of Colorado-bound Texan Morgan Miller, the Colorado Junior Match Play champion in 2020 and '21, defeated University of Colorado teammates Hailey Schalk of Erie and Lauren Gooding of England in a playoff to be slotted in as the first alternate. Schalk has qualified for three previous U.S. Women's Amateur Four-Balls, though she's only been able to compete in one of them.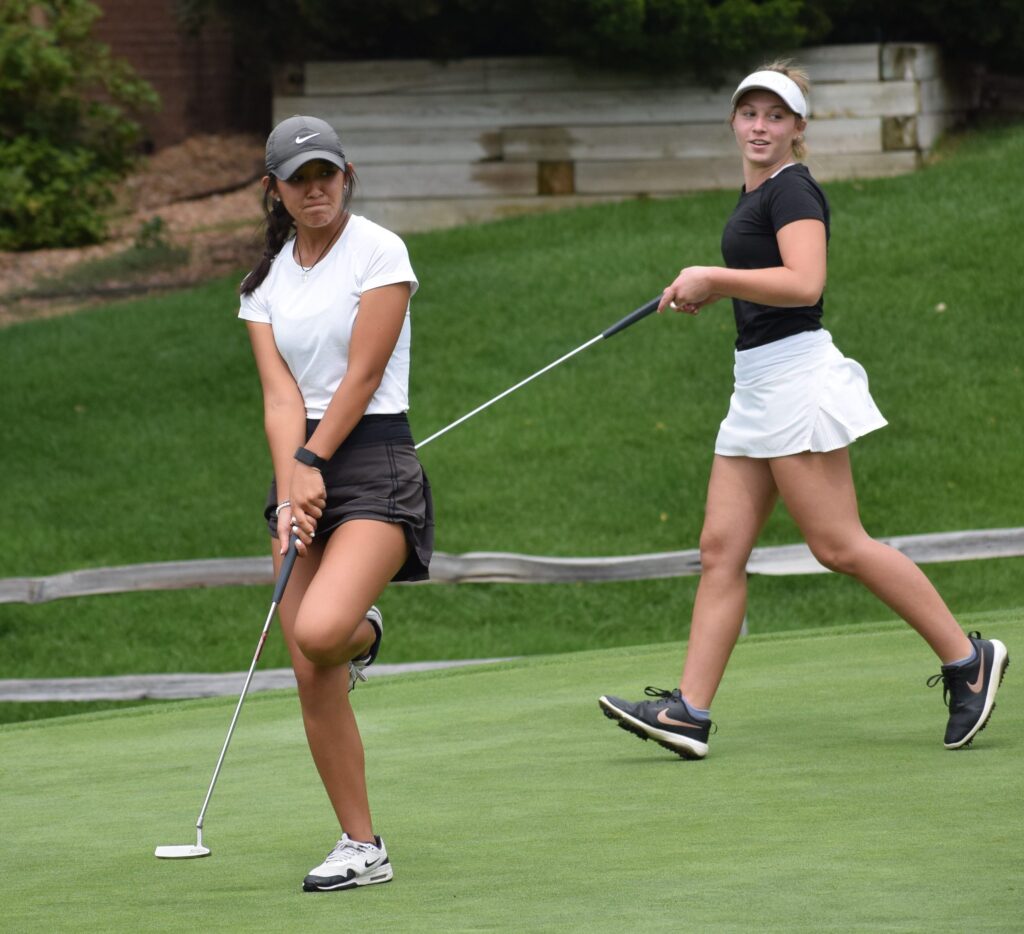 Though Ringsby and Aubert haven't before competed in the U.S. Four-Ball, they have enough experience in other USGA championships that they're very much looking forward to their spring trip to Puerto Rico.
"Any USGA championship is fun to be a part of," Aubert said. "They always do a great job with them."
But both players admit the game is certainly not as all-consuming for them as it once was. Both now are into their careers — Ringsby as a product manager at a tech company and Aubert an implementation manager at a startup — and golf is now a way to have a little fun with friends and family on occasion.
"It's pretty few and far between" that she plays, Ringsby said. 'I still enjoy getting out there but I don't seek it out as much as I used to.
"I don't see myself changing my game plan much (as the national Four-Ball approaches). Low expectations are kind of a good thing for me. I'll do some practice so I can show up for my partner, but I don't think it'll be a full-throttle return to practice."
As for Aubert's approach? "Low expectations, high hopes," she said. After not playing regularly, "You don't lose too much feel but you don't necessarily hit them solid every time. But I hit them pretty straight."
Wednesday marked the final Colorado-based women's USGA qualifying tournament of 2021.

U.S. Women's Amateur Four-Ball Qualifying
At Par-70 Meadow Hills GC in Aurora
ADVANCE TO NATIONAL CHAMPIONSHIP
Calli Ringsby, Denver/Shannon Aubert, Orlando 66
ALTERNATES (In Order)
Kaylee Chen, Parker/Morgan Miller, Cedar Park, Texas 68
Hailey Schalk, Erie/Lauren Gooding, England 68
For all the scores from Meadow Hills, CLICK HERE.