CSU's Davis Bryant defeats DU's Jackson Solem in playoff for title in college-like tourney at Fort Collins CC
By Gary Baines – 9/22/2020
Davis Bryant didn't land his first college golf tournament individual victory on Tuesday, but it certainly seemed like he did.
The Aurora resident and Colorado State University golfer prevailed in an event full of college players, and on a date and at a site that felt a lot like CSU's Ram Masters Invitational.
But with Colorado-based NCAA Division I golf programs not competing intercollegiately this fall due to Covid-19 safety concerns, what helped fill the void was the Fort Collins GCAA Amateur. And whatever you want to call the 54-hole tournament that ended on Tuesday at Fort Collins Country Club, Bryant did walk away with first prize.
The 2019 CGA Les Fowler Player of the Year defeated Jackson Solem of Longmont, a University of Denver golfer, on the second hole of a sudden-death playoff.
"A win's a win," the 20-year-old Bryant said. "The golf course is set up the exact same way as it is for a college tournament, and the field is very similar. It's just a different title for it. So I'd put the (accomplishment) up there pretty high. I walk away like I just got done at the Ram Masters. It has the same feel and time. This is a weird year like none of us have been through before, but like I said, a win's a win."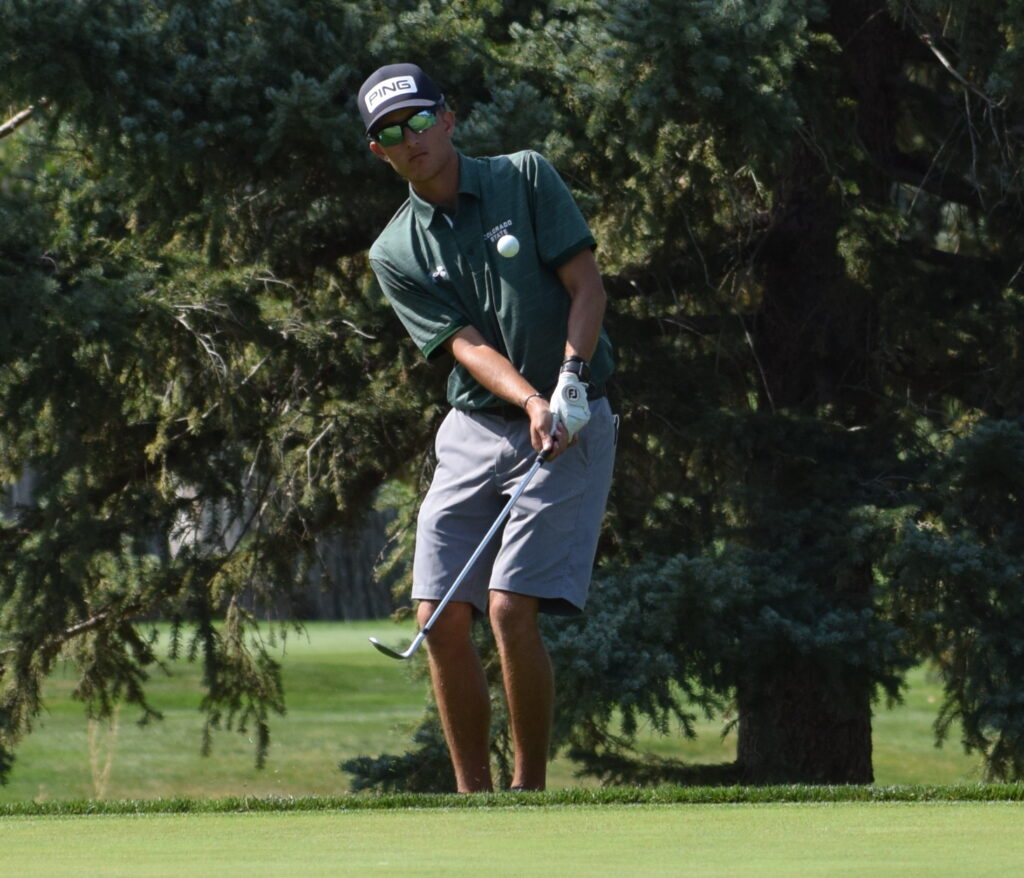 The tournament did end in unique fashion on Tuesday.
After both players got up and down for par on the first extra hole (No. 10), Solem pulled his 2-iron tee shot slightly on the par-4 18th at FCCC, and his ball bounced into a pine tree — and stayed there. A rules official was there to give Solem the bad news — the ball was lodged on a branch — as he walked up to the tree.
The DU senior took an unplayable lie, hit a stellar third shot to 30 feet past the pin on the par-4, then lipped out his par putt. After that, Bryant proceeded to hole a 3-foot birdie for the victory.
"That's literally like a one-in-a-million type of break," said Solem, who said he's only had one other ball stick in a tree in his 13 years of playing golf. "I'm at a loss for words. Somehow it lodged (in there). I have no idea how it could physically get there.
"That wasn't a bad shot. I was trying to take it up the left for sure because I was hitting 2-iron to keep it out of the bunker (on the right). I literally missed my spot by three or four yards. I ended up making bogey when I probably didn't deserve it."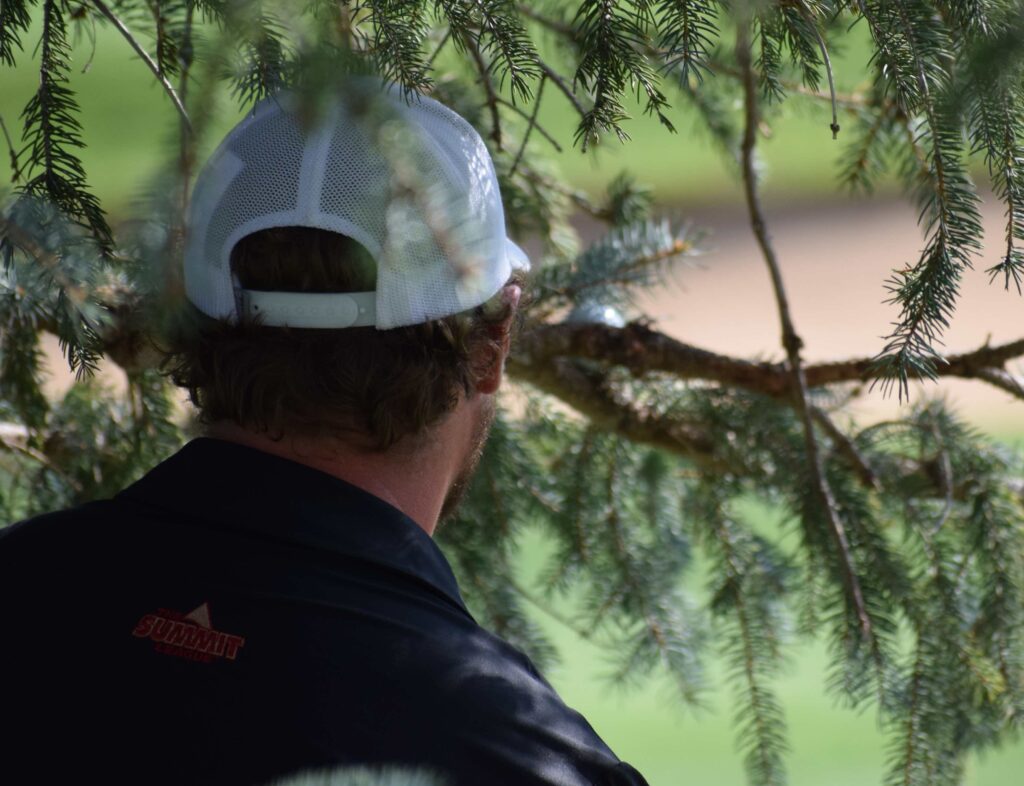 Solem took a three-stroke lead into the final round of the 54-hole event, but numerous players took a run at the title on Tuesday as nine golfers finished between even par and 4 under for the tournament.
Bryant, the 2019 CGA Amateur champion, overcame hitting his second shot out of bounds on No. 7 — where he got up and down for bogey — by playing his final 11 holes in 2 under. He made a 3-foot birdie on No. 11, then caught Solem on No. 15 as Bryant holed another 3-foot birdie putt and Solem bogeyed after having tree trouble.
Bryant went into the final hole of regulation with a one-stroke lead after Solem failed to get up and down for par on 17. But the DU golfer came through with a 5-foot birdie on the final hole of regulation to force the playoff.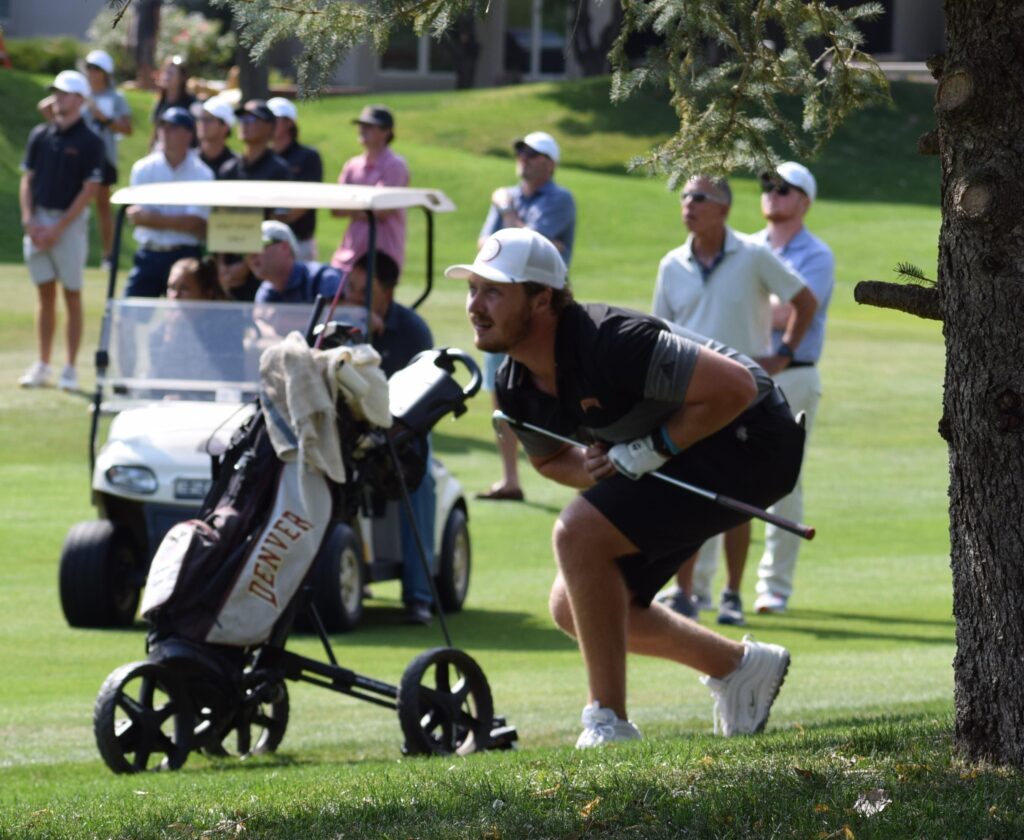 Bryant posted a 2-under-par 68 on Tuesday, while Solem had a 71 despite starting the day with an eagle, as both finished at 4-under 206. CSU's AJ Ott, the 2018 CGA Player of the Year, almost joined Bryant and Solem in a playoff, but couldn't coax in a 6-foot birdie attempt at No. 18. University of Colorado golfer John Paterson joined Ott in a tie for third place at 207 after both shot 67 on Tuesday.
CSU assistant coach Parker Edens, at 30 years old one of the only non-college players in contention, holed out his second shot on No. 18 to close out the tournament and tied CSU freshman Gavin Hagstrom and CU's Victor Bjorlow for fifth place at 209.
Bryant, a former Junior Golf Alliance of Colorado Player of the Year who competed in his first U.S. Amateur this year, took advantage of knowing Fort Collins Country Club very well. He estimates he's played the course 50 times, and he just missed qualifying for the U.S. Amateur at this site in 2017, where he double bogeyed his final hole to miss a potential playoff by one. Coincidentally, Solem was the second alternate that year, with Bryant being the first.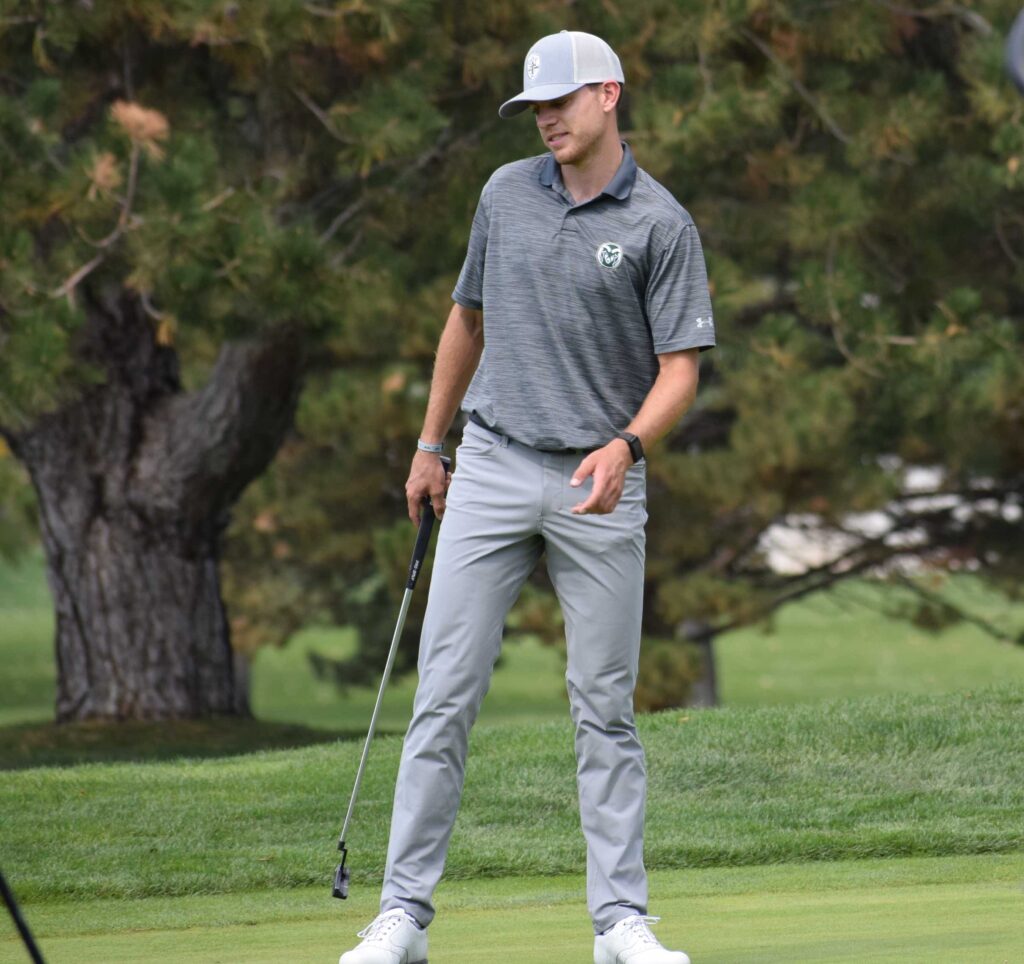 Bryant also tied for second — with Ott — at the 2019 Ram Masters at Fort Collins CC.
"I just love the golf course," Bryant said. "It benefits me because I hit it really straight, and it has small greens and I'm really accurate with my irons. I've loved the golf course since the first time I've played it, and I love it now. That helps a lot mentally when you're trying to make birdies or grind out a round."
And given what happened with Solem's tee shot lodging in a tree, Bryant was happy he was able to finish the playoff with a birdie.
"We saw (Solem's shot) bounce and I thought it would be in the middle of the fairway — I've hit on the same line before and it ends up in the fairway and you're fine," Bryant said. "But we got there and they're looking in a tree and I'm like, 'What happened?' I saw the ball as I was walking up and I thought, 'That's not how I wanted it to end.' I wanted one of us to make birdie or get up and down for par or something. That's not the way I wanted to win. But sometimes the golf gods are with you and sometimes they're not. That's a bad break. But I made birdie and I earned it after hitting a great shot in there to 2-3 feet.
"I just hung in there today."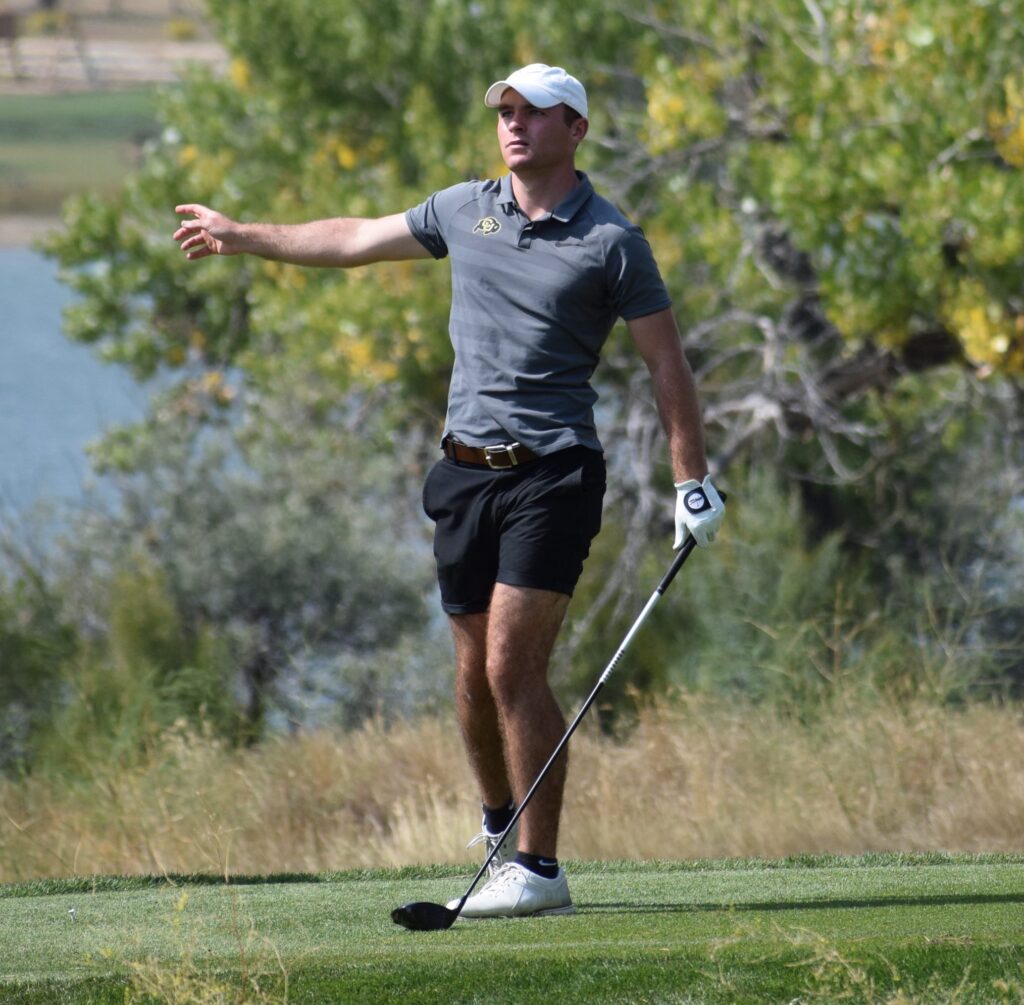 As for Solem, despite the bad break on the second playoff hole, it was a very solid three rounds for him in Fort Collins this week.
"I did everything I could do those last few holes," he said. "It didn't work out — it wasn't a good break at all — but it doesn't diminish how I played this week.
"I'm proud of myself because this golf course probably shouldn't set for my game, but I ended up playing well, so it's a step in the right direction."
Some women also competed in the Fort Collins GCAA Amateur, with two leading the way with 5-over-par 215 totals while playing from different tee boxes than the men. University of Nebraska teammates Kate Smith of Detroit Lakes, Minn., and Michaela Vavrova of Slovakia checked in at that figure, with Vavrova carding a 72 on Tuesday and Smith a 73 on Tuesday. They tied for 16th place overall.
Other Colorado-based fall tournaments that will feature college-heavy fields include the Colorado National Women's Amateur Powered by The Cactus Tour (Oct. 3-4 at Colorado National Golf Club in Erie); the CGA Fall Amateur Championship (Oct. 9-11 at CommonGround Golf Course in Aurora); and a Colorado Collegiate Golf AM Series event Oct. 26 at Bear Creek Golf Club in west Denver.
For all the scores from Fort Collins CC, CLICK HERE.