Brady Duval, son of former world No. 1 David Duval, and Gavin Crowley the latest Class of 2023 Coloradans to commit to play NCAA Division I golf
By Gary Baines – 4/24/2023 (Updated 5/10/2023)
Formal college commitments from Colorado junior golfers keep trickling in, including one from the son of a British Open champion to an NCAA Division I men's program.
Several Coloradans, Class of 2023, have recently announced their choices for college golf, including two who are headed for Division I teams.
Brady Duval of Cherry Hills Village will play for and attend school at Coastal Carolina, located just northwest of Myrtle Beach, S.C.
Duval, who has won two significant junior tournaments in the last five months, announced his commitment on Instagram, and his dad, David Duval, tweeted it out on Saturday.
David and Brady Duval have competed together in recent years at the nationally televised PNC Championship. In January, Brady Duval won an International Junior Golf Tour event in late January and an American Junior Golf Association tournament in early December.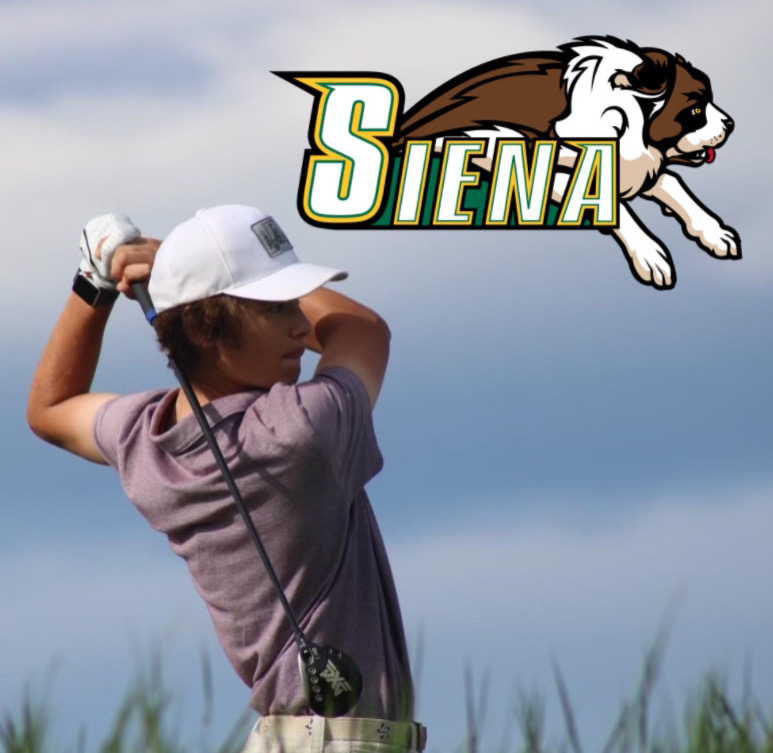 Gavin Crowley of Littleton is headed to Siena College.


Meanwhile, Gavin Crowley of Littleton and Heritage High School committed to Division I Siena College in Loudonville, N.Y. Siena recently won the Metro Atlantic Athletic Conference championship, earning a spot in the NCAA regionals.
Other Colorado Class of 2023 commitments recently announced were Anna Mettler of Colorado Springs and Discovery Canyon High School (Colorado Christian), Mathieu Zerwin of Lafayette and Fairview HS (Northwestern Oklahoma State), Carter Hinkle of Windsor and Windsor HS (Hastings College in Nebraska) and Noelle Thompson of Erie and Erie HS (Westmont College in Santa Barbara, Calif.)
Duval and Crowley's announcements brings the number of Colorado Class of 2023 golfers who are headed for Division I programs to 12. (For further updates, please email golfjournal@coloradogolf.org .) Here's the rundown:
— Abby Aeschleman of Highlands Ranch and Mountain Vista High School — Creighton in Nebraska (NCAA Div. I)
— Reece Bandemer of Loveland and Loveland HS — University of Northern Colorado (NCAA Div. I)
— Gavin Crowley of Littleton and Heritage HS — Siena College in New York (NCAA Div. I)
— Luke Cushman of Castle Rock and Castle View HS — Boise State in Idaho (NCAA Div. I)
— Brady Duval of Cherry Hills Village — Coastal Carolina in South Carolina (NCAA Div. I)
— Wes Erling of Colorado Springs and Pine Creek HS — University of Colorado (NCAA Div. I)
— Reese Knox of Peyton and Falcon HS — Boise State in Idaho (NCAA Div. I)
— Kyle Leydon of Commerce City and Brighton HS — Creighton in Nebraska (NCAA Div. I)
— Thayer Plewe of Cortez and Montezuma-Cortez HS — University of New Mexico (NCAA Div. I)
— Grand Samuelson of Fort Collins and Fossil Ridge HS — Air Force Academy (NCAA Div. I)
— Noah Wagner of Pueblo West and Pueblo West HS — University of Wyoming (NCAA Div. I)
— Kaitlin Zingler of Lakewood and Mullen HS — University of Denver (NCAA Div. I)
As for other Colorado junior golfers who have committed to play college golf:
— Maryn Harlow of Loveland and Loveland High School — Missouri Southern (NCAA Div. II)
— Carter Hinkle of Windsor and Windsor HS — Hastings College in Nebraska (NAIA)
— Anna Mettler of Colorado Springs and Discovery Canyon HS — Colorado Christian (NCAA Div. II)
— Noelle Thompson of Erie and Erie HS — Westmont College in Santa Barbara, Calif. (NAIA)
— Mathieu Zerwin of Lafayette and Fairview HS — Northwestern Oklahoma State (NCAA Div. II)

About the Author: Gary Baines owns and operates ColoradoGolfJournal.com