Local Korn Ferry Tour event lands title sponsor and now will be called The Ascendant at TPC Colorado; former CGA Player of Year reinstated as amateur; CSU grad becomes national GCSAA president; Kim Eaton a Player of the Year again … and much more
By Gary Baines – 2/22/2022
Off we go — on 2/22/'22 — with the February edition of Monthly Musings regarding Colorado golf. …
When the TPC Colorado Championship at Heron Lakes originally was announced, a five-year agreement took the tournament through 2023.
It seemed at the time of the announcement — 2018 — to be a long ways away, but nowadays, that's no longer the case.
That made Tuesday's announcement of the first title sponsor for the event a welcome relief for all involved with the Korn Ferry Tour event in Berthoud — along with for fans of high-level golf in Colorado.
Denver-based Ascendant National Title reached a five-year deal to become title sponsor of the Colorado event, which now will be called The Ascendant at TPC Colorado. The agreement runs through 2026.
So the deal yielded financial stability and a new name for the tournament as it prepares for its fourth annual event, set for June 30-July 3 at TPC Colorado.
"Our first event was 2019 and I moved back from Iowa," remembered The Ascendant at TPC Colorado's tournament director, Drew Blass. "I originally said, 'I guess I signed a five-year deal. I'm going to do a five-year deal because we have five years to get something special here. Now we're to the point we've got something special (and) we just signed another five years. So, 'If you build it, they will come.' We'll build that equity and keep this thing growing."
As good as things had been going for the event, which last fall was named the Korn Ferry Tour Tournament of the Year, Blass isn't sure it would have survived past 2023 had a title sponsor not been secured.
"Me personally, I was saying, 'We've got something beautiful here. This community needs to keep professional (tour) golf here. We've got to find somebody. We're getting close,'" Blass said after Tuesday's press conference. "The volunteers, the community, sponsors, media — it's such a great team here. We needed to find that partner so we could extend this journey. I think it would have been a tough decision for the tour, a tough discussion after five years (if a title sponsor hadn't been landed). We all knew 2023 was coming. So we're happy now we're out to 2026."
A title sponsor can be a huge difference-maker money-wise when it comes to an event like this one, which now features a $750,000 purse.
"The title (sponsor) usually covers the purse and a little bit of the operational expenses," Blass said. "From there, you've got your ticket sales, your (corporate) suites, your pro-am that gets you to the point where you can make an impact in the community. So we're trying to make a bigger impact in the community and to make it a better experience."
Ascendant National Title didn't just come out of the blue. Besides being based in Colorado, it's the official title insurer for the PGA Tour, which runs the Korn Ferry Tour, and for PGA Tour Champions. And Anthony Knight, Ascendant National Title's president and managing partner, was sold on the idea of becoming the title sponsor after participating in the 2021 TPC Colorado Championship Wednesday pro-am.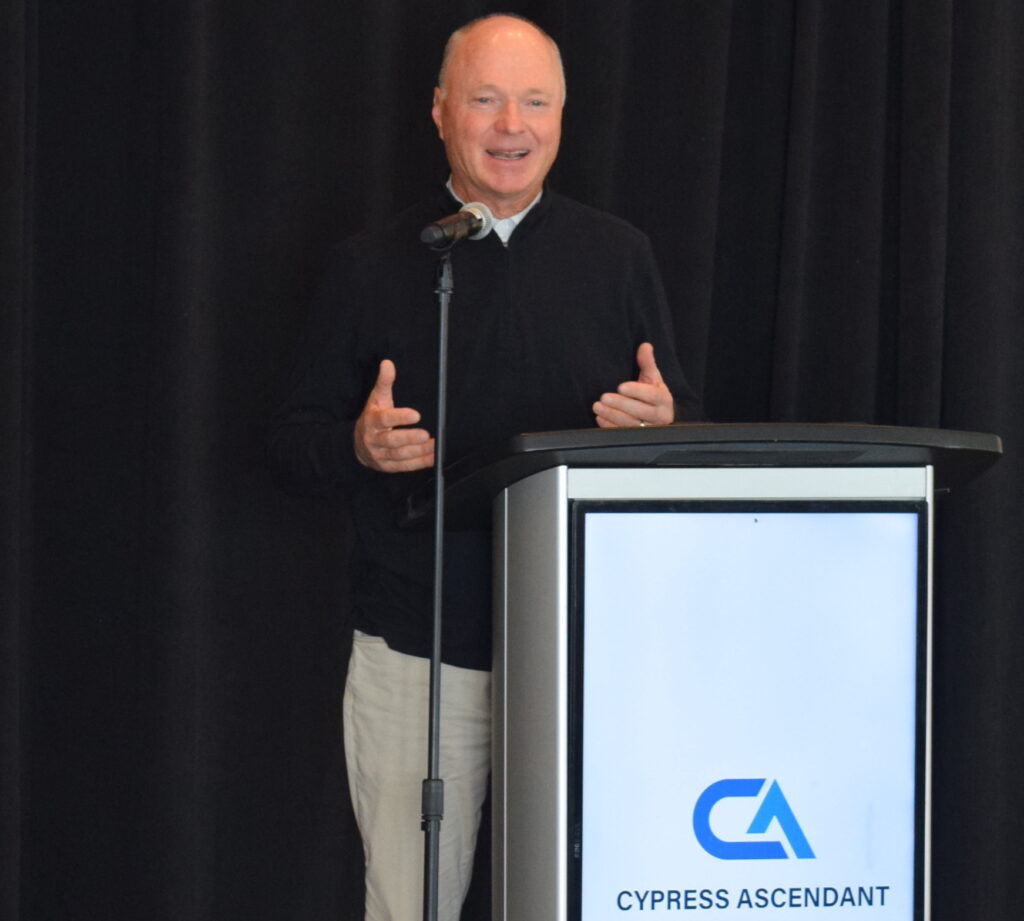 Playing a role in another key way was Gary Hallberg, the Longmont resident who has won three times on the PGA Tour, once on the Korn Ferry Tour and once on PGA Tour Champions. A couple of years ago, after playing a round with Knight at Boulder Country Club, Hallberg became a part of the larger Ascendant family as his tour career was winding down. And he was the one who suggested that Ascendant National Title become the title insurer for the PGA Tour — and subsequently a marketing partner.
"I'm a visionary, I guess you could say," Hallberg said on Tuesday. "AK was the one that saw the opening and the opportunity here. Then we jumped on the opportunity.
"… The brand of the PGA Tour is as great a brand as there is out there. For us to be associated with the PGA Tour and with this tournament, it's just a natural for us. The synergies were so good too. We are a title company. This is a new development; that probably had something to do with some of it."
And now, with Tuesday's announcement, The Ascendant at TPC Colorado has a new purpose to it.
"With a title sponsor you've got a goal," Blass explained. "The title sponsor says 'Here's what we want to do. We want to truly make an impact in the community. We want to make the best experience for everybody on the Front Range.' Without a title sponsor, your goal is to build the event up to make it so it's a nice little package for a (potential) title sponsor. You can't have that vision yet because you want that title sponsor to help bring that vision to the tournament. So you're trying to build the brand — the equity of this tournament. When you add the title sponsor, you get the vision, the goals, the objectives, to keep professional (tour) golf here on the Front Range."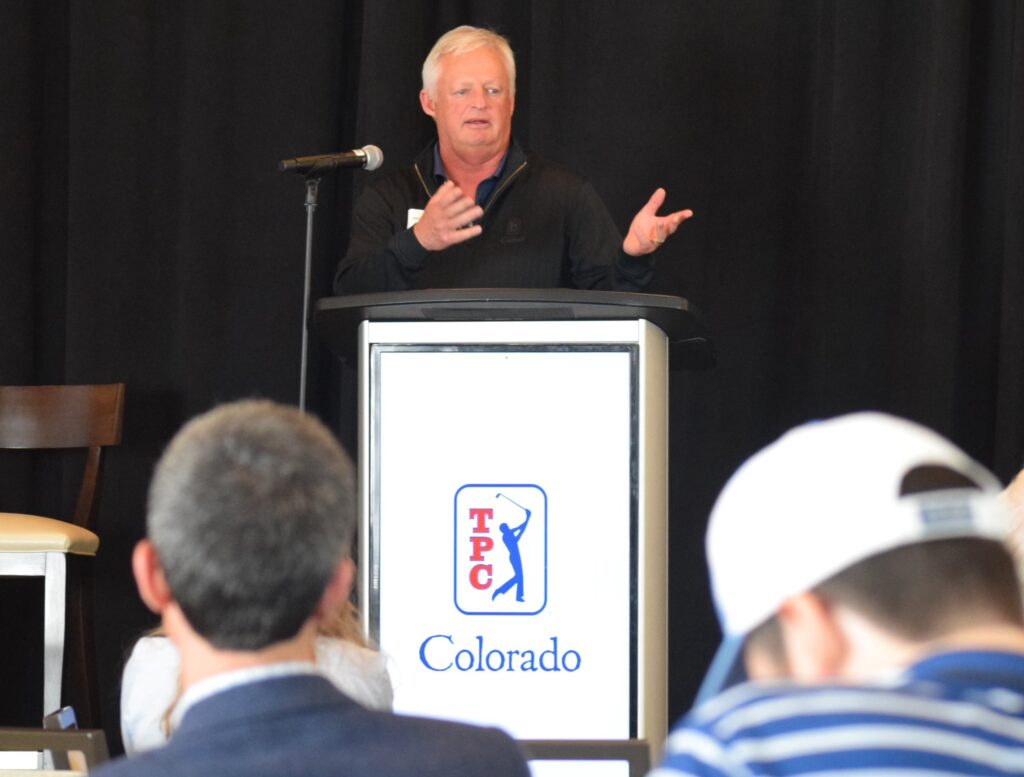 In case you're wondering who had been significantly "carrying" the TPC Colorado Championship financially in the absence of a title sponsor, it was the TPC Colorado ownership group of Jon Turner, Jim Birdsall and Chris Frye. "They were saying, 'I'll be that lifeline until we find that title sponsor,'" Blass noted.
"There are things that are remembered forever," Turner said Tuesday. "I believe we are writing our own chapter of Colorado professional golf and we want to do a good job of that."
Finding that title sponsor was a relief to Korn Ferry Tour leadership as well.
"This (tournament) is truly the standard on our tour," KFT president Alex Baldwin said. "This is what we hope and aspire to for the 26 events on our schedule."
Last year's TPC Colorado Championship attracted about 25,000 fans for the week and almost 700 volunteers worked the event. At the end of the Korn Ferry Tour season, 25 PGA Tour cards are awarded to the top performers in the regular season, and another 25 to the best of the KFT Finals.
Ticket sales for The Ascendant at TPC Colorado are now open at the tournament's new website at TheAscendant.com

2-Time CGA Player of the Year Regains Amateur Status: One of the better Colorado amateurs of the 21st century likely soon will be dipping his toes back into the amateur pool in the state.
Pat Grady, the only person to have been named the CGA Les Fowler Player of the Year twice during the 21st century (2007 and '08), recently posted on Facebook that he's been approved for amateur reinstatement by the USGA.
"I guess, hello world!" Grady said in the post.
The former University of Colorado golfer and assistant coach turned pro shortly after his college days, and now works as a certified public accountant.
During his previous time as an amateur, Grady won the 2006 CGA Amateur and the 2005 CGA Match Play, the 2004 boys Colorado Match Play and the 2007 CGA Public Links, among other events. He also placed sixth in the 2008 Colorado Open, taking low-amateur honors there.
In a follow-up email exchange, Grady said he probably will compete in the CGA Amateur, Mid-Amateur and a couple of USGA qualifiers this year.
"I've got two toddlers and an accounting practice that is keeping me insanely busy at the moment so it won't be the old Pat Grady weekend warrior points list chaser, haha," Grady wrote in the email.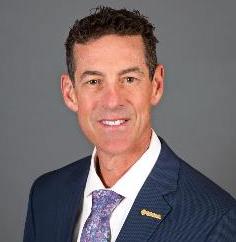 New National GCSAA President a CSU Grad: The new president of the national Golf Course Superintendents Association of America is no stranger to Colorado.
Earlier this month, the GCSAA named Kevin Breen (pictured above) the 86th president in its history.
Green is a course superintendent at La Rinconada Country Club in Los Gatos, Calif., but graduated from Colorado State University in Fort Collins, with a bachelor's degree in horticulture/turf.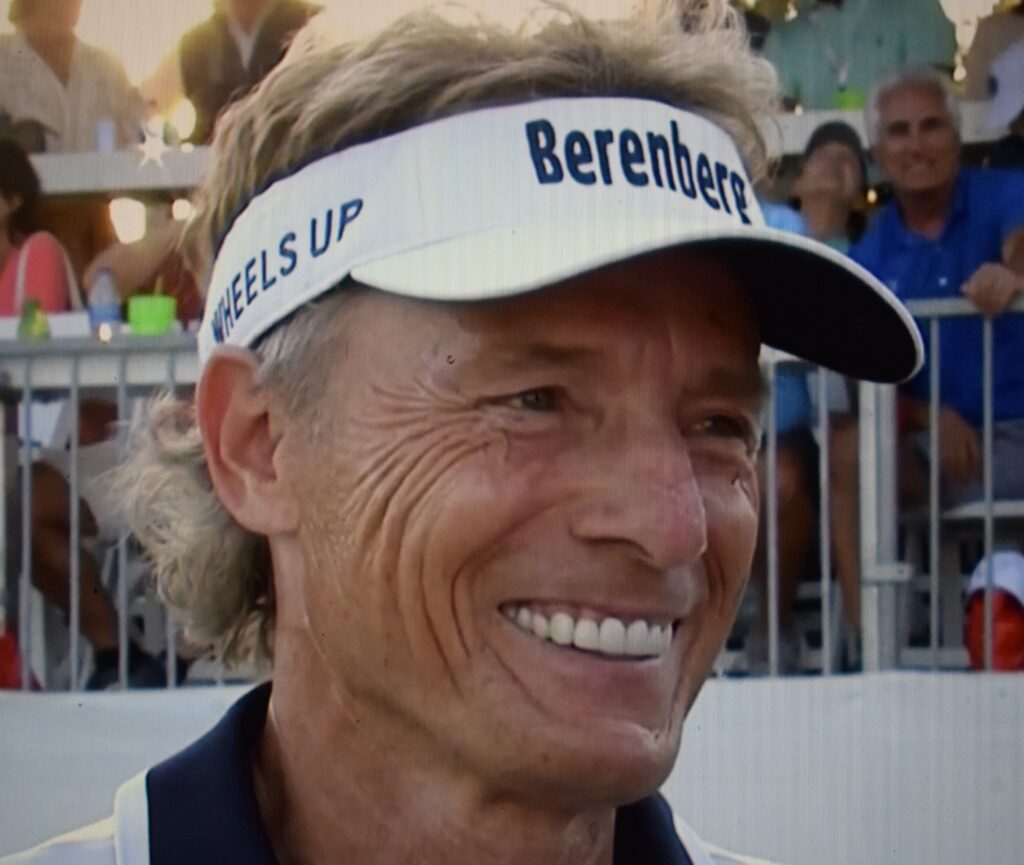 Bernhard Langer Closing in on Hale Irwin's Record: Four months ago, it seemed like Colorado Sports Hall of Famer Hale Irwin was the odds-on favorite to remain the career victory leader on PGA Tour Champions for quite a while to come. After all, he stands at 45 senior wins, and No. 2 Bernhard Langer hadn't won since March 2020, was 64 years old and was sitting four victories behind Irwin.
But much has changed since then.
On Sunday, Langer prevailed by three strokes at the Chubb Classic for his second Champions win in the last four months. He's the oldest winner ever of a Champions tournament. Now the German is just two victories behind Irwin in the chase for the career win mark on the senior circuit.
"I'm coming after you, Hale," Langer said with a laugh on Sunday.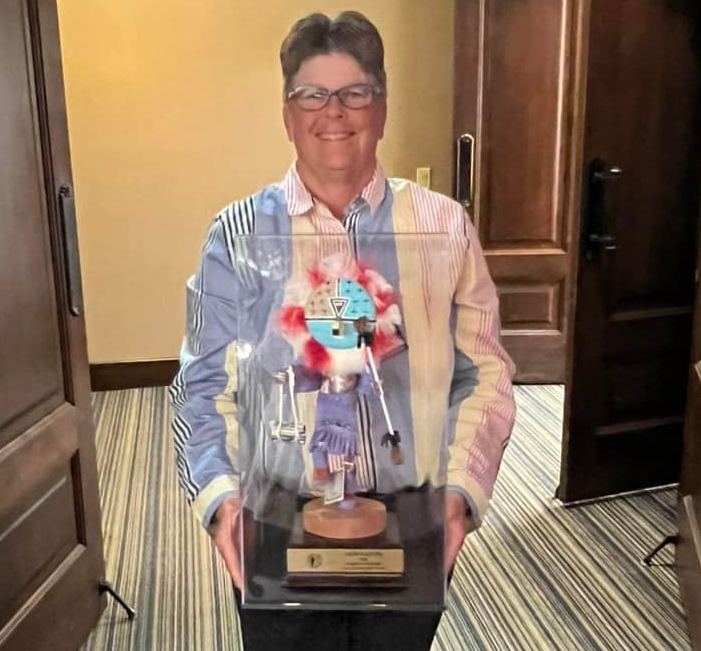 Yet Another Player of Year Honor for Kim Eaton: Colorado Golf Hall of Famer Kim Eaton recently received her ninth Arizona Golf Association Women's Senior Player of the Year honor to go along with the record eight CGA Women's SPOY awards she has to her credit.
The 62-year-old — who grew up in Greeley and spent much of her life in Colorado but now lives in Mesa, Ariz. — won two partner events in Arizona with Leigh Klasse in 2021. Nationally, Eaton advanced to the round of 32 at the U.S. Senior Women's Amateur after qualifying in Colorado.
All of Eaton's eight CGA Women's Senior Player of the Year awards have come in the nine-year period from 2009 through 2017. In addition, she's captured four overall CGA Women's POY awards, the last coming in 2010. She was the overall AGA Women's Player of the Year in 2013.
In Colorado, Eaton shares the record for CGA women's/CWGA championship titles with fellow Colorado Golf Hall of Famer Carol Flenniken. Both own 25 such championships.

Passing of Eduardo Romero, Who Won a Senior Major at The Broadmoor: It wasn't real big news — even in the world of golf — this month, but Argentine player Eduardo Romero passed away at the age of 67 after battling cancer.
The reason we mention it here is because one of the biggest highlights of Romero's career came in Colorado — at The Broadmoor, specifically. At a tournament in which Greg Norman — with then-fiancé, former tennis star Chris Evert, following closely — finished fourth, Romero won the U.S. Senior Open by four strokes.. The event is also remembered for the black bears on the course that stole the spotlight.
After Romero stepped back from the game, "El Gato" (The Cat) served as mayor of his hometown, Villa Allende in Argentina, until last month.
Speaking of golfers who have won USGA championships at The Broadmoor, two others were in the news last week.
Annika Sorenstam, who won the 1995 U.S. Women's Open at the resort, has entered the 2022 USWO, marking her first time competing in the event since 2008. This year's championship is set for June 2-5 at Pine Needles in Southern Pines, N.C., where Sorenstam won in 1996. Also this year, Sorenstam will play in her first Senior LPGA Championship (July 22-24 in Salina, Kan.).
And Juli Inkster, who claimed a third straight U.S. Women's Amateur when the West Course at The Broadmoor hosted the event in 1982, has been named the recipient of the USGA's Bob Jones Award, which recognizes character, respect and sportsmanship in golf. The '82 U.S. Women's Am is one of five USGA titles Inkster owns.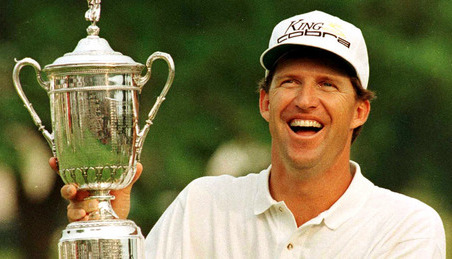 Major Fire at Oakland Hills, Where Steve Jones Won His U.S. Open: The images of the clubhouse at Oakland Hills Country Club in Bloomfield Township, Mich., being destroyed by a fire last week struck many golf fans, given the club's long history of hosting major championships (6 U.S. Opens and 3 PGA Championships, along with a Ryder Cup). But it hit particularly close to home for a Colorado Sports Hall of Famer.
After all, Steve Jones — who was raised in Yuma, Colo., and played his college golf at the University of Colorado — was presented his U.S. Open trophy very nearby that clubhouse. Jones won the 1996 Open at Oakland Hills, marking the fifth of his eight PGA Tour titles.
"The club (is) so iconic. It's one of the clubs around the country — top 10, incredible, iconic clubs with the clubhouse and everything they had in the clubhouse and the great job they did fixing up the clubhouse with all the memorabilia of the players who won there and the club history. You really needed a couple days to go through everything and kind of soak it in and read stuff," Jones told Brad Galli of WXYZ Detroit.
After being involved in a 1991 dirt-bike accident that threatened his career, Jones in '96 was competing in his first U.S. Open in five years. When he won, he became the first golfer since 1976 to go through Sectional Qualifying and earn the title that same year.
The clubhouse at Oakland Hills was completed 100 years ago this year — in 2022, the same year another famous club, Cherry Hills Country Club south of Denver, opened. The members at Oakland Hills have indicated they'll rebuild a clubhouse that's a replica of the one that burned down.

Local Golf Shops Extraordinaire: Some of the world's top golf shops were recognized late last month, and Colorado facilities figured prominently among the best of the best.
The Association of Golf Merchandisers announced its Platinum Awards, with 115 shops worldwide meeting the standard — public, private, resort and off course — including a half-dozen based in Colorado. They're judged on a variety of criteria, including visual displays, customer service initiatives, social media initiatives, shop renovations, promotional ideas, merchandising events, innovative use of fixtures or props, retail initiatives, staff training, and growing the game of golf at their facilities.
Here are the winners from Colorado:
Castle Pines Golf Club in Castle Rock
Columbine Country Club in Columbine Valley
Country Club at Castle Pines in Castle Rock
Denver Country Club
The Ridge at Castle Pines North
Roaring Fork Club in Basalt
For all the golf shops entered, CLICK HERE.

USGA Open Qualifying in Colorado: Last week, the USGA announced the qualifying sites and dates for the U.S. Open and the U.S. Women's Open, including a smattering of such competitions in Colorado.
We'll start with the U.S. Women's Open, since that includes a direct path to the national championship from a Colorado qualifier. The state features one of 26 qualifying sites nationwide for the 2022 USWO, which, as noted earlier, will be contested June 2-5 in Southern Pines, N.C.
The Colorado-based 36-hole qualifier is set for May 10 at Walnut Creek Golf Preserve in Westminster.
For the U.S. Open, there won't be any final-qualifying sites in Colorado, but there will be the typical three local-qualifying venues, where the top finishers from 18-hole tournaments will advance to 36-hole final qualifying. The U.S. Open itself is set for June 16-19 in Brookline, Mass.
Among the 109 local sites are these three in Colorado: May 3 at Collindale Golf Course in Fort Collins; May 5 at Walnut Creek Golf Preserve in Westminster; and May 9 at Todd Creek Golf Club in Thornton.
Final qualifying in the U.S. is scheduled for May 23 and June 6, with the latter featuring eight tournaments.

Sportswomen of Colorado Golf Honorees: The Sportswomen of Colorado recently named its annual award winners, which included two from the golf world — honored for their 2021 achievements.
Aubri Braecklein from Northglenn — the Jefferson Academy golfer who won the 3A girls state high school title by two strokes shortly before beginning her college golf career at Georgia Tech — earned the SOC's high school honor. Braecklein won the 2020 CGA Women's Stroke Play Championship and was named the 2020 Junior Golf Alliance of Colorado's Girls Player of the Year.
On the college side, the University of Denver's Anna Zanusso landed the SOC honor. The Italian finished ninth individually at the 2021 women's NCAA national championships, marking the second-best individual showing ever by a DU golfer at that event. Zanusso also competed in the 2021 Augusta National Women's Amateur.
All the winners will be honored March 13 at the SOC banquet, set for the Hyatt Recency Tech Center.

Bundle Up for the Expo: It looks like Denver may be slowly coming out of a deep freeze this weekend as the first in-person local Golf Expo since 2020 will be conducted. The parking for the event — now called the Colorado Golf Expo — likely won't free as it has been in the past, though RTD light tail is an alternative. But it should be interesting to see how things play out at the show's new site, the Colorado Convention Center (700 14th Street in Denver). For more about the Expo — set for Friday through Sunday — including ticket prices, CLICK HERE.

Notable: For anyone who's wondered what happened to Morgan Hoffmann — who posted scores of 62-63 the final two rounds at Cherry Hills Country Club to finish third in the 2014 BMW Championship — here's a very interesting READ. … With the 150th British Open being held this summer at St. Andrews in Scotland, the R&A plans some special events. That includes a Celebration of Champions, a four-hole challenge on Monday of tournament week in which 48 champions of various events — including winners of the British Open — will participate at the Old Course. Last summer while competing in the Korn Ferry Tour's TPC Colorado Championship, Colorado resident David Duval, winner of the 2001 British Open, was already eyeing competing in that Open Championship. "I'm looking forward to next year playing in the (British) Open at St. Andrews again because that would be my sixth one at St. Andrews. Then I can play the next week at the Senior (British) Open. That would be a cool couple of weeks." British Open week is July 11-17… ESPN's recent announcement — that Colorado resident Peyton Manning and brother Eli are now under contract to do their "Monday Night Football With Peyton and Eli" (and guests) through 2024 — has a golf angle to it. The agreement calls for similar programming in the realms of other sports, including golf, college football and UFC. Details will be fleshed out over time.