U.S. team, coached by Aspen resident Justin Leonard, holds off Internationals for Junior Presidents Cup title in Australia 
By Gary Baines – 12/9/2019
Later this week, Justin Leonard will be front and center at the Presidents Cup, serving as one of the lead analysts at the event for Golf Channel's coverage of the matches between the U.S. and the International squads.
But that isn't the only official role the Aspen resident is playing in Melbourne, Australia this week. The other concluded on Monday, when Leonard's U.S. team narrowly held off the Internationals for a 13-11 victory in the Junior Presidents Cup.
The Americans led 9-3 after Sunday's four-ball and foursomes sessions, but the Internationals rallied with wins in five of the first six singles matches on Monday before four Americans secured wins to put the U.S. over the top.
"I knew it would be harder than (the American players) thought it would be and I tried to convey that," said Leonard (pictured above), a one-time British Open champion who has lived in Aspen since 2015. "I'm glad to see the International Team came out today. I knew they were capable of it and they did that.
"It's hard playing against a player or team that is kind of mad and has nothing to lose. That's a pretty dangerous combination. They started great and we were down on every match except the top match for a while. We got a couple of close ones go our way in the end."
It was the Americans' second straight victory in the Junior Presidents Cup, which debuted in 2017 in Edison, N.J., when David Toms' U.S. squad prevailed 14-10.
Leonard played in five Presidents Cup during his career, in addition to three Ryder Cups. He won a dozen times on the PGA Tour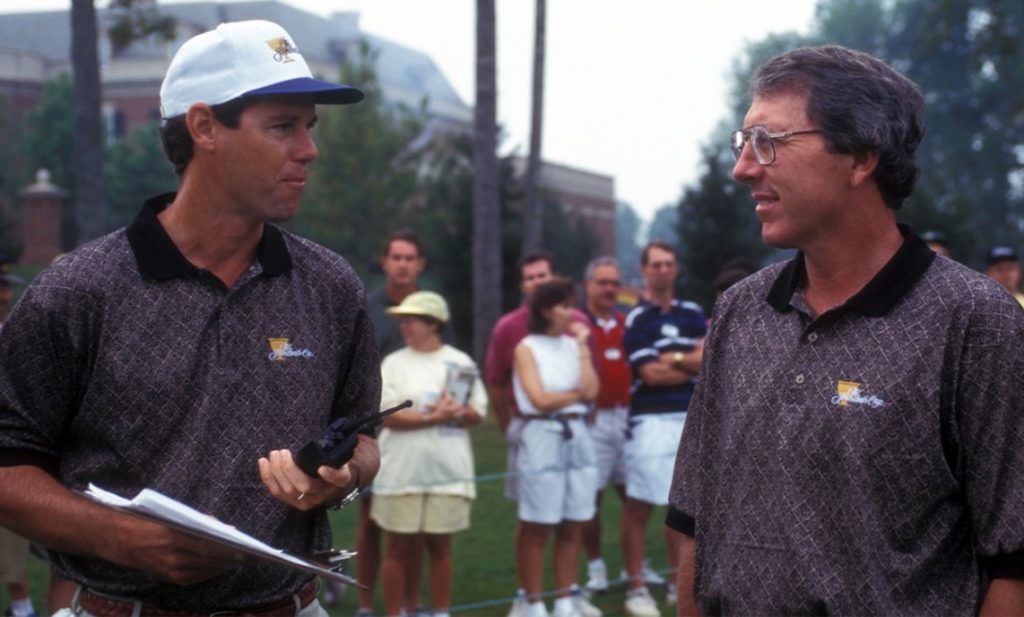 Leonard was the Junior Presidents Cup captain for the U.S. 25 years years after another player with strong Colorado ties, Hale Irwin, captained the American team in the inaugural Presidents Cup. In fact, after winning the MCI Heritage Classic earlier in 1994, the 49-year-old Irwin competed in the Presidents Cup that year as well, going 2-1 as a player. Paul Azinger, another 2019 Presidents Cup TV analyst, served as Irwin's very-involved assistant captain in 1994.
Overall, the U.S. defeated the Internationals 20-12 in that first Presidents Cup — held Sept; 12-14, 1994 in Gainesville, Va.
This year, for the first time since, the American squad will feature another player-captain as Tiger Woods used one of his four captain's picks on himself for this week's competition. Irwin and Woods are the only two playing captains in Presidents Cup history.