Former CGA staffer Robert Duke now living by the rules on the LPGA Tour
By Gary Baines – 3/13/2023
It took place more than 9,000 miles from Denver and in a time zone wildly different than anything in the U.S., but if local golf fans happened to tune in to the LPGA Tour event in Singapore earlier this month, they may have seen a familiar face.
Besides Jennifer Kupcho, that is.
During Golf Channel's third-round coverage of the HSBC Women's World Championship, the cameras focused on a rules official supervising a couple of people doing squeegee work on standing water on one of the greens. This preceded a weather delay in play during a week in which more than 14 inches of rain fell. Still, the full tournament concluded on time.
The rules official in question was none other than Robert Duke, who served as the CGA's director of rules and competitions for almost 4 1/2 years, from 2017-21.
When he left the CGA, Duke's stated goal was to be a professional golf referee, officiating at the "highest level" of the game. Consider that mission accomplished — in his case, the highest level of women's golf.
Since the beginning of this year, Duke has been a manager of rules and competitions for the LPGA Tour. Simply put, he's one of eight full-time rules official for the LPGA circuit. Duke was promoted after just a year and a half serving in a very similar capacity for the Epson Tour, the official developmental tour of the LPGA, which is owned and operated by that senior circuit.
"I'm still getting used to (working on the LPGA Tour), but it's very cool," Duke, now 32, said in a recent phone interview. "It's kind of interesting to have wanted to do something for a long time — since I started doing this — and finally being able to do it. I'm just getting used to it.
"The speed of the game is a lot quicker. There's a lot more moving parts going on, a lot more things to think about than maybe just the golf. But I'm loving it so far and am looking forward to getting better at it. It's very fun. … I'm glad I'm here now and working with the best in the world."
Duke has worked all three LPGA tournaments contested so far in 2023, with the trip to the last two being a doozy. The tour played in Thailand Feb. 22-25 and in Singapore March 1-4.
Those flights were eye-openers — or eye-closers, depending on how you look at it — for Duke. From and to Charleston, S.C., where he moved from Denver last May, Duke said he was in the air pushing 20 hours, including the domestic legs in the U.S.
"I'd never been on one that long," he said of the flights. "You find stuff to do or shows to catch up on, certainly sleep. You catch a weird time coming back or your body clock is still awake but you're wanting to sleep … You're kind of just up watching movies or whatever — which is fine. It's not too hard; you're just sitting there. That's part of it.
"We get to keep all of our frequent-flyer miles and (those for) rental cars and hotels too. You do rack up those reward points if you do it right."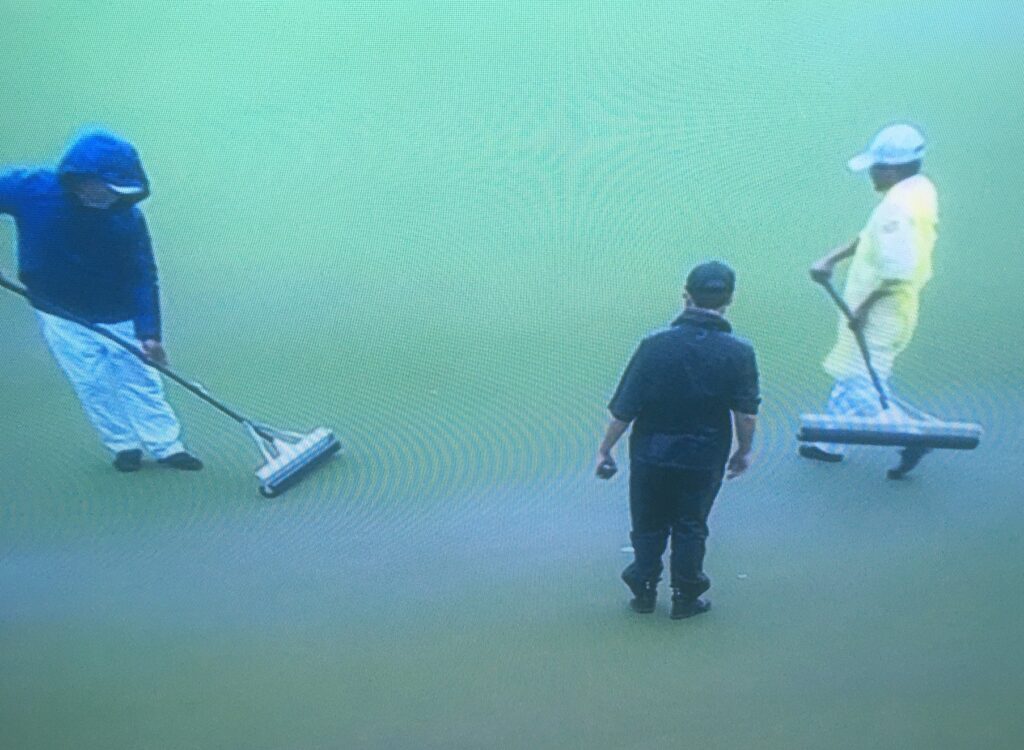 Besides that trip to Thailand and Singapore, other international trips Duke has scheduled for tournament work this year are the Amundi Evian Championship, a major in France in late July, and the Buick LPGA Shanghai in China in mid-October.
On this past trip, among those who saw Duke on TV in Singapore was his dad, Ken, who lives near Nashville, Tenn.
"My dad was up watching it and he texted me. 'I saw you working with the squeegee guys on TV there,'" Duke noted. "We didn't have TV (coverage) on anything else I've done before (this year) — the Epson Tour or the CGA — so I think he got a kick out of that."
That incessant rain situation in Singapore was Duke's most takeaway memory in his initial months working with the LPGA Tour.
"They did a really good job building the golf course there," Duke said. "I think they had 14.25 inches that week — and it drained really well. You wouldn't believe how it would look 10 minutes later (after a heavy rain stopped) — hardly any standing water anywhere. They had sub-air turned on and they have a drainage channel around the golf course just to get the water out that's on the edges of the fairway.
"I'd never been around that much rain. We got all 72 holes in. That kind of tells it right there — you get that much rain and didn't have to shorten the event at all or go into Monday, or have any overnight delays. We finished play each day. I was really impressed with the golf course holding up. It was a little bit of a long week, but that's just what it is. Golf is an outdoor game so it's going to rain."
Duke said he's scheduled to work 23 or 24 events this year on the LPGA Tour, sometimes going early to the site to help mark the course.
While on the Epson Tour, Duke worked a couple of events for the LPGA Tour last year when he had a week off or wasn't doing anything pressing on the Epson circuit. One such LPGA tournament was in Sylvania, Ohio.
"You want to work in, meet with the other officials, work on the LPGA Tour side," he said. "Then at the end of last season, I got the call — the offer to come up full time. It was just the process of getting reps on the LPGA Tour and getting better every week as a rules official.
"It was a much different position than what I had been doing. It was a big jump going from (the CGA) to the Epson Tour doing full-time officiating. A big part of it was getting comfortable with that — and to be comfortable with doing that on the LPGA Tour as well. The Epson Tour was a good introduction into full-time professional golf. Again, I've enjoyed it very much."
Duke is following a similar path to another former CGA director of rules and competitions — Pete Lis. Lis went from his CGA position to working as a rules official for the LPGA Tour. Then he went on to officiate on the Korn Ferry Tour, and now he's on the PGA Tour.
Duke isn't sure what his future will hold, but he does know he's very happy working for the LPGA circuit.
"I love where I'm at now," he said. "It's really exciting to work with the best in the world on the LPGA — and it's an exciting time for the LPGA. I'm actually really honored to be where I'm at and be with the LPGA. Any plans to work with the best in the world, I'm already doing it. Anything beyond that, I've not really mapped out at all."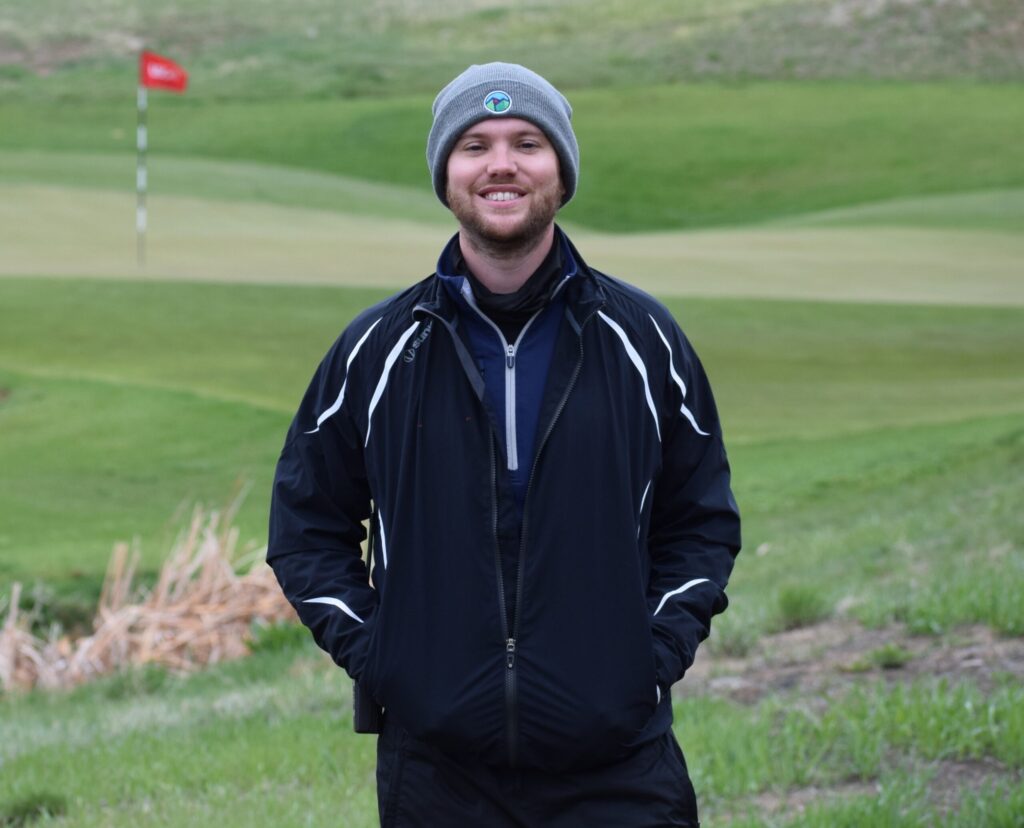 Duke and his girlfriend, Lindsay Osterhus, moved last year to Charleston, which, he said, wasn't a "hard sell. We love it and there's plenty to do." But after living in Denver for roughly five years, there are certain things he already misses about the Mile High City. One is the proximity to skiing — something he was reminded of when he flew over the mountains on the way back to Charleston last week.
Another is the wealth of good-quality, reasonably priced golf in Colorado.
"I can't tell you how much I wish I'd played more of the public golf courses in Denver because they're so good," he said. "I ran a lot of events out of them, but I never played Walnut Creek, Murphy Creek — courses like that. They're so good and they're really accessible — and, to me, (inexpensive). … There's just so many good public courses. I really had it good in Denver. I played a ton at CommonGround and really miss that course. That course and the condition that's in — that's such a steal.
"After leaving Denver, I realize how good the golf scene is there — public, private both. It's fantastic. It's so good there. I had no idea until I left how good it was. Off the top of my head, there's like 10 public courses that are off-the-charts good."

About the Author: Gary Baines owns and operates ColoradoGolfJournal.com