For the second time in 5 years, Bill Fowler and son Will win CGA Parent-Child, which they call 'the greatest weekend of the year'
By Gary Baines – 6/4/2023
It's been quite a momentous week for Bill Fowler — and on Sunday it got even better.
The golfer from The Club at Rolling Hills retired from his job of 35 years working for Bill Daniels/the Daniels Fund, with his last day being May 31. "I just turned 60," he noted. "Retiring was kind of my 60th birthday present to myself."
Then on Sunday at River Valley Ranch in Carbondale, he added to the festivities by teaming with his son Will to win their second CGA Parent-Child Championship in the last five years.
"This is my 10th (CGA) state championship and the two that I've won with Will are as special or more special than the other eight," Bill said. "They're all special; let me say that. But to win one and then two with Will just makes it even better."
As for Will, a 29-year-old account director at a telecom company who plays out of Bear Creek Golf Club, it's his second CGA championship, both coming in this event.
"Bill retired Wednesday of last week so this is his first full weekend of retirement," Will said. "He shot a 66 at his home course of Rolling Hills on Thursday to get him in the right mindset for this tournament.
"To (win) this with my dad twice … to do it once was unbelievable and so special, but to do it twice — especially given his recent retirement and what that meant to him — it's just unbelievably special."
Bill, a former CGA president, and Will out-dueled the defending champions, Colorado Golf Hall of Famer Kent Moore of Cherry Hills Country Club at son Steven of CommonGround Golf Course, down the stretch to prevail by two strokes.
The Fowlers birdied two of the last five holes and went bogey-free in alternate shot on Sunday to add the 2023 title to the one they won in 2019 in this event. This time, they finished 10 under par for two days — Saturday playing Modified Chapman and Sunday foursome stroke play — otherwise known as alternate shot. They carded a bogey-free 4-under 68 on Day 2.
The Moores, the 18-hole leaders who also won this event in 2009 besides 2022, closed with a 71 to post an 8-under total. Lenny and Nick Nosewicz, winners in 2017, were the only other team to finish under par for 36 holes, checking at 142 for third place.
Perhaps not coincidentally, both years the Fowlers have won the Parent-Child, the tournament was held at River Valley Ranch.
"Horses for courses, right?" Bill said. "I think it does set up well for us. There's not any layup holes or gimmicky holes. You can kind of golf your ball. We like that."
Overall, the Fowlers have been competing in the CGA Parent-Child regularly since 2006 — with very few exceptions — and in each of the last 11 years they've played together at the event, they've always placed in the top 10.
"We just kind of play relaxed golf," Will said. "We're just here having fun with each other. We always do that for this weekend. We always say it's the greatest weekend of the year. We could finish dead last and still have a ton of fun in this event. To win is just a cherry on top."
On Sunday, it largely turned into two-team affair for the title between the Moores and the Fowlers.
When Steven Moore chipped in for birdie on 10, he and Kent went up by one stroke.
But after getting up and down for par on 13, the Fowlers pulled even on No. 14, where Bill hit an approach to 10 feet and Will sank the birdie putt. Then on No. 16, the Fowlers short-sighted themselves in a bunker, but Bill blasted to 6 feet — "a great, great bunker shot," Will said — and Will made the par putt, while the Moores missed the green and carded a bogey. That left the Fowlers one ahead. And on the par-5 17th, the Fowlers gave themselves some cushion despite Bill hitting the tee shot into the native. After Will extricated them, Bill put the approach to 12 feet and Will drained the birdie putt.
"The putt on 16 and the great putt on 17 (by Will) were just clutch in going ahead by two," Bill said.
Pars on 18 by both teams gave the Fowlers the two-stroke victory. A stellar start on Saturday — a 7-under-par 29 on the front nine, including an eagle — and a strong finish on Sunday did the trick in a lot of ways.
"It was quite competitive — and really a blast," Bill said.
For the record, Will owns a USGA Handicap Index of plus-1.1, while Bill checks in at plus-1.4.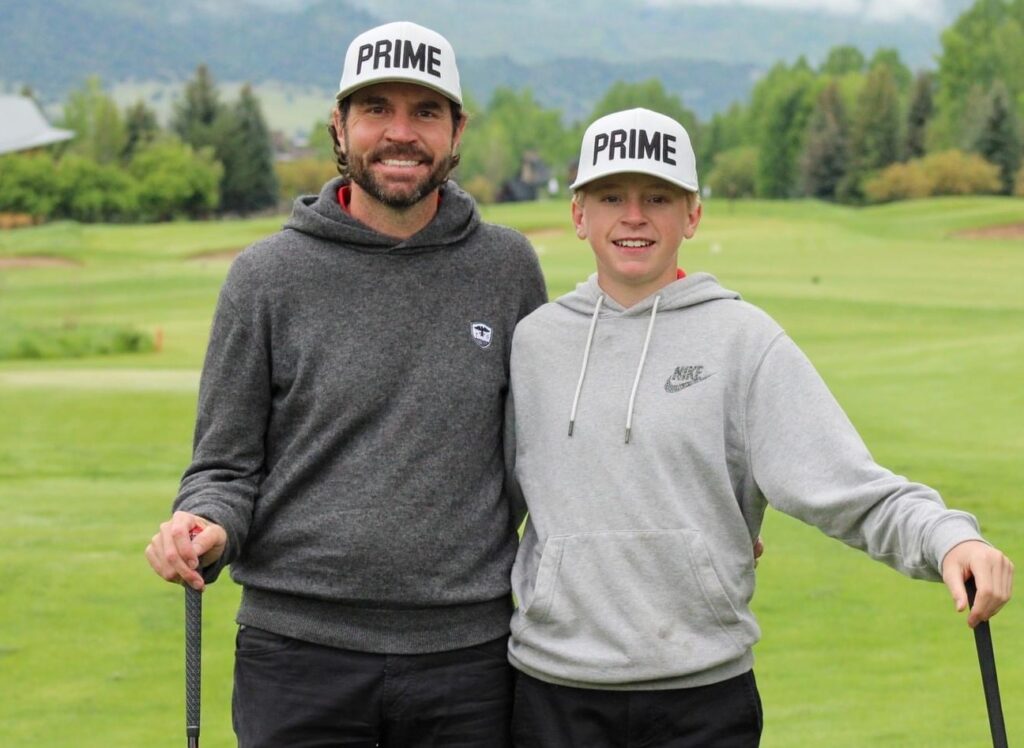 Michael (left) and Campbell McFadden took home the Loel and Caleb Lierman Award.



Meanwhile, the Loel and Caleb Lierman Award, given to the team that includes a player 18 or younger with the lowest 36-hole gross score, went to Michael and Campbell McFadden of Lakewood Country Club, who went 73-77 for the weekend.
As for the Parent-Child net title, prevailing were Clifford and Rachel Telle of The Club at Flying Force (67-66), who prevailed by seven in that division.
For all the scores from the 41st CGA Parent-Child, CLICK HERE.

About the Writer: Gary Baines has covered golf in Colorado continuously since 1983. He was a sports writer at the Daily Camera newspaper in Boulder, then the sports editor there, and has written regularly for ColoradoGolf.org since 2009. He was inducted into the Colorado Golf Hall of Fame in 2022. He owns and operates ColoradoGolfJournal.com