Emotional Wyndham Clark pulls away for first PGA Tour win, besting a formidable field; it's believed to be first PGA Tour victory by a Colorado native in almost 20 years
By Gary Baines – 5/7/2023
Thirtieth birthdays can often be significant milestones for young adults. That can certainly be true for top-level tour players as many are expected to have hit their strides professionally by that point.
Colorado native Wyndham Clark will hit the big 3-0 on Dec. 9 of this year. And, after Sunday, he won't have to worry about celebrating that birthday without a PGA Tour victory — or his first notable pro win of any type — on his resumé.
After knocking on the door so many times over the last 2 1/2 years — including two weeks ago in the Zurich Classic team event — the 2010 CGA Amateur champion left no doubt on Sunday with a mid-round surge en route to a four-stroke victory at the Wells Fargo Championship at a formidable Quail Hollow Club in Charlotte, N.C.
And, to add to the accomplishment, the win earns Clark a two-year exemption on the PGA Tour (2024-25); spots in the PGA Championship, U.S. Open and the British Open; and a $3.6 million payday for Sunday's victory (more than seven times as much as he's received for any other tournament). He moved up to the No. 5 spot in the season-long FedExCup standings.
Oh, and Clark will be competing in the Masters for the first time, next spring.
"I'm choked up," he said Sunday evening. "It's been a long five years to get to this point on Tour. I thought I would have (a win) earlier. But it's well worth the wait. I'm so grateful.
"There's so much that goes into this. There's so many times when I wanted to cry and break clubs — and I did break clubs sometimes — in this journey. To get to this point is just so sweet."
It's believed to be the first win on the PGA Tour by a Colorado-born golfer in nearly 20 years as Denver native Jonathan Kaye prevailed at the Buick Classic in June 2003. And it's Clark's most notable victory since he won the Pac-12 Conference title at Boulder Country Club in 2017.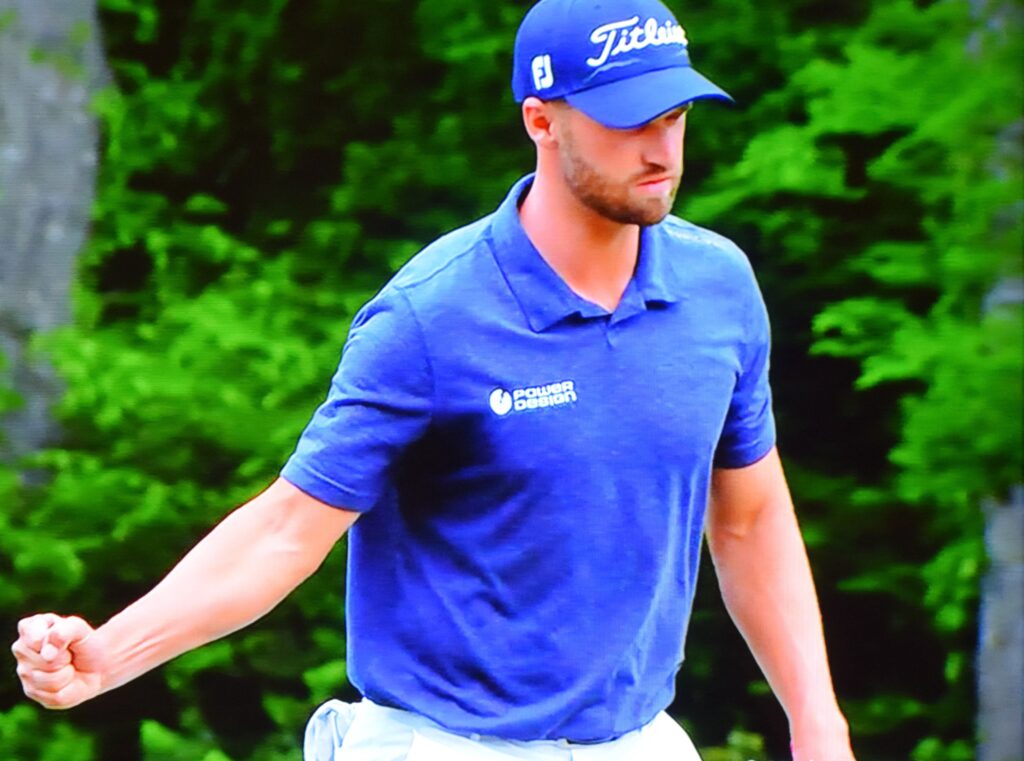 Clark celebrates sinking a birdie putt on the back nine Sunday at the Wells Fargo Championship.



The closest Clark had come to a triumph on the PGA Tour in the interim was a runner-up finish in a playoff at the Bermuda Championship in November 2020.
"He's shown that talent, especially over the last 12 months," CBS analyst Trevor Immelman said. "He has all the tools. … So the sky's the limit. There can be some great things coming down the pike for Wyndham Clark."
On Sunday, Clark lost his two-stroke lead entering the final day and saw seven-time PGA Tour winner Xander Schauffele take a one-shot advantage with a birdie on No. 7. But that's where things turned on a dime.
In the next five holes, the Valor Christian graduate picked up one shot per hole on Schauffele as Clark birdied 8, 10 and 12, while Schauffele bogeyed 9 and 11.
From there, Clark was rock solid as he went 5 under par in the stretch from holes 8-15. Despite closing with a bogey, he backed up his previous scores of 67-67-63 with a 3-under-par 68 on Sunday for a 19-under-par total.
"He looks like he's done this before," CBS' Dottie Pepper said about Clark with a few holes left on Sunday.
"He looks so cool, calm, collected," added Immelman.
Clark earned PGA Tour victory No. 1 in his 134th start on the circuit. On Friday, he made his 16th consecutive cut on the tour.
Plus, Sunday marked his fourth top-five finish in his last six events. Suffice it to say that there were many signs pointing to a victory being on the horizon. Of course, getting win No. 1 is never simple, and even Clark himself questioned if it would happen for him when he had come up short while in contention on multiple occasions. Specifically, after he placed sixth in the Corales Puntacana Championship in March, "I was beginning to think that maybe I'll never win," he said.
But a more patient attitude at the Wells Fargo Championship struck the right note.
Clark's background was highlighted by CBS on Sunday, including the fact noted by Jim Nantz that Clark was a Valor Christian classmate of standout NFL running back Christian McCaffrey, and that the two remain good friends. And Clark being a big fan of fly-fishing also was pointed out.
Clark had plenty of reason to smile after pulling away from Xander Schauffele on Sunday.



Now that he's won, what might the future hold for Clark?
"I think he has something in store for us now that he's broken through," opined CBS' Ian Baker Finch.
Of course, Clark's accomplishments are no secret to Coloradans. In 2010 he won the CGA Amateur at Boulder Country Club as a 16-year-old. And he claimed two state high school individual titles while at Valor, including one in which he went 64-64 at Pelican Lakes. In 2010, he qualified for his first U.S. Amateur — again at age 16.
Clark had a stellar college career — at both Oklahoma State and Oregon, he was conference player of the year, a rare feat — despite his mom passing away a decade ago after battling breast cancer. On Sunday, just a week before Mother's Day, Clark did her proud.
"It's just amazing to finally do this," he said. "My mom is obviously not here — I wish she was — but I know she's watching. I'm very grateful."
And making it all the sweeter, golf wise, on Sunday was the fact that Clark battled back after a slow start — and after losing the lead.
"I didn't hit it as good as yesterday and didn't make as many putts as I did maybe the day before, but mentally I was just super strong," he said. "I didn't start great — I was kind of shaky. I think in years past I might have folded. This time I just stayed patient and hung in there, then I caught fire on the back side."
Not long after that, Clark was lifting a PGA Tour trophy for the first time.
"It's surreal," he said. "I've dreamt about this since I was probably 6 years old. Since I've been on the PGA Tour, you fantasize about it all the time, and I've done it multiple times this year where I catch myself daydreaming about winning, and to do it at this golf course against this competition is better than I could ever have imagined."
For all the scores from the Wells Fargo Championship, CLICK HERE.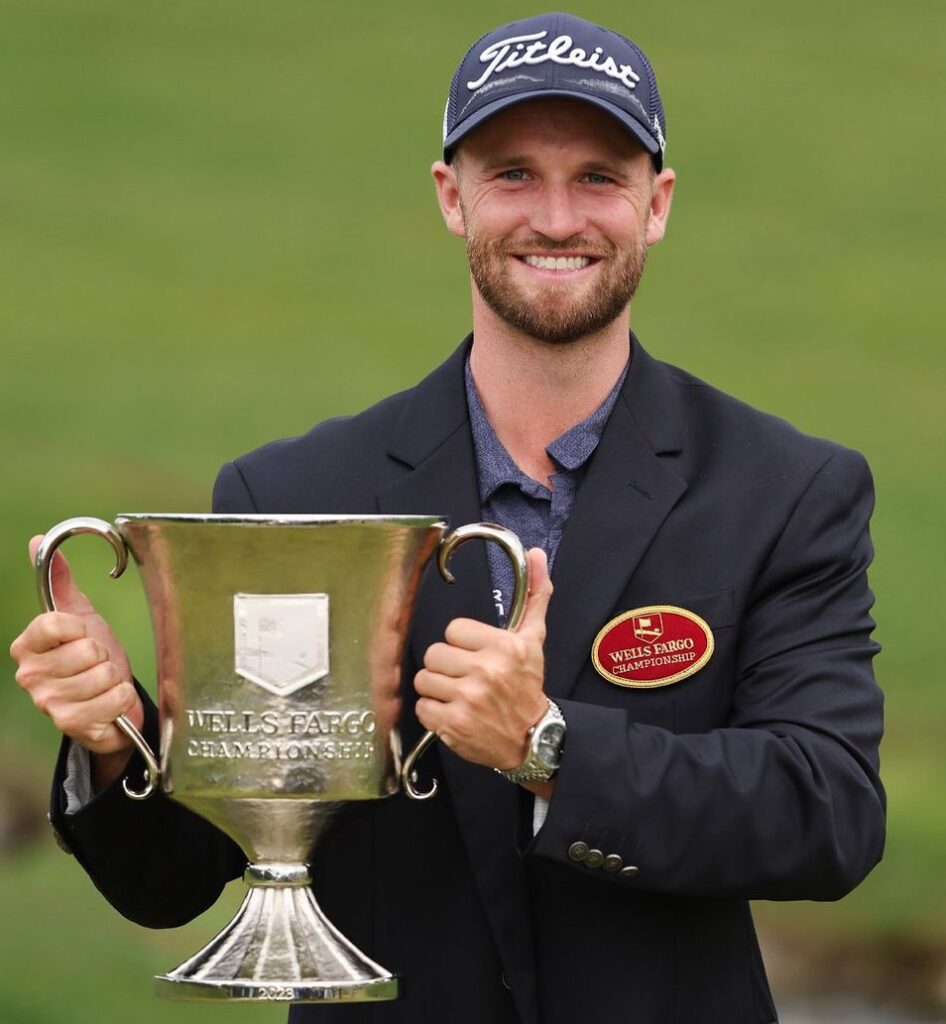 About the Author: Gary Baines owns and operates ColoradoGolfJournal.com