With win in CGA Amateur, CSU's red-hot Connor Jones sweeps titles in 2022 CGA men's 'majors'; 24-under total believed to be record for the event
*****For all the scores from the CGA Amateur, CLICK HERE.*****
By Gary Baines – 7/31/2022
When Connor Jones' second shot on the par-5 11th hole on Sunday landed a little short of the cup and didn't miss a double eagle by much, PGA professional Matt Bryant, following his son Davis in the same group, noted "That's hard to beat."
Bryant was referring to that specific shot at River Valley Ranch in Carbondale, but he might as well have been speaking about Jones in general over the last three months.
On Sunday, the golfer from The Ranch Country Club and Colorado State University capped off a remarkable run of golf by winning the CGA Amateur with a four-day total of 24 under par. That's believed to be the tournament record, though records are incomplete for the event, which dates back to at least the 1930s.
Giving some indication how good 24 under is for 72 holes, from 2009 through 2021, the best winning total for the CGA Amateur, relative to par, was 15 under. Going back to the greatest golfer Colorado has ever produced, Hale Irwin reportedly won the 1963 CGA Amateur (then known as the Stroke Play) with a 21-under total.
"To shoot 21 under for four rounds, that's usually going to be good enough to win," said Davis Bryant, a CSU teammate of Jones' who placed second, three back. "I just ran into a buzzsaw. Luckily, he's on my team. I'm happy for him. Connor played great."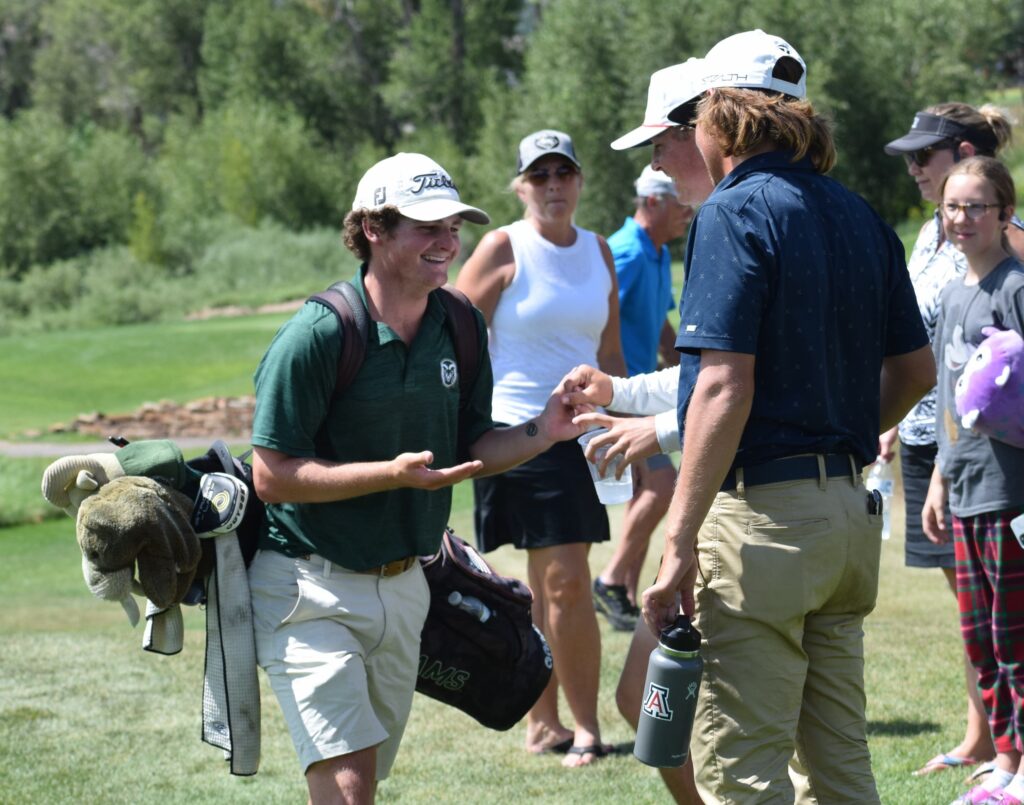 The tournament scoring record aside, this much is certain: With Sunday's victory, Jones became just the third player in history to pull off this trifecta in a calendar year — winning the CGA Match Play and the CGA Amateur and finishing as low amateur in the Colorado Open. Gary Longfellow did it in 1974 and Colin Prater in 2020. Longfellow actually went a step further by winning the Colorado Open outright in '74.
Just limiting the accomplishment to sweeping the two CGA men's open-age majors in a calendar year, Jones became the third golfer since 1985 to do that, joining Steve Ziegler (2009) and Prater (2020).
But that isn't the extent of Jones' on-course accomplishments in recent months. He also won the Mountain West Conference individual title, finished second in a playoff at the prestigious Trans-Miss Amateur at Denver Country Club, and a week ago he set the amateur scoring record at the Colorado Open — by four strokes — in finishing third overall.
"Hat's off to him. He's played great from the jump," said Prater, the 2016 and '20 CGA Amateur champ who placed third on Sunday. "He wins conference, almost goes to the U.S. Am (he's the first alternate). Probably should have won the Trans-Miss. The guys is just playing really good golf.
"I think it's incredibly tough (to sweep the CGA majors and be low am in the Colorado Open in the same year), especially now looking back on my 2020 summer. But you get hot and you try to ride that wave as long as you possibly can. It's awesome."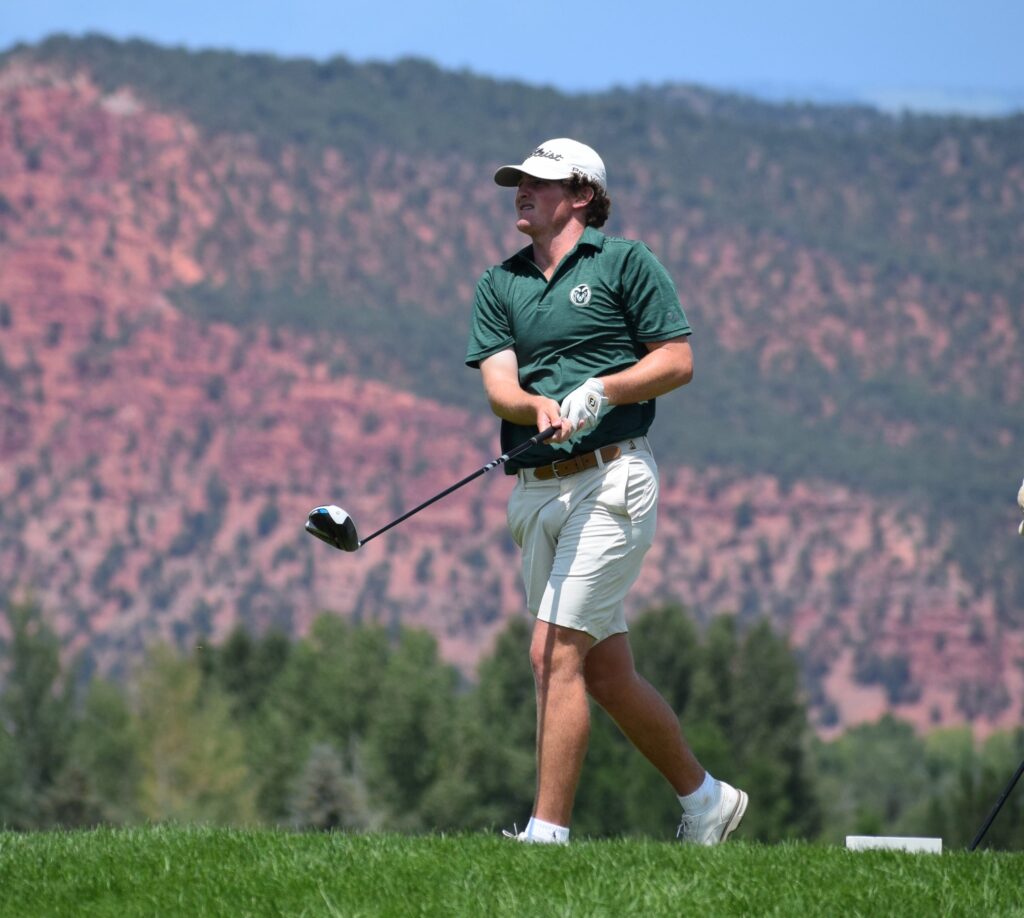 So how does it feel to be on such a run and to now be in such elite company with his accomplishments?
"That's really cool," said Jones, who will soon turn 21 years old. "It's fun to see the fruits of the labor starting to pay off. I know a lot of good players have come out of Colorado. It's fun to be in contention, whether you win or not.
"This has all kind of happened really fast. I haven't taken a lot of time to soak it all in. I know I'm having a good year and I've been playing well. I feel like every time I show up I believe in myself that I can play good."
On Sunday, after posting back-to-back bogey-free rounds of 64, Jones looked like something similar could be in store in the final round. After three straight birdies to start the back nine, he held a six-stroke lead and was 7 under par for the day and 27 under overall. Asked if the thought of hitting 30 under crossed his mind with six holes left, Jones smiled a bit.
"I'd be lying if I said it didn't," he said. "But I was just trying to play solid. I definitely hit some squirrelly shots — and putts — there at the end.
"I had a goal at the Colorado Open to shoot 20 under (he finished at 19). I had never shot in the 20s before. So this week that was my goal too. So it feels good. This tournament is so much fun, playing with my friends."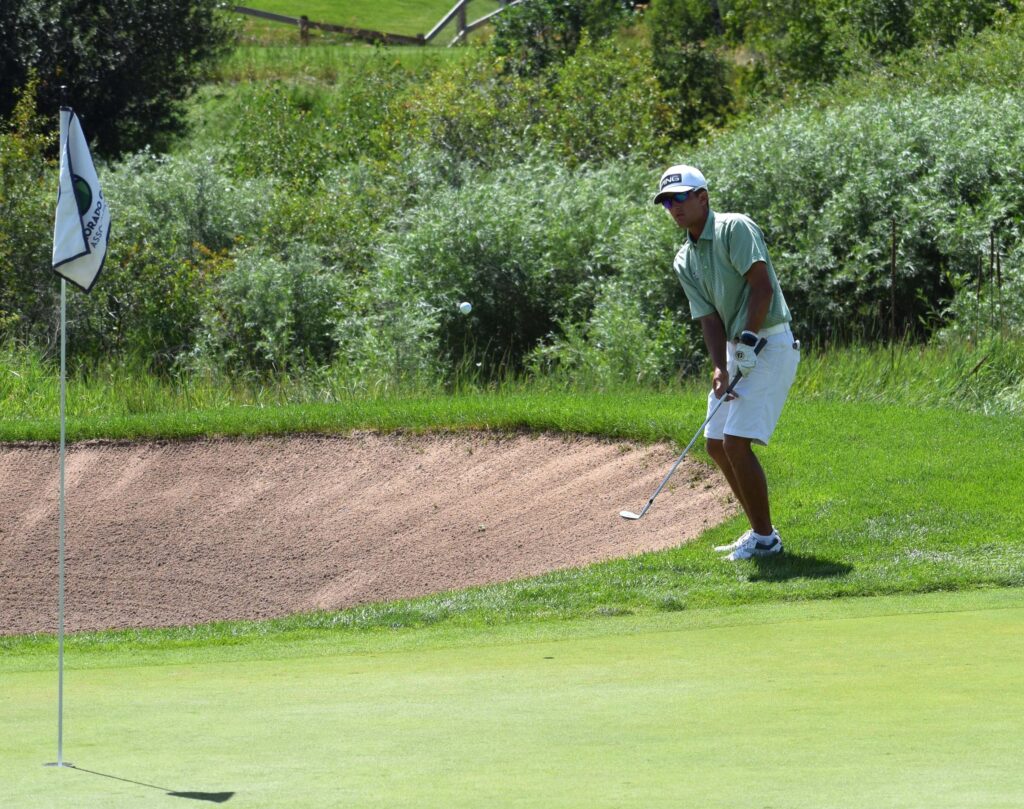 In capturing his third CGA championship — he also won the 2019 Colorado Junior Match Play — Jones posted scores of 68-64-64-68. Bryant, the golfer from Green Valley Ranch Golf Club who opened with a 12-under 60 — believed to be tournament record relative to par, also posted a final-round 68 to place solo second. Prater, the 27-year-old schoolteacher from Cherokee Ridge Golf Course, was another stroke back in third after a second straight 67. University of Wyoming golfer Tyler Severin of Ptarmigan Country Club finished fourth at 17 under after a 71 on Sunday.
Besides placing 1-2, CSU golfers also finished 10th (Matthew Wilkinson of Lone Tree Golf Club) and 12th (Gavin Hagstrom of Fort Collins Country Club).
"I'm happy with my game, where it's at," said Bryant, winner of the Southwestern Amateur in June. "The summer was great. I'm happy with how (Jones) and all the other CSU guys are playing. Gavin had a good week, Matthew had a good week. It couldn't happen at a better time. I'm all about the team. I want everything to play well, along with myself."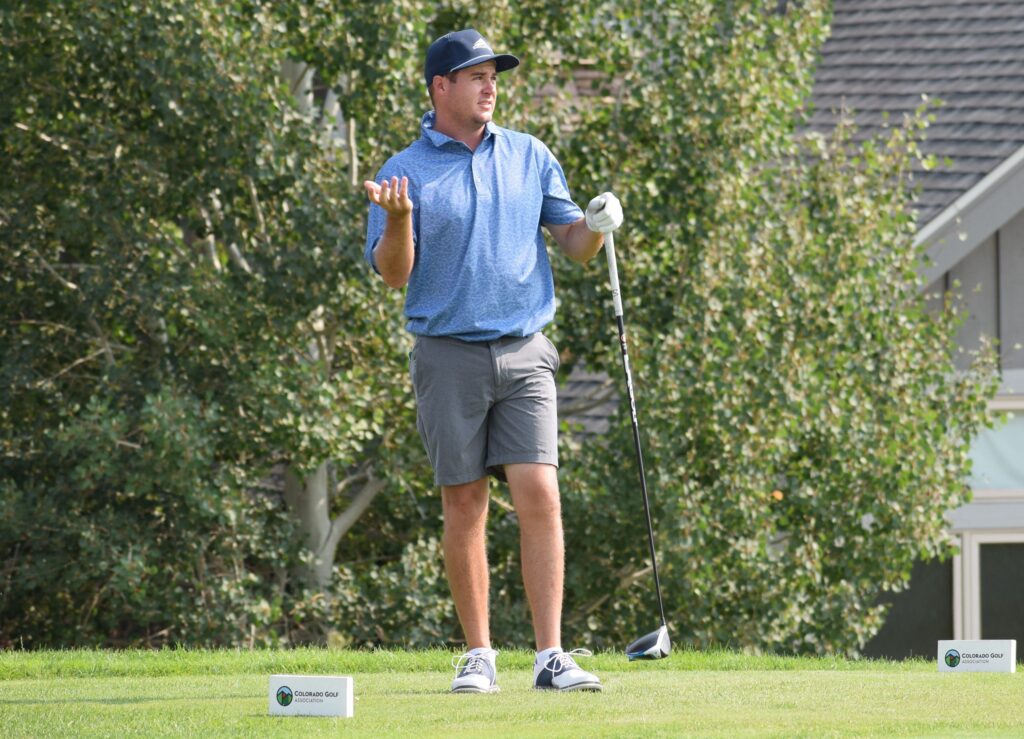 As well as Jones performed overall — he had a 42-hole bogey-free streak ended on Sunday — he made things a little interesting on the back nine Sunday with some slight bobbles. After his three straight birdies to start the nine, he three-putted both Nos. 13 and 14 for bogeys, then missed the green on the 16th hole and couldn't convert a 5-foot par.
That left Bryant, once seven behind on Sunday, just three back. And he could have narrowed the deficit to two on No. 17, but a missed 4-foot birdie attempt foiled his hopes. He also missed a 4-foot birdie try on No. 4.
"I made all my putts on Thursday," Bryant said with a laugh, recalling his round of 60. "I didn't save enough for Sunday."
Meanwhile, Jones was sweating it out a bit down the stretch.
"I definitely was a little nervous," with the turn of events on the back nine, Jones said. "When I'm nervous, as I've found in the last couple of months when I've been in contention, my arms get real loose. I tend to hit putts real soft.
"Standing on 18 tee, I was thinking all the possible scenarios if I hit a bad tee shot or something. I just tried to just stick to my process and stay in the moment as much as I can. It's easier said than done because it was coming real fast."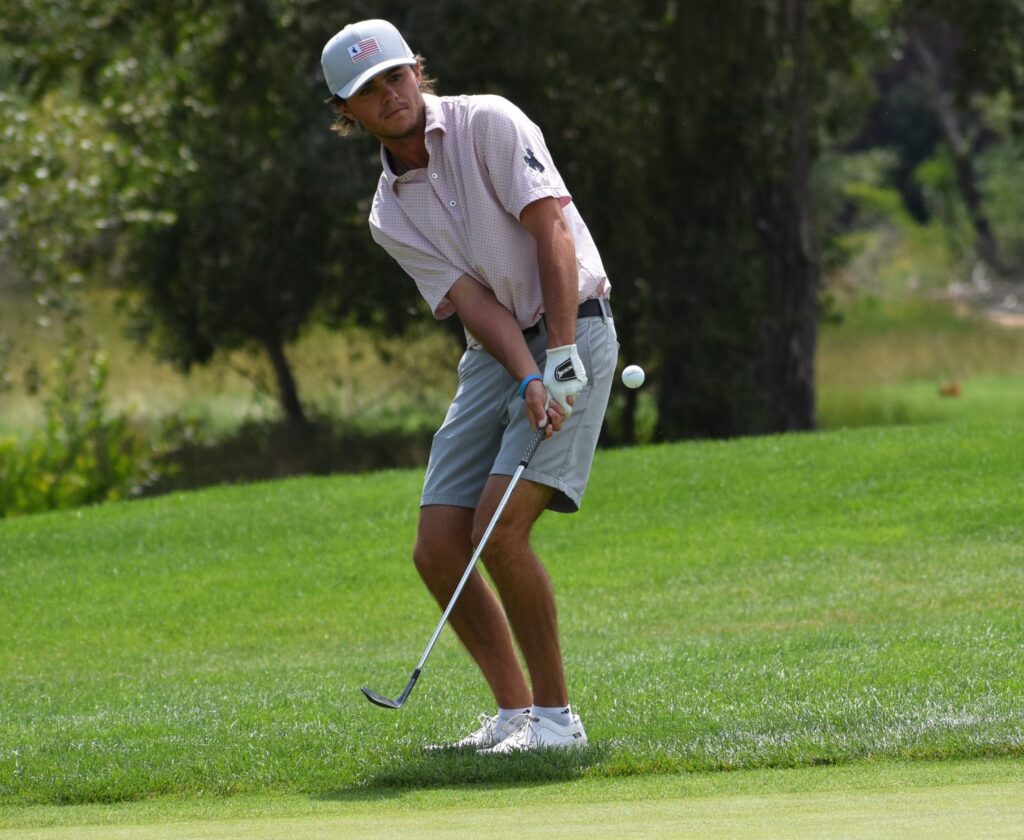 But Jones was rock solid on 18, lagging a 30-foot birdie attempt to tap-in range for a routine par.
"It wasn't perfect by any means but I was finding a lot of fairways and a lot of greens," he said. "I've found something with the putter and I've putted well all summer. I just started to see the line really well and visualizing it. And they're going in.
"I've been a streaky putter my whole life. I've been able to keep it going all summer on the greens. I think that's the difference."
It also didn't hurt that on Sunday Jones was playing in the same threesome as Bryant, his teammate, and another familiar face in Severin.
Bryant and I "play a bunch of competitive golf together, whether it's qualifying or tournaments or whatever, so we're always trying to beat each other," Jones said. "I know if I wasn't on my game, Davis was going to come out and beat me. I knew I had to go out and make some birdies."
With ideal weather conditions through most of the tournament, a relatively short golf course situated at nearly 6,200 feet elevation, and very receptive greens, not only did three players finish at 20 under par or better, but another half-dozen were in double figures under. Overall, 26 players ended up under par for the week.
"But 24 under is incredible," Prater said. "I played really good to shoot 20."