Coloradans Nosewicz, Harrington, Sahlman, Santaularia qualify for U.S. Mid-Amateur that Colorado Golf Club and CommonGround will host next month
By Gary Baines – 08/13/2019
It was no easy task to qualify for the U.S. Mid-Amateur Championship on Tuesday at Omni Interlocken Golf Club in Broomfield.
And we're not saying that just because players had to finish in the top four out of a field that originally numbered 84 in order to earn berths into the national tournament.
No, it was the apparent case of food poisoning that one player withstood to advance. And the major shoulder injury another overcame to make the grade.
Then there was the fact that three of the four qualifiers had to survive a five-man playoff to punch their tickets to the national Mid-Am. And all four qualifiers would have been decided in a playoff had not Nick Nosewicz of Aurora drained an 8-foot bogey putt on his final hole.
But the reward was well worth it. Not only did four Coloradans qualify on Tuesday for the U.S. Mid-Amateur for players 25 and older, but they'll get the rare chance to compete in a USGA championship in their home state. Colorado Golf Club in Parker will host the U.S. Mid-Am Sept. 14-19, with CommonGround Golf Course in Aurora serving as the second venue for the stroke-play portion of the event Sept. 14 and 15.
Earning Mid-Am berths on Tuesday were Nosewicz, Charlie Sahlman of Denver, Michael Harrington of Colorado Springs and Charlie Santaularia of Lakewood. It will be the sixth U.S. Mid-Am for Harrington and the first for Nocewicz, Sahlman and Santaularia.
(The qualifiers are pictured above, from left: Nosewicz, Sahlman, Harrington and Santaularia.)
And for the record, it was Harrington who overcame the apparent case of food poisoning, while Santaularia is recovering from the shoulder injury.
Qualifying for this particular USGA championship — given that it's being held in Colorado — was no small matter.
"I joined CommonGround two years ago to prep for this event," noted Nosewicz. "And I won the (2015 CGA) Match Play at CommonGround.
"My first Mid-Am, part of me wants to go somewhere different (in the country). But to represent Colorado means way more. To get in and represent (the state), that's spectacular. I have a lot of Colorado pride; I was born and raised here. I don't think anybody wants it as bad as I do."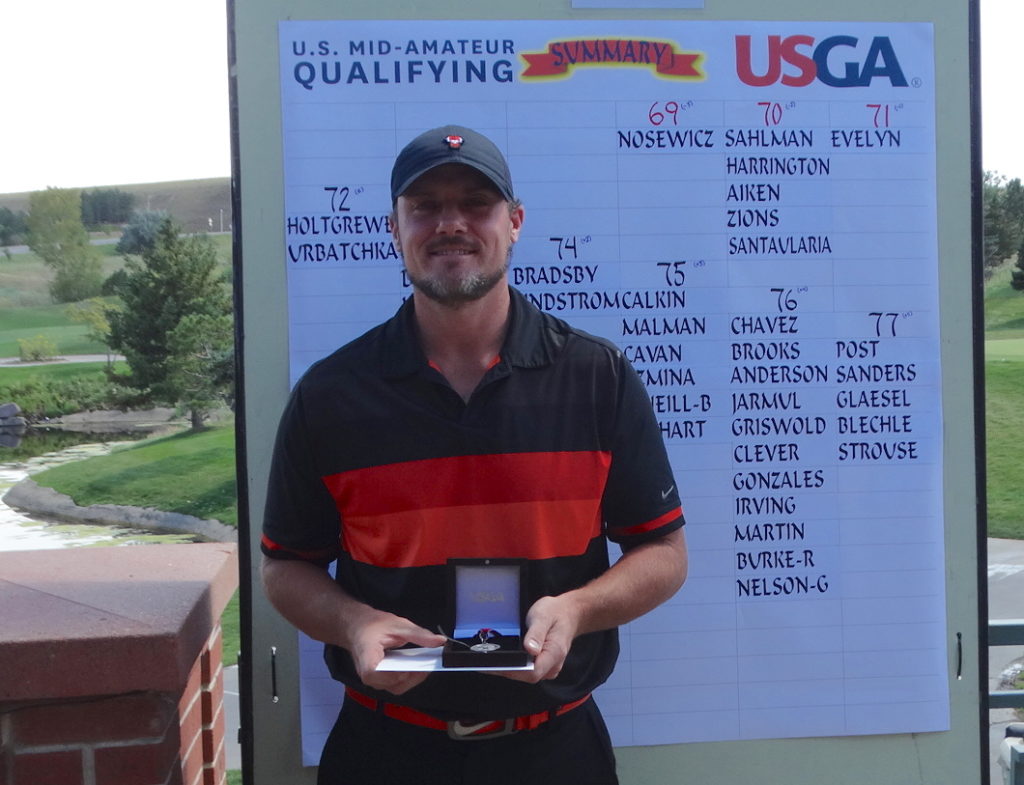 Nosewicz earned medalist honors on Tuesday, shooting a 3-under-par 69 despite needing to drain an 8-foot putt for bogey on his final hole. Then the five players who shot 70 — Sahlman, Harrington and Santaularia, along with Chris Aiken of Cortez and Matthew Zions of Lakewood, who won a European Tour event in 2011 and played in the 2007 British Open — went to a playoff to determine the final three qualifiers.
Sahlman and Santaularia punched their tickets on the first extra hole by two-putting for birdie on the par-5. Harrington and Zions three-putted for par to force a second playoff hole. And Aiken eliminated himself with a lost ball and another shot into the pond, eventually carding a triple-bogey 8.
On the second playoff go-around on the same hole, Harrington hit the cup with his chip on his third shot, then sank a 7-foot birdie putt after Zions had missed his 35-foot birdie attempt. So the final national berth was Harrington's.
"Playoffs are great," said Harrington, a 47-year-old who splits his time between Colorado Springs and Palm Springs in California. "When you're in the playoff you have to tell yourself, 'This is why you play the game.' Win, lose or draw, it's a great experience. That's what we love, and hopefully you don't choke too bad."
This will not only be Harrington's sixth U.S. Mid-Am, but his 13th USGA championship overall. He advanced to the quarterfinals in the 2014 U.S. Mid-Amateur and to the round of 16 on another occasion.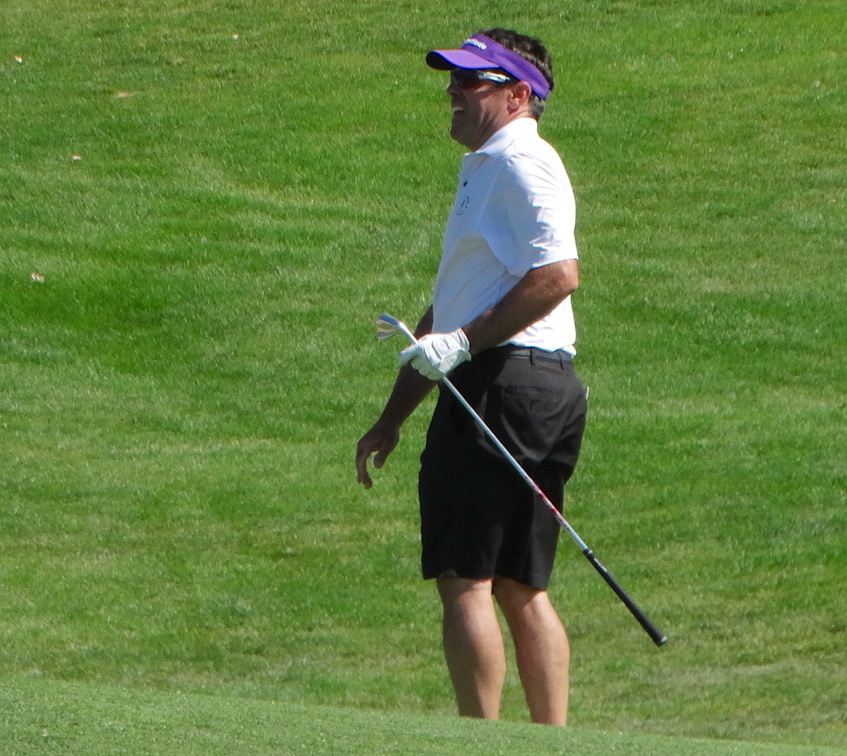 But qualifying this time was far from a sure thing after his case of food poisoning early this week.
"I wasn't sure I was going to be able to finish because of that," the 2014 CGA Player of the Year said. "I was so exhausted (Monday) it was unbelievable. But I got off to a good start — I made a 30-footer on 1 — and I was 4 under through 10, so I felt like I was kind of on cruise control.
"All in all I was very pleased, especially given how poorly I felt. I didn't eat anything for a couple of days. I just felt terrible. Maybe that helped because I was 4 under" in the early going.
Both Harrington and Nosewicz qualified two days after posting top-10 finishes in the CGA Amateur, with Nosewicz placing sixth and Harrington eighth.
Like Harrington, Nosewicz continued with his solid play on Tuesday. Though he made three birdies, the highlight of the round was certainly the eagle he carded on his ninth hole, where he chipped in for eagle from about 40 yards. Nine holes later, his 69 was good for a berth in the U.S. Mid-Am, where he'll play a course where he's a member and won a CGA championship (CommonGround) and one where he recorded his last hole-in-one (Colorado Golf Club).
"In my opinion CGC is the No. 1 golf course in Colorado," the 35-year-old said. "Colorado Golf Club with CommonGround as a sister course (for the national championship), that's like tailor-made for me."
As for Santaularia, the fact that he qualified for the U.S. Mid-Am was quite a feat considering the damage done to his shoulder in an auto accident just before Father's Day.
"I haven't played (much) golf in two months," the 36-year-old said. "I withdrew from the (CGA Amateur), thinking 'I want to play in the U.S. Mid,' so I'm super stoked to have made it.
"Coming back from an injury and competing in a really solid group and making it through, I'm pretty proud of that, I really am. I spent the last two months three times a week in (physical therapy). I've missed a whole summer of golf so I'm really excited."
Including the playoff, Santaularia made four birdies and one bogey in 19 holes on Tuesday.
Santularia last competed in a USGA event 18 years ago, when he played in a U.S. Amateur.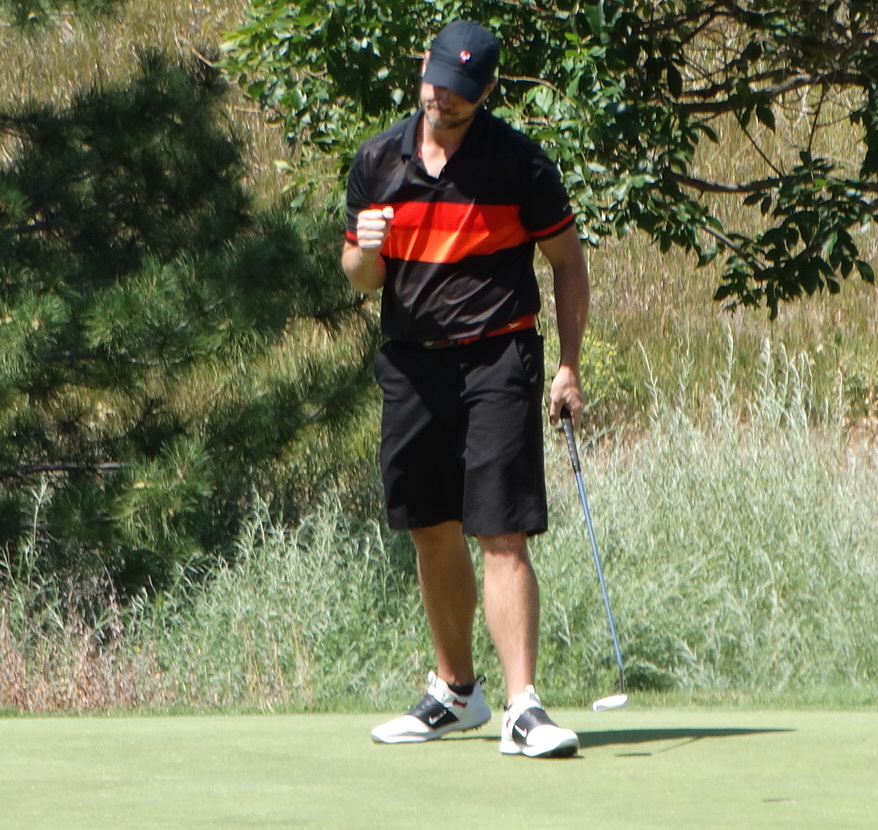 As for the other successful Charlie in the playoff, Sahlman, it's also been a comeback story, although not quite so dramatic. Sahlman, 35, played college golf at Colgate, but subsequently fell out of competitive golf for about a decade. However, since moving to Colorado from Boston 3 1/2 years ago and then joining Cherry Creek Country Club, things changed.
But after seeing his game go in a positive direction for a while, he's played poorly this year, and failed to qualify for last week's CGA Amateur.
"I've spent a lot of time the last two years working on my game," he said. "Last year I had some decent finishes in tournaments. But this year I've just imploded in tournaments. I've just regressed. I've been very frustrated by that because golf means a lot to me. I give my all and work really hard at it. So this is overwhelming and exciting" to qualify.
Indeed, on Tuesday Sahlman played the first bogey-free tournament round of his life.
"I know the good golf is in there," he said. "I know my short game can be really solid. I know that I can hit it straight. So it means a lot to me to come out and do it.
"I'm just so pumped up to play. It's my first-ever USGA championship. It's the biggest tournament I've ever qualified for. This is by far the most prestigious thing I've ever done (in golf). I've always known I've had tons of talent. It's just kind of trying to figure out how to show that. That's why it means a lot to me. I do get really nervous on the golf course and put a lot of pressure on myself. To be able to stand over a 5-footer (in the playoff) and know I have that to get in and to hit it straight enough for it to slide in, that was a lot.
"It was the goal of the year."
A second Colorado-based Mid-Am qualifying tournament will be held on Monday at Inverness Golf Club in Englewood, with four more national berths at stake.


U.S. Mid-Amateur Qualifying
At Par-72 Omni Interlocken GC in Broomfield
ADVANCE TO NATIONAL CHAMPIONSHIPS
Nick Nosewicz, Aurora 69
Charlie Sahlman, Denver 70
Michael Harrington, Colorado Springs 70
Charlie Santaularia, Lakewood 70
ALTERNATES (In Order)
Matthew Zions, Lakewood 70
Chris Aiken, Cortez 70
For complete scores from Tuesday, CLICK HERE.