Former Air Force Academy golfer Tom Whitney earns PGA Tour card for first time; ex-CU golfer Jenny Coleman regains fully-exempt LPGA status; Coloradan Becca Huffer and ex-Buff Robyn Choi just miss returning to LPGA circuit
By Gary Baines – 10/8/2023
Within an hour of one another on Sunday afternoon, two players with strong ties to Colorado formally earned playing privileges on the top golf tours in the world for their respective genders.
One man — former Air Force Academy golfer Tom Whitney — will be a PGA Tour card holder for the first time in 2024. In his 13-year pro career, he's competed in a grand total of three PGA Tour events — all coming in a stretch of seven months in late 2017 and early 2018. His lone made cut in a PGA Tour tournament was a 67th-place finish at the 2018 CareerBuilder Challenge. The top 30 finishers on the Korn Ferry Tour's season-long points list earned 2024 PGA Tour cards, and Whitney placed 21st.
Meanwhile, one woman — former University of Colorado golfer Jenny Coleman — landed a full LPGA Tour card again after earlier stints on that circuit. With the top 10 on the 2023 Epson Tour money list getting promotions to the LPGA circuit, Coleman finished seventh.
But, defying the odds, two players with strong Colorado ties ended up in the 11th and 12th spots on the Epson money standings, just missing regaining LPGA privileges. Becca Huffer of Monument, a two-time winner of the Inspirato Colorado Women's Open, placed 11th and Choi 12th. Kristen Gillman surged past both Huffer and Choi this week to claim the 10th and final spot on the money list, posting rounds of 68-67-64 the last three days to tie for fourth place at the Epson Tour Championship in Daytona Beach, Fla.
Gillman ended up at $95,701 for the season, Huffer with $94,001 and Choi with $92,258.
This year, Huffer recorded finishes of second, third, fourths twice and 11th three times. And she missed just two cuts. Meanwhile, Choi didn't miss any cuts and carded a runner-up finish, a fourth place, two fifths and two eighths. Huffer and Choi both held LPGA Tour cards in 2019.
Ironically, Huffer and Choi just missed out on LPGA status despite very strong final rounds on Sunday at the Epson Tour Championship, as Huffer made eight birdies en route to a 65 and a 12th-place showing, and Choi carding a bogey-free 67 — going birdie-eagle on the final two holes — to place 14th.
Huffer came into the Tour Championship ninth on the money list and Choi 11th.
An Epson Tour victory in May helped Jenny Coleman regain fully-exempt status on the LPGA Tour.


— Whitney, who lived in Fort Collins until moving to Texas in 2017, becomes the second AFA graduate to earn a PGA Tour card as Kyle Westmoreland managed the feat a year ago.
Whitney, 34, was promoted by virtue of finishing in the top 30 on the season-long Korn Ferry Tour points list. Specifically, after placing 61ston Sunday at the Korn Ferry Tour Championship in Newburgh, Ind., Whitney ended up 21stin points.
Thanks to six top-10 finishes on the KFT this year — including a second place and two thirds — Whitney has been in very good position to earn the promotion since early summer.
When asked three months ago at The Ascendant in Berthoud about being on the verge of landing a PGA Tour card, Whitney told Colorado Golf Journal, "It would be nine years in the making. It would be a long journey, a dream realized. It would give me a lot of joy. Then the hard work starts all over again once I get up there."
So what has put Whitney over the top, allowing him to earn his PGA Tour card for the first time?
"I've worked a lot on my wedge game — 50 to 100 (yards out)," he said in July. "I'm converting a lot more of those on par-4s, par-5s. Overall, the entire game is tight. I don't have a lot of big misses. I keep it in play."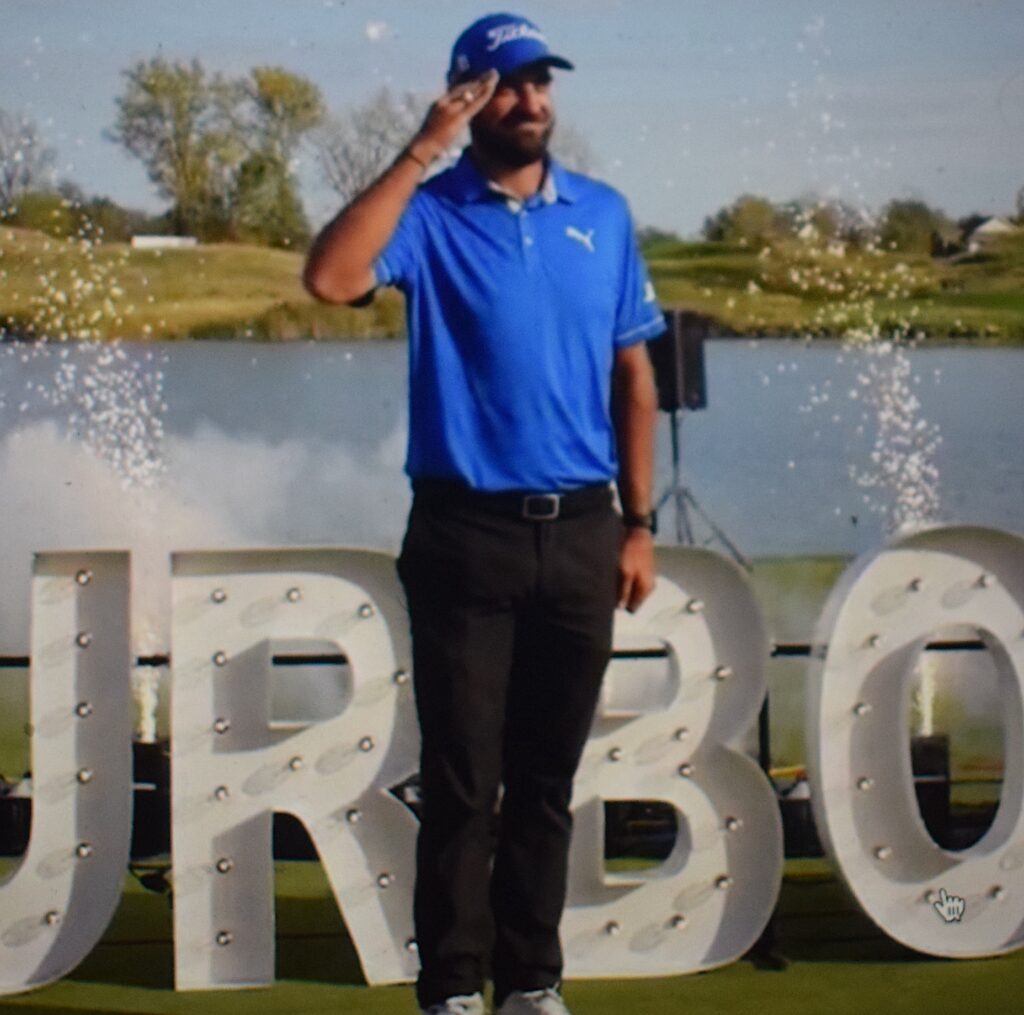 Whitney salutes as he's recognized as PGA Tour-bound on Sunday.





The Korn Ferry Tour Championship marked the 117th KFT event for Whitney, the first having come in 2015. He owns 13 top-10 finishes in his Korn Ferry career. Whitney currently sits 265th in the world golf rankings.
Like Westmoreland before him, Whitney could benefit from the Earnings Assurance Program, which guarantees $500,000 — paid up front to rookies — to PGA Tour members who compete in at least 15 events in a season. Any golfer earning more than $500,000 in prize money for a season will keep that extra amount — in addition to the guaranteed $500k. If a player falls short of a half-million in official earnings for the season, he will still be paid that amount by the Tour.
Meanwhile, though Fort Collins resident Sam Saunders and former CU golfer Jeremy Paul fell short of earning a PGA Tour card on Sunday, they did assure themselves fully-exempt status on the 2024 Korn Ferry Tour, along with an exemption into the final stage of Q-school, where five more PGA Tour cards will be up for grabs. The players finishing 31-60 on the 2023 KFT points list earn that status, and Paul placed 57th and Saunders 58th.
For scores from the Korn Ferry Tour Championship, CLICK HERE.
— Coleman — who played golf at CU from 2010-14 alongside twin sister Kristin — will be returning to the LPGA Tour after playing that circuit regularly in 2017 and 2020-22, with a best finish of third place. She also had conditional LPGA status in 2023, but competed in just three LPGA Tour events, including the U.S. Women's Open.
Coleman landed the promotion by placing seventh on the 2023 Epson Tour money list. The 31-year-old finished 47th on Sunday in the season-ending Epson Tour Championship.
But Coleman did her work by being in contention several times during the course of 2023. To start with, she won on the Epson Tour for the first time — in a playoff at the rain-shortened IOA Golf Classic in May — and she added two second places and a fourth. She earned more than $106,137 for the Epson Tour season.
In her previous stints on the LPGA Tour, Coleman posted three top-10 finishes in 2021, including a third-place showing at the LPGA Drive-One Championship. This is the second time Coleman has earned LPGA Tour status via the Epson Tour; in 2019, she finished third on the Epson money list.
For scores from the Epson Tour Championship, CLICK HERE.

About the Writer: Gary Baines has covered golf in Colorado continuously since 1983. He was a sports writer at the Daily Camera newspaper in Boulder, then the sports editor there, and has written regularly for ColoradoGolf.org since 2009. He was inducted into the Colorado Golf Hall of Fame in 2022. He owns and operates ColoradoGolfJournal.com