Jennifer Kupcho calls being named national ambassador for Youth on Course 'a great fit for me'
By Gary Baines – 7/20/2021
The innovative Youth on Course initiative didn't exist in Colorado when Jennifer Kupcho was playing junior golf in the state. It made its Centennial State debut in 2018 when the CGA rolled it out in conjunction with the Colorado PGA through the Junior Golf Alliance of Colorado.
But Kupcho, a native of Littleton and one of the most accomplished female golfers ever with Colorado roots, can certainly appreciate what Youth on Course brings to the table. The ever-growing non-profit program makes golf more accessible to juniors by capping their cost for a round at $5 at participating facilities, possibly with some date/time restrictions. Then a subsidy of a similar amount per round is paid to the participating course.
"Making golf accessible and affordable to everyone is such a great way to expand golf," Kupcho said in a recent text to ColoradoGolf.org.
While she may not have benefited personally as a player from Youth on Course, Kupcho hopes she can help give current youngsters a leg up into the game. To that end, Youth on Course announced on Tuesday that the 24-year-old who grew up in Westminster is becoming a YOC national ambassador. She'll join PGA Tour regular Harold Varner III, who was named to a similar role in April.
"I'm super excited to become an ambassador for Youth on Course because I love their program and what they are doing to grow the game," Kupcho said in her text. "Making golf accessible and affordable  to everyone is such a great way to expand golf and I think that is one of the biggest parts of my story growing up. My family didn't have all the resources to play all around the country and we even searched out the best deals as a family to play. So to give kids these opportunities all around the country is something that is really close to my heart and that's why Youth on Course is such a great fit for me!"
In her YOC ambassador role, Kupcho "will advocate for the organization's mission of providing affordable access to golf and bringing life-changing opportunities to young golfers across the country and, in turn, help create a more inclusive and diverse future for the game," YOC said in a release.
"Through her relationship with the Colorado Golf Association, Kupcho will be making financial contributions to support YOC rounds for members in the state as well as raising awareness for YOC through her social media platforms, events and other great opportunities."
Kupcho has long had a stellar golf resume in the works. For 34 weeks, she was the No. 1-ranked amateur in the world, and she won both the 2018 NCAA Division I women's individual title (while at Wake Forest) and the 2019 Augusta National Women's Amateur. And since turning pro, she's claimed the title at the 2020 CoBank Colorado Women's Open and posted eight top-10 finishes on the LPGA Tour, including three runner-ups.
As a junior player in Colorado, Kupcho captured two 4A girls state high school titles while at Jefferson Academy, winning by 14 strokes in 2014 and by 10 in 2015. She also won the Colorado Junior PGA twice, the Colorado Junior Amateur once and the Colorado Junior Tournament of Champions once. Three times she represented Colorado in the Girls Junior Americas Cup, finishing eighth individually in 2014. And she was a member of the CGA's Hale Irwin Player Program at CommonGround Golf Course in Aurora in 2014.
Also in Colorado as an amateur, Kupcho was a three-time CGA Women's Player of the Year (2014, 2015, '16) and winner of the CWGA's highest honor, the President's Award (2017). She claimed the CGA Women's Stroke Play three times, with winning margins of 21 shots in 2015, 19 shots in 2016 and 13 shots in 2017. And she prevailed in the CGA Women's Match Play twice, winning in 2016 12 and 10 in a scheduled 36-hole final. Kupcho also twice placed second as an amateur at the Colorado Women's Open (2014 and 2017), in 2014 as a 17-year-old. She represented Colorado in USGA Women's State Team Championship (2013) as a 16-year-old and was named Colorado Amateur Athlete of Year — regardless of sport or gender — by Colorado Sports Hall of Fame (2019).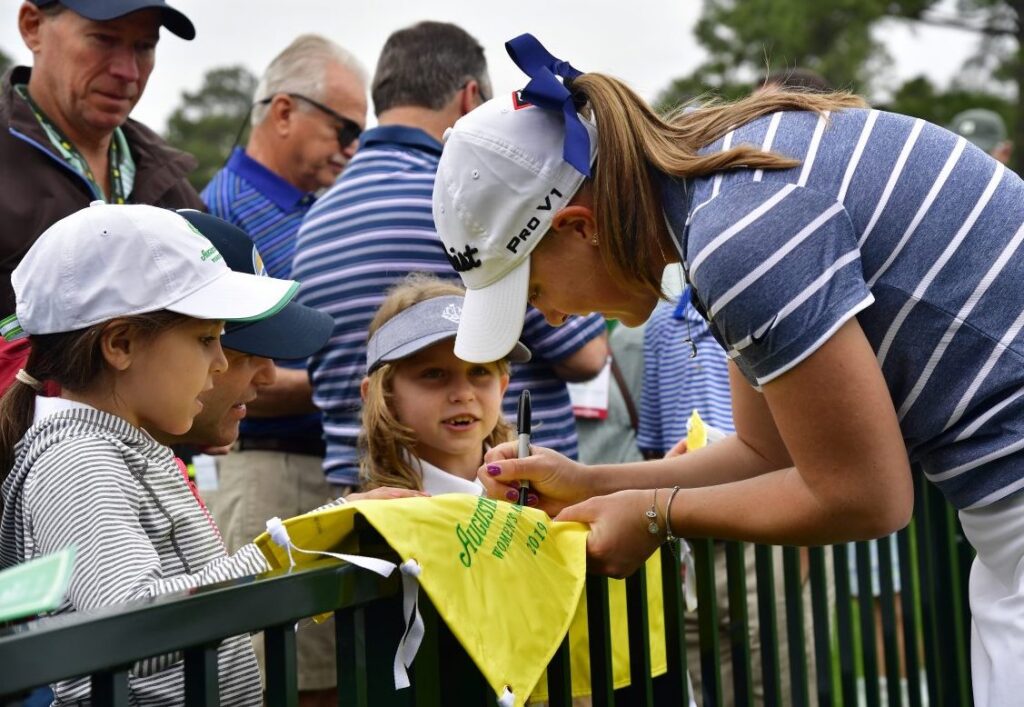 In other words, she's excelled at every level, with the groundwork laid as a junior golfer in Colorado. Sounds like an ideal Youth on Course ambassador.
"Jennifer Kupcho is a great example of what can happen when talent and passion meet opportunity," CGA executive director Ed Mate said. "She will be a great ambassador for YOC as she shares the values of the program and has walked in the shoes of today's junior golfers. We are thrilled to see one of Colorado's own representing such an amazing program."
Nowadays, there are 2,090 Youth on Course members in Colorado as every JGAC member is enrolled. In all, 38 Colorado courses participate in YOC. Last year in the state, 3,756 Youth on Course rounds were played, with $20,762 subsidizing those rounds.
Youth on Course was founded in 2006. Nationwide and in parts of Canada, YOC includes more than 115,000 members, with 1,500-plus courses participating in the program. Over the years the program has subsidized more than 1 million rounds. Over the last 15 years, roughly $8 million has subsidized Youth on Course rounds.
For more information regarding Youth on Course, CLICK HERE.
To see the Colorado facilities that participate in Youth on Course, CLICK HERE.