Junior Golf Alliance of Colorado aims to build on momentum with its fourth season set to begin
By Gary Baines – 04/10/2019
Season 4 of the Junior Golf Alliance of Colorado begins this weekend — weather-permitting — with hopes high that the momentum the organization has built isn't stopping anytime soon.
Season-opening tournaments are scheduled Saturday and Sunday in the Pueblo area. But already in 2019 it's been a very eventful year for the JGAC, which was founded — and is jointly operated — by the CGA and the Colorado PGA. To wit:
— In February, it was announced that the 2020 U.S. Girls' Junior will be played at Eisenhower Golf Club at the Air Force Academy, with the JGAC being designated the "host group" for the championship. In that role, the Alliance is responsible for raising $400,000 for the national event.
— In March, it was revealed that for the first time, Colorado will be the site of a Regional Qualifying competition for the Drive, Chip & Putt, with JGAC and Colorado Golf Club in Parker doing the honors on Sept. 8. Winners of each of eight age/gender divisions there will advance to the DCP Nationals Finals that will be held April 5, 2020 on the eve of the Masters.
"We're really going to try to make it an incredible experience for the players and their families," said Ashley Barnhart, managing director of golf operations for the CGA and one of the key players in running the JGAC in its formative years. "We'll really try to emulate, as much as we can, what's done at the National Finals at the (site of the) Masters. I know Colorado Golf Club is really invested in making sure they've got all the pieces in place to make sure the kids have a great experience."
Holly Champion, player development director for the Colorado PGA, said the top performers from seven Sub-Regional Qualifiers, including the two in Colorado, will compete at Colorado Golf Club on Sept. 8.
— Also this spring, the City of Denver courses joined the fold for the Youth on Course program in Colorado. That program, which came to the Centennial State starting last year, subsidizes the cost of golf for YOC-member juniors, who pay no more than $5 per round at participating facilities in the U.S., often with some date/time restrictions. Then a subsidy of a similar amount per round is paid to the participating course. But the cost for JGAC members at the seven City of Denver courses — though City Park Golf Course has not yet reopened after being redesigned — is a mere $2 for 18 holes and $1 for nine. 
"We continue to add courses to our list to give kids more access to golf," Barnhart said.
All told, 27 courses to date have signed up to participate in Youth on Course in Colorado in 2019, a dozen more than last year. For a complete list, with costs and day and time restrictions for each facility, CLICK HERE.
"I see Youth on Course just growing exponentially, I really do," CGA executive director Mate said earlier this year.
— And just this last weekend, Colorado junior golfers had their best showings ever at the Drive, Chip & Putt National Finals at Augusta National Golf Club in Georgia. Prior to this year, no Coloradan had ever placed in the top five in his or her age/gender division at the National Finals, but on Sunday Chunya "Bead" Boonta of Centennial finished second in the girls 12-13 competition, and Caitlyn Chin of Greenwood Village (girls 10-11) and Grady Ortiz of Colorado Springs (boys 7-9) both tied for fifth. 
Then there's this nugget: Barnhart reported this week that year-to-date, JGAC membership numbers are up 21 percent — to 640 members — compared to a year ago at this time.
"I'd credit most of that to Youth on Course, but I think junior golf is alive and well" in Colorado, Barnhart said. "We're certainly excited about it."
There are many aspects of the Junior Golf Alliance of Colorado — from developmental programs to education to high-level competition — but the tournament side of things cranks up this weekend in the Pueblo area, assuming the weather cooperates.
A 36-hole JGAC Tour event is set for Walking Stick Golf Course in Pueblo on Saturday and Sunday. A Series tournament — for players of all age divisions — is scheduled for Desert Hawk at Pueblo West the same days.
Among the players signed up for the Tour event at Walking Stick are Boonta and past JGAC Girls Players of the Year Hailey Schalk and Lauren Lehigh. Chin and Ortiz are scheduled to compete at the Series tournament at Desert Hawk.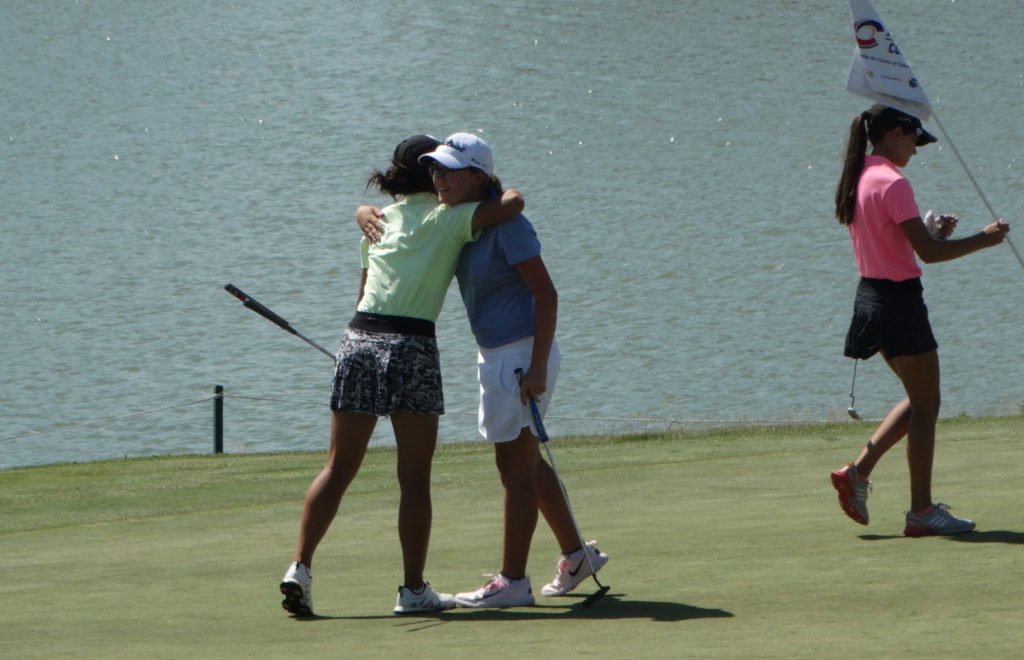 When the thick of the golf season comes around, the 2019 JGAC majors are set for:
— Colorado Junior PGA Championship, Eisenhower Golf Club's Blue Course, June 10-12.
— Colorado Junior Amateur, Frost Creek in Eagle, July 8-10.
— Colorado Junior Match Play, Lake Valley Golf Club in Niwot, July 29-31.
— JGAC Tour Championship, Cherry Hills Country Club in Cherry Hills Village, Oct. 12-13.
This will mark the third time in four years that Cherry Hills has hosted the Tour Championship.
Meanwhile, a JGAC major has never been held in the mountains, but that will change when the Tom Weiskopf-designed Frost Creek hosts the Junior Amateur in July.
"We want to make sure we're truly representing the entire state of Colorado, and to give everyone an opportunity to have a 'home game' once in a while," Barnhart said.
As for the AJGA Hale Irwin Colorado Junior, it's set for Walnut Creek Golf Preserve in Westminster for the third consecutive year, this time with tournament dates of June 4-6.
For the complete JGAC tournament schedule for 2019, CLICK HERE.