Laurie Steenrod 'rates' an 'A' from the CGA; retired Aurora teacher named the 2020 Women's Volunteer of the Year
By Gary Baines – 1/27/2021
It was a cold and snowy day in early December, one that might prompt a person to stay home in front of a cozy fire rather than drive 90 minutes each way from the southern part of the Denver metro area to northern Colorado.
Especially when you're doing it as a volunteer.
Yet there was Laurie Steenrod last month, making the lengthy trek — along with a few staffers from the CGA — to Windsor to do a site visit for RainDance National Golf Club. And, mind you, this is a course that isn't expected to open until July 2022, so there wasn't any great urgency involved.
But it was all part of a day's work — make that volunteerism — for Steenrod, a 64-year-old Aurora resident who has generously given of her time and talents to the CGA and the CWGA over the years, particularly since retiring as a teacher for the Aurora Public Schools in 2011.
"RainDance extended an invitation for pretty much any CGA key player — me as well," explained Steenrod, the volunteer chairperson of the CGA's Course Rating Committee. "I was very happy to go and see it. I think it's pretty marvelous the little bit of the layout we were able to see as they were constructing" — and amid the snow cover.
It's that kind of dedication that led to the CGA recently naming Steenrod its 2020 Women's Volunteer of the Year. The Women's VOY was first presented by the CWGA in 2002 and the honor has been carried on since the CGA and CWGA joined forces at the beginning of 2018.
"We are so grateful for all your hard work and dedication to the CWGA and CGA for the past (10) years, since you first joined the CWGA Course Rating Committee back in (2011)," Kate Moore, director of competitions for the CGA, said in an email to Steenrod. Moore, who lived with Steenrod for three weeks after first moving to Colorado, has worked alongside her first as a CWGA staffer then with the CGA.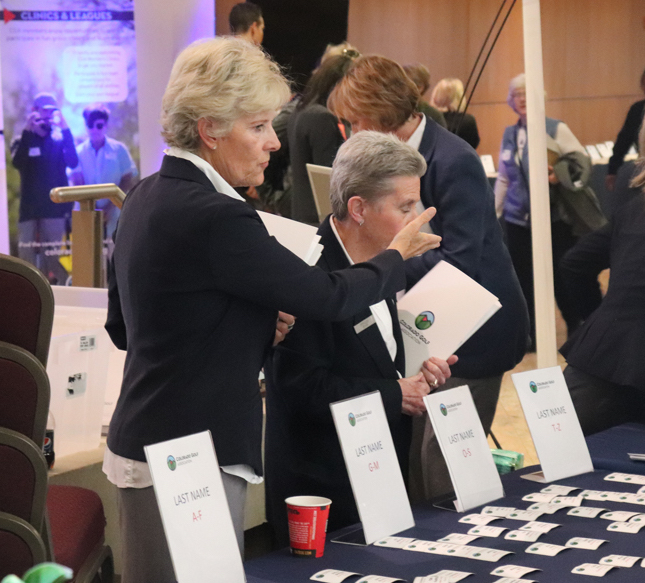 Another former CWGA staff member who transitioned to the CGA and has worked regularly with Steenrod with both associations is Aaron Guereca, currently the CGA's director of club and facility services.
"Laurie is a natural-born leader and wonderful to work with," Guereca said in an email this week. "When she is on a course rate, she makes sure that everyone is on the same page and moving together as a unit. When someone is falling behind, she makes sure to go over and lend a helping hand. She is very thorough with her work regardless of the task and when she has a question, she makes sure to find the correct answer.
"You can definitely tell she enjoys not only course rating and all that is involved but being out on a golf course. Her passion, sense of humor and hard work make her a great leader and a great asset to the team."
Steenrod, a regular at Saddle Rock Golf Course since it opened in 1997, has devoted countless hours to the CWGA and the CGA over the last decade. There's the considerable work she devotes as the chair (and a rater herself) on the Course Rating Committee — a post she's held since 2015, first with the CWGA and since 2018 with the CGA. Also, she has served on the CGA/CWGA board of directors for the last seven years, and she sometimes helps out at CGA/CWGA women's clinics.
Asked why volunteering is so important to her, Steenrod said, "I'm pretty sure that came from my parents, who both volunteered extensively in their community. That made a big impression on me. I've volunteered for a long time. I volunteered for years at The International (PGA Tour event as a marshal and walking scorer). There was always somewhere that needed or wanted help doing something, so when my schedule permitted it around working, I did what I could to help out. And I think I have a passion for women and girls in sport in general, and this was kind of right up my alley."
Steenrod is seldom averse to lending a helping hand if she believes in the cause. And, over the years, she's certainly become a believer in the work done by the CGA and the CWGA in serving Colorado golfers.
"I've said many times golf is good for women in Colorado — and that's because of the two associations, the CGA and formerly the CWGA," she said.
That respect for the organizations — especially for the CWGA initially as she was most directly involved with that at first — dates back decades. It started with the former University of New Mexico golfer competing in state championships not long after moving to Colorado. Steenrod has been a very accomplished competitor over the years, having won 11 CWGA/CGA championships — including the 1995 CWGA Match Play and the 2011 CWGA Senior Match Play — qualifying for at least eight USGA championships and winning numerous club championships at Saddle Rock.
"I didn't even know about (the CWGA's championships at first)," Steenrod said. "'Really, they have these tournaments; are you kidding me?' I was just playing my local golf courses and didn't know a thing about the association. Then when somebody opened my eyes to that (likely at the 1983 CWGA Stroke Play at Lakewood Country Club), I was like, 'I am all in. I'm playing in these. Are you kidding me?' What a hoot."
And so she has — for decades — and continues to.
And when she retired from teaching in 2011 — after three years at Hinkley High School and 24 more at the middle school level, teaching science, computer programming and physical education at various times — she dived headlong into volunteering.
Much of her efforts as far as the CGA and the CWGA have revolved around course rating. She joined the CWGA Course Rating Committee almost a decade ago and took over the committee helm four years later. And when the CGA and the CWGA merged formally at the beginning of 2018, Steenrod became chair of the CGA Course Rating Committee, seamlessly meshing two groups into one.
Typically, about 14 members of that committee rate various courses — for both scratch and bogey golfers. They take into account how various obstacles and factors affect each group, ensuring that golfer of all skill levels can compete together on an equitable basis. With a good mixture of men and women, the committee rates courses from each set of tees.
Steenrod estimates that she personally averages 15 course rates per year, though she was limited to a dozen last year, in part due to Covid-19-related restrictions. And as committee chair, additional duties include preparing, organizing, crunching numbers, tabulating data, entering numbers into the USGA software system, training raters, helping set up and run meetings and recruiting new committee members. In many of those tasks, she works closely with Guereca. And then last year, with the pandemic, Steenrod helped establish safety protocols for committee members involving social distancing, mask-wearing, etc. And she and Guereca contacted courses if far-flung rates became impractical for Covid reasons.
When Steenrod is in charge of a course rate — which is no more or less often than any other captain — she will spend close to 20 hours on the task from start to finish.
Also, typically once a year Steenrod reports to the CGA Executive Committee, providing an update on the Course Rating Committee, giving a heads-up on any key matters and taking questions.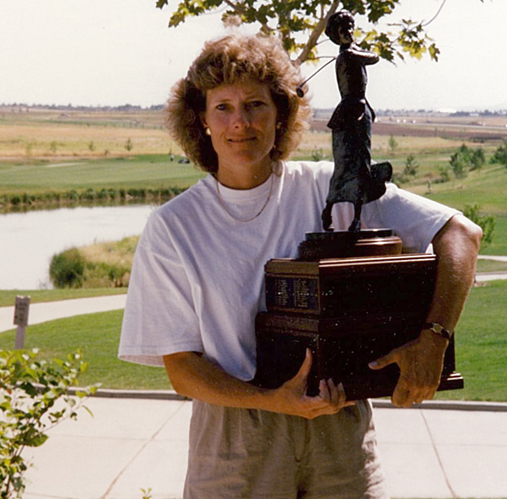 Steenod's golf-related volunteerism isn't limited to the CGA. She also has long served on the Golf Advisory Committee to Aurora City Council — currently as the chairperson. She also occasionally helps out with Drive Chip & Putt competitions held in the city, and she lent a hand when the U.S. Amateur Public Links Championship was held at Murphy Creek Golf Course in 2008.
And though it's a paid position, Steenrod also has been the girls golf head coach at Smoky Hill High School in Aurora for more than two decades.
And how did that come about?
"I was playing at Meadow Hills one day, probably nine holes after school," she said. "Somebody is chasing me down out there on a cart. And it was the (then) Smoky Hill girls golf coach. She had accepted a contract the following year teaching abroad somewhere (and asked) if I would take the job for a year. I said, 'Sure.' Then she came back and didn't want to (coach anymore). She said, 'It's yours.' So that was fun."
Back on the CGA front, Steenrod will be recognized for being named the Women's Volunteer of the Year at the CGA Women's Golf Summit, which will be held virtually on March 6.
As Moore said in her letter to Steenrod, "Your overall enthusiasm, dedication and support — first for the CWGA and now CGA through the integration — is remarkable. It is our pleasure having you lead our Course Rating Committee and to have you on our board. We are lucky to have you."
Here's a look at the previous recipients of the CGA/CWGA Women's Volunteer of the Year Award:
2019 – Sandy Schnitzer
2018 – Dana Murray
2017 – Juliet Miner
2016 – Vivian Heggie
2015 – Nancy Wilson & Phyllis Jensen
2014 – Karla Harding
2013 – Jan Fincher
2012 – Juna Orr
2011 – Twyla Walter
2010 – Sally Lou Schultz
2009 – Barb Schutz
2008 – Joan Scholes
2007 – Ouida Neil
2006 – Virginia Love
2005 – Lynn Zmistowski
2004 – Evelyn Smith
2003 – Mary Lee Browne
2002 – Ruby Maruyama