David Nelson claims CGA Super-Senior Amateur title for 2nd time in 3 years, defeating 2021 champ Roger Prenzlow in playoff; Rick Pirog earns 70-and-older victory
By Gary Baines – 8/9/2022
David Nelson has only lived in Colorado for a couple of years, and while he's proven a formidable competitor in several events, he's apparently particularly taken a shine to the CGA Super-Senior Amateur.
And why not, when he's won the event twice and finished second in a playoff in his three appearances?
Victory No. 2 in the Super-Senior Am came on Tuesday when the 66-year-old from Columbine Country Club prevailed in a playoff that lasted one hole at Fox Hollow Golf Course in Lakewood, where he defeated defending champion Roger Prenzlow of TPC Colorado.
Tuesday marked the second straight year Nelson and Prenzlow played off for the title as Prenzlow came out on top last year, when Robert Polk was also involved in the tiebreaker.
"It feels really good," said Nelson, who finished runner-up to Kent Moore in the other CGA super-senior major this year, the SS Match Play. "… Anytime you can win a state championship, it's thrilling. I think the older you get, you appreciate it a little bit more because they're few and far between.
"Unfortunately, I lost to Kent in the (SS) Match Play (finals). And here we had four holes to go and I'm tied with him (for the lead). And Roger beat me last year in the (Super-Senior Amateur) playoff. The core group of guys (in these events) are very competitive. It's really good competition and it feels great anytime you can win."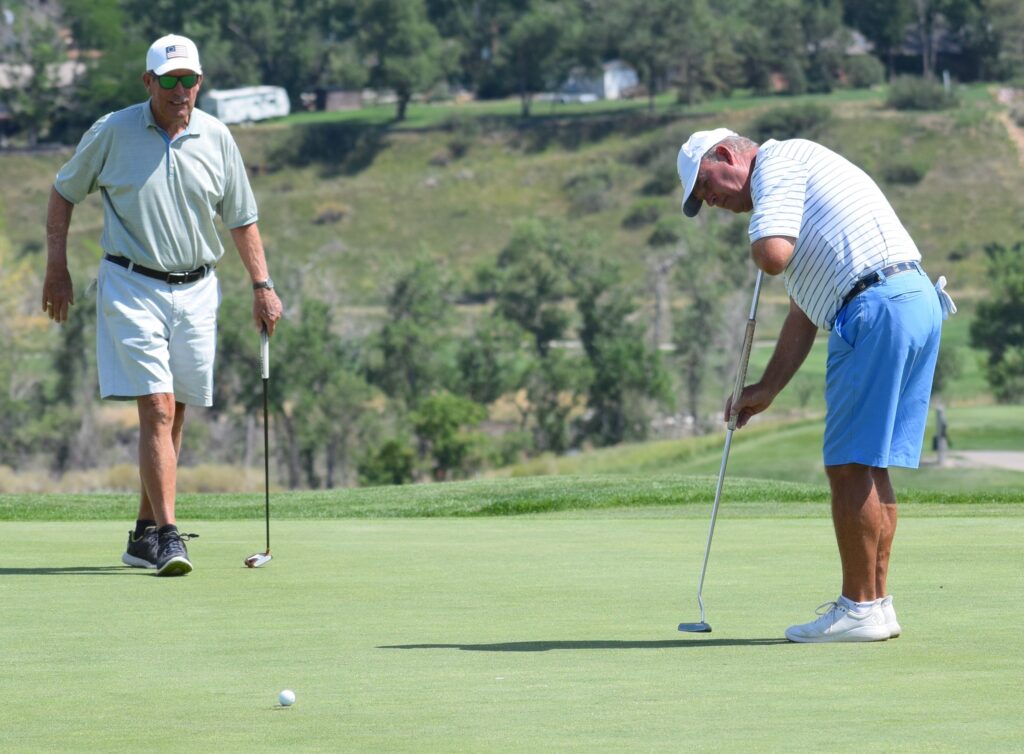 After both Nelson and Prenzlow finished regulation at 1-over-par 143, Nelson rammed home a 7-foot par putt on the first playoff hole — No. 1 on the Links Nine at Fox Hollow — after leaving numerous putts short on Tuesday. Then Prenzlow, who last year retired as the University of Northern Colorado men's golf coach, rimmed out his 3-foot par attempt, finishing runner-up.
"I was struggling with the putter all day," the 67-year-old Prenzlow said. "I didn't misread it, I just hit a bad putt there. And David made a great putt.
"I made a good (15-foot) putt for bogey on (16) to stay in the hunt — and a good putt on (14) for a birdie (from 6 feet) — but other than that I was a little shaky on all of them."
While this was Nelson's second CGA state championship, the now-Littleton resident collected plenty of hardware during his time living in northern Nevada. In fact, he captured seven state titles in Nevada — four state amateurs, two mid-amateurs and one senior amateur. Then in events limited to the Northern Nevada Golf Association, he won 11 additional amateur championships. His many other accomplishments include qualifying for the 1982 U.S. Open at Pebble Beach.
This week, Nelson backed up his first-round 69 with a 3-over-par 74, while Prenzlow closed with a 72 on Tuesday.
Moore, the Colorado Golf Hall of Famer from Cherry Hills Country Club who has won three consecutive CGA Super-Senior Match Plays, was very much in the hunt until uncharacteristically making back-to-back double bogeys on his 16th and 17th holes on Tuesday. In both cases, he hit his tee shots right of the target and into penalty areas, saying later that he lost his focus and mis-clubbed in those instances.
Moore birdied the 18th from 15 feet to shoot 74 and end up at 145, two strokes behind Nelson and Prenzlow. Also sharing third place at that figure was Jim Reynolds of nearby Bear Creek Golf Club, who was derailed by a triple bogey on the 14th hole en route to a second-round 73.
Robert Polk of Colorado Golf Club, the 2019 champ, finished fifth at 146 after a 71, which tied for Tuesday's low round.
Nelson had built a nice cushion through five holes on Tuesday as he was 3 under par overall — and 1 under for the round. But a lost ball on a tee shot that was only about 5 yards right of the fairway on No. 6 led to a double bogey on a hole most of his closest competitors birdied on Tuesday. Nelson caught another rough break on No. 12, where his approach shot hit an inch from the cup, then caromed off the pin all the way off the front of the green. Instead of a likely short birdie try, he had to settle for a two-putt par.
The bottom line was that, when Prenzlow and Moore birdied No. 14, they and Nelson were all tied for the lead.
"About three different times during the tournaments when I was getting those bad breaks, I was thinking about (Tom Kim at the PGA Tour's Wyndham Championship on Sunday) winning after starting the tournament with a (quadruple bogey)," Nelson said. "You've just got to keep such a good attitude out there. Don't worry about any of the bad stuff, just keep focusing.
"My mom was always great about saying, 'Focus on the positive stuff; don't worry about the negative stuff.' It's so true. Even when I got the bad breaks, I thought, 'Shoot, this is exciting. We're right in the hunt. You've still got a one-shot lead or you're tied for the lead. Two days ago, you would be happy to have that.' So just go out there with a good attitude, and that paid off today."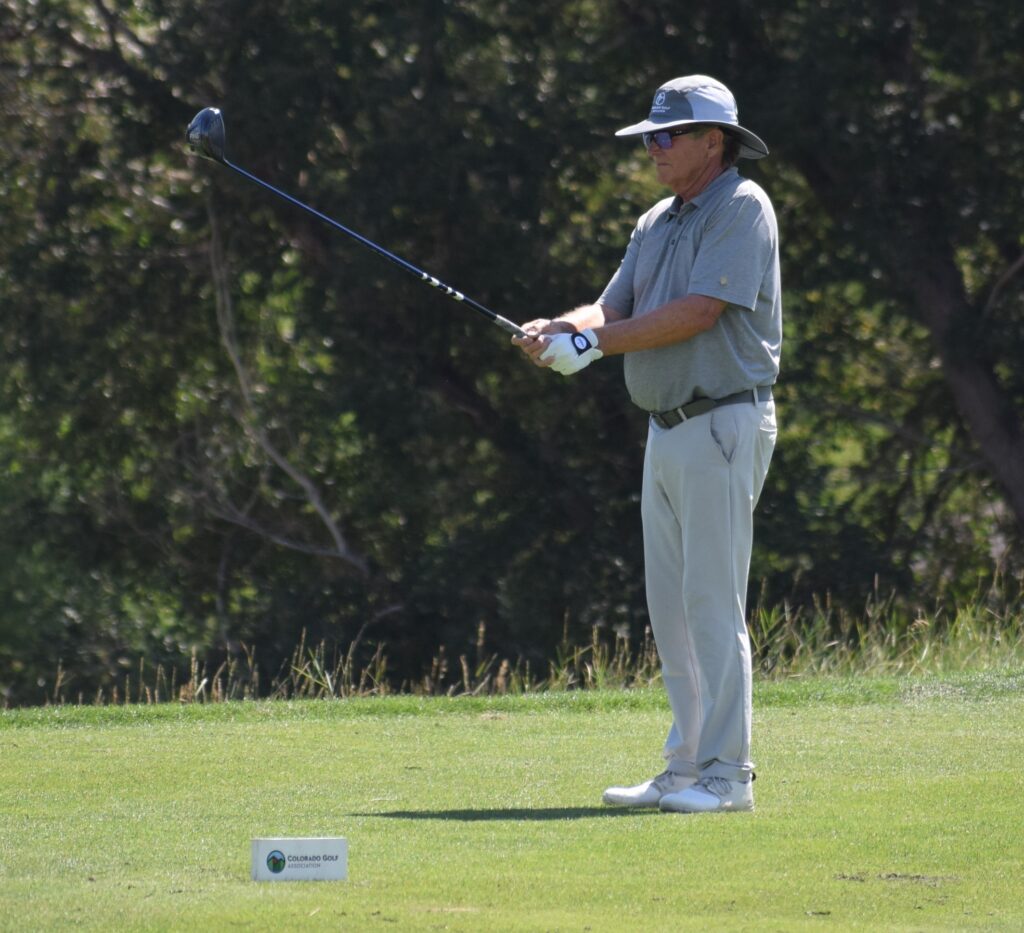 After all the players in the final group parred No. 15, both Prenzlow and Moore pushed their tee shots into the penalty area on No. 16. But while that led to a three-putt double bogey for Moore, Prenzlow got up and down for bogey to match Nelson, who had a three-putt of his own after getting on the par-4 in regulation. Nelson and Prenzlow made pars from there to force the playoff.
On the extra hole, Nelson just missed the green on the left but putted from the rough, leaving his ball 7 feet short of the cup. Prenzlow putted from the left fringe to 3 feet. But Nelson converted his par putt and Prenzlow missed his to leave the golfer from Columbine with the title.
"David played great and deserves to win," said Prenzlow, who also was a longtime head coach of the men's golf team at the University of Wyoming. "I've been struggling all year so I'm kind of happy. I played pretty well. I hit some great-looking golf shots and did a lot of good things. I've just got to figure out my putter and just keep trying to get better. Even at my age, I try to get better. I've got to get better to compete with these guys because there's good players out here."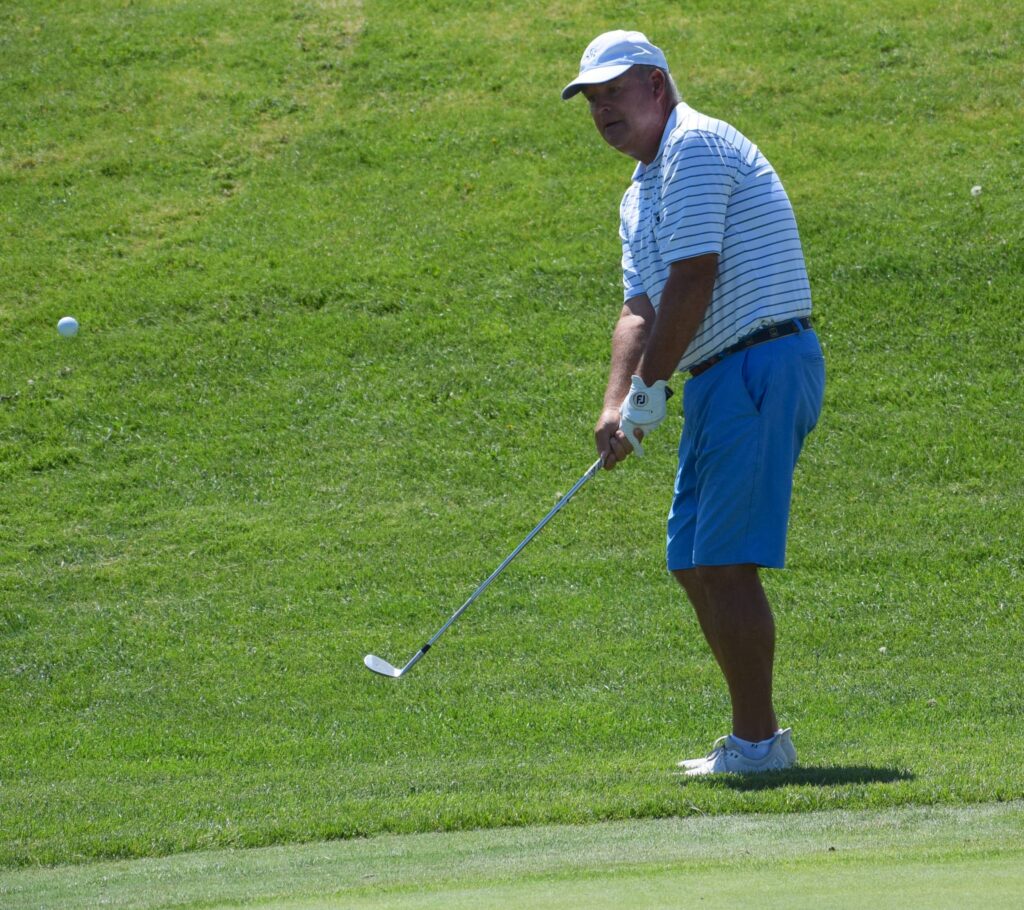 As for Nelson, he picked up the victory exactly a month before he's scheduled to be inducted into the University of Nevada Sports Hall of Fame. At Nevada, Nelson was a two-time West Coast Conference individual champion — one of just three in that conference's men's golf history.
The CGA Super-Senior Amateur is limited to players 65 and older.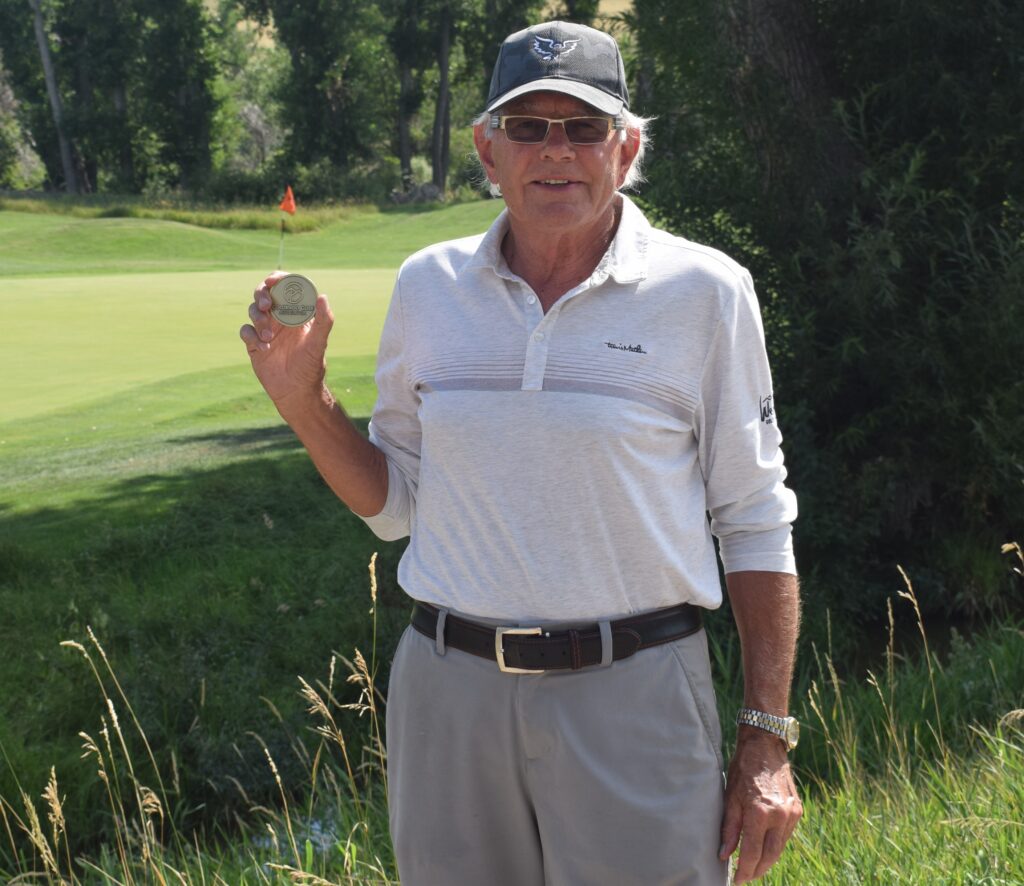 A competition was held concurrently for golfers 70 and older — off separate tee boxes at Fox Hollow — and Rick Pirog of the Clubs at Cordillera posted a one-stroke victory.
Jeffrey English of CommonGround Golf Course, the 2016 Super-Senior Match Play champ, held the lead going into the 18th hole, but a double bogey there left him with a 75 and a 10-over-par total.
Pirog, playing in the final group of the day, parred the final hole by making a 3-foot putt to earn the Masters Division title by one over English. Pirog matched English's 75 on Tuesday and checked in at 9-over 151.
"The interesting story is, I wasn't even going to play in the tournament," Pirog said. "I called and (CGA director of rules and competitions Lewis Harry) said, 'We've got one spot left.' And I said, 'Sign me up.' I didn't sign up until last Friday. I shot 76-75, which is pretty good for me."
Placing third in the Masters Division was Ronald Crowder of The Broadmoor Golf Club, who finished at 12 over par after a final-round 78.
For all the scores from the CGA Super-Senior Amateur, CLICK HERE.