Jason Schultz, a 2019 U.S. Mid-Am semifinalist in Colorado, sets scoring record in winning Inspirato Colorado Senior Open by 4; Matt Schalk of Erie matches best CSO finish by Coloradan in the last decade; Michael Harrington takes low-am honors
By Gary Baines – 8/25/2023
When Jason Schultz regained his amateur status after years as a tour pro, he had no intention of ever playing professional golf again.
Then along came the 2019 U.S. Mid-Amateur at Colorado Golf Club. A deep run there — all the way to the match-play semifinals — gave him a different outlook.
"I never planned to be a professional again," the 50-year-old from Dallas said on Friday. "I had no desire to do it (again) for a living — to do it for money. That Mid-Am kind of turned everything around for me because I was out of competition for seven to eight years. I got in it and thought, 'This is kind of fun again.'"
And this week, in his first venture back to Colorado since that U.S. Mid-Am, Schultz received some validation for his decision to go pro a second time. The former PGA Tour player — and one-time winner on the Korn Ferry Tour — not only won the Inspirato Colorado Senior Open on Friday but he set the tournament scoring record in the 24th playing of the CSO. The victory was worth $20,000, a record amount for the Senior Open.
A day after matching the single-round CSO scoring record with a 64, Schultz kept all the challengers at bay — most notably including Matt Schalk of Erie — and earned what he called his first pro victory, "one that really meant anything anyway," in 18 years. That would be in reference to his win in the 2005 Chattanooga Classic on what is now known as the Korn Ferry Tour.
"This is huge for me," Schultz said after teeing it up in his first senior state open. "My game is trending, brick by brick. Like I always say to my kids, build it, slowly but surely. To win, to have a lead and hold it, to me personally it means a lot. It validates everything I'm doing."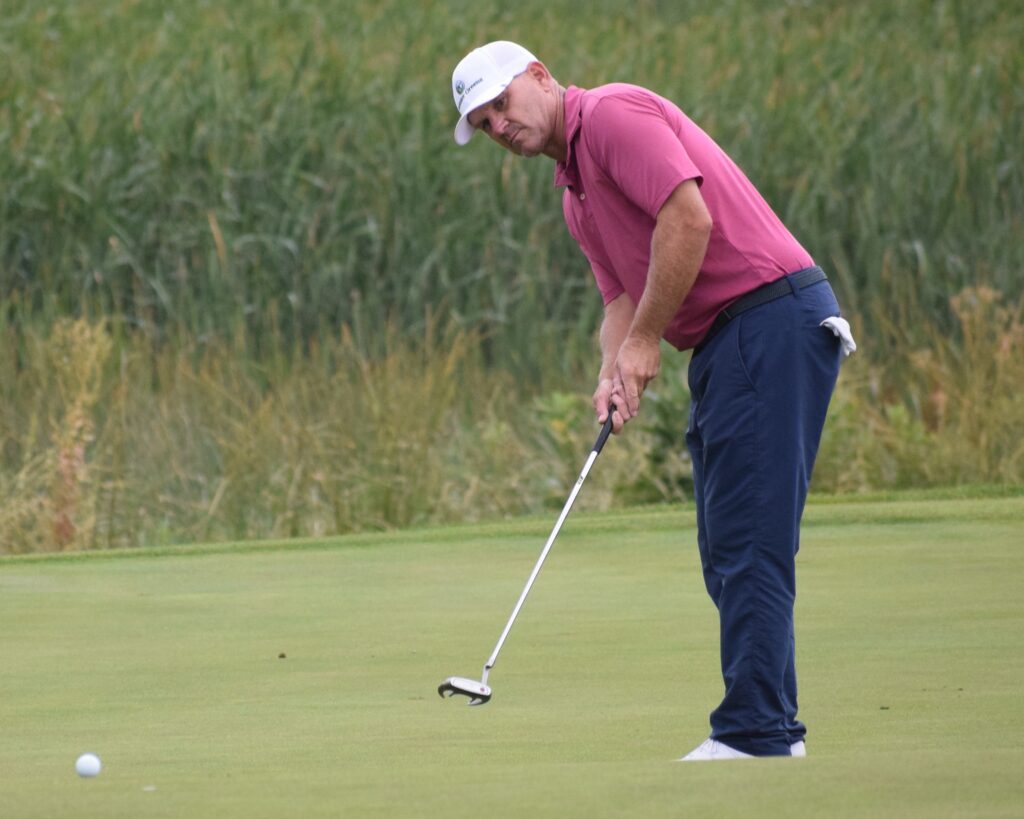 Schultz made only three bogeys in 54 holes, despite not getting in a practice round at Green Valley Ranch Golf Club.



Schultz went 68-64-68 for a 16-under-par total for three days at Green Valley Ranch Golf Club in northeast Denver. That eclipsed the previous tournament scoring record of 15 under, set by R.W. Eaks in 2011 and matched by Guy Boros last year. Over three days, Schultz recorded two eagles, 15 birdies and three bogeys.
Not bad for a guy who didn't play a practice round at GVR after losing in a playoff in qualifying for the PGA Tour Ally Challenge in Michigan on Tuesday.
"Maybe (not getting in a practice round) had some benefit how I played," he said. "I played very conservative to the greens and the fairways just because I didn't know exactly where I was going and I had the elevation (adjustment) to work with. I was still guessing a little bit. Even today I was trying to figure out how far the ball goes. Maybe it had something to do with it that I picked conservative targets and things worked out. It's kind of a backwards way to do it, but it's kind of the way I played all week."
Schultz, with his Colorado-based brother caddying for him, went into the final round with a four-stroke lead and the closest his pursuers got on Friday was three behind after Schultz bogeyed the fifth hole. But he backed up that bogey by draining a 40-foot birdie putt on No. 6.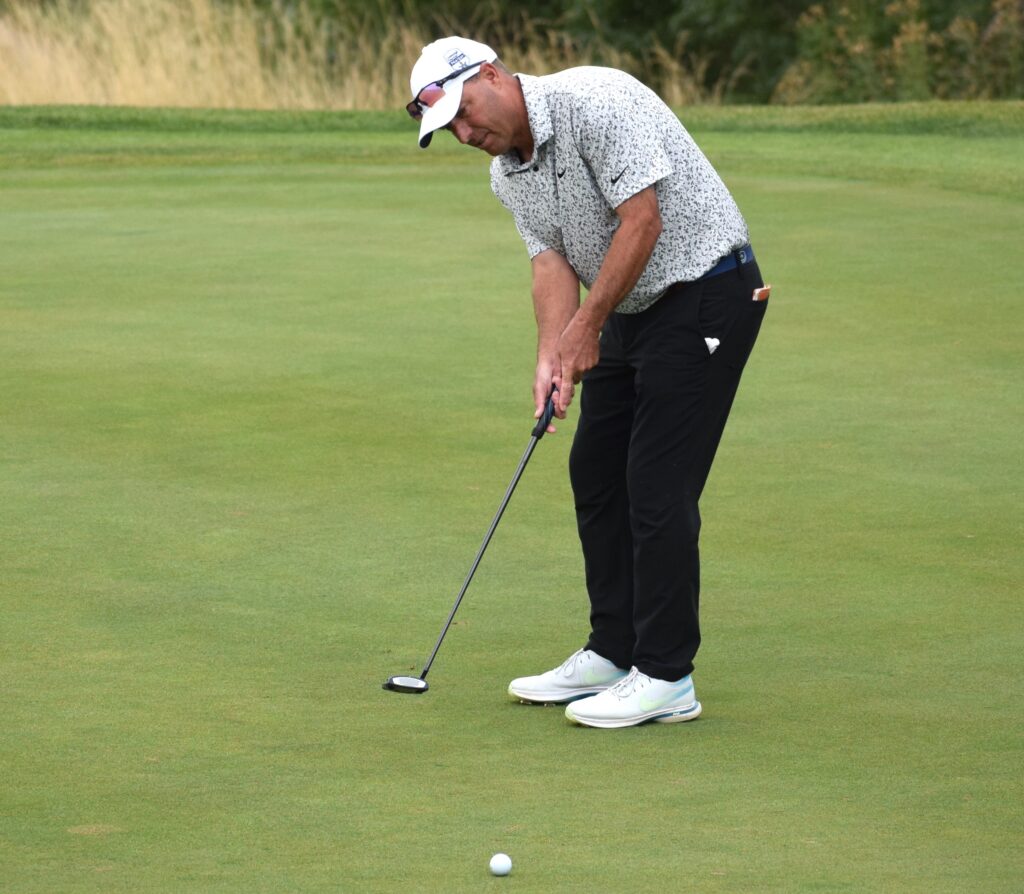 Coloradan Matt Schalk shot three rounds in the 60s at GVR.



"Going into (the final round), I knew I needed him to probably struggle a little with that four-stroke lead," Schalk said of Schultz. "I didn't see him going out and shooting 72 or something, right? I figured he'd probably shoot 4 under, and I thought I'd have to shoot 8 under (to force a playoff). And I played really well. There wasn't a lot of mistakes that I made. I was aggressive when I could be aggressive and played a solid round of golf. He was just way better than us this week for sure."
Indeed, in placing second, four behind Schultz on Friday, Schalk joined amateur Jon Lindstrom (2020) and Doug Rohrbaugh and Mike Northern (2014) as the highest Colorado finishers in the Colorado Senior Open in the last decade. Lindstrom lost in a playoff to champion Harry Rudolph three years ago, and Rohrbaugh and Northern shared second place nine years ago. The last Coloradan to win the CSO was Rohrbaugh in 2013.
Schalk, who has won the national Senior PGA Professional Championship and two Colorado Senior PGA Professional Championships in the last 13 months, shot three rounds in the 60s this week at GVR: 67-69-68. He capped off the tournament on Friday by holing a 33-foot birdie putt on No. 18 to cut the deficit to four, earning $11,000 in the process.
"I'm really happy with how I played," the 52-year-old PGA general manager at Colorado National Golf Club said. "Today was tough and gettable at the same time. Sometimes guys just get hotter and are playing better. I think that round yesterday for (Schultz, a 64) pretty much won the tournament. Kudos to him for that."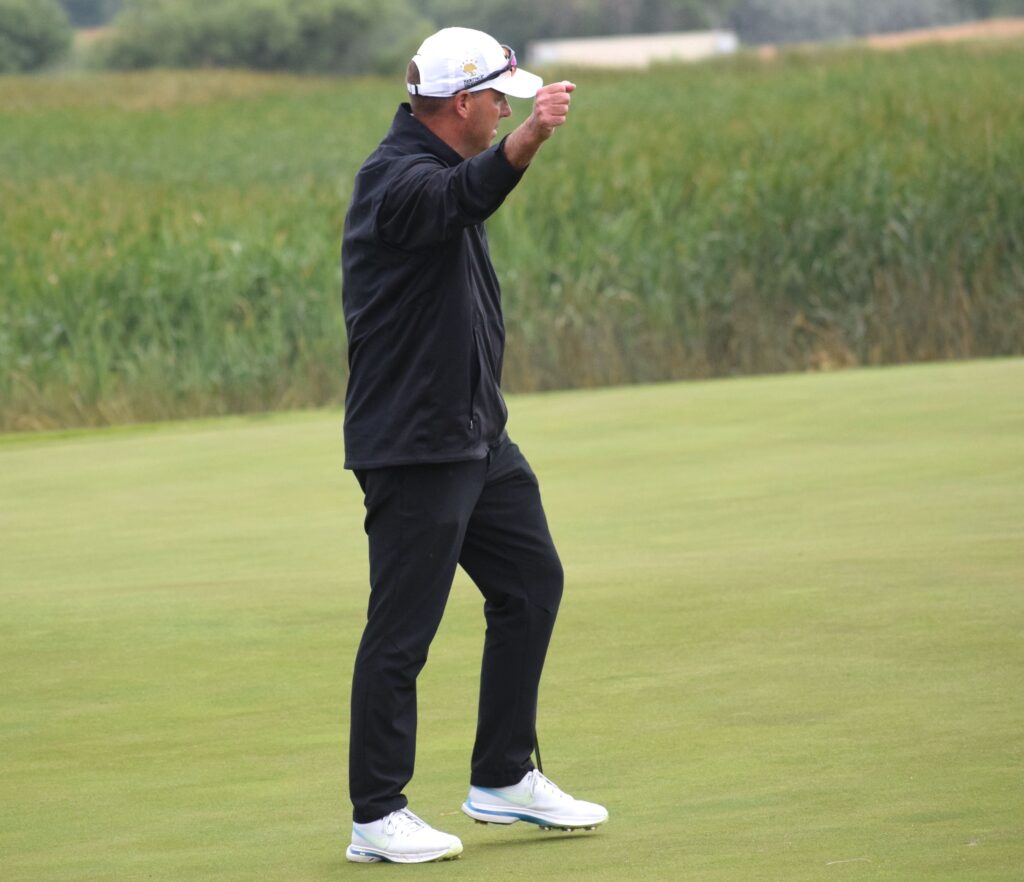 Schalk closed out the tournament by making a 33-foot birdie putt on No. 18 on Friday.



On Friday, with daughter and University of Colorado golfer Hailey once again caddying for him, Schalk was rock solid, carding five birdies and one bogey. He made just four bogeys for the tournament.
Brad Adamonis of Ponte Vedra, Fla., a one-time winner on the Korn Ferry Tour who also started the day four back of Schultz, closed with a 73 to place third, nine behind the winner. Rudolph, who won the Colorado Senior Open both of the previous times he competed in the event, finished solo fourth at 6 under par after posting a 68 on Friday.
But Schultz never let go of his grip on the top spot on Friday, even when it started raining with the leaders on the 12th hole.
"It's never over until it's over, I guess, but I felt in control of my game," said the veteran of 53 PGA Tour starts and 210 on the Korn Ferry Tour. "I knew that if I did what I should do, somebody would have to shoot really low. And if that happened, so be it. So I tried to play smart and pick my spots — take advantage of the par-5s and whatnot."
Since turning 50 on March 29, Schultz has been splitting time between working at his synthetic turf company in Dallas and trying to qualify for PGA Tour Champions events. He's gotten into three so far in 2023, tying for ninth in the Principal Charity Classic in early June.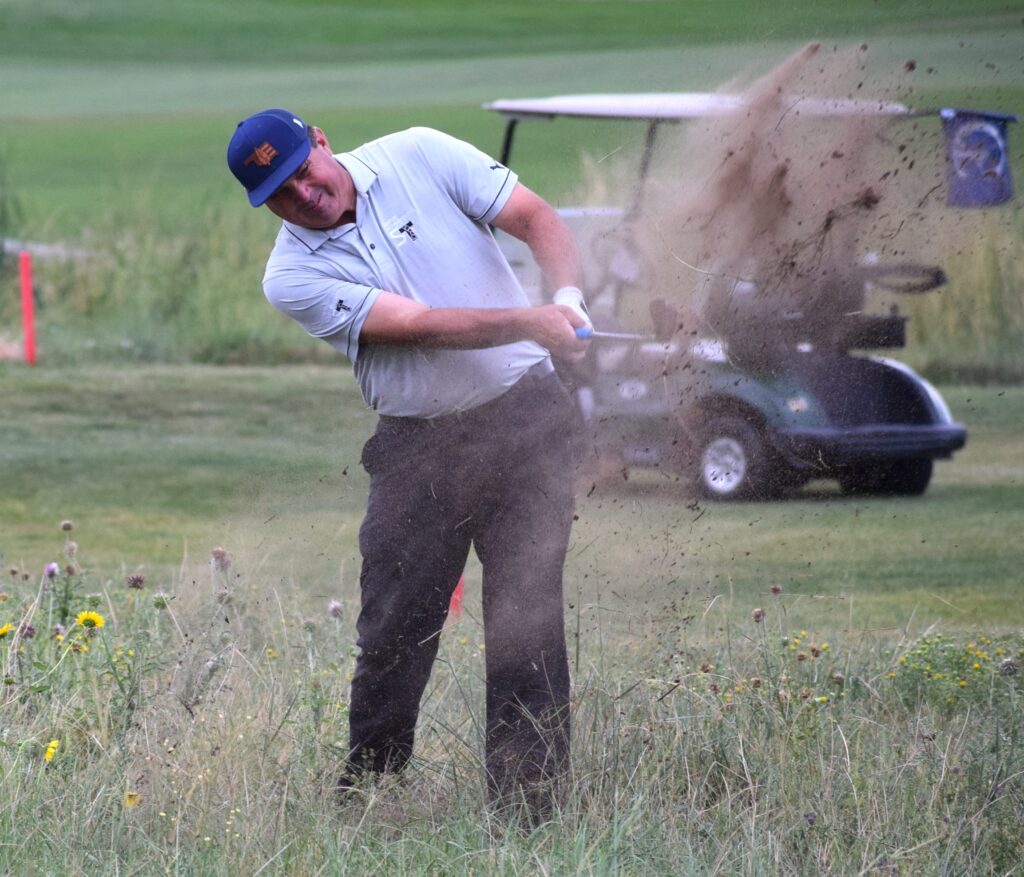 Brad Adamonis shared second place going into Friday, but struggled at times en route to placing third.



This week, Schultz's game was in close to peak form.
"It was really good," the former University of Missouri golfer said when asked to rate how he played. "Tee to green it's getting better each week. I feel like it's progressing. It's trending the way it should be. It was fun to play in this just to put it under the gun a little bit — in tournament conditions — just to validate what I'm doing is right."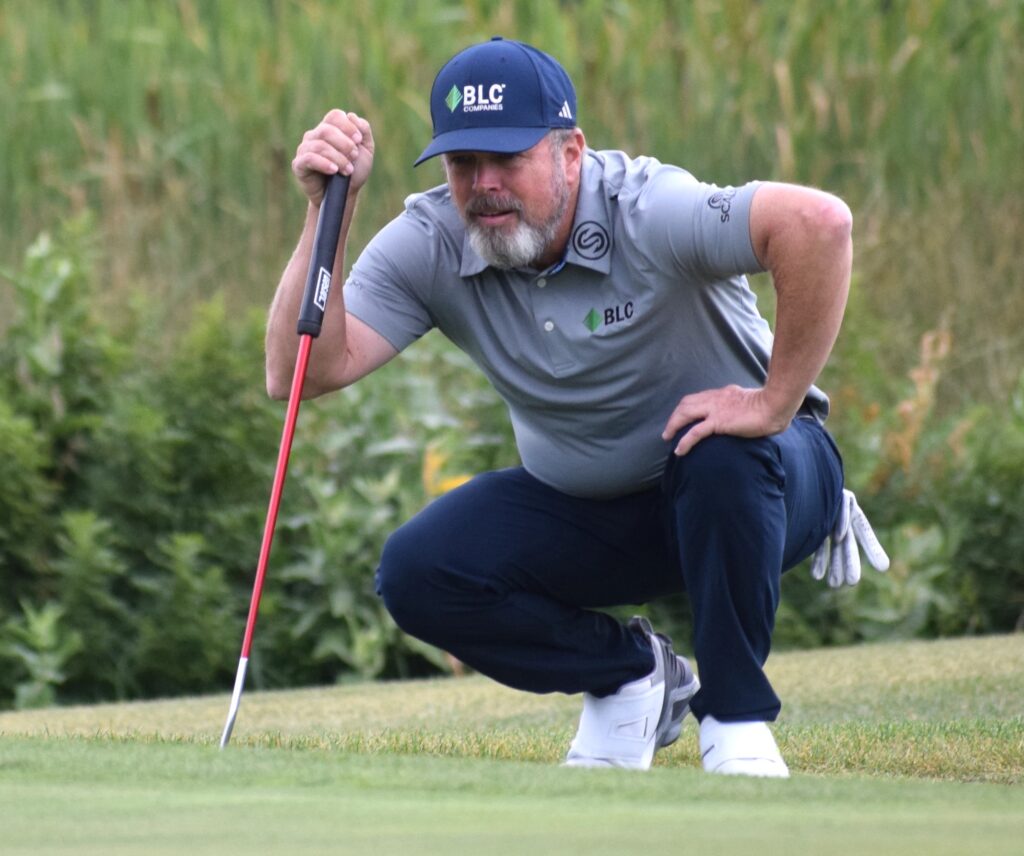 Two-time champion Harry Rudolph rallied to finish fourth on Friday.



So now, in his last two visits to Colorado, Schultz has finished a semifinalist in the 2019 U.S. Mid-Amateur and won the 2023 Colorado Senior Open.
"I do like it here," he said of the Centennial State. "Living in Dallas, it's like 110 degrees every day for like 50 days. It's beautiful here. I've always liked it here. I haven't spent a whole lot of time here, but my brother lives here. It's beautiful, so it's hard not to like it here."
Speaking of trends, 2023 marks the third consecutive year that the margin of victory at the Colorado Senior Open was four strokes.
Schalk hugs daughter Hailey after the CU golfer caddied all week for him at GVR.



Quite a Recovery for Low-Am Michael Harrington: The low-amateur competition at the Colorado Senior Open was over before it began on Friday.
Only two amateurs made the 36-hole cut, and one of them, Sean Crowley of Littleton, texted tournament organizers late Thursday saying that he had hurt his ankle and knee that night and had to withdraw.
Thus, Michael Harrington of Colorado Springs would be low amateur as long as he turned in a scorecard on Friday. And he did indeed do that.
Not that there was much question that Harrington would come out on top. After a round of 67 on Thursday, he led Crowley by seven strokes.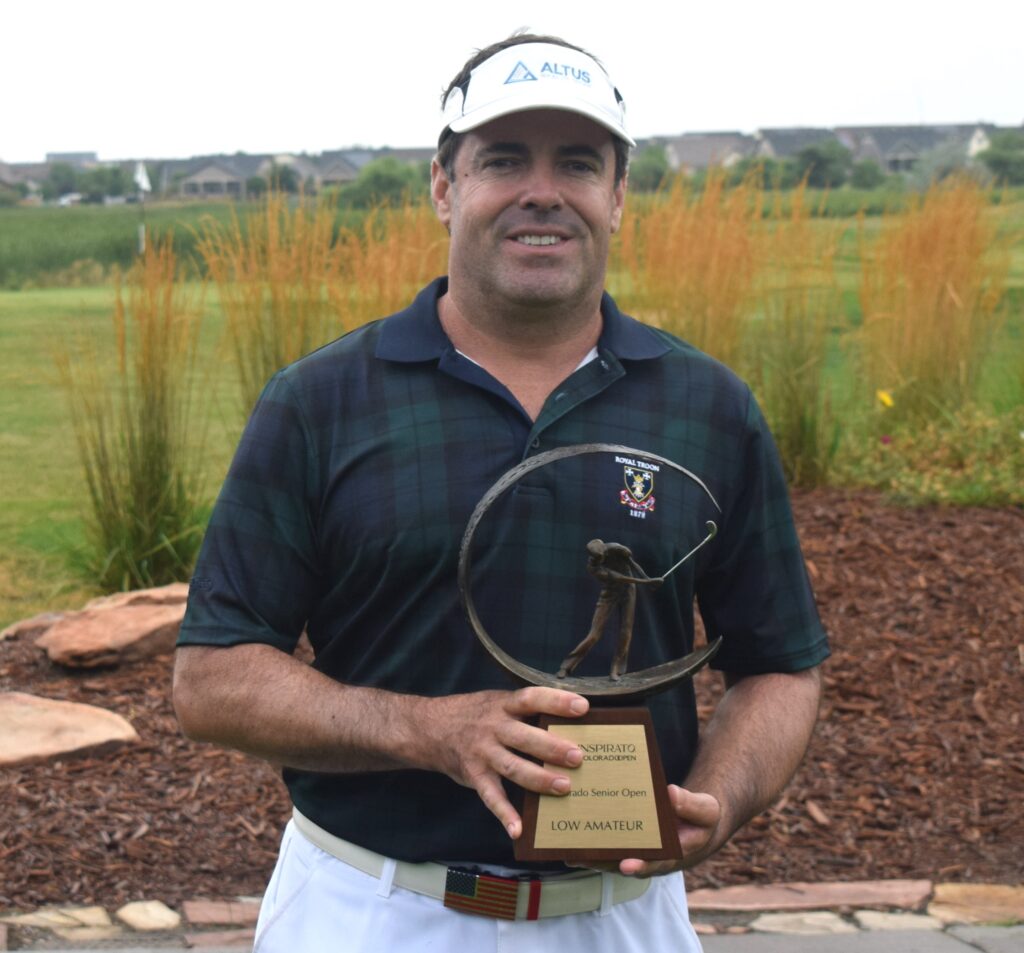 Michael Harrington of Colorado Springs was the only amateur to finish 54 holes at the CSO.



The fact that Harrington ended up low-am was a bit of a feat as right elbow issues had kept him from playing more than two rounds in the month leading up to the Colorado Senior Open.
"Swinging the club freely was something that was just a joy," said the 2014 CGA Player of the Year, who also has had some back problems in recent years. "I went to Scotland earlier in the year. I was playing from the forward tees and hitting driver about 240 — just bunting it out there. It was great to be over there, but it would have been nice to be able to swing at it (harder).
"Just competing (this week) — getting back out there and having it count (is special). I felt the competitive juices, and it's a great thing."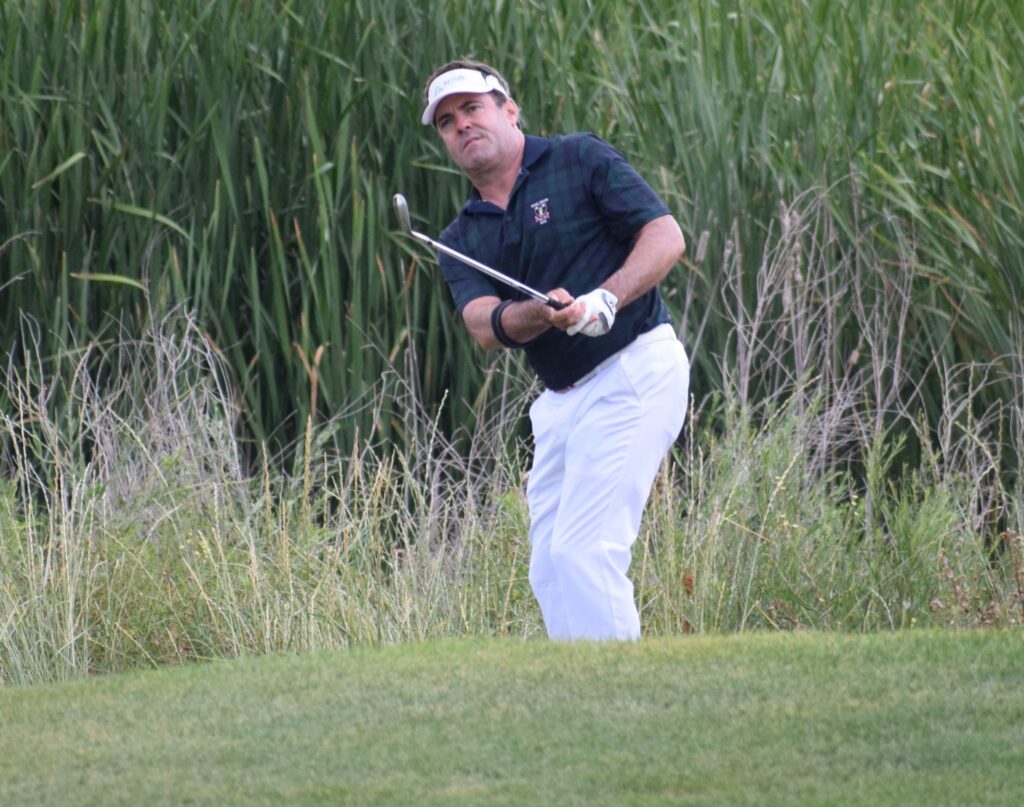 Harrington didn't appear rusty despite playing little golf in the month leading up to the Senior Open.



Despite some bad breaks leading to a 76 on Friday, Harrington finished 23rd overall out of a pro and amateur field that originally numbered 150. The 51-year-old went 75-67-76 for a 2-over-par total. Harrington said that it was his first multi-day state event contested at stroke play in two years.
"I'm very happy with how it went," he said.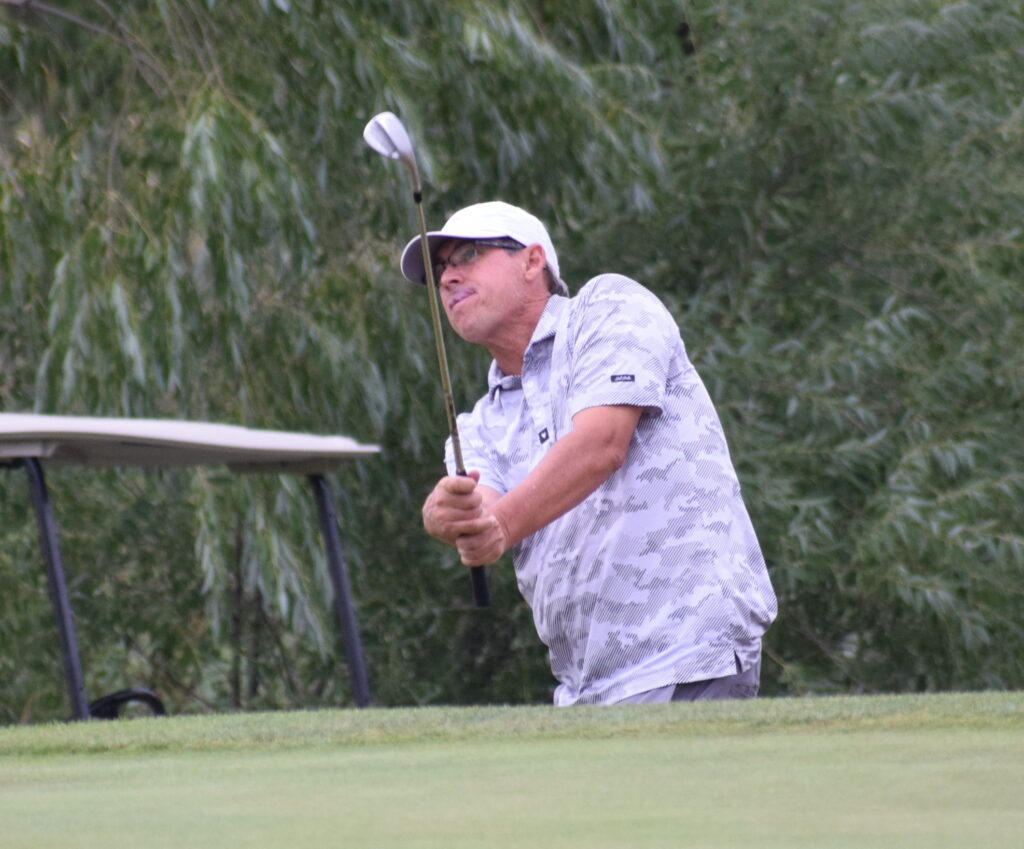 Former CU golfer Bob Kalinowski pitches to the ninth green on Friday.


Notable: The top overall finisher with strong Colorado ties other than Schalk was former University of Colorado golfer Bob Kalinowski, who grew up in Durango. The two-time Big Eight individual champion tied for seventh place at 4 under par after a final-round 69. Bob's brother, Tom, ended up in 14th place at 1 under. … Skip Kendall, who has played in 425 PGA Tour events in his career, also shared seventh place on Friday, two years after being the CSO runner-up. … After a tough first day (78), 2022 CSO champion Guy Boros went 71-67 to climb into the top 20. … Winning the super-senior competition for players 60 and older on Friday was Steve Jurgensen of Houston (70-72-69).

For all the scores from the Colorado Senior Open, CLICK HERE.

About the Writer: Gary Baines has covered golf in Colorado continuously since 1983. He was a sports writer at the Daily Camera newspaper in Boulder, then the sports editor there, and has written regularly for ColoradoGolf.org since 2009. He was inducted into the Colorado Golf Hall of Fame in 2022. He owns and operates ColoradoGolfJournal.com