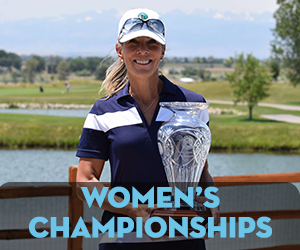 Mashie Championship
Host Facilities: Main Site: The Broadlands Golf Course Partner Site: The Ranch Country Club
Championship Dates: Monday, May 24 – Wednesday, May 26
Registration Window: March 15 – May 16
Entry Fee: $390 per team
Field Size: 96 teams / 192 competitors.
Note: Championship is filled on a first come, first served basis using the registration date and time. If a Championship is oversubscribed, a wait list will be maintained in case of cancellation.
Format: 4- Ball Matchplay – Each team is guaranteed two days of golf. Partners play their best ball against the better ball of the other team. Each flight has a consolation bracket for teams losing in the first round matches. All teams will play each course May 24-25 with final matches for the day 2 winners being played at The Broadlands GC on May 26. Only winning teams from day 2 move onto day 3. Teams forfeiting their first match will not be eligible to compete in consolation round matches. Matches that are tied after 18 holes will be extended to a hole-by-hole playoff to determine a winner. Teams are flighted according to team combined handicap index with approximately eight teams per flight.
Handicap Index Details: 30.0 maximum.
Note: It is recommended that the partners play within six strokes of each other. If the difference between the two Playing Handicaps is greater than 6, the higher Playing Handicap will be reduced accordingly. All players will compete at 90% of course handicap.
During matches, the Playing Handicaps of all four players will be reduced by the Playing Handicap of the player with the lowest handicap, who shall then play at scratch. The other players are allowed the difference. All flights play with handicap except championship flight.
Revision Date: May 17
Starting Times: Tee times beginning at 7:30am at each course.