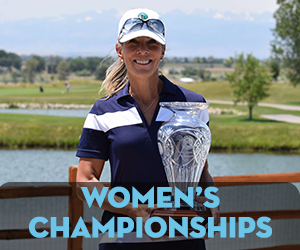 17th CGA Women's Senior Match Play Championship | CGA Women's Net Match Play Championship
Host Facility: Collindale Golf Course
Championship Dates: Monday, July 19 – Thursday, July 22
Registration Window: May 3 – July 11
Entry Fee: $250 per competitor
Format (NEW in 2021): The Championship will be played using the PGA TOUR style match play Pod Play system. All players who register for the championship will be guaranteed at least three (3) matches in the championship.
Championship Schedule: 
Monday (7/19): Day 1 of Pod Play 
Tuesday (7/20): Day 2 of Pod Play 
Wednesday (7/21): Day 3 of Pod Play 
Thursday (7/22): Final Matches for pod winners
Revision Date: July 12
Starting Times: Beginning at 7:30am each day.