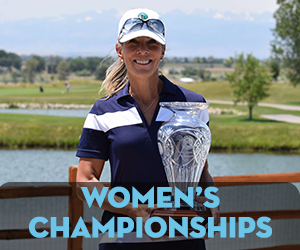 CGA Women's Niblick Tournament
Host Facility: Coal Creek Golf Course
Tournament Date: Tuesday, July 13
Registration Window: May 3 – July 5
Entry Fee: $190 per team
Field Size: 60 teams (120 players) 
NOTE: Tournament is filled on a first come, first served basis using the registration date and time. If a tournament is oversubscribed, a wait list will be maintained in case of cancellation
Format: 4-Ball Stroke Play – Two competitors play as partners, each playing her own ball. The lower of the partner's scores is the team score for the hole. Teams are pre-flighted according to combined Playing Handicap with approximately 8 teams per flight. An Overall Low Net Team will be crowned.
Handicap Index Details: 18.0 minimum and 36.0 maximum.
NOTE: If you fall below an 18.0 index between when you register and the revision date we are using, you will no longer be eligible to participate. If your handicap goes above a 36.0, it will be reduced to a 36.0. 
NOTE: It is recommended that the partners play within eight strokes of each other. If the difference between the two Playing Handicaps is greater than 8, the higher Playing Handicap will be reduced accordingly. All players will compete at 85% of course handicap.
Revision Date: July 6
Starting Times: Shotgun start at 8:00am.