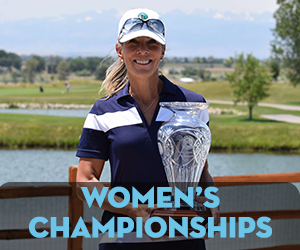 CGA Women's Club Team Championship
Host Facility: Pinehurst Country Club
Championship Dates: Monday, October 4
Registration Window: July 26 – September 26
Entry Fee: $380 per team
Field Size: 30 teams (120 entrants)
Note: Only one team per CGA Women's 18 hole member club is eligible to enter. 
Note: Tournament is filled on a first come, first served basis using the registration date and time. If a tournament is oversubscribed, a wait list will be maintained in case of cancellation.
Format: ABCD Team Stroke Play – The gross score for all four team members are combined for the team score. The team who plays the round in the fewest number of combined strokes is the winner. Each team is paired together, with the A player designated as each team's captain and serving as the official score keeper for the team.  All four members of the team must be members of the same CGA women's 18 hole member club. 
Handicap Index Details: Each team must consist of one player from each of the following four handicap index ranges: A) up to 12.0 B) 10.0-20.0 C) 18.0-28.0 and D) 26.0-36.0. Team members are allowed to play down a handicap range eg. (B player playing as an A player) but are not allowed to play up a handicap range eg. (A player playing as a B player). 
Revision Date: September 27
Starting Times: Tee times beginning at 10:00 am.