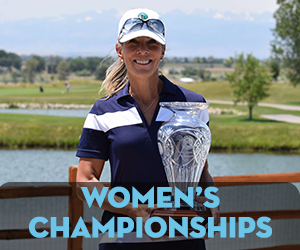 CGA Parent-Child Championship
Host Facility: Ironbridge Golf Club
Championship Dates: Saturday, October 9 – Sunday, October 10
Deadline: Monday, October 4th at 11:59 p.m. MT
Eligibility: Open to both male and female players. All players must either be active CGA members, JGAC members or Colorado Section PGA Professionals to register. The Parent-Child relationship must be a blood or legal relationship (no in-laws). A player can only play on one team. Teams can consist of mother/daughter, mother/son, father/son or father/daughter. Grandparents may play with their grandchild. 
Entry Fee: $420 per team
Field Size: 52 teams (104 players)
Format: 36-holes (18 each day). Each day, the championship will be competing at both gross and net at 50% of the team's combined course handicap. The first round will be 18 holes of Modified Chapman. In Modified Chapman, both partners will tee off and then play their second stroke with their partners ball. The team must then select one (1) ball to finish out the hole with and play alternately from there until the ball is holed. 
The second round is 18 holes of Foursome Stroke Play in which players will play alternate shot from the tee until the ball is holed. This is true Foursome stroke play in that a player will always tee off at either the odd-numbered holes or the even numbered holes. Whoever holes out on the previous putting green does not alter the order of play on the following hole.
Handicap Details: Women – 30.0 maximum. The handicap for each player used will be their GHIN index on the Wednesday night prior to the Championship (Wednesday, October 6th).
Starting Times:  9:00 a.m. – 11:00 a.m. off holes #1 and #10.