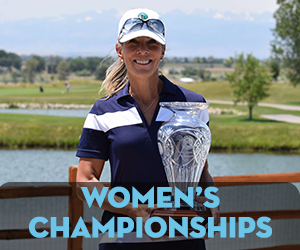 106TH CGA WOMEN'S MATCH PLAY CHAMPIONSHIP
Host Facilities: CommonGround Golf Course and Colorado Golf Club
Championship Dates: Monday, June 7 – Saturday, June 12
Registration Window: March 29 – May 30
Entry Fee: $250 per competitor
Field Size: 32 entrants.
NOTE: Tournament is filled on a first come, first served basis using the registration date and time. If a tournament is oversubscribed, a wait list will be maintained in case of cancellation.
Handicap Index Details: 9.0 maximum
Note: All matches are played at scratch
Revision Date: May 31
Format (NEW in 2021): The CGA Women's Match Play Championship will be played using the PGA TOUR style match play Pod Play system with matches played at scratch, no handicap. Players who register for the championship will be guaranteed at least three (3) matches in the championship at CommonGround Golf Course. After each player is seeded (see below), all players will be evenly distributed into their pod with three (3) other players. This will yield eight (8) pods of four (4) players. Each player will play all three other players in their pod at least once (see schedule below). The winner of each pod will advance to the Round of 8 (quarterfinals) and a single elimination knockout round will then commence at Colorado Golf Club. The championship match will be played over 36 holes. 
Championship Schedule: 
Monday (6/7): Day 1 of Pod Play at CommonGround GC 
Tuesday (6/8): Day 2 of Pod Play at CommonGround GC 
Wednesday (6/9): Day 3 of Pod Play at CommonGround GC 
Thursday (6/10): No matches will be played. An optional practice round will be available at Colorado Golf Club for pod winners moving on only.
Friday Morning (6/11): Quarterfinals at Colorado Golf Club 
Friday Afternoon (6/11): Semifinals at Colorado Golf Club 
Saturday (6/12): The 36-Hole Championship Match at Colorado Golf Club 
Player Seeding: All 32 players will be ranked 1 – 32, based on their handicap index as of the revision date above, excluding the defending champion who will be seeded #1, if applicable.  
Pod Structure/Seeding: The pods will follow the PGA TOUR style of randomized drawing. Once players have been seeded 1 – 32, players will be drawn at random so that each pod will consist of a player ranked 1 – 8 (A Player), 9 – 16 (B Player), 17 – 24 (C Player) and 25 – 32 (D Player). Pod structure will be available to view under the Tournament Information tab once players are seeded. 
Pod Play Scoring: There will be no extra holes during the pod play portion of matches. Scoring during pod play will be as follows:
Match Won – 1 point | Match Tied – ½ point | Match Lost – 0 Points. 
Note: If there is a tie for the pod winner, a sudden death playoff will determine the person advancing from that pod.
Starting Times: Tee times beginning at 7:00am each day.