LPGA Tour players once again set the pace at CoBank Colorado Women's Open; Paula Reto opens with 66, one better than Marissa Steen, who's tied with former CU golfer Brittany Fan; in first tourney in year and a half, Liselotte Neumann posts 78 but finishes strong
For CoBank Colorado Women's Open scores, CLICK HERE.
By Gary Baines – 6/2/2021
A year after LPGA Tour players finished 1-2 at the CoBank Colorado Women's Open, a couple of semi-regulars on the LPGA circuit sit at the top of the leaderboard — along with a former University of Colorado standout — after Wednesday's opening round of the 2021 CWO.
Paula Reto, who represented South Africa in the 2016 Olympics, has competed in 123 LPGA events, with four top-10 finishes, including a third place. On Wednesday at Green Valley Ranch Golf Club in northeast Denver, she grabbed the lead with a bogey-free 6-under-par 66.
Marissa Steen of West Chester, Ohio, likewise 31 years old, has 80 LPGA events under her belt, posting two top-10s. That includes an eighth place finish in February at the Gainbridge LPGA. She opened with a bogey-free 67 on Wednesday.
Joining Steen at that score was former CU golfer Brittany Fan, who finished fourth in the 2018 CWO and was low amateur in the event in 2013.
"This field is very good," Reto said on Wednesday. "It's a strong field. It's a good course and the greens are good so anybody can do well for sure. There can be low scores."
Fan, who figures to be a regular on the Symetra Tour in the coming months, will second that.
"This field is almost like a Symetra field," the 25-year old former Buff said. "This is a great event to have between tournaments. It's great for confidence too. I think the scores are going to be pretty low. The field is strong and this course is score-able if you play it smart."
But it will take some to reach the scoring record for the Colorado Women's Open as Colorado-born LPGA regular Jennifer Kupcho finished at 16 under par last year, with two-time LPGA winner Carlota Ciganda three back. Kupcho's total broke the previous CWO record by five strokes.
Reto, who lost in the quarterfinals of the 2013 U.S. Women's Amateur to eventual champion Lydia Ko, started with a bang on Wednesday, making three straight birdies before adding ones at 7, 15 and 18.
The South African is competing in the CWO for the third straight year and is a good bet to be in contention on Friday given her track record at GVR, where she placed third in 2019 and eighth last year.
Reto, who now resides in Fort Lauderdale, Fla., attributes her good showings in the CWO to the pro-am format and course conditions at GVR.
"I love this event, with the combination of a tournament with a little bit of fun. It was a good day for sure," she said. "I just like coming here. The environment is good. I like the whole program; it's different than a regular tournament. It's serious but not as serious. That helps it out. But it was super fun out there. "
And it doesn't hurt that $50,000 will go the winner on Friday.
Like Reto, Steen didn't make anything worse than a par on day 1. Meanwhile, Fan didn't have a bogey on her until her 17th hole, when she missed the green on the par-3 and misjudged her pitch.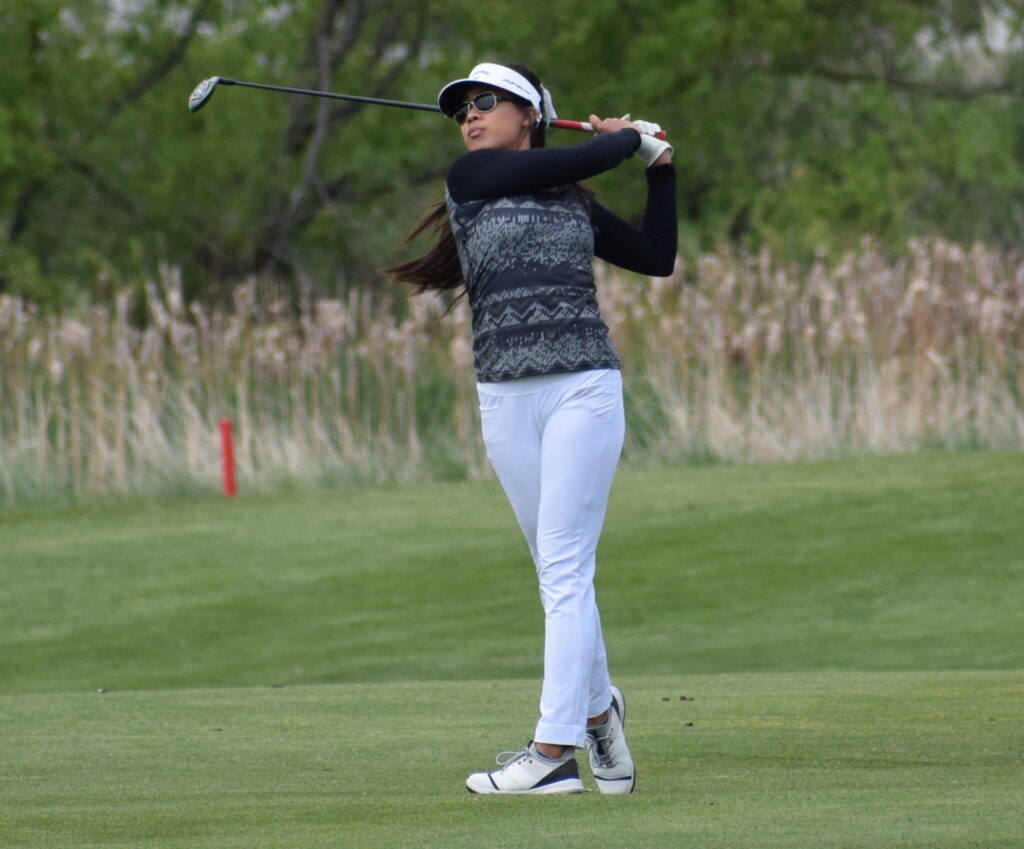 As noted, Fan is no stranger to strong showings at the Colorado Women's Open. She earned low-am honors in 2013 while still in high school, and in the first of her two appearances as a pro, she tied for fourth in 2018.
"I love coming back to Colorado," said the Hawaii native. "Being back 'home' and seeing everyone here … And I really like the course layout. For me, it's one of those places when a player goes to the course, you kind of like the layout and it's one of your favorite courses and is an event that you look forward to playing every year. That definitely helps.
"Today was just a solid round overall. I definitely left more opportunities out there, but it's a great start to the tournament."
In all, 21 players finished the first round in red figures. That includes Maggie Ashmore of Cartersville, Ga. (bogey-free 68), two-time CWO champion Becca Huffer of Monument (69), Stefanie Ferguson of Broomfield (69) and former CU golfer Robyn Choi, a two-time U.S. Women's Open qualifier (70).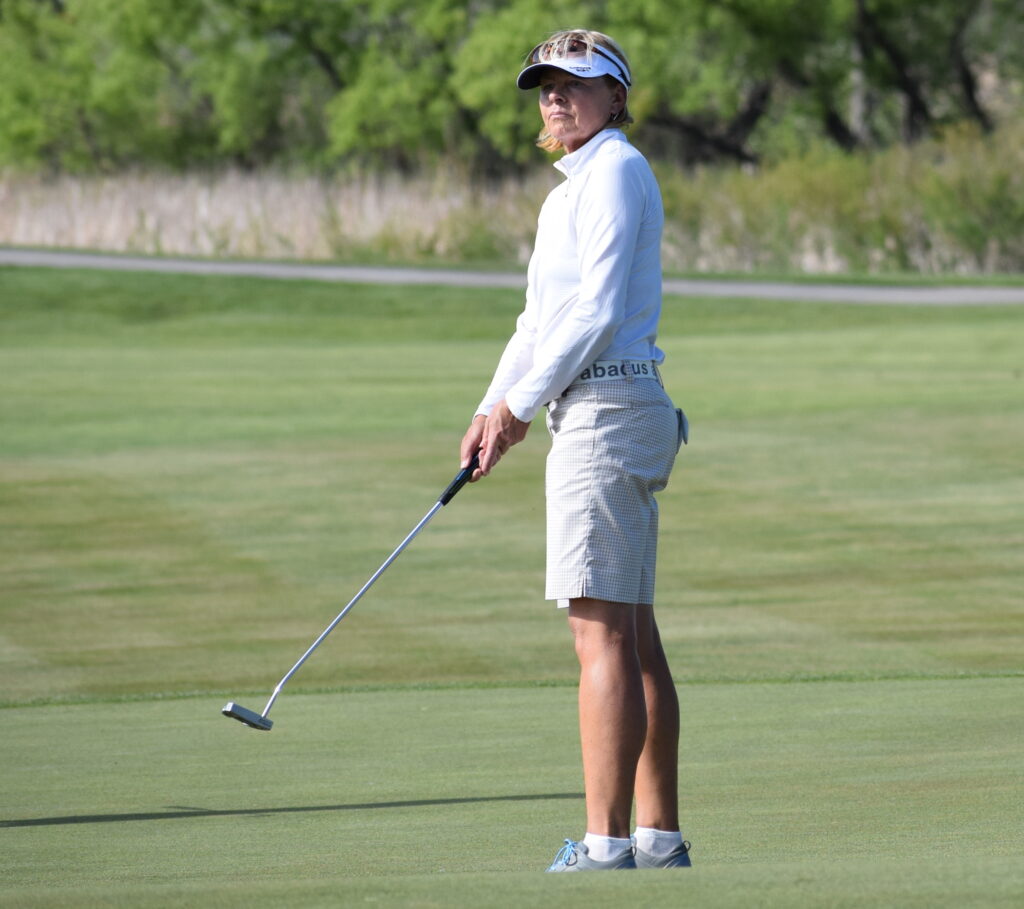 New Aspen Resident Neumann Knocks Off Rust With 78: Liselotte Neumann, the Swede who has won 13 LPGA Tour events including the 1988 U.S. Women's Open, recently took up part-time residence in the Aspen area. But that wasn't the primary reason she's competing in the Colorado Women's Open this week.
Rather, she simply needed some competitive "reps".
Neumann, who captained the European Solheim Cup team to victory in 2013 at Colorado Golf Club in Parker, said that prior to Wednesday, it had been a year and a half since she last competed in a tournament. And with her sights set on playing in the U.S. Senior Women's Open July 29-Aug. 1 in Fairfield, Conn., she wanted to get in some tournament rounds beforehand. So the CWO was a good fit.
"It's hard to find events," the 55-year-old said. "I play the Legends Tour and we basically don't have any tournaments before, so I was looking where can I go to compete and get a few rounds under my belt."
And while her performance on Wednesday at Green Valley Ranch was far from ideal, at least it ended on a good note. She shot a 6-over-par 78, but played her final seven holes in 1 under par. She finished the day with two birdies, four bogeys and two double bogeys, and shares 90th place.
"It's been a while," she said regarding being in tournament mode. "I try not to have any expectations, but it's amazing. It's kind of in your brain. You expect to do better than you do. So it was a shaky start, but I played well my last (seven) holes. But up to that point, it was all over the place. You just try to regroup and come back tomorrow and try to shoot a few under. At least I know it's in there somewhere. Sometimes it's just hard to find.
"But this is a beautiful spot, a great golf course. It's really fun to play here, so I'm enjoying it."
As for why Neumann has become a part-time resident of Aspen (along with the Palm Springs area of California), it has a lot to do with her love of different seasons — and of skiing.
"I want to be in a place where I can enjoy both winter and summer," she said. "I always (like) going up to either Colorado or Sun Valley, Idaho in the wintertime to go skiing. I thought this would be a beautiful spot to be.
"I enjoy both seasons here. It's a beautiful state. I'm very, very excited to spend more time up here. I've always had fun skiing at Snowmass. I wouldn't consider myself a great skier, but I really enjoy it."

Notable: Two players, including University of Denver golfer Caroline Jordaan of Denver, share the lead in the low-amateur competition, at 1-under-par 71. Also at that figure is Tess Blair of South Jordan, Utah. Jordaan, a former state high school individual champion, carded three birdies and two bogeys — as did Blair. … In the better-ball two-person pro-am competition, the teams of Cool Girls (Brittany Fan and Castle Rock amateur Elizabeth Saunders) and Team Carpenter (Dottie Ardina from the Philippines and Denver amateur Greg Carpenter) share the lead with 9-under-par 63s. … The championship field will be cut to the low 40 percent and ties after Thursday's second round, which translates into the low 46 players and ties.