More than 30 Colorado junior golfers/JGAC members from classes of 2020 and '21 set to play college golf, including at least 16 who are headed to NCAA Division I programs
By Gary Baines – 4/10/2020
About five months ago, the college golf signing period began for the high school class of 2020. There were plenty of commitments that were formalized in those first several days by Colorado junior golfers, but it should be kept in mind that National Letters of Intent for golf can be signed until Aug. 1, though that period has been temporarily suspended until April 15 due to the coronavirus.
So while much of the activity took place in mid-November, plenty has happened since then for many of Colorado's top junior players. And not only does that include those from the Class of 2020, but some current high school juniors have been making verbal commitments to college programs.
With all that in mind, it's worth providing an update on the recruiting process regarding local players.
When we last posted a story about college commitments in November, 10 of the state's junior golfers had signed letters with — or committed to — NCAA Division I programs. Now, between the high school classes of 2020 and 2021 — and including one Junior Golf Alliance of Colorado player who lives out of state — the number is up to at least 16.
At least six of those 16 are headed to Colorado-based Division I programs: Ryder Heuston of Boulder (Fairview High School, Class of 2020) — University of Denver; Jacob Mason of Westminster (Holy Family HS, Class of 2020) — University of Colorado; Westin Pals of Castle Rock (Lutheran HS, Class of 2020) — University of Northern Colorado; Hailey Schalk of Erie (Holy Family HS, Class of 2020) — CU; Emma Bryant of Aurora (Eaglecrest HS, Class of 2021) — DU; and Jordan Jennings of Montrose (Montrose HS, Class of 2021) — Colorado State University.
And five Coloradans are joining programs currently ranked in the top 50 in the nation, according to Golfweek: Walker Franklin of Westminster (Prospect Ridge Academy) — Louisville (Ky.), ranked 11th; Charlotte Hillary of Cherry Hills Village (Kent Denver HS) — Northwestern (Ill.), ranked 43rd; Ashley Kozlowski of Littleton (Rock Canyon HS) — Purdue (Ind., as a walk-on), ranked 47th; Bryant — DU, ranked 42nd; and Jennings — CSU, ranked 16th.
Schalk (three times), Bryant (once) and Pals (once) are former state high school individual champions, while Hillary was the 2019 JGAC Girls Player of the Year.
Meanwhile, it should be noted that Dimery Plewe of Cortez, who has signed with Idaho State, will becomes the third member of her family to compete in Division I golf (sister Kiselya Plewe at Weber State and brother Hayden Plewe at Southern Utah).
All told, when including all levels of college golf, more than 30 Colorado/JGAC junior golfers are headed for a specific college program within the next year and a half. That's a number remarkably similar to last year for Colorado.
For the freshmen golfers who begin in the fall, it'll be a unique year. With the NCAA having granted an extra year of eligibility to this season's college golfers, including seniors, because the season ended in mid-March due to the coronavirus pandemic, there could be an extra class of players on the rosters of some teams. That might make it more difficult for some freshmen to earn spots on the traveling squads.
In any case, below is an updated list of signings or verbal commitments from Colorado junior golfers and/or JGAC players for the 2020 and 2021 high school classes. Schools noted with an asterisk (*) feature NCAA Division I programs:
(For additional commitments, please notify us at golfjournal@coloradogolf.org.)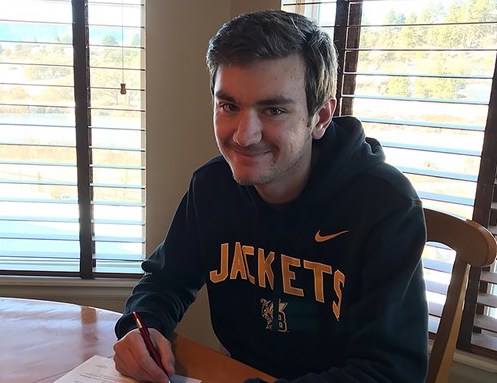 CLASS OF 2020

Boys
Christian Agelopoulos of Denver (Colorado Academy) — Denison (Ohio)
Will Armstrong of Castle Rock (Valor Christian HS) — Rockhurst (Mo.) University
Beam Boonta of Centennial (Cherokee Trail HS) — South Dakota School of Mines and Technology 
Carson Briggs of Broomfield (Broomfield HS) — Dodge City (Kan.) Community College
JGAC member Ben Daane of Rapid City, S.D. (Stevens HS) — University of South Dakota*
Walker Franklin of Westminster (Prospect Ridge HS) — Louisville (Ky.)*
Jack Garnsey of Denver (Colorado Academy) — Whitman College (Wash.)
Ryder Heuston of Boulder (Fairview HS) — University of Denver*
Ryan Jenson of Broomfield (Broomfield HS) — Concordia (Minn.)
Ben Lenahan (Ralston Valley HS) — Whitman College (Wash.)
Jacob Mason of Westminster (Holy Family HS) — University of Colorado*
Liam O'Halloran of Colorado Springs (The Classical Academy) — Montana State-Billings
Westin Pals of Castle Rock (Lutheran HS) — University of Northern Colorado*
Adam Rodriguez (Dakota Ridge HS) — Loras College (Iowa)
Ryan Sangchompuphen of Denver (attends Denver School of the Arts and will graduate in 3 years; played golf for Denver East HS) — Detroit Mercy (Mich.)*
Walker Scott of Eaton (Eaton HS) — South Dakota School of Mines
Micah Stangebye of Montrose (Montrose HS) — Arkansas Tech

Jaden Stewart of Grand Junction (Grand Junction HS) — Bethany College (Kan.)
Bo Wardynski of Parker (Regis Jesuit HS) — University of Tampa (Fla.)
Girls
Hannah Basler of Highlands Ranch (ThunderRidge HS) — La Salle (Pa.)*
Katie Berrian of Castle Rock (Regis Jesuit HS) — Creighton (Neb.)*
Marissa Garcia of Castle Rock (Castle View HS) — Hastings College (Neb.)
Charlotte Hillary of Cherry Hills Village (Kent Denver HS) — Northwestern (Ill.)*
Clara Hosman of Parker (Legend HS) — Post University (Conn.)
Marie Jordaan of Denver (Colorado Academy) — Santa Clara (Calif.)*
Ashley Kozlowski of Littleton (Rock Canyon HS) — Purdue (Ind., as a walk-on)*
Dimery Plewe of Cortez (Montezuma-Cortez HS) — Idaho State*
Hailey Schalk of Erie (Holy Family HS) — University of Colorado*
Annika Schooler of Littleton (Columbine) — South Dakota School of Mines
Kylie Severin of Aurora (Vista Peak HS) — CSU-Pueblo

Julia Solem of Longmont (Niwot HS) — Regis
Meghan Vogt of Broomfield (Broomfield HS) — Wyoming*
Kaylynn Xia of Greenwood Village (Cherry Creek HS) — Middlebury
CLASS OF 2021
Emma Bryant of Aurora (Eaglecrest HS) — University of Denver*
Jordan Jennings of Montrose (Montrose HS) — Colorado State*