Lakewood CC's Jon Lindstrom, one of the top-ranked senior amateurs in the world, completes season sweep of CGA senior majors, winning the Senior Amateur at Rolling Hills
By Gary Baines – 9/15/2023
Jon Lindstrom may be ranked No. 4 in the world among amateur golfers 55 and older, but while such things are very prestigious, when it comes to trying to win tournaments, even the top players have to go out and earn it on any given day.
Well, in a performance that lived up to actor John Houseman's once-famous saying in a series of TV commercials, Lindstrom did indeed "earn it" on Friday.
The golfer from Lakewood Country Club fended off a challenge from defending champion Victor Minovich from Foothills Golf Course to post a one-stroke victory in the 52nd CGA Senior Amateur, hosted by The Club at Rolling Hills in Golden.
And with that, Lindstrom swept the 2023 CGA senior majors — the Senior Match Play and the Senior Amateur — becoming the fourth different player since 2002 to capture both titles in a single year. Robert Polk pulled off that feat twice (2009 and '21), and Steve Ivan (2020) and Harry Johnson (2013) once each.
"It's awesome," Lindstrom said of the sweep. "It's a great honor anytime you can win a CGA event."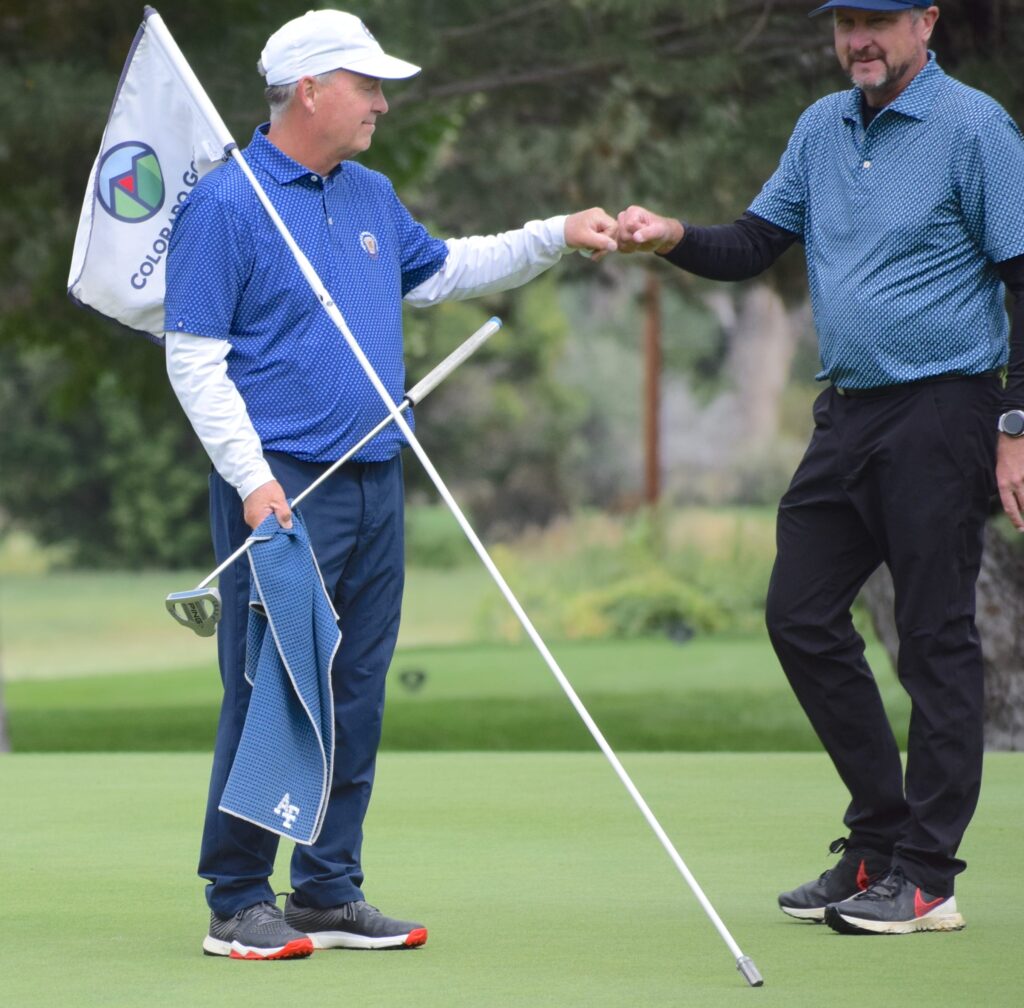 Past champion Steve Ivan (left) knuckle bumps Lindstrom during Friday's final round.



For the record, this makes CGA championship title No. 12 for Lindstrom, with the others being three Mid-Amateurs, a Senior Match Play, the 2023 Senior Division of the Western Chapter, four Four-Balls, and two Two-Man. 
Like at the 2023 Senior Match Play, Lindstrom and Minovich finished 1-2 on Friday. At Rolling Hills, Minovich caught Lindstrom a couple of times on the back nine, the last coming when the defending champ drained a 10-foot birdie putt on the 15th hole.
But a couple of significant-length par putts that Lindstrom sank proved crucial. On No. 15, playing in the group behind Minovich, Lindstrom hit a tree in the right rough off the tee and had to pitch out to the fairway. His third shot on the par-4 left him 18 feet from the cup. A miss would have dropped him out of a share of the lead, but he found the bottom of the cup to remain tied.
And on the next hole, after Lindstrom left his first putt 7 feet short, he sank that par attempt to again stay tied.
"Those putts on 15 and 16 were pretty key," the 56-year-old said. "Those are bigger than birdie putts probably."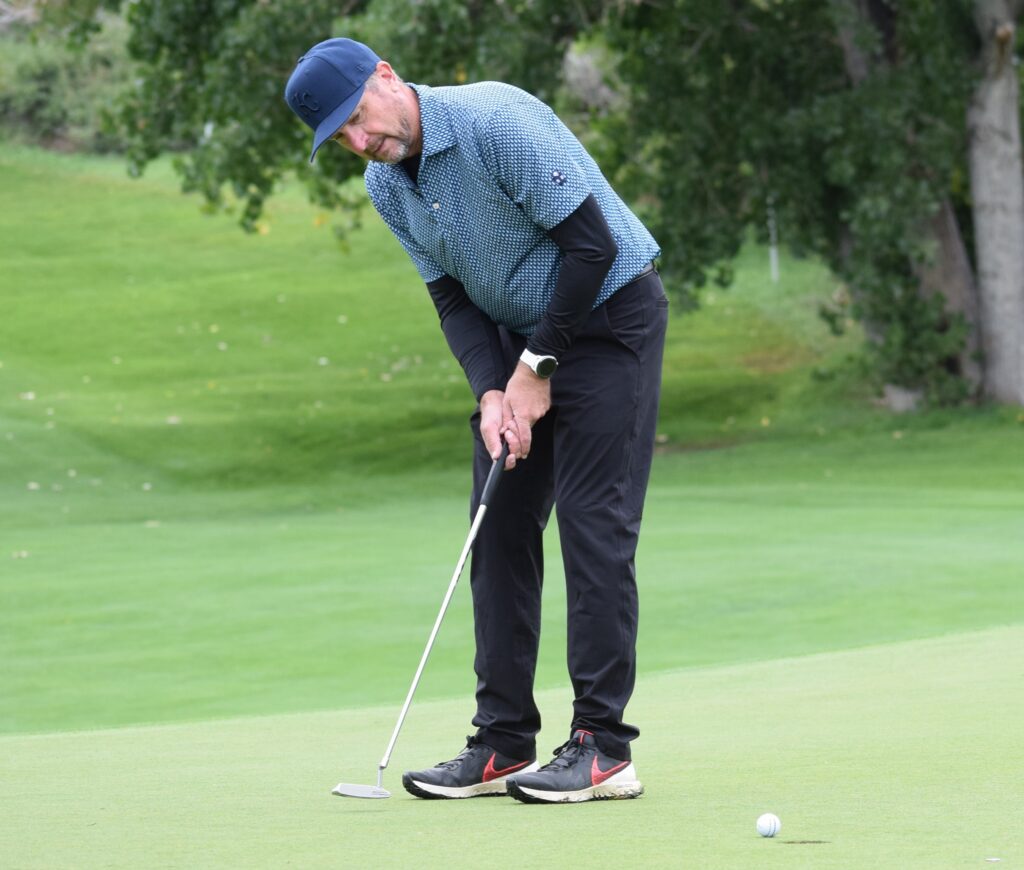 Lindstrom curls in a putt early on the back nine on Friday.



Lindstrom and Minovich remained tied going into the par-5 18th. There, Minovich drove it left and hit a tree, leaving him with more tree-related issues. His second shot landed in the left rough, forcing him to keep his approach shot very low — under tree limbs. The 2022 champ executed his third very well, putting his ball on the front of the green. But he ran his first putt 6 feet by the hole, leaving him a treacherous downhill 6-foot par try. After perusing the putt for a long time, he missed it low, giving him a three-putt bogey and dropping him a stroke behind Lindstrom.
"I'm just gutted now that I know (that he lost by a stroke)," the soon-to-be 60-year-old said. "I didn't know then. I actually thought it cost me second place because I didn't know. I didn't even know what my score was. I was just kind of 'zoning'.
"But it's on me (falling short the way he did). I couldn't get myself to hit (the first putt on 18) soft enough up that hill; it's a big hill. If you don't get it up, it's coming right back down to you. So I just overdid it.
"Then (the par attempt) looked so different from both sides. From down below, it looked like it broke a mile to the right. But from above it looked almost straight. I was baffled. I missed it low. If I would have played the break I was seeing from below, I would have probably missed high."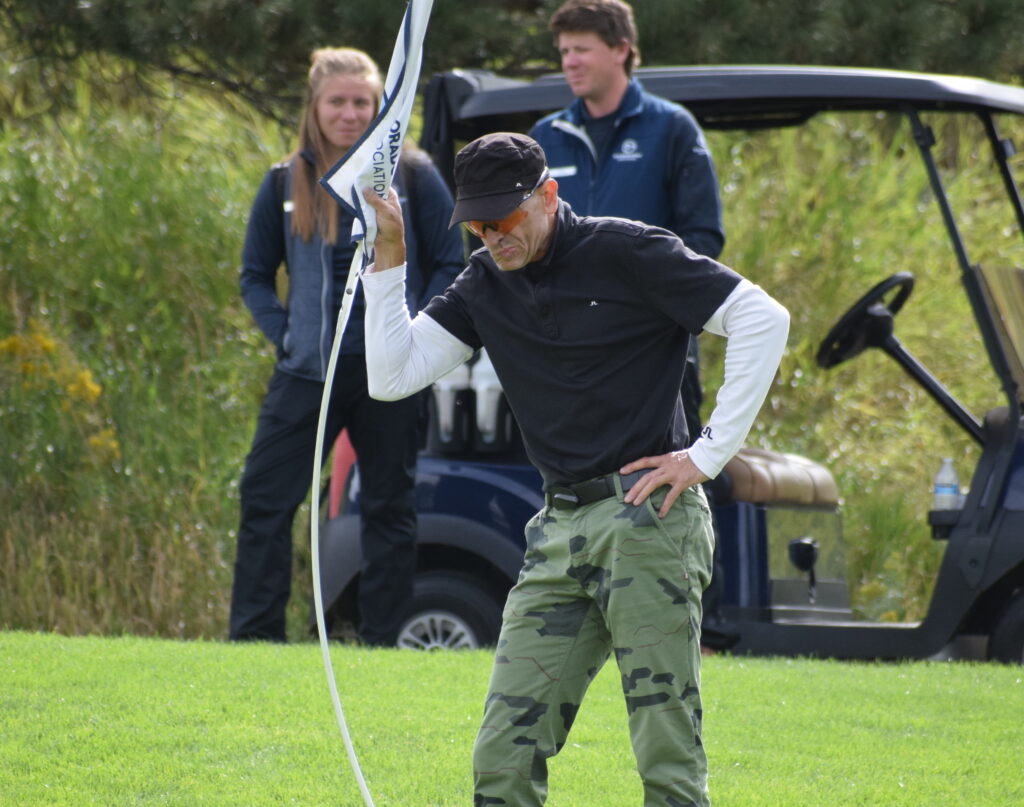 Victor Minovich reflects on his three-putt bogey on the final hole Friday, which dropped him out of a share of the lead.



So now all Lindstrom — in the next group — needed was a par on 18 for the victory. But, like Minovich, Lindstrom wasn't looking at the leaderboard, so he didn't know how he stood. He simply had a game plan in mind for the 18th — 4-iron, 4-iron and wedge to the green — and he was sticking with it, assuming nothing unusual happened.
And Lindstrom made it look routine, putting his approach shot 10 feet under the hole and two-putting for a par and the win.
"I'm usually in the habit of not looking at (the scores)," he said. "I already have a game plan, so I'm going to do it regardless."
Lindstrom was asked if his expectations of himself are any different given his top-five ranking among senior amateur golfers in the world.
"I don't know if the expectations are different; there's just a lot of opportunity," he said. "Once I figured out how the math works and what events I should go to … But you've still got to play well. The benefits of that are this year, exemptions into the U.S. Senior Am and the U.S. Mid-Am. There are definitely some upsides to that. And because of my ranking, I'm getting invited into a lot of other events that are usually invitation-only — or you have to qualify for."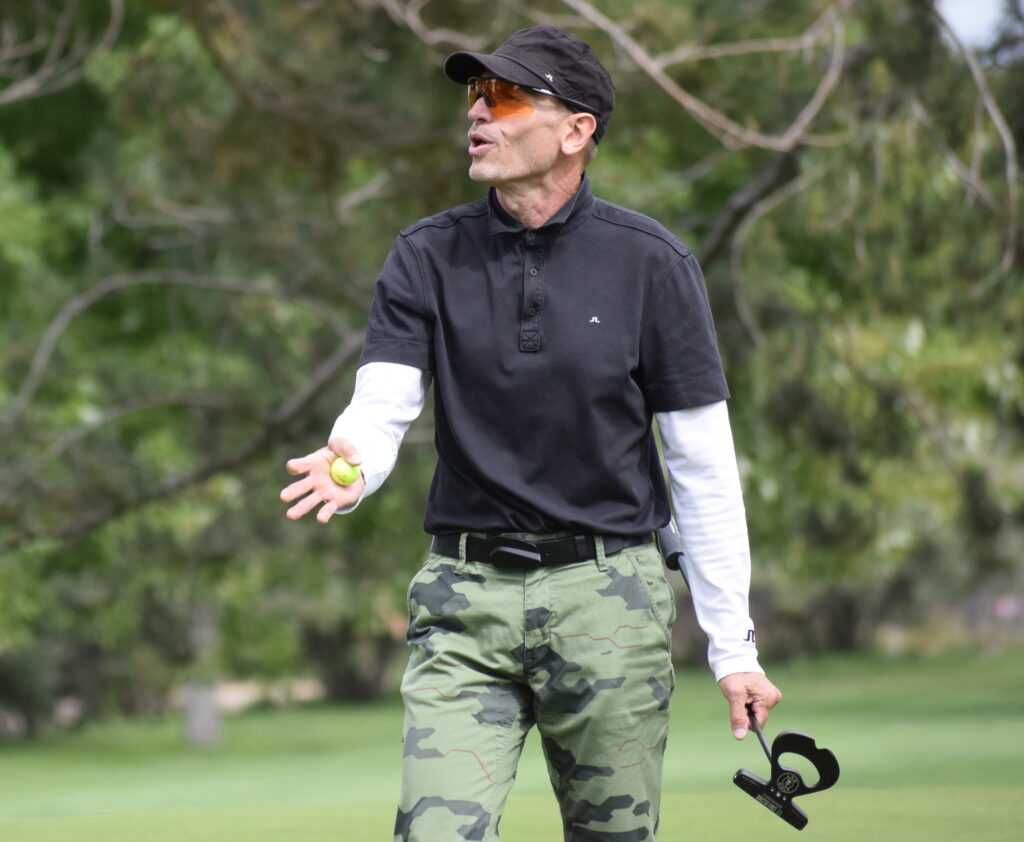 Minovich is nothing if not demonstrative on the course.


Among Lindstrom's big accomplishments this year — outside Colorado — are winning the Trans-Miss Senior Championship, finishing ninth in the British Senior Amateur and going to the round of 64 at the U.S. Senior Am. And just prior to teeing it up in the CGA Senior Am, Lindstrom was competing in the U.S. Mid-Amateur in New York. Had he had a relatively deep run at that event, Lindstrom would have withdrawn from the CGA Senior Amateur. But he didn't make match play and he returned to Colorado Monday night and went to work on Tuesday before teeing it up at Rolling Hills starting on Wednesday.
"Coming here back to altitude (after competing at sea level), and with the course a little shorter, it was kind of fun hitting a lot of wedges into greens," Lindstrom said.
Lindstrom traveled to and competed in many out-of-state tournaments as a younger man as he played college golf at Washington State then pro golf full time for about 4 1/2 years. He didn't get his amateur status back until early in the 21st century. And now, given the success he's found in the last year as a senior amateur, he's back to traveling quite a bit to compete in tournaments — in addition to holding down a job.
"I love it," he said. "I played in college and played professionally for a few years after. I enjoyed the travel and all that. I kind of enjoyed living out of a hotel and playing golf tournaments. Of course, I get frustrated when I'm not playing well. But mentally I'm fine, (though) I have to spend more time stretching than I have in the past."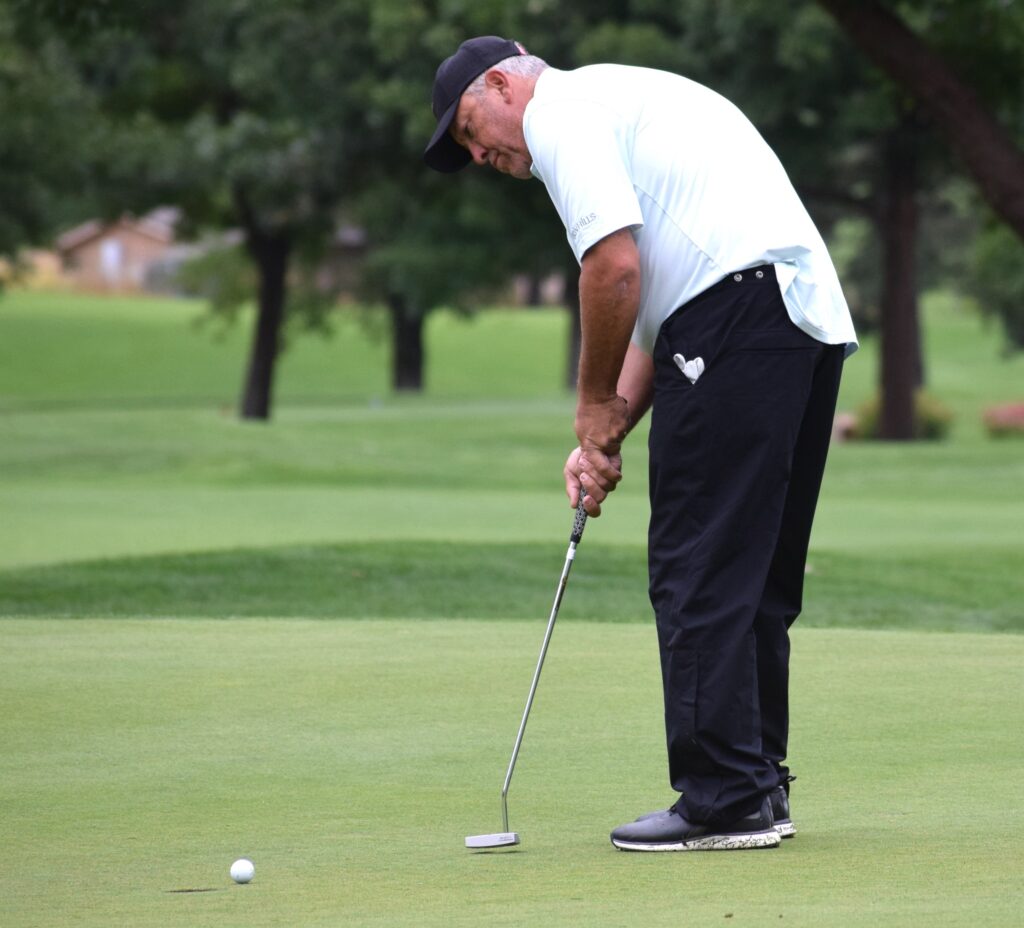 Kevin Ott, who won the last CGA Senior Amateur held at his home club (2016), finished third this time around at Rolling Hills.




Indeed, Lindstrom tweaked his back on a shot in the middle of the back nine on Friday. It tightened up on him, but the effects were short-lived.
Lindstrom ended up shooting an even-par 72 in Friday's final round, leaving him at 1 over par overall for three days. He parred his last seven holes of the tournament after opening Friday with a three-putt bogey from 12 feet and adding three birdies and three more bogeys through the first 11 holes.
Minovich, who just competed in his third U.S. Senior Amateur, closed with a 71 to finish at 2 over par.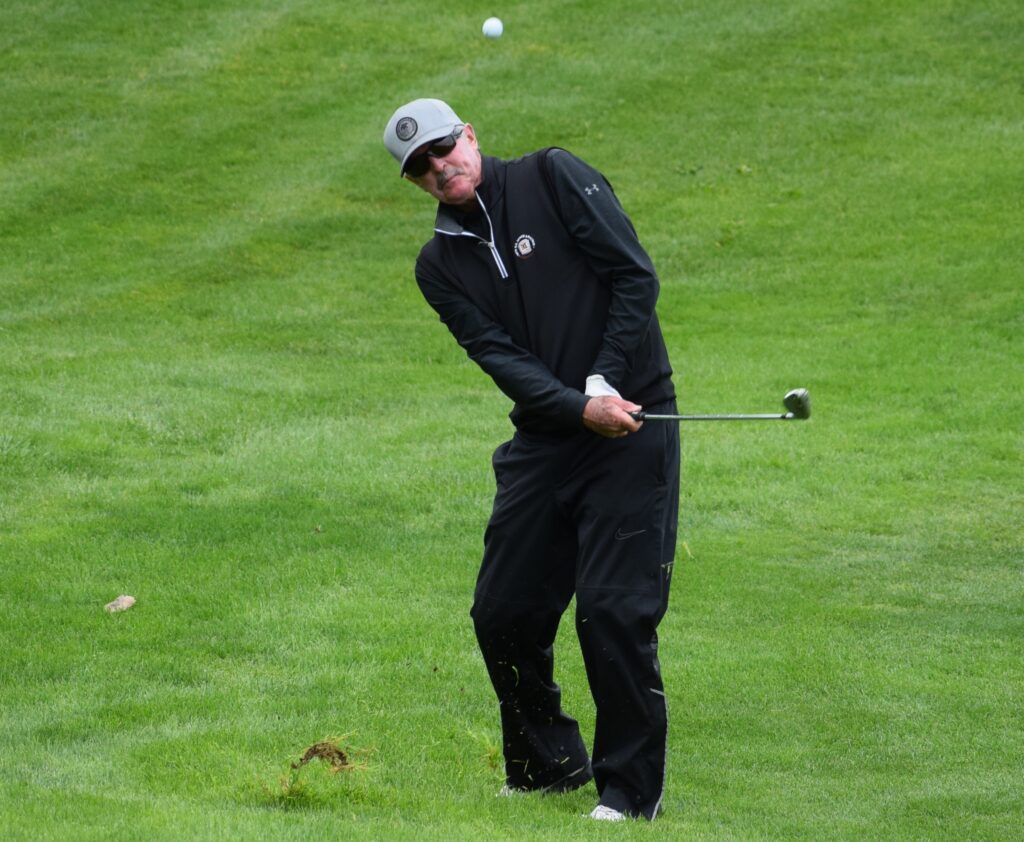 John Hornbeck, the 2019 champion, tied for fourth on Friday.



Kevin Ott, who won the 2016 CGA Senior Am title the last time the event was held at Rolling Hills, ended up third this time at his home club. He carded a 72 on Friday and finished three back of Lindstrom. Wyoming State Golf Association Hall of Famer John Hornbeck, the 2019 CGA Senior Amateur champ, tied for fourth place at 6 over with Adam Kugler of the Clubs at Cordillera.
While Minovich was disappointed to three-putt the last to lose by a stroke, overall he was happy with his performance this week.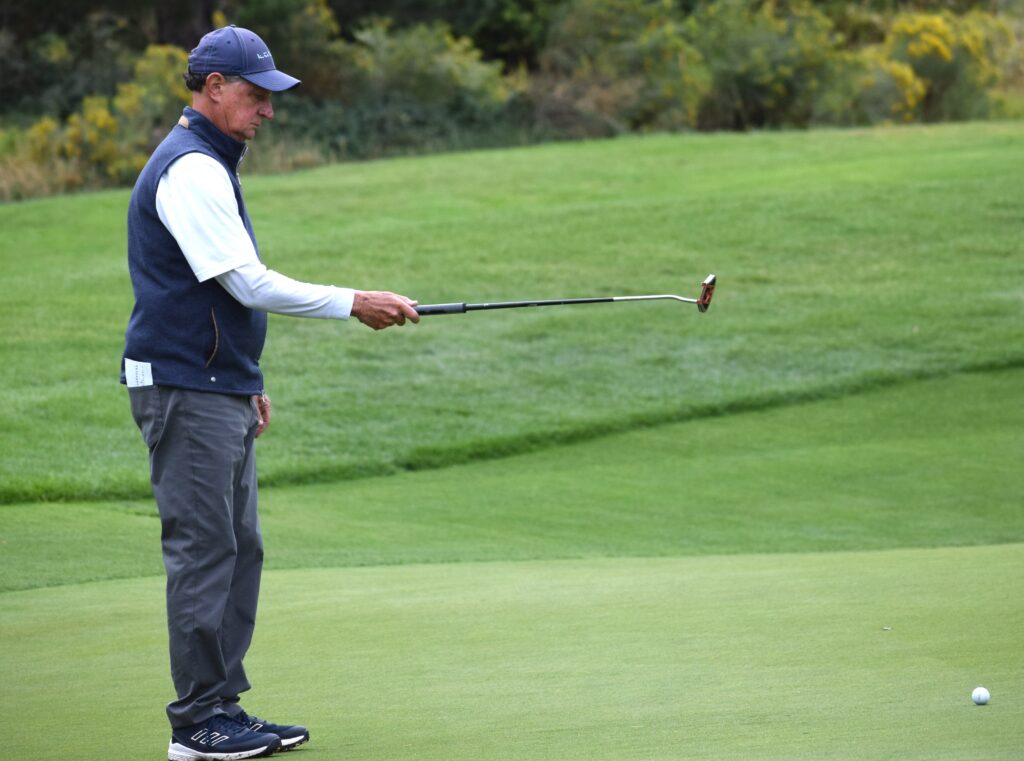 Adam Kugler tied Hornback for fourth place at Rolling Hills.
"Considering I'm playing with a torn rotator cuff, I'm OK (with finishing second)," he said. "My left shoulder needs surgery. I'm trying to get through three more tournaments. It's all taped up and I've got a pain pill in me. What (the injury) is doing mostly is altering my takeaway. I can't really get to where I want to on plane. It looks like I'm way inside and flat (with his swing).
"But I'm happy with the way I've been playing with the injury overall."
For all the scores from the CGA Senior Amateur, which is limited to players 55 and older, CLICK HERE.

About the Writer: Gary Baines has covered golf in Colorado continuously since 1983. He was a sports writer at the Daily Camera newspaper in Boulder, then the sports editor there, and has written regularly for ColoradoGolf.org since 2009. He was inducted into the Colorado Golf Hall of Fame in 2022. He owns and operates ColoradoGolfJournal.com