RECORD YOUR Rounds, Win Prizes!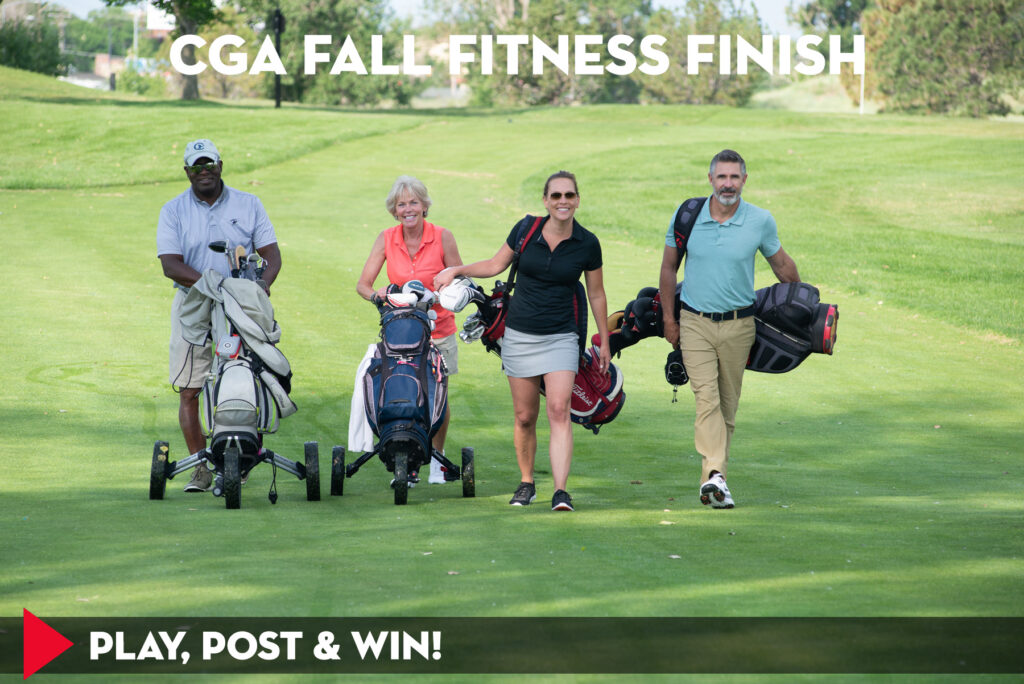 Play, Post & WIN!
The CGA is excited to present the Fall Fitness Finish! This is a fitness competition for members to participate in beginning September 22nd through November 15th to encourage members to post their scores and walk their rounds when possible. Post just one score, and you will be eligible to win a slew of different prizes each week! To calculate participants' step count, see the breakdown of steps below:
9-hole walking: 5,000 steps
9-hole riding: 2,500 steps
18-hole walking: 10,000 steps
18-hole riding: 5,000 steps
You could win just by entering and posting 1 score during the competition! Once entered, players will post their scores after they play as usual. The CGA will then convert the number of rounds played and whether players walked or rode into a step count.
Weekly prizes will be awarded at random to participants, and grand prizes will be awarded at the conclusion of the competition to the first, second, and third place winners in each category.
WEEKLY PRIZES
Week 1
TaylorMade Glove
Travel Cover
$50 PGA TOUR Superstore gift card
Week 2
Ranger Sunday bag
Taylormade Glove
6-pack drink cooler
Week 3
TaylorMade Glove
CGA Hat Package
$50 PGA TOUR Superstore gift card
Week 4
TaylorMade Glove
6-pack drink cooler
Ranger Sunday bag
Week 5
TaylorMade Glove
CGA Shoe bag
$50 PGA TOUR Superstore gift card
Week 6
TaylorMade Glove
CGA Hat package
$50 PGA TOUR Superstore gift card
How it Works
Enter to win
Post scores
Weekly prizes drawn for participants who post at least one score during the competition
Grand prizes awarded to the top three participants with the most steps at the end of the competition
Additional Details
The leaderboard will be updated weekly throughout the duration of the competition. There are several places you can find this leaderboard:
The CGA's Facebook and Instagram pages
Inside the Member Insider
The Fall Fitness Finish webpage
Prizes
Walkers

1st- Stay and Play package at The Moxy Denver Cherry Creek Hotel and a round of golf at CommonGround GC + Bushnell Tour rangefinder + $50 PGA TOUR Superstore gift card
2nd- 1 year free WHOOP membership + $50 PGA TOUR Superstore gift card
3rd- Round of golf for one at CommonGround GC + $50 PGA TOUR Superstore gift card

Walkers/Riders

1st- Theragun Mini massage gun + $50 PGA TOUR Superstore gift card
2nd- Caddy Daddy Phoenix Travel Bag + $50 PGA TOUR Superstore gift card
3rd- Round of golf for one at CommonGround GC + $50 PGA TOUR Superstore gift card

Riders

1st- Bluetooth Wireless Speaker + $50 PGA TOUR Superstore gift card
2nd- Caddy Daddy Phoenix Travel Bag + $50 PGA TOUR Superstore gift card
3rd- Round of golf for one at CommonGround GC + $50 PGA TOUR Superstore gift card
Register for the 2023 Fall Fitness Finish
"*" indicates required fields