At 39, Nick Nosewicz becomes oldest winner of CGA Match Play since 1987; it's his 2nd Match Play victory in the last decade
By Gary Baines – 6/16/2023
Clinching victory in big-time golf tournaments is always special. But based on the expression on Nick Nosewicz's face when he sank a 9-foot birdie putt and went to his knees as he won the 123rd CGA Match Play title on Friday, this one was especially so.
Guys on the verge of turning 40 seldom win open-age Colorado state amateur championships, but this 39-year-old just did. Eight years after capturing the Match Play title for the first time, Nosewicz did it again Friday at Columbine Country Club.
"It's pretty special. Anytime you put your name on a state championship (trophy), it's epic," Nosewicz said later. "I can't wait to bring it home and look at it and stare at it. The first time I won it, I didn't even believe it. I'd wake up in the middle of the night and make sure it really happened."
To put Nosewicz's accomplishment into perspective, on Friday be became the oldest winner of the CGA Match Play since Colorado Golf Hall of Famer Gary Longfellow claimed the 1987 title at age 45. Since then, the closest any winner has been to the big 4-0 was Mark Crabtree in 1994, when he was 38.
Not surprisingly, Nosewicz had to overcome a college player in the scheduled 36-hole final to earn the trophy again. The co-owner of Lenny's Golf, who plays out of Valley Country Club these days, rallied from being 2 down after the first 18 holes to post a 2-and-1 victory over TJ Shehee of Boulder Country Club.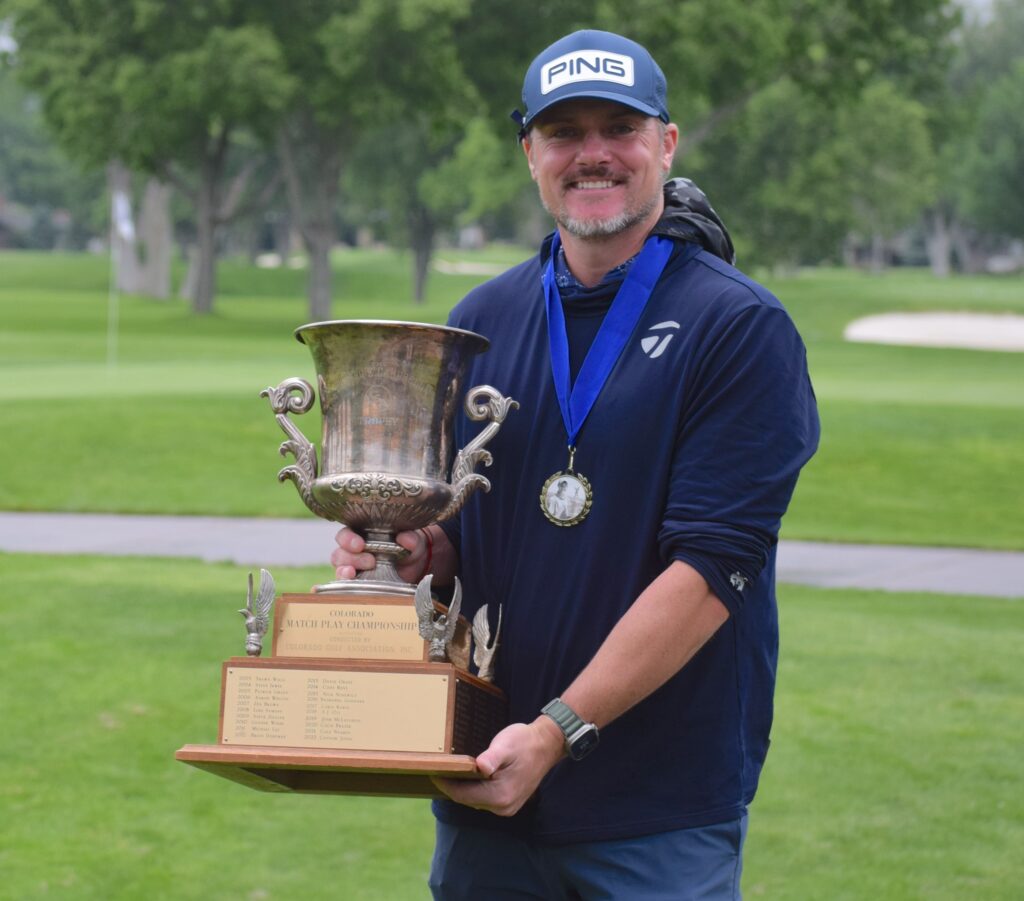 Nosewicz previously won the CGA Match Play in 2015.


On the par-4 17th — where Nosewicz had lost a hole during the morning round when he couldn't find his ball after it ricocheted off a tree — he almost spun his 115-yard approach shot into the hole in the afternoon round, then drained the 9-foot birdie putt to close out Shehee.
Nosewicz reacted by going to his knees, clenching his fists and closing his eyes, as if to say, I've finally done it (again). He then celebrated the moment with his caddie and family members in attendance. That included his mom, Patty, who turned 70 on Friday, and his dad, Lenny, with whom Nick won the CGA Parent-Child title in 2017. Lenny suffered a stroke in January, but has largely recovered. ("He was in the ICU for three days, got out, and shot 69 the next day. If you have to have a stroke, we got really lucky," Nick said.)
"Them being out here …," Nick said of his parents. "They hate coming out to watch. They think anytime they're out here, I'm going to choke. So it's pretty neat."
Friday's victory capped a week in which he needed a five-hole playoff just to advance out of pod play, then scored two elimination-bracket victories on Thursday against former CGA Players of the Year (Chris Thayer and Colin Prater).
"Doing it at 39 doesn't feel a whole lot different than when I did it at 31 with the exception of my body and how it feels," Nosewicz said. "I'm a little tired. I was hoping I didn't have to go one more hole. I was like, 'I hope I don't have to hit a hard drive on 18.' It's just a lot of swings. Honestly if you ask me how many holes I've played since Sunday, I wouldn't be to tell you. I went through some playoffs and got through some really great players. TJ is a stud. But it's nice to bring that (trophy) back home."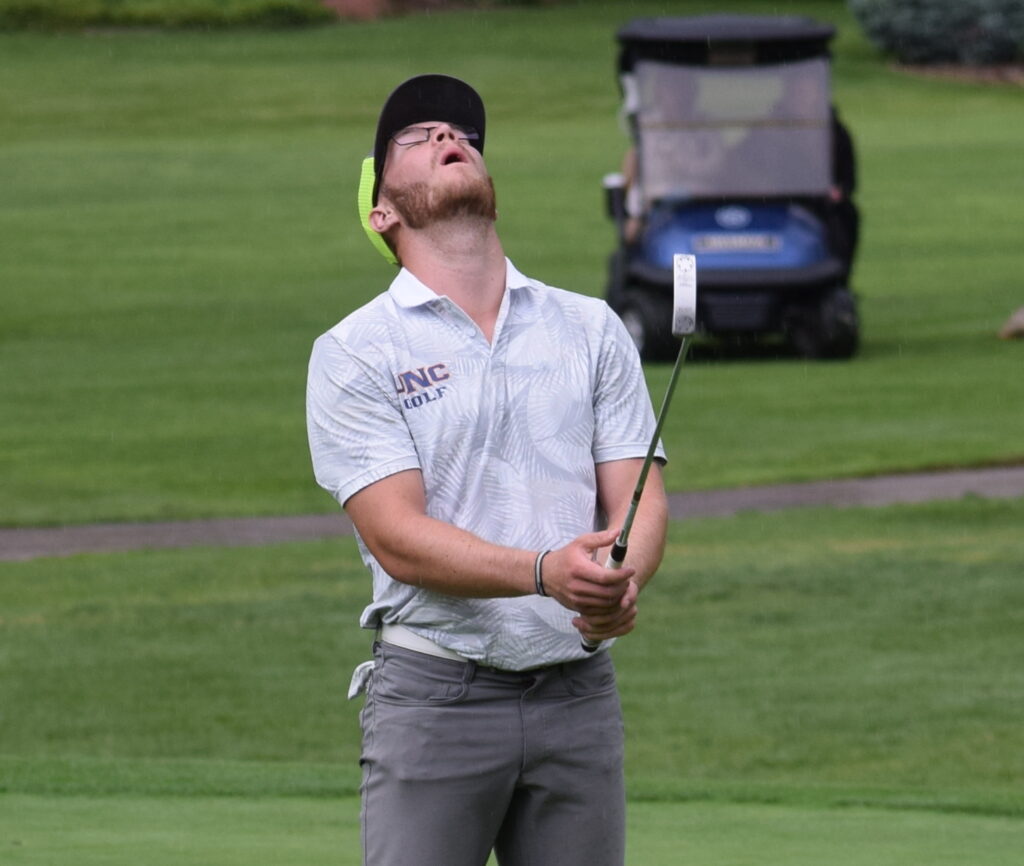 Runner-up TJ Shehee's putter wasn't cooperating down the stretch on Friday.


Shehee, a University of Northern Colorado golfer and the son of two PGA professionals (Tray and Terra Shehee), was 2 up through 20 holes on Friday. But Nosewicz put together a stellar stretch from holes 24 through 28 to take the lead for good. He drove the green on the 347-yard sixth hole for the second time on Friday, in both cases two-putting for a winning birdie to tie the match. Nosewicz followed that up with a 3 1/2-foot birdie on the par-3 seventh, and he punctuated a 20-foot birdie on No. 9 with a big fist pump. A conceded 8-foot birdie on No. 10 — where Shehee missed his par try — gave Nosewicz a 3-up advantage after four birdies in five holes.
"I played pretty solid the first 18. I was 2 under or so," Shehee said. "Nick played really well on the front nine of the last 18. I think he was 4 under through 10 and bogey-free. I could compete with that, but it's tough. I'd have to play really good. He definitely earned it there."
Still, Shehee, who qualified for the 2021 U.S. Amateur at Columbine, rallied to close the gap, making birdie putts of 12 and 15 feet on Nos. 11 and 12 to go 1 down. But Shehee's putter let him down on a few occasions after that as he missed attempts of 4 feet on No. 13, 7 feet at No. 14 and 3 feet at No. 15. That par-bogey-bogey stretch left him 2 down.
"I got a little sloppy coming in," Shehee said. "I had a lot of holes left, and maybe I got a little bit too aggressive coming down the stretch when the weather was kind of bad (with rain falling). If I would have parred all my holes coming in, I could have won. The turning point for me was I got too aggressive."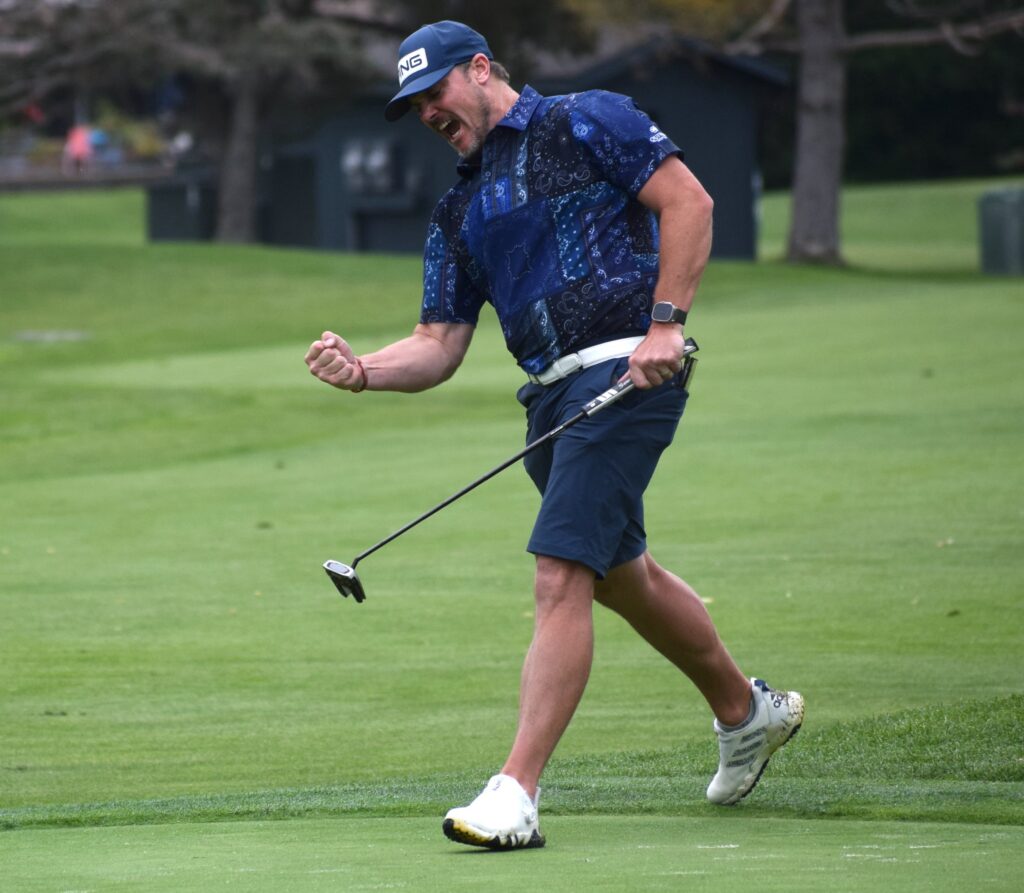 Nosewicz reacts to sinking a birdie putt on the 27th hole on Friday.


But Nosewicz also had his share of short missed coming down the stretch as he misfired on par attempts of 4 and 3 feet at Nos. 15 and 16, leaving him 1 up through 34 holes. But the putter was true on the birdie try at No. 17, securing him the title — his fifth in CGA championships.
"I felt in control of the match" coming down the stretch, Nosewicz said. "I just wasn't closing the match — which is so hard. Any player at TJ's level, they're not going to give you anything. Unless you take it, you're going to keep lingering and lingering.
"But I like to believe in a little karma — that 17 kind of owed me (after the lost ball in the morning 18). It was nice to see a putt drop."
As for Shehee, he was happy with his showing this week, despite the loss in the final.
"I'm super proud of myself for how I did this week. I just need to continue on the path I'm on and I'll be OK with everything," he said.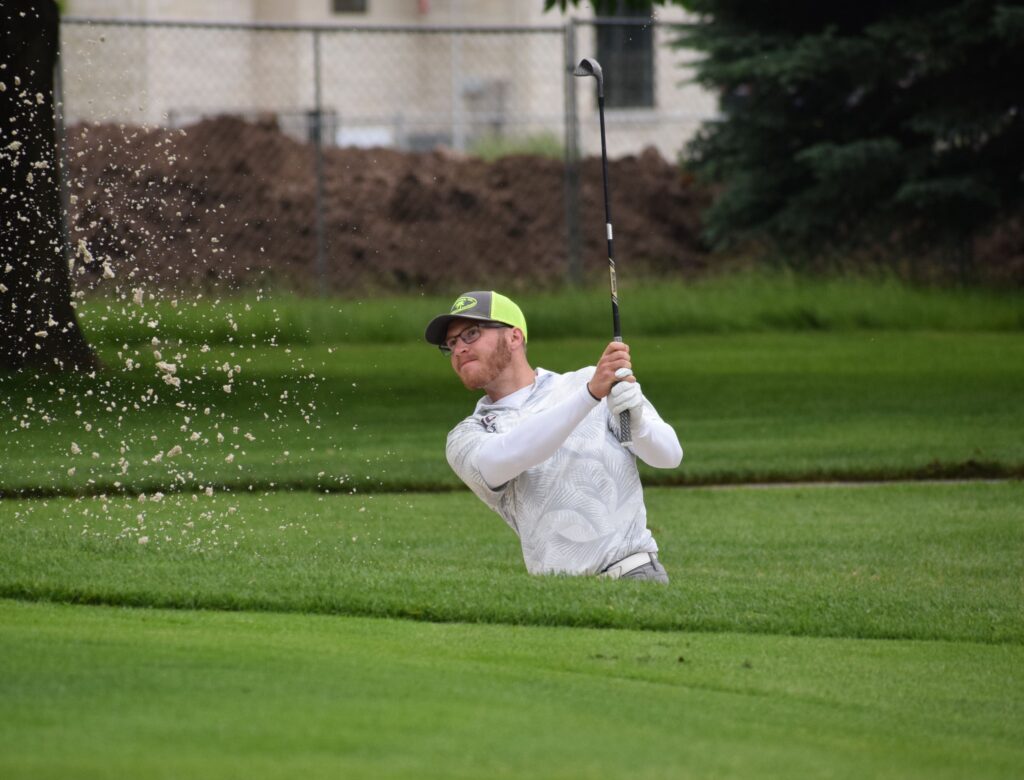 Shehee found his share of bunkers on Friday, but held a 2-up lead after 20 holes.


In addition to receiving the CGA Match Play Trophy, Nosewicz (like every winner of the event from 2021 through '30) earned a medal in honor of 2011 champion Michael Lee, who passed away in late 2020 after battling Covid-19.
John and Amy Lee, Michael's parents, watched part of Friday's final and attended the trophy ceremony.
"Our son Michael won it in 2011 and we know how exciting that is and what a grind it is," John Lee said. "I want to thank the Colorado Golf Association for all you've done in honoring Mike. We really appreciate this special memory of Mike, and it's wonderful that his name gets to live on. We appreciate it very, very much."
John and Amy Lee, parents of 2011 Match Play champ Michael Lee (pictured in framed photo) attended Friday's match.


CGA Match Play Results
Final Rounds at Columbine CC in Columbine Valley
QUARTERFINALS THURSDAY
TJ Shehee, Boulder CC, def. Gavin Hagstrom, Northern Colorado e-Club, 3 and 1
Parker Edens, Northern Colorado e-Club, def. Spencer Painton, Metro Denver e-Club, 1 up
Colin Prater, Cherokee Ridge GC, def. Tyler Bishop, Saddleback GC, 5 and 3
Nick Nosewicz, Valley CC, def. Chris Thayer, Metro Denver e-Club, 20 holes
SEMIFINALS THURSDAY
TJ Shehee, Boulder CC, def. Parker Edens, Northern Colorado e-Club, 2 up
Nick Nosewicz, Valley CC, def. Colin Prater, Cherokee Ridge GC, 2 up
36-HOLE FINAL FRIDAY
Nick Nosewicz, Valley CC, def. TJ Shehee, Boulder CC, 2 and 1
For all the results, CLICK HERE.

About the Writer: Gary Baines has covered golf in Colorado continuously since 1983. He was a sports writer at the Daily Camera newspaper in Boulder, then the sports editor there, and has written regularly for ColoradoGolf.org since 2009. He was inducted into the Colorado Golf Hall of Fame in 2022. He owns and operates ColoradoGolfJournal.com