3 more Coloradans qualify at Castle Pines GC for Drive, Chip & Putt National Finals, including 2 from Colorado Springs
By Gary Baines – 9/24/2023
Perhaps high-level golf isn't quite as complicated and demanding as it's sometimes made out to be.
Or perhaps Parker resident Sydney Liddell is just a natural.
Before this year, Liddell had never competed in Drive, Chip & Putt qualifying. In fact, she really doesn't play any tournament golf. Yet the 9-year-old not only prevailed in both DCP local and sub-regional qualifying, but she earned a girls 7-9 regional title on Sunday at Castle Pines Golf Club. And with that last step, Liddell became one of just 80 junior golfers — including eight at Castle Pines — to punch their tickets to next spring's DCP National Finals, set for Augusta National Golf Club the Sunday before the Masters.
"This is the first time I've tried to qualify. It kind of surprises me a little that I made it my first time," said Liddell, who capped off her competition by sinking a 30-foot putt on Sunday. In fact, she won each of the three disciplines, in addition to the overall title for girls 7-9.
Liddell was one of three Coloradans to win regional overall titles at Castle Pines and earn berths in the DCP National Finals that are set for April 7. Joining her in being Augusta, Ga.-bound are two Colorado Springs residents, Simon White (boys 14-15) and Landry Frost (girls 14-15). At ANGC, the 80 golfers will compete in driving and chipping in the practice area, then the putting on the 18th green of the famed course.
All told, that makes 16 Coloradans all time who have qualified for the DCP National Finals. Previously competing in the event at Augusta National were Caitlyn Chin twice (2016 and '19), Luke Trujillo (2016), Arielle Keating (2016), Kaden Ford (2018), Chunya Boonta (2019), Grady Ortiz (2019), Sophia Capua (2022), Matai Naqica (2022), Anthony Chen (2022), Judd Nikkel (2022), Jacob Eagan (2023), Brady Shaw (2023) and Koehn Kuenzler (2023).
On Sunday, the way it worked out, Colorado Springs residents were the qualifiers from the first two competitions of the day — boys 14-15 and girls 14-15. And, to add to the coincidence, the person handing out the awards to the top finishers, Castle Pines Golf Club board chairman and president George Solich, also grew up in Colorado Springs. In fact, the day's first winner, White, is attending the same high school Solich graduated from in 1979, Cheyenne Mountain. Solich called it karma.
"The first kid I get to send to Augusta (on Sunday), he went to the high school I went to — Cheyenne Mountain. And the next one was another Colorado Springs kid. That was pretty neat, pretty special," said Solich, who along with older brother Duffy earned Evans Scholarships to the University of Colorado by caddying at The Broadmoor.
"That's cool," White, a freshman at Cheyenne Mountain, said of the connection with the Soliches.
Sydney Liddell of Parker makes her berth in the DCP National Finals official on Sunday.


White, who won the boys 14-15 competition by six points, has no small aspirations when it comes to golf. Tiger Woods is his favorite player and it's no coincidence that he competed on Sunday wearing Tiger's familiar colors of red and black.
"I want to win all four majors and be the greatest golfer in the world one day," he said. "… I genuinely know I can get there because I have the drive for it. It's a dream definitely out there, but I'm going to keep working and working. That's what I want."
As for sporting Woods' colors, "It means red numbers and also it's kind of a sign of being a winner because Tiger has won 82 times on Tour. It gives me confidence to go out and win."
White won the regional title on his mom's 52nd birthday.
"It's cool to share it with them because this is a memory we're always going to have," said the 14-year-old, who moved to Colorado from Omaha about two years ago.
"It's my first-ever win, so it's crazy. At this place — and on this big of a stage … Living here and knowing that I'm going to be on the local news is kind of crazy. I don't know what to say. I've watched Tiger and all of his (Masters) tournaments there (at Augusta National). It's crazy."
Landry Frost of Colorado Springs uses some body English on a putt Sunday.


As for Frost, like many of the other competitors from Colorado, she had quite a contingent of supporters on Sunday. There was mom, dad, two sisters, a great aunt and uncle and grandparents.
"They're with me through everything," she said. "It's very special. I'm very happy that they're all here."
After coming close to earning a National Finals berth last year at Castle Pines — she placed third at regionals — it was particularly satisfying to get over the hump this time for Frost.
"It feels really good," the 13-year-old eighth-grader said. "I'm super excited. I've been wanting to go for a long time."
And she used last year as a motivator moving forward.
"When I saw that other people were getting interviewed and stuff, I was like, 'I really want to be there,'" she said. "I worked extra hard this year."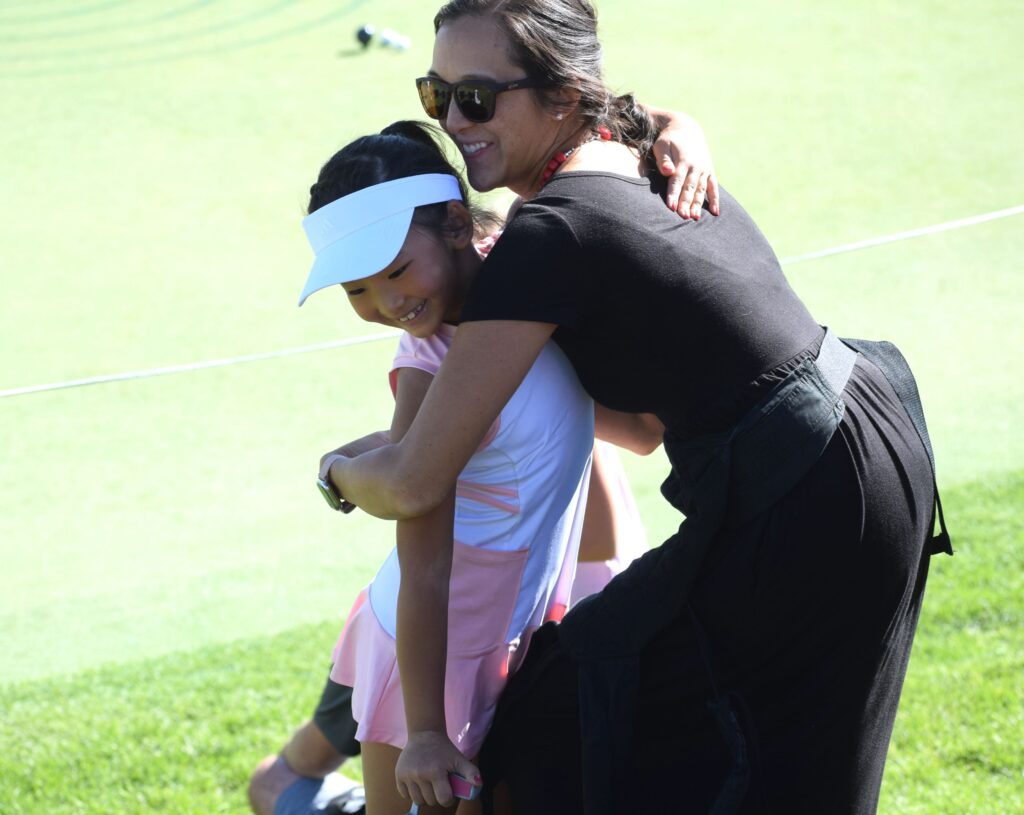 Shepherd Choi of Westminster (left) gets a hug after sinking a 30-foot putt on Sunday.
Besides the overall champions, numerous Coloradans won individual-discipline regional titles on Sunday: Richa Sajjan of Fort Collins (girls 14-15 drive), Braylon Ball of Windsor (boys 12-13 putt), Sofia Casas of Aurora (girls 10-11 drive), Keith Gilbert of Colorado Springs (boys 7-9 chip), Sydney Liddell of Parker (girls 7-9 drive, chip and putt, in addition to the overall), Ellie Casas of Aurora (girls 7-9 chip) and Shepherd Choi of Westminster (girls 7-9 putt).
In all, the eight age/gender division winners who competed at Castle Pines will be headed for the National Finals.
Duffy Solich, the tournament chairman of next year's BMW Championship at Castle Pines, was among those volunteering on Sunday.


This year, Castle Pines served as one of 10 DCP regional qualifying sites around the country. The former home of the PGA Tour's International (1986-2006) and the site of next August's BMW Championship, Castle Pines finds itself in very good company among prestigious clubs hosting regionals. Also on that list are Chambers Bay in Washington, Aronimink in Pennsylvania, Sea Island in Georgia, TPC Boston, Scioto in Ohio, Champions in Houston, TPC Deere Run in Illinois, Desert Mountain in Arizona and The Golf Club of Tennessee.
Colorado, which didn't host its first DCP regional qualifier until 2019, when Colorado Golf Club broke the ice, had Castle Pines do the honors for the second straight time. About 25 Castle Pines members and golf staff volunteered to work the event.
"I think it's a thrill for a lot of these kids and their families to come to Castle Pines. We do it right for them," said George Solich, who plans to attend the DCP National Finals in April. "We have a little barbecue for the contestants and their families here the night before. They got to go in the pro shop and get a few items with Castle Pines on it. It's just a beautiful setting for this.
"Anybody that's in golf loves the opportunity to get young people involved — and we're no different. Our membership is just thrilled. They love coming out and seeing the kids; it's inspiring to see. We think (Drive, Chip & Putt is) a fabulous organization to get young people involved from all over the country. There's 12 states and Canada that are represented here (among the 96 contestants, which included 29 Coloradans). I think it's pretty neat that they get to come from all over to Castle Pines.
"Having the BMW Championship (PGA Tour playoff event) here next year, it's neat for them to come see a place like this. We had almost 50 kids on the practice putting green last night."
At each of 10 regional qualifiers, the winner of every age/gender division advances to the DCP National Finals. There are eight age/gender divisions in each DCP event.
No Coloradan has ever won a DCP overall title at the National Finals, but three have finished runner-up: Eagan (lost a putt-off for the top spot this spring), Shaw (also 2023) and Boonta (2019) .
In DCP events, contestants score points in each discipline — driving, chipping and putting — based on how they place in each, with the points added together for a cumulative total.
DCP is sponsored by the Masters, the USGA and the PGA of America. In Colorado, the Colorado PGA conducts the regional event — along with 11 similar competitions at earlier stages — with the help of numerous volunteers and courses/clubs. The competition is limited to players 7-15.
The DCP National Finals were first held in 2014.
Here are the age/gender division regional champions from Castle Pines:
ADVANCE FROM CASTLE PINES GC TO 2024 DCP NATIONAL FINALS AT AUGUSTA NATIONAL GC
(Points: Drive-Chip-Putt—Total)
Boys 14-15 — Simon White, Colorado Springs 59-50-41—150
Girls 14-15 — Landry Frost, Colorado Springs 39-42-37–118
Boys 12-13 — Patrick Vilai, Grand Island, Neb. 51-55-46–152
Girls 12-13 — Harlow Gregory, Norman, Okla. 55-60-45–160
Boys 10-11 — James Jernigan, Lebanon, Mo. 52-35-50–137
Girls 10-11 — Anna Midyett, Bennington, Neb. 27-46-37—110
Boys 7-9 — Henry Amen, Imperial, Neb. 40-41-47–128
Girls 7-9 — Sydney Liddell, Parker 28-26-50–104
For all the results from Castle Pines Golf Club, CLICK HERE.

About the Writer: Gary Baines has covered golf in Colorado continuously since 1983. He was a sports writer at the Daily Camera newspaper in Boulder, then the sports editor there, and has written regularly for ColoradoGolf.org since 2009. He was inducted into the Colorado Golf Hall of Fame in 2022. He owns and operates ColoradoGolfJournal.com