Russ and Chris Roehrkasse break through for victory in CGA Parent-Child Championship
By Gary Baines – 9/27/2020
Russ and Chris Roehrkasse have been fixtures at the CGA Parent-Child Championship — and in the Father-Son tournament before that — for a couple of decades, aside from a handful of years when Chris was out of state.
During that time, they had notched eight top-seven finishes in the team event going into this weekend. They placed second in 2005 and '15, as well as fourth, fifth twice, sixth twice and seventh last year.
But one of the voids in the list was a rather significant one — no victories, at least in the gross-score competition.
Falling under the category of "if at first you don't succeed, try, try again," the Roehrkasses rectified that situation on Sunday at Eagle Ranch Golf Club in Eagle as they claimed the Parent-Child title for the first time.
"It's wonderful since we've been doing this since Christopher was 15 and he's now 36. So it's fun to finally get a win," said Russ, a 67-year-old from Colorado Springs Country Club.
"It's been a lot of years," said Chris, a member at Meridian Golf Club. "We have two net (division) victories, and we finally captured the gross one. It was very sentimental."
But it wasn't easy for the two former pros who have gotten their amateur status back.
When the Roehrkasses had six holes left on Sunday, it looked like they were going to win going away. Little did they know it would be a nail-biting finish.
They had a very nice final round going, standing 3 under par for the day through 12 holes and leading the tournament by five. They had played the eight-hole stretch from No. 5 through 12 in 4 under par. But a few hiccups on their way into the clubhouse — a double bogey on No. 13, a bogey on 17 and a double bogey on 18 — quickly ate away at their lead.
The Parent-Child featured a Modified Chapman format on Saturday, with both players from a team teeing off and playing their second shots with their partner's ball, then selecting one ball to play alternately into the hole. On Sunday, it was Foursome Stroke Play, with players alternating shots from the tee until the ball is holed.
Russ, a former University of Wyoming golfer, hit a couple of shots into penalty areas — left with the team's second on 13, and right with the tee shot on 18 — that led to the double bogeys.
"The wind started to really pick up on the back nine, and 13 on in is pretty exposed," Chris said. "We knew (from competing in this event many times) that you have to manage your mistakes, and we did a really good job of that."
And fortunately for the Roehrkasses, they had built a big enough cushion that leaking some oil down the stretch didn't keep them from earning the trophy at the end as they prevailed by one stroke. All they needed was a 4-inch tap-in for the double bogey at No. 18 to clinch the victory.
"Christopher knew (how the team stood on the leaderboard going into 18), but I didn't," Russ said with a chuckle. "He wouldn't tell me."
Chris, a past winner of the Pikes Peak Amateur and the Colorado Springs City Championship, and Russ closed with a 2-over-par 74, which left them at even-par 144 for the 36-hole event. The Roehrkasses finished Sunday's round with four birdies, two bogeys and two double bogeys.
Sean Crowley and son Gavin from Columbine Country Club finished runner-up on Sunday as a second-round 73 gave them a 145 total.
Taking third were Russ Ford and son Kaden, a former national finalist in the Drive Chip & Putt competition. The Fords, from The Club at Flying Horse, checked in at 146 after a second-round 74. Placing fourth were Will and Reed Myer of Denver Country Club (147 after a 73 on Sunday).
Among those in a three-way tie for fifth were defending champions Bill Fowler of The Club at Rolling Hills and Will Fowler of CommonGround Golf Course (72-78–150).
In the low-net competition, Cody and Thomas Walter of Blackstone/Black Bear took top honors. They shot a 1-under-par 71 on Sunday, giving them a two-day total of 8-under 136, which was one stroke better than Frank and Matthew Wilkinson of Tiara Rado Golf Course, who closed with a 65. Frank Wilkinson serves on the CGA board of directors.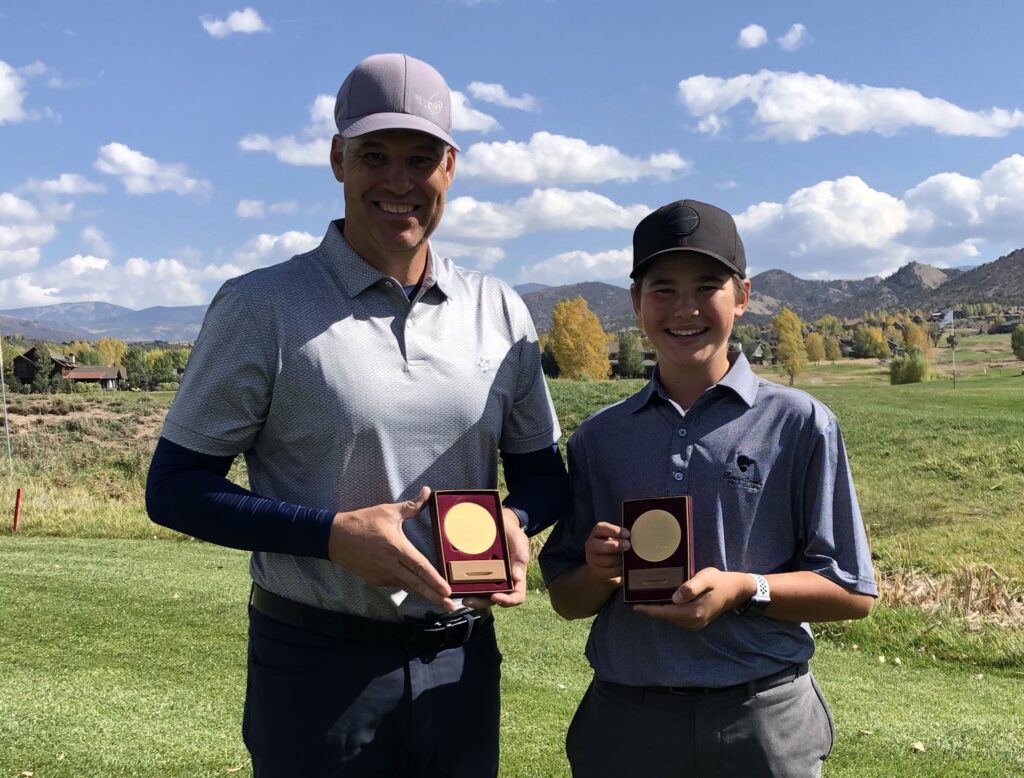 As for the contest for the Loel & Caleb Lierman Award — given to the team that includes a player 18 or younger with the lowest 36-hole gross score — prevailing on Sunday were the aforementioned Sean and Gavin Crowley of Columbine Country Club, who finished at 145. Placing second in that division, at 146, were Russ and Kaden Ford.
For all the scores from the Parent-Child, click on the following: GROSS, NET, LIERMAN AWARD.