10-birdie 65 leaves Coloradan Connor Jones 3rd at Trans-Miss; BYU's David Timmins fires 63 to lead at Denver CC
*****For all the scores from the Trans-Miss at Denver CC, CLICK HERE*****
By Gary Baines – 7/6/2022
Connor Jones had more than enough positives to post an exceptional first-round score Wednesday at the 118th Trans-Mississippi Amateur Championship. But his miscues were substantial enough that the Westminster resident had to settle for merely an outstanding opening day at the prestigious event at Denver Country Club.
Jones, winner of the CGA Match Play Championship and the Mountain West Conference individual title so far in 2022, made a remarkable 10 birdies on Friday, but a triple bogey and two bogeys left him with a 5-under-par 65. With that, he's tied for third place in the 144-man field, two out of the lead.
"I've been hitting it OK — not my best — but putting it really well," the 20-year-old Colorado State University golfer said. "My putter is bailing me out a lot."
David Timmins of Sandy, Utah, a Brigham Young University golfer, fired a 7-under-par 63 to grab the lead. That marks the lowest competitive score at Denver Country Club since Gil Hanse completed his recent course restoration/modification. University of Louisville golfer Jiri Zuska sits in second place after a 64 that featured an eagle, six birdies and a bogey.
Jones was in the first group to tee off on No. 10 on Wednesday and stood 3 under par through seven holes. But the par-3 17th proved a big setback — here's his play by play: " I hit it in the bunker, then bunker, bunker, out and two putt" — as he made triple bogey.
He followed that up immediately by pumping his tee shot out of bounds on the par-4 18th, but he drained a 20-foot putt to salvage a bogey.
"It was a tough two-hole stretch," Jones said. "I was 1 over at the turn after I thought I could have been 4, 5, 6 under. But that saved a little bit of the momentum (by making the long bogey putt on 18) and I was able to carry it into the back nine."
And what a back nine — actually the front side at DCC — it was. His 6-under-par 29 was capped by four consecutive birdies to close his round.
The bottom line in the wild day was that Jones made just five pars in 18 holes.
Asked if he had ever before made 10 birdies in a round, Jones said, "I couldn't tell you exactly, but I gave myself a lot of looks inside of 15 feet and rolled in quite a few of them."
Joining Jones at 65 on Wednesday were Connor Gaunt of Cabot, Ark.; Davis Cooper of Overland Park, Kan.; Frank Lindwall of Cedar Rapids, Iowa; Matthews Comedy's of Van Alstyne, Texas; and Carson Bacha York, Pa.
Jones had played Denver Country Cub six times before this week, which gave him a leg up on the great majority of the golfers in the field. But it was another factor that gives him and other Coloradans a bit of an edge this week.
"It's less the course and more playing at altitude," he said. "I know a lot of these guys don't play at altitude. I play at altitude all the time. It's a lot of wedges out here (into greens), so you get dialed in on your wedges. That's hard to do when you're coming from sea level and the ball is flying so far here.
"But a lot of these guys are good. There are going to be a lot of birdies. For me, it feels good to play good on the back nine. It could have been a little bit sharper and I've got to keep making birdies."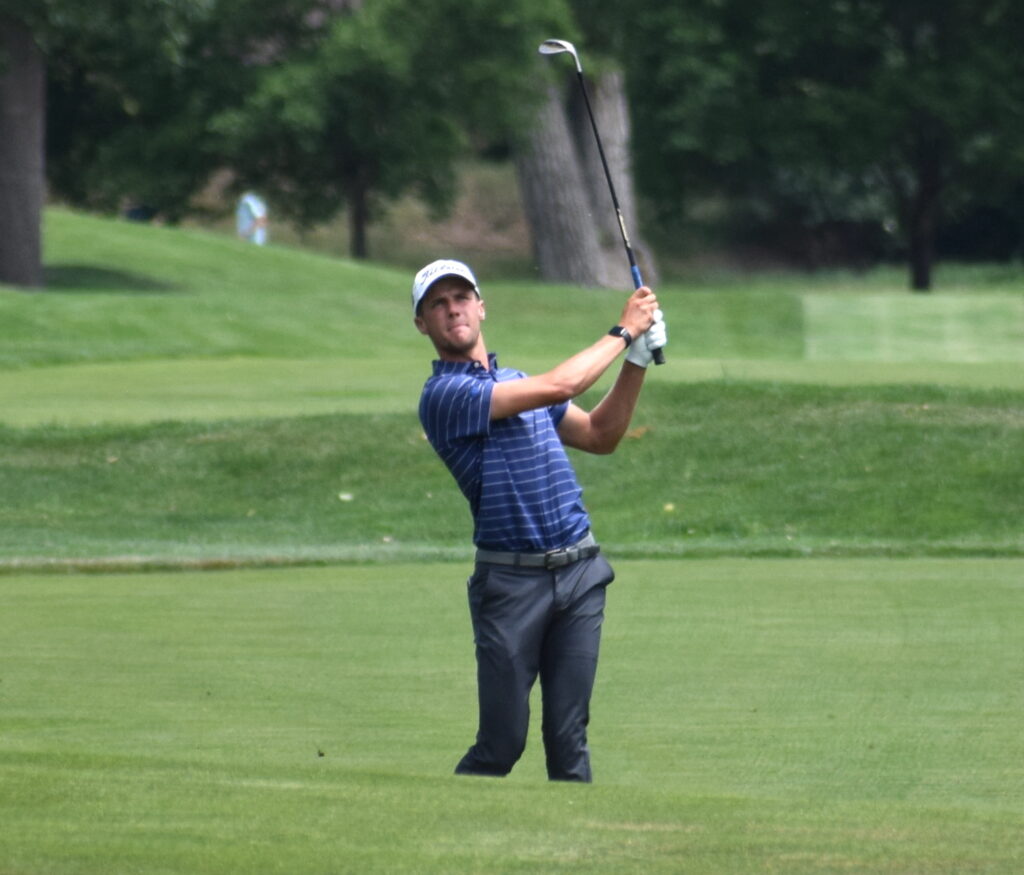 Timmins, the 24-year-old leader, had the ideal start to his day. On the par-4 10th — his first hole — he drained a 131-yard shot with a gap wedge for an eagle. "It landed a foot past the hole and spun right back in. It was kind of fun," he said. After a bogey on the next hole, Timmins made six birdies to earn the top spot.
"I was hitting my driver really good today, Timmins said. "It's really fun playing at this elevation. You just get to smash it. Growing up in Utah, you hit it pretty far. It's nice to come here and hit it even farther — when the fairways are firm and you just get to swing at it and it goes 370. And my wedges were really spot on. I had three or four taps-ins that were 2-3 feet. I was hitting it tight. Hopefully I can keep it rolling."
The Trans-Miss is one of the top amateur tournaments in the country and is part of the new Elite Amateur Golf Series. And it dates back to 1901, so the history and the prestige of the event isn't lost on Timmins.
"I feel very fortunate to be able to play in this great tournament," he said. "There's a lot of rich history in the Trans-Miss. I love when my game shows up in big events like this. I've been fortunate. I've had quite a few low rounds — 62, 63 — but it's nice when it's in a tournament and it counts."
But even with a 63, Timmins said he wouldn't be in the least shocked if that's not the lowest score of the week at DCC.
"There are some of the best amateurs in the world here," he said. "Sixty-three is a good score — it is — but I wouldn't be surprised if there's a couple of lower scores out there. I definitely missed some putts that I wish I could have back.
"Hopefully I can do the same thing tomorrow, or maybe even a little better."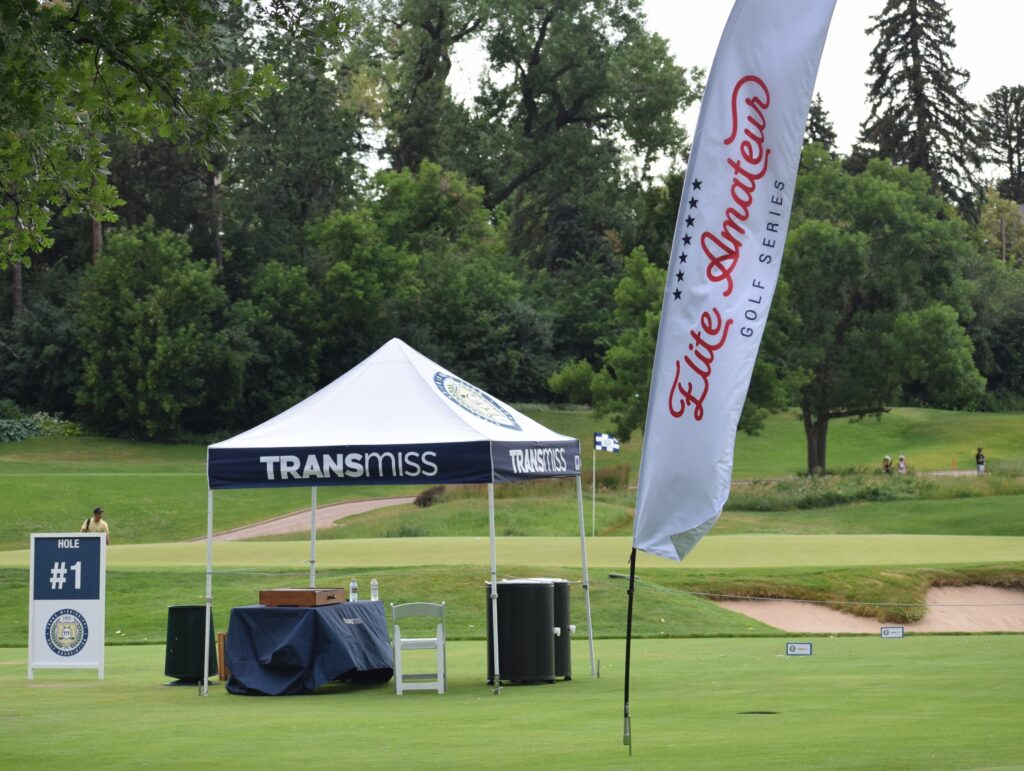 Meanwhile, Jay Livsey of Lakewood Country Club, the CGA Mid-Amateur runner-up in a playoff last year, joined Jones as a local player in the top 10. Livsey, who earned a spot in the field by winning the Trans-Miss Mid-Master title last year, shares ninth place overall at DCC.
But in the 11-player Mid-Amateur portion of the event — limited to competitors 25 and older — Livsey leads the way by three. He made four birdies in a bogey-free round of 66.
Here are the scores for the Coloradans — and players who compete for Colorado-based colleges:
CSU golfer Connor Jones of Westminster 65
Jay Livsey of Lakewood 66
Griffin Barela of Lakewood 68
Dillon Stewart of Fort Collins 68
CU golfer Dylan McDermott -2 through 15 holes
CSU golfer Davis Bryant of Aurora 69
Jackson Klutznick of Denver 70
DU golfer Esteban Missura 70
DU golfer Carson Griggs 70
Cal McCoy of Highlands Ranch 71
CU golfer Justin Biwer 71
Walker Franklin of Westminster 73

CSU Assistant Parker Edens Lands Head Coaching Job at South Dakota State: While Jones and CSU teammate Davis Bryant of Aurora were playing in the Trans-Miss on Wednesday, the South Dakota State men's golf team announced that it had named Parker Edens the head coach of the Jackrabbits after he spent the last three seasons as a CSU assistant. Edens, who grew up in Greeley and was runner-up in two CGA Match Plays and the 2021 CGA Amateur, will be a college head coach for the first time after being an assistant for the Tulsa women's team and the CSU men's squad. Edens started his college golf playing career at South Dakota State before concluded it at CSU.

Notable: University of Denver golfer Esteban Missura landed a spot in the Trans-Miss field this week when Ben James of Milford, Conn., withdrew. James is No. 41 in the world among amateurs in the latest rankings. Missura shot an even-par 70 on Wednesday. … The field will be cut to the low 54 players and ties after two rounds. … Play was suspended two separate times Wednesday evening due to dangerous weather conditions.