Victory increases record totals for Kim Eaton — six in CGA Women's Senior Match Play and 29 in CGA women's championships overall; Laura Wetzel, Linda Loveland capture Net Match Play titles
By Gary Baines – 7/13/2023
Kim Eaton punctuated her record 29th CGA women's championship victory — and sixth in the Women's Senior Match Play — in style on Thursday.
The Colorado Golf Hall of Famer completed a run against formidable opponents with a chip-in birdie from 20 feet on the 17th hole at Willis Case Golf Course in Denver, giving her a 2-and-1 win over Marilyn Hardy of Dos Rios Golf Club in the title match.
"My chip was kind of a downhiller, right to left," Eaton said of the match winner. "And I'll tell you: If it wouldn't have hit the pin, I probably would have been 10-15 feet by (the hole)."
Eaton's second birdie of the day helped her defeat Hardy, who just six days earlier won the CGA Women's Mid-Amateur Stroke Play title at Black Bear Golf Club, where Eaton finished fifth, 15 strokes behind the champion.
But at Willis Case, Eaton prevailed less than a month shy of her 64th birthday. Asked if the wins are more satisfying now than they were in her early 50s, she didn't hesitate.
"Definitely, because the older you get the harder it is," said Eaton, a four-time quarterfinalist in the U.S. Senior Women's Amateur. "This one felt good because I haven't been playing the best. Just in the last three weeks or so I've started to hit the ball better."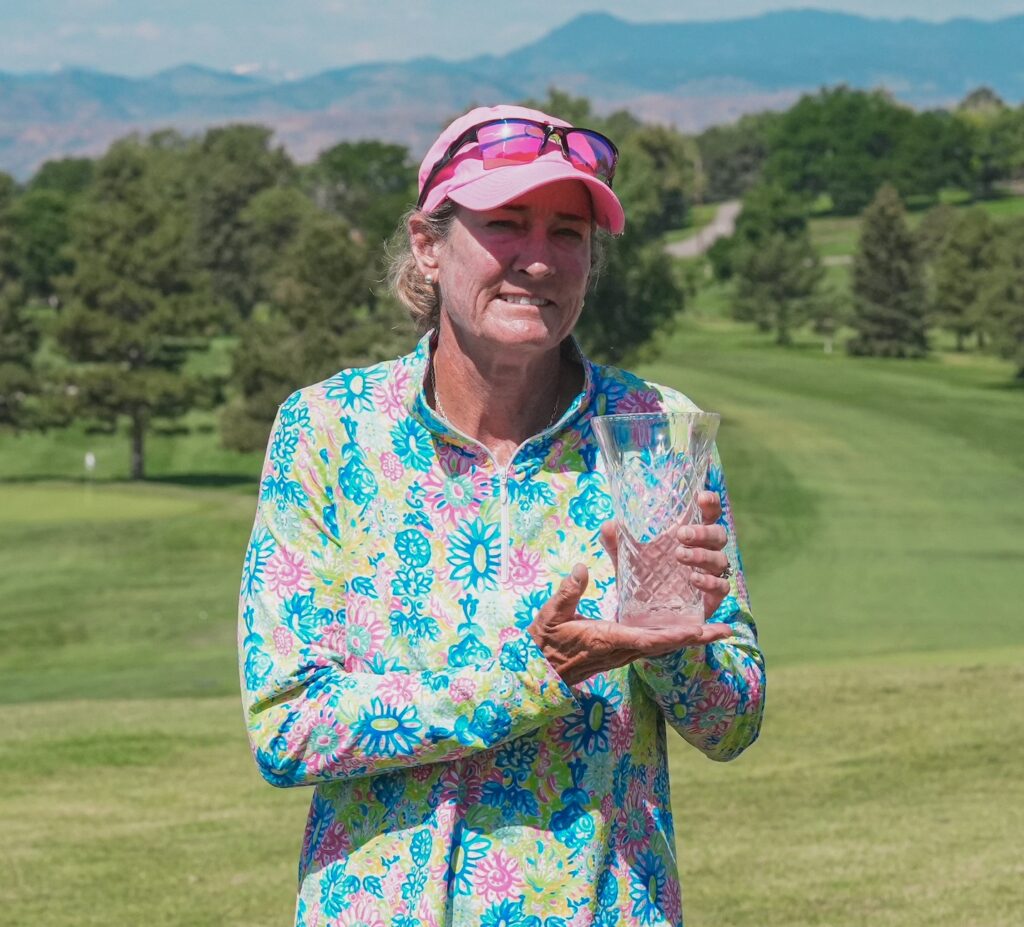 Marilyn Hardy has been runner-up to Eaton in the CGA Women's Senior Match Play the last two years.



Eaton had to run a gauntlet of sorts to earn the title at Willis Case. She defeated two fellow Colorado Golf Hall of Famers — Janet Moore in pod play, where after the two were tied after 18 holes Eaton prevailed on the first extra hole to advance to the knockout stage; and Lynn Zmistowski 4 and 2 in the semifinals. Then she beat Hardy, a veteran of more than 40 USGA championships who won not only the 2023 CGA Women's Mid-Amateur but the 2020 Women's Senior Stroke Play.
"I knew Janet was going to be a tough match — and I was right; it was," Eaton said. "No one was ever more than 1 down or 1 up. (In fact, Eaton never led until winning on the extra hole.) That was similar to how it was with Marilyn. And I was proud of Lynn Z. She played so well."
Thursday's final featured the same two players — and the same winner — as last year's Women's Senior Match finale.
This time, Hardy won the first hole with a par, but when Eaton won the fourth with a par, she wouldn't trail again. Hardy tied things with a birdie on 10, but Eaton won two of the next three holes with pars to go 2 up. Hardy narrowed the deficit to 1 down with a par on 15, but Eaton closed things out with her chip-in birdie on 17.
"I knew I would have to play pretty steady today because Marilyn has been playing pretty good," Eaton said. "I chipped and putted well today."
As noted, Thursday's victory was the sixth for Eaton in the CGA Women's Senior Match Play, with the previous wins coming in 2022, 2017, 2016, 2013 and 2010. No one else has more than two victories in this championship.
As for overall CGA women's championships, Eaton established the outright record with No. 26 last year, and since has added three more. And, perhaps appropriately, she'll have the opportunity to reach 30 at Eaton Country Club, where the CGA Women's Senior Stroke Play will be held Aug. 15-16. The town of Eaton is named after Kim Eaton's great-great grandfather, Benjamin Harrison Eaton, the fourth governor of Colorado.
"Thirty would be a great goal," said Eaton, a Colorado native who now lives in Mesa, Ariz. "I'd like to win at Eaton just because because I like Eaton. I've been trying to get the women up there for a lot of years (for a CGA championship) and they finally got it up there, so that's good."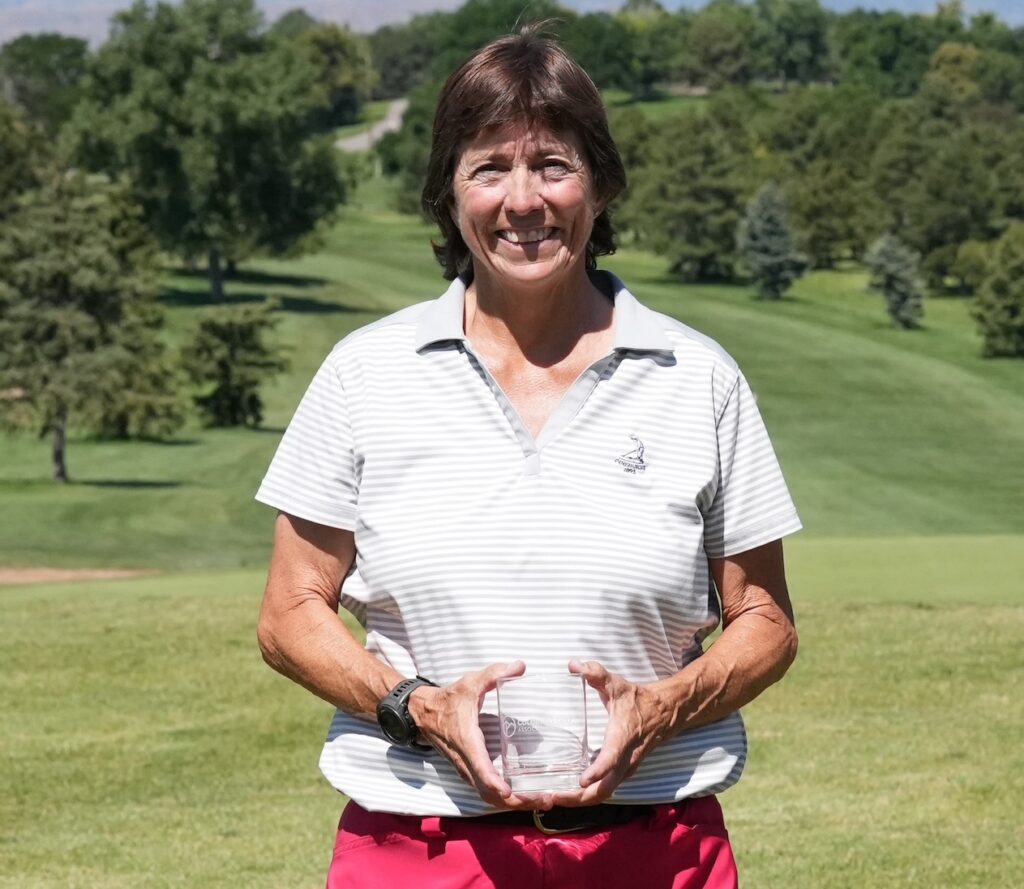 Laura Wetzel, winner of the first flight on Thursday.


In addition to the Women's Senior Match Play being held this week at Willis Case, the Net Match Play also took place there. Earning net titles on Thursday were Laura Wetzel of Riverdale (4 and 2 over Karen Chase of Foothills in the first flight) and Linda Loveland of Broken Tee (7 and 5 over Deana Losasso of Riverdale in the second flight).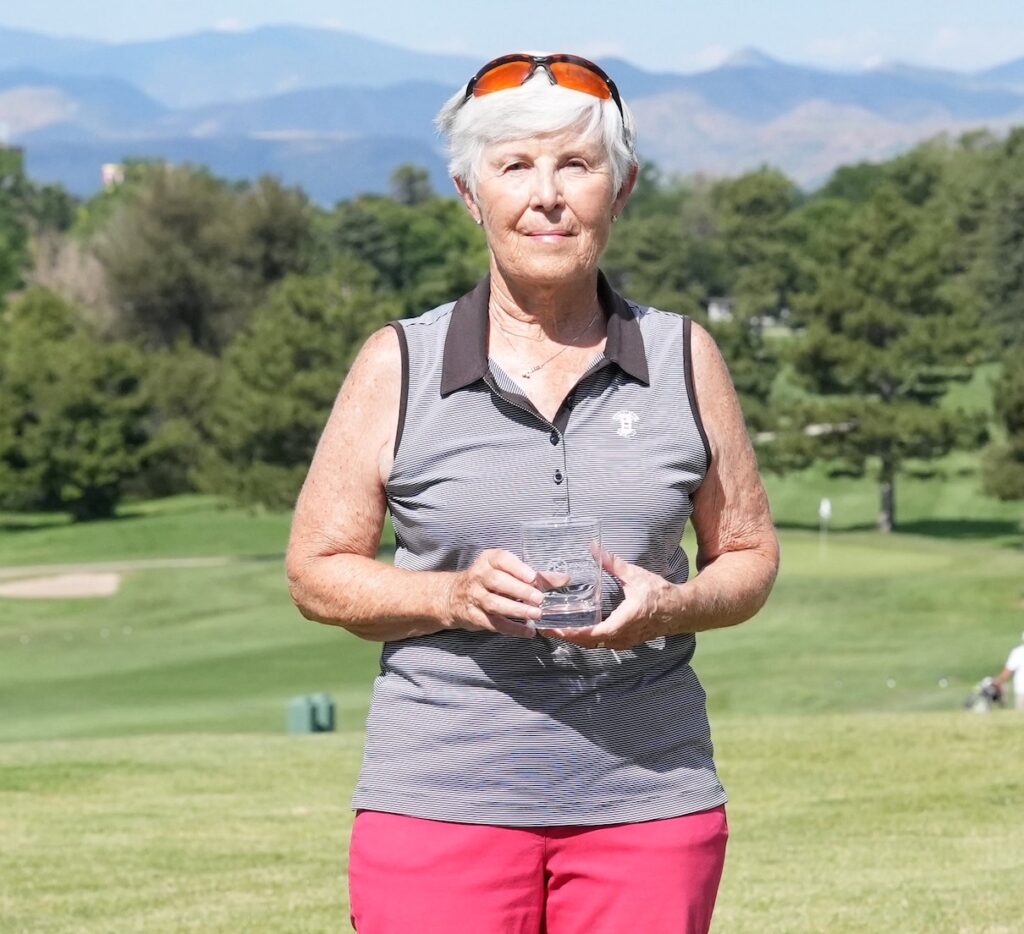 Linda Loveland came out on top in the second flight.


CGA Women's Senior Match Play and Net Match Play Championship
At Willis Case GC in Denver July 10-13
CHAMPIONSHIP FLIGHT SEMIFINALS WEDNESDAY
Kim Eaton, Northern Colorado e-Club, def. Lynn Zmistowski, Sanctuary GC, 4 and 2
Marilyn Hardy, Dos Rios GC def. Robin Krapfl, Central Rockies e-Club, 6 and 5
CHAMPIONSHIP FLIGHT FINAL THURSDAY
Kim Eaton, Northern Colorado e-Club, def. Marilyn Hardy, Dos Rios GC, 2 and 1
FIRST FLIGHT FINAL THURSDAY (NET)
Laura Wetzel, Riverdale GC, def. Karen Chase, Foothills GC, 4 and 2
SECOND FLIGHT FINAL THURSDAY (NET)
Linda Loveland, Broken Tee GC, def. Deana Losasso, Riverdale GC, 7 and 5
For all the results from the CGA Women's Senior Match Play and Net Match Play, CLICK HERE.

About the Writer: Gary Baines has covered golf in Colorado continuously since 1983. He was a sports writer at the Daily Camera newspaper in Boulder, then the sports editor there, and has written regularly for ColoradoGolf.org since 2009. He was inducted into the Colorado Golf Hall of Fame in 2022. He owns and operates ColoradoGolfJournal.com