As 2012 at Cherry Hills showed, 2023 U.S. Amateur will likely produce some of the biggest names in golf; look at what awaits as world's top amateur championship pays a visit to Colorado in August
By Gary Baines – 7/26/2023
Eleven years ago this week, the USGA held its U.S. Amateur media day press conference in anticipation of the championship being held at Cherry Hills Country Club and CommonGround Golf Course the following month.
The player the USGA brought in for the festivities was none other than Jordan Spieth, who at the time had won two U.S. Junior Amateurs.
Given what Spieth has accomplished since then — 13 PGA Tour wins, including three major championship titles — perhaps that's a good omen for David Ford, who played the Spieth role at last week's media day activities in anticipation of Cherry Hills and Colorado Golf Club hosting the U.S. Am Aug. 14-20.
Asked on July 17 about the equivalent functions he and Spieth played at the last two U.S. Amateurs at Cherry Hills, Ford, the No. 4-ranked amateur in the world, smiled and said, "That is good, I guess. He's awesome."
And, as we've documented a few times here at ColoradoGolf.org over the last decade, Spieth was one of many from that 2012 U.S. Amateur at Cherry Hills and CommonGround to have come up big in the years since.
Indeed, those 2012 U.S. Am players have combined for close to 75 PGA Tour victories and eight major championships. Joining Spieth (13) among those who have won at least four times on the PGA Tour are Justin Thomas (15), Bryson DeChambeau (8), Hideki Matsuyama (8), Xander Schauffele (7), Cam Smith (6), Max Homa (6) and Daniel Berger (4).
Ironically, it should be noted that none of those made the 2012 U.S. Am finals, won by 63rd-seeded Steven Fox. The furthest any of the aforementioned advanced 11 years ago at Cherry Hills was the semifinals, where Thomas saw his run end. Schauffele, Matsuyama and Berger failed to even advance to match play.
Also among those in the 312-player field at that U.S. Am were notables such as Gary Nicklaus, Corey Connors, Stewart Hagestad, Beau Hossler, Thomas Pieters, Talor Gooch, Carlos Ortiz and Denny McCarthy.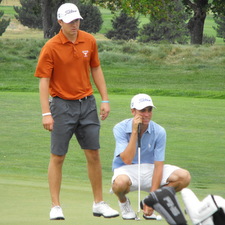 Jordan Spieth (left) and Justin Thomas at the 2012 U.S. Amateur in Colorado.



Examples such as this is why USGA officials aren't just blowing smoke when they speak in grand terms of the players who tee it up in the U.S. Am.
"During this year's championship, you'll see golf's future stars," Jonathan Coe, senior manager of championship communications for the USGA, said at Cherry Hills. "They just might not be household names yet. Legends of the game are primed on this stage."
Among those who have won the U.S. Amateur are Bobby Jones (5 times), Tiger Woods (3), Jack Nicklaus (2), Arnold Palmer and Phil Mickelson. Coincidentally, Palmer (1960 U.S. Open), Nicklaus (1993 U.S. Senior Open) and Mickelson (1990 U.S. Amateur) won USGA titles at Cherry Hills.
It's little wonder why top players, who compete in A LOT of big-time events, put the U.S. Am in a special category, especially when it's being conducted at a historic course like Cherry Hills. The club, which turned a century old last year, has hosted five open-age men's majors (three U.S. Opens, two PGA Championships) and a couple on the women's side (a U.S. Women's Open and a Women's Western Open), plus the PGA Tour's BMW Championship in 2014.
The U.S. Am "is definitely up there," said Ford, who will be playing in the championship for the third time. "I believe it's not necessarily who has the best game that week — it's not who's playing the best golf — it's the guy who's ready for the big-time moment.
"Sam Bennett (in winning last year's U.S. Am, then finishing the low amateur at the 2023 Masters) is a perfect example. He was a guy who faced everybody who was top 30 in the world in match play last year. After every match you could tell he was ready for the next one. I played with him in May (at NCAA Regionals) and honestly his game was awesome — his short game was incredible — but there wasn't a time when I thought his golf game was better than mine or better than Gordon Sargent's. But he won the U.S. Am and we didn't. I think that speaks not only to the following the U.S. Am has — and how famous an event it is — but having to know how good you are. You can't just show up and expect to win if you don't know that you're good enough to win.
"It's less about the physical golf game at a U.S. Amateur, and more about who really wants to win the U.S. Amateur and mentally who's ready for the moment."
This will be the 10th USGA championship for Cherry Hills, the most of any club/course in Colorado. Previous U.S. Amateurs held in Colorado were 1959 and 1967 at The Broadmoor and 1990 and 2012 at Cherry Hills. Nicklaus's 1959 victory at The Broadmoor marked the first of his eight USGA championship titles.
"The names etched on the Havemeyer Trophy confirm the greatness of this championship," noted Ben Kimball, the USGA's senior director of the U.S. Amateur.
Does a host club's history of producing great champions matter for the 2023 contestants?
"It is cool, but I think it's only cool if you win," Ford said. "You don't say, 'I played where Arnold Palmer won at.' It would be way cooler to say, 'I won where Arnold won.' The only thing that would make it really special is winning."
As for other notable items regarding next month's U.S. Amateur, the oldest USGA championship: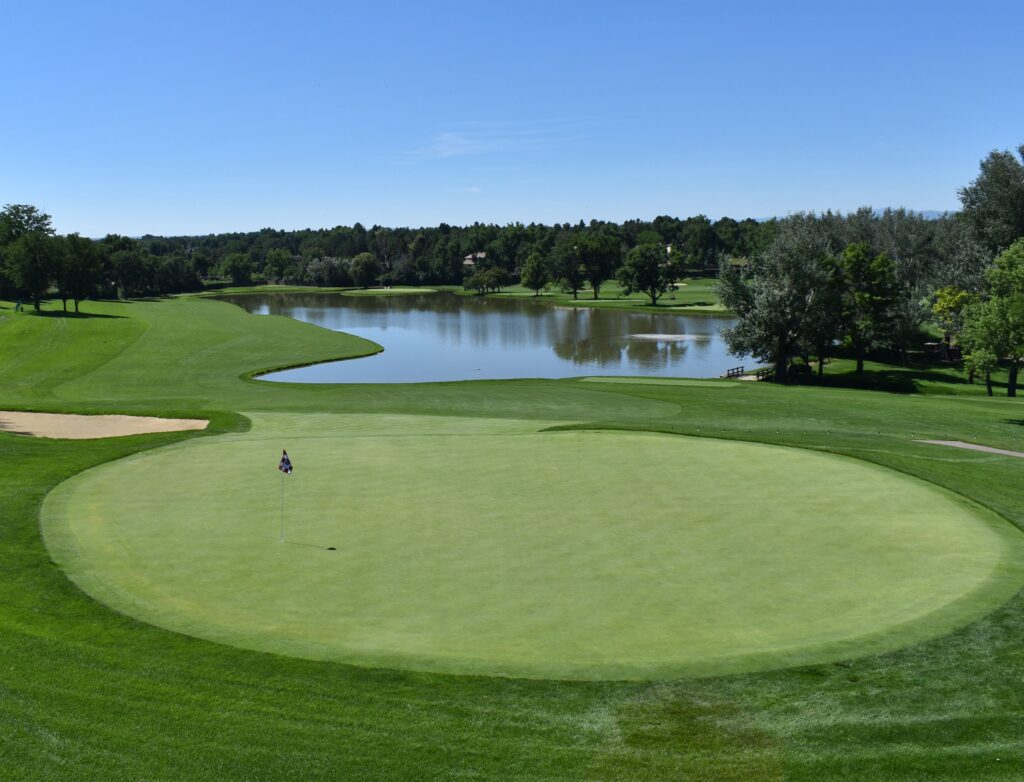 Plenty of memorable moments have been etched in golf history at the 18th hole at Cherry Hills.



— Course Plans: For the U.S. Am, Cherry Hills will be set up at 7,394 yards and play to a par-71. Colorado Golf Club in Parker, the second stroke-play course on Aug. 14 and 15 before the field is cut to the low 64 for match play, will play at 7,560 yards and to a par-72.
"We intend this to be the toughest test of golf these players will face all year — but not necessarily the hardest test," Kimball said. "(It will be) a total examination not only of the (contestants') playing ability, but their mental stability as well."
The USGA plans for green speeds to run in the 11-12s on the Stimpmeter, and rough heights to be at least 4 inches, with no intermediate rough planned. In other words, it'll be darn difficult for those who venture off the fairways with any regularity.
"If you miss these fairways — that maybe are a little wider — you should pay the price," Kimball said.
From a championship perspective, Cherry Hills is most well known for the 1960 U.S. Open, where Palmer won his only U.S. Open and Ben Hogan and Jack Nicklaus were very much in contention down the stretch. Trailing by seven going into the final round, Palmer drove the green on the 346-yard first hole and made birdie en route to shooting 65 and soaring up the leaderboard for the title.
Kimball said the Palmer tee on the first hole at Cherry Hills won't be used until the match-play portion of the championship begins on Aug. 16.
"You won't hit a shot from the Palmer tee unless you make match play, so work hard to make match play so you have that opportunity," Kimball said. "Why wouldn't we celebrate what happened in 1960 for all rounds of match play? It'll be a really exciting and entertaining hole to watch."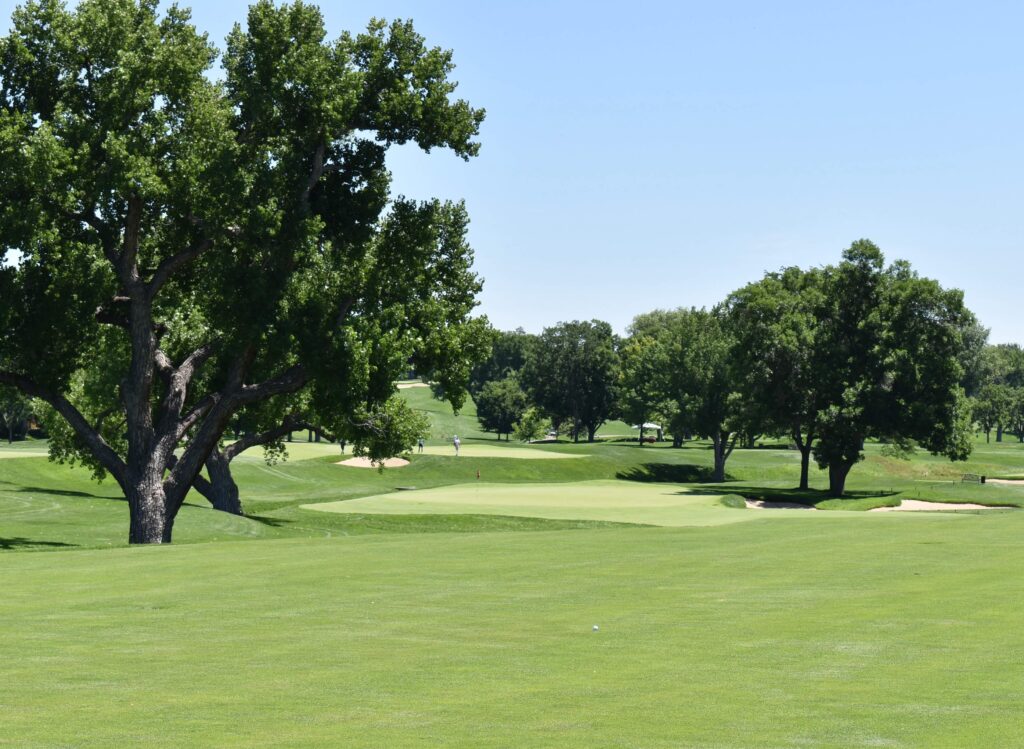 The 14th hole at Cherry Hills, with a creek meandering just left of the green, is a formidable test.



Since the last U.S. Amateur at Cherry Hills in 2012, the creek that meanders through the property has subtly been adjusted, most notably coming even more into play to the left of the green at the formidable par-4 14th hole, along with at Nos. 15-16. That tweaking been part of a restoration project on the William Flynn course that began in 2007, with Tom Doak and Eric Iverson handling the particulars.
As for Colorado Golf Club, since opening in 2006-07, the Bill Coore-Ben Crenshaw course has hosted the 2010 Senior PGA Championship, the 2013 Solheim Cup and the 2019 U.S. Mid-Amateur.
"There's one component that comes into play at every USGA golf course setup," Kimball said. "You won't ever read about it or hear about it, but the players will definitely feel it. The sheer pressure of winning a national championship will affect every decision and every swing a player makes down the stretch. We certainly can't predict or dictate when that pressure sets in, but I'm quite certain this Flynn design will have a hand in it."
Kimball is no stranger to setting up courses for USGA championships in Colorado, having done so for well over a decade.
"I feel like I spend most of my time in Colorado," he said. "When 2025 hits (and the U.S. Senior Open will be held again at The Broadmoor), that will be the third Open championship I've conducted at The Broadmoor, which is just hard to believe.
"I think I've conducted more USGA championships in Colorado than any other state. My wife was 5 months pregnant on the grounds here in 2012 (during the U.S. Amateur) and now I have a 10-year-old daughter, so it's really come full circle."
That gives Kimball plenty of experience on the unique aspects of conducting championships in the Centennial State — especially the mile-high altitude, the relative dryness, etc.
"We have to play a little more defense (with course setup) to Mother Nature here in Colorado than what we would have to do at sea level," he said. "Less humidity and we're that much closer to the sun. Both golf courses can firm up really, really quickly."


Local Competitors: Qualifying for the 2023 U.S. Amateur concluded on Tuesday, when the 95th qualifier was held at Collindale Golf Course in Fort Collins.
Roughly 10 players with strong Colorado connections have qualified to compete at Cherry Hills and Colorado Golf Club:
Colin Prater of Colorado Springs
Pat Grady of Westminster
Nick Nosewicz of Aurora
Jack Castiglia of Lakewood
Connor Jones of Westminster
Blake Trimble of Denver
Gavin Hagstrom of Fort Collins
CU golfer Dylan McDermott
Future CU golfer Brandon Knight
Future CU golfer Parker Paxton
It should be noted that since the 312-player field hasn't yet been finalized, there could be local additions.
"For the last couple years all I've wanted to do is play in this tournament so it means a lot," said Hagstrom, who will be competing close to home for his second U.S. Amateur.
After two seasons playing for Colorado State — as a teammate of Jones — Hagstrom is transferring to the University of Minnesota.
"I just wanted a fresh start," the 21-year-old Fossil Ridge High School graduate said. "I was kind of struggling with being from Fort Collins and staying in Fort Collins, so I think it will be good to just move away and start something new. Minnesota has two great coaches (Justin Smith and Robert Bell) that will not only make me a better player but a better person. And I know they'll support me no matter what."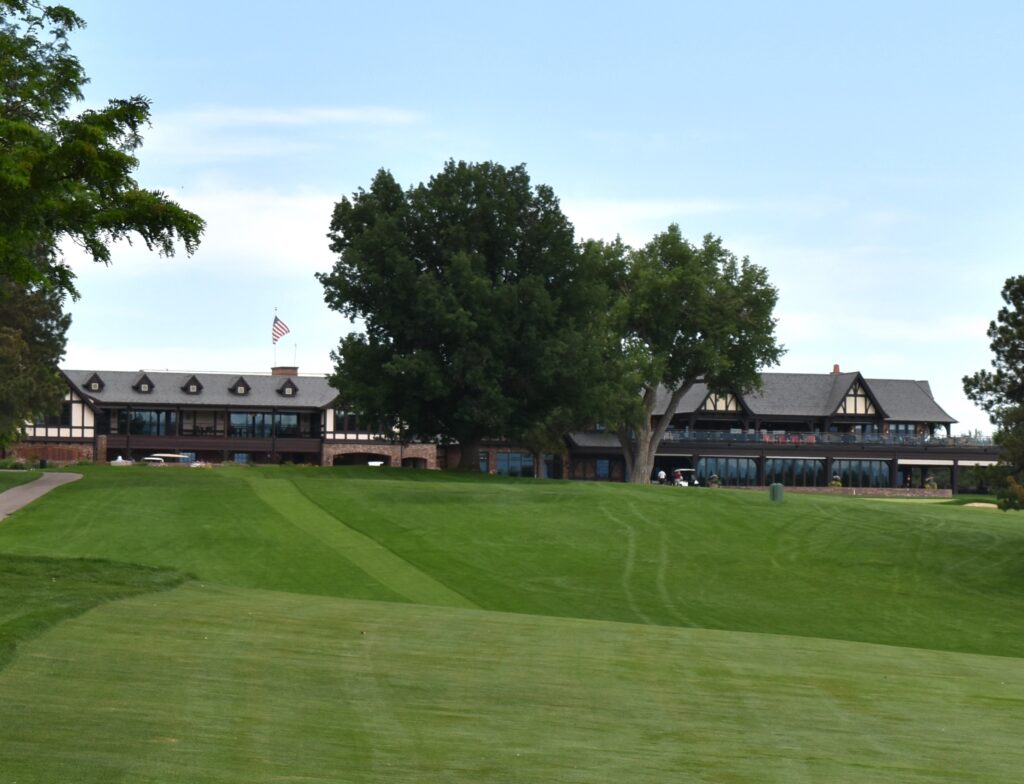 The clubhouse at Cherry Hills recently underwent an extensive renovation and expansion.



— U.S. Amateur Schedule:
Aug. 12-13: Practice rounds, Cherry Hills and Colorado Golf Club.
Aug. 14-15: Stroke play: one round each at Cherry Hills and Colorado Golf Club. Top 64 will advance to match play.
Aug. 16: Match play round of 64, Cherry Hills.
Aug. 17: Match play rounds of 32 and 16, Cherry Hills.
Aug. 18: Match play quarterfinals, Cherry Hills.
Aug. 19: Match play semifinals, Cherry Hills.
Aug. 20: Scheduled 36-hole championship match, Cherry Hills.


— Spoils of Winning: Among other things, the winner of the 2023 U.S. Amateur will receive:
— A spot in the 2024 U.S. Open
— A spot in the 2024 British Open
— A likely invitation to the 2024 Masters


— TV Schedule for U.S. Am (MT):
Aug. 16: 3-4 p.m. (Peacock) and 4-6 p.m. (Golf Channel)
Aug. 17: 4-5 p.m. (Peacock) and 5-7 p.m. (Golf Channel)
Aug. 18: 3-4 p.m. (Peacock) and 4-6 p.m. (Golf Channel)
Aug. 19: 1-2 p.m. (Golf Channel) and 2-4 p.m. (NBC)
Aug. 20: 1-2 p.m. (Golf Channel) and 2-4 p.m. (NBC)


— Junior Experience: During the U.S. Amateur, not only will kids age 17 and under get in free with a ticketed/credentialed adult, but they'll have an opportunity for much more. At Cherry Hills, juniors can receive free instruction on a golf simulator, use hitting bays, and participate in a chipping challenge and/or long putt challenge. Plus, there will be STEM and art activities. In addition, information will be on hand regarding the Evans Scholarship for caddies, the Colorado-based First Tee chapters, the Solich Caddie & Leadership Academy, the Palmer Scholarship, Youth on Course, Boys and Girls Club, the CGA, PGA Junior, PGA Reach and Colorado Uplift.
"During their time with us, the kids will receive lunch, tour the course and receive a nice gift bag," said Jim Hillary, general chair of the U.S. Amateur. "Over 1,000 kids have already registered for this Junior Experience. We hope to attract many more."
Hillary, by the way, is the father of 2019 Colorado girls player of the year Charlotte Hillary.
To register for the Junior Experience, CLICK HERE.


— Notable: Tickets for the U.S. Amateur ($25 per day/good any day or $100 for a five-pack/good any day) are available at USAmateur.com. Kids 17 and under are free when visiting the ticket office with a ticketed or credentialed adult to receive a hand stamp. … This year's U.S. Amateur drew a record number of entries — 8,253 — 333 more than the previous high, set in 1999 when Pebble Beach Golf Links hosted the championship.


About the Writer: Gary Baines has covered golf in Colorado continuously since 1983. He was a sports writer at the Daily Camera newspaper in Boulder, then the sports editor there, and has written regularly for ColoradoGolf.org since 2009. He was inducted into the Colorado Golf Hall of Fame in 2022. He owns and operates ColoradoGolfJournal.com