On eve of returning to PGA Tour, Nick Lindheim bids adieu to Korn Ferry Tour with victory in Ascendant at TPC Colorado; American closes with bogey-free 66
By Gary Baines – 7/16/2023
Nick Lindheim may not play a Korn Ferry Tour event again in the foreseeable future, but if it is a while — or never again — he certainly went out on a high note on Sunday.
Because he's nursing a problematic back, Lindheim was given a handful of "rehab" starts on the Korn Ferry Tour after earning his PGA Tour card last season through his play at the KFT Finals. This week, The Ascendant presented by Blue marked the last of those KFT starts and, sure enough, he finished with a victory at TPC Colorado in Berthoud.
It's the Floridian's third Korn Ferry win, but first since 2017.
"I think 38 years old, any other sport, that's pretty old," he said. "So it's satisfying to know that I still have good golf ahead of me. You do a lot of questioning in this game even when you are at the top of your game. I think with that being said, I feel like I've still got some more gas in the tank."
Lindheim will return to the PGA Tour next week at the Barracuda Championship in Truckee, Calif. It will be his 68th start on the PGA Tour, where he's had one top 10. He's played 126 tournaments on the Korn Ferry Tour, with his victories coming in 2016, '17 and '23.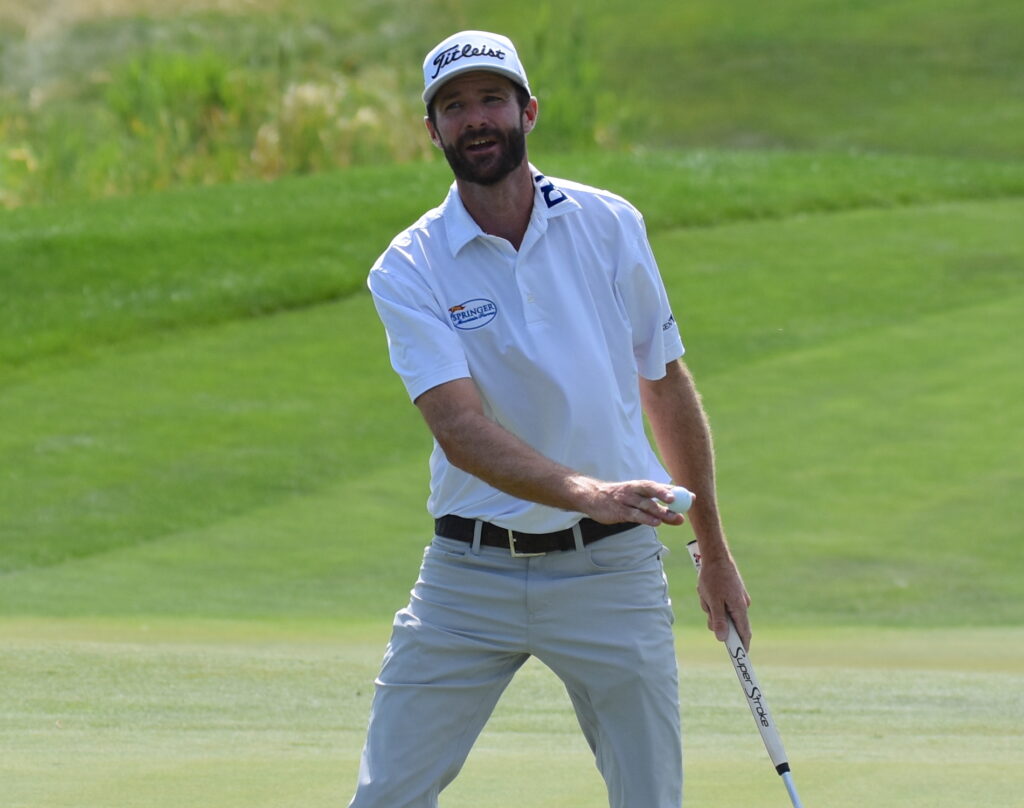 Lindheim proved unflappable on Sunday at TPC Colorado.



Sunday's performance marked a far cry from his condition as recently as late October, where his back was particularly painful.
"I was in Bermuda (at the PGA Tour stop) and I couldn't even walk so I thought I was going to need surgery for sure," he said. "With the help of my physical therapist and just really staying off of it was probably the most helpful thing. You just never know, you never know. When I took four months off from not playing at all, it's just, you can't ever predict the future."
Indeed, Lindhelm didn't play on either the PGA Tour or the Korn Ferry Tour from October until March. But in his five KFT starts beginning in the early spring, he's posted a victory, a third place, two eighths and a 27th.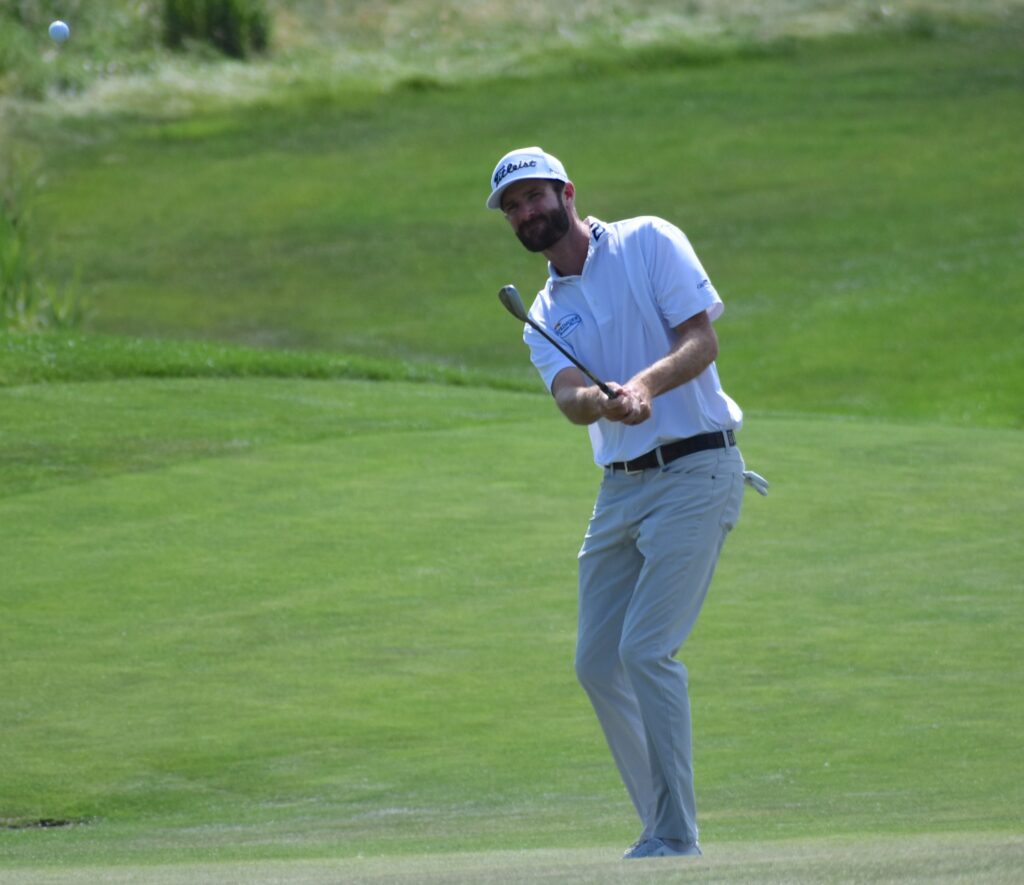 Lindheim pitches to the 14th green for an up-and-down par.



At TPC Colorado, Lindheim overtook fast-starting 54-hole leader Alejandro Tosti and cruised to a two-stroke victory. And, in the process, he set the tournament scoring record — by three strokes — with a 20-under-par total.
Lindheim was in the 60s every day — 66-67-69-66 — and he went bogey-free in Sunday's final round, where he didn't look at a leaderboard during the stretch run until just before tapping in for par on 18. For the week, Lindheim only had four bogeys at an 8,000-plus-yard course that is not easy. The biggest highlight on Sunday was a pitch in for eagle at the short par-4 third hole.
"I think it played a little softer on the greens than it has in past years," Lindheim said of TPC Colorado. "We played in really nice weather. I remember in past years we played in a little bit more wind. Granted, it's blowing a little bit, but not like it has before. I think those two things make a big difference" regarding scoring.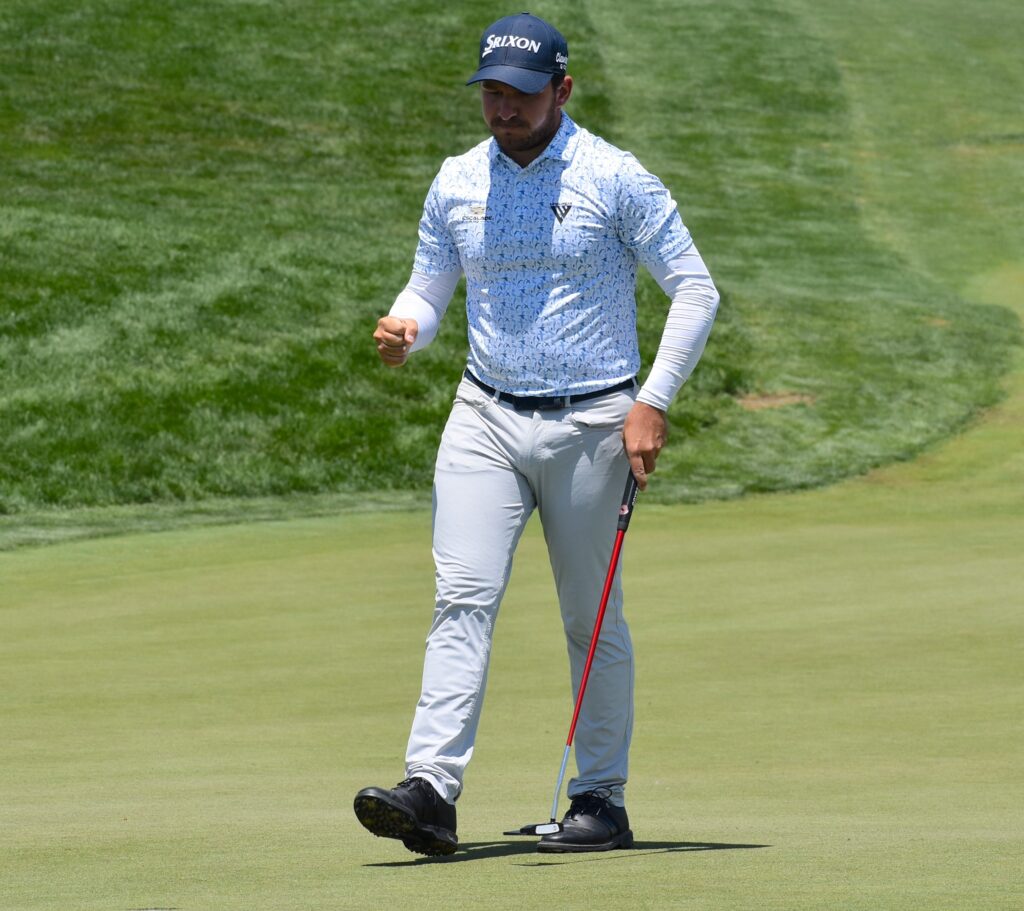 Alejandro Tosti led by 3 on the front nine before faltering in the middle of the day on Sunday.


Tosti at one point on Sunday looked like he was going to run away with the title as he birdied five of the first seven holes and led by three, standing at 20 under par. But a water ball on the par-3 eighth led to a double bogey, and derailed his momentum. In fact, he played holes 8 through 13 in 4 over par and finished in fourth place, four back of Lindheim.
Max Greyserman finished a Korn Ferry Tour career-best second on Sunday as he closed with a 66 to check in two behind Lindheim.
"Obviously, Nick played amazing," Greyserman said. "That's what you have to do on Sundays on this tour, so hats off to him. Hopefully that's me next time.
"But I like this course. If you hit good shots you're rewarded. If you hit bad shots, you're in thick rough and you get penalized. And it requires some creativity around the greens because of the slopes, so I like that aspect of it."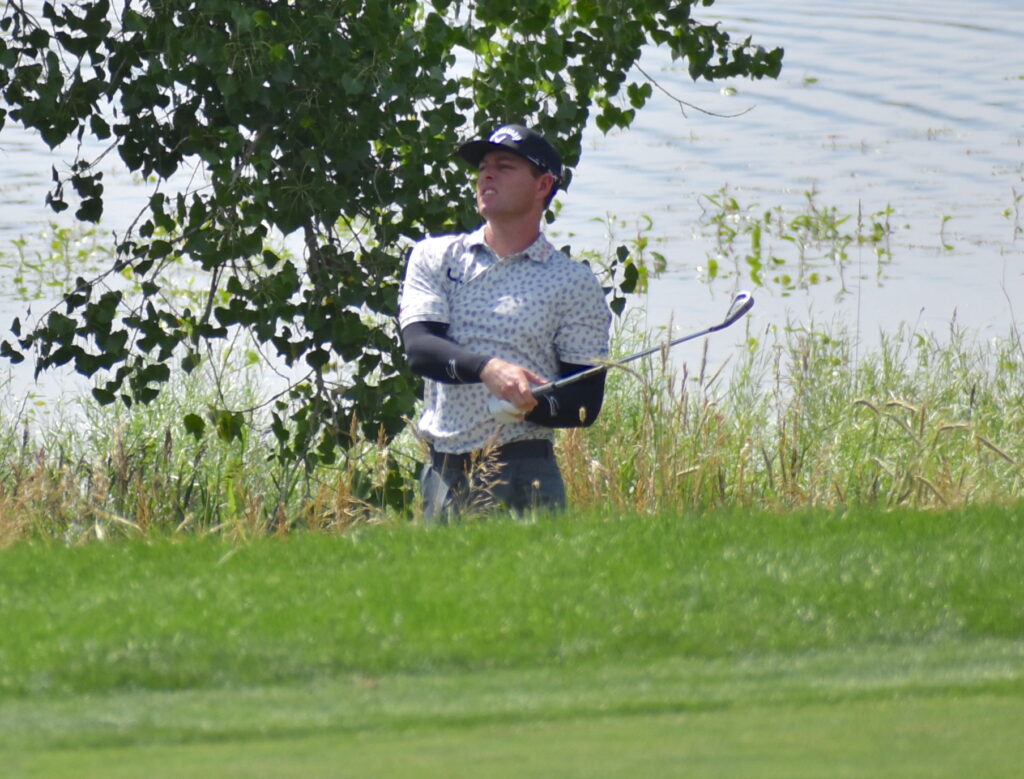 Sunday's runner-up showing was a career-best on the Korn Ferry Tour for Max Greyserman.


Parker Coody, one of two twin grandsons of 1971 Masters champion Charles Coody, came within a stroke of Lindheim with an 8-foot birdie on No. 15, but couldn't catch him down the stretch, ending up a KFT career-best third, a shot behind Greyserman. It's Coody's third top-five finish in the last two months.
With their showings, Tosti moved up to seventh place, Lindheim to eighth, Greyserman to 13th and Coody to 15th on the season-long points list. At season's end, the top 30 players on the KFT standings will earn 2024 PGA Tour cards.
Lindheim will be playing on the PGA Tour regardless for the rest of 2023 and in 2024, though the number of starts he gets is still up in the air as he'll eventually be on a medical extension.
But the fact that he'll go back to the PGA Tour after picking up another Korn Ferry victory left Lindheim one happy camper on Sunday. Besides the trophy, he earned $180,000 and will have Colorado and Wyoming-themed Adirondack chairs shipped to his house.
"I still am in shock," he said. "It will take me a couple days to unwind."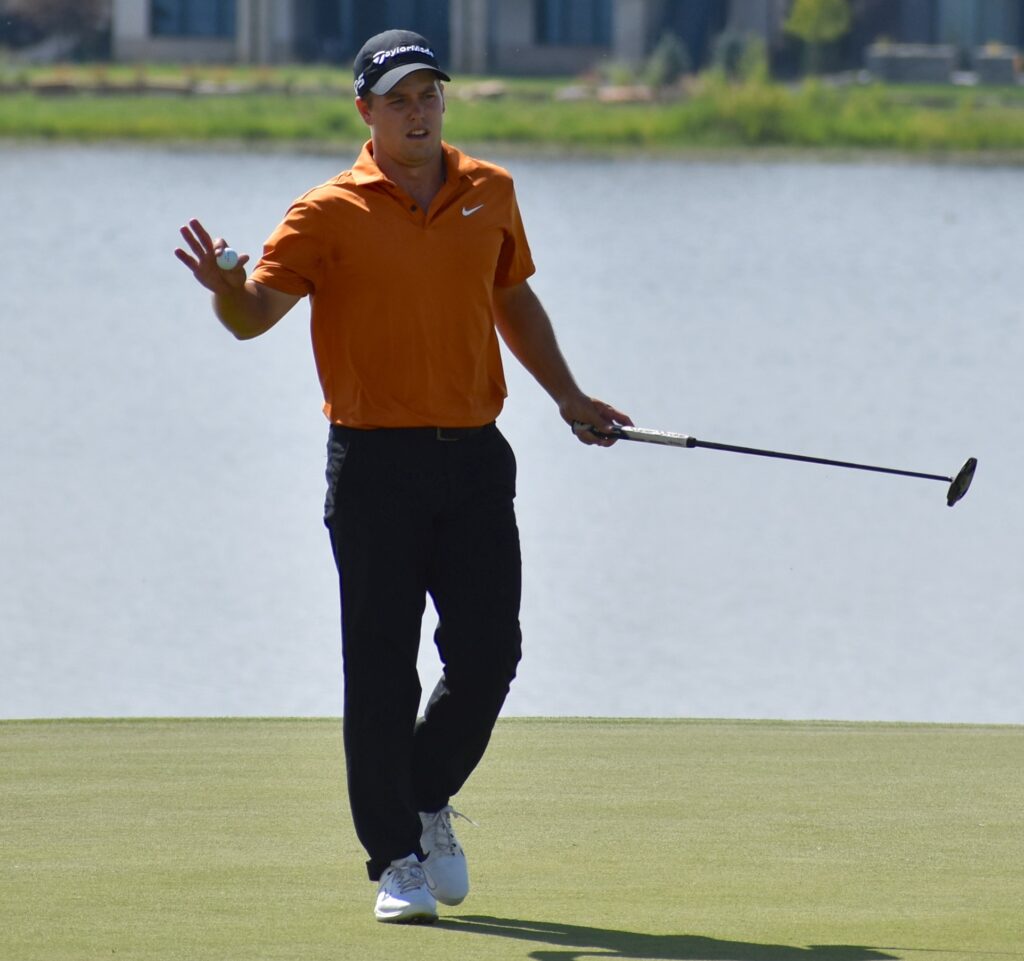 Parker Coody has posted three top-five finishes in the last two months on the Korn Ferry Tour.



Lindheim noted that a victory like Sunday's definitely means more because he shares it with his family.
"I want to do it for other people more than myself," he said. "I know that may not sound true, but it is. I mean, my kids and my family are the world to me. They put up a lot of fights and I just want to love them that much more. So this is really for them."
Regardless, after six years without a tour-level victory, the win at TPC Colorado was awfully nice on a variety of levels.
"It's satisfying (after) a lot of hard work," Lindheim said. "I mean, we all do it, but I've taken a lot of time away from golf with my injury to be with my family and I think that's really put me in a good place mentally. Just when I've played, I'm excited to be out here instead of just going week-in-and-week-out repetition, so I think that's really paid dividends."
Looking forward to going back on the PGA Tour, "I know I can play well at the biggest stage," Lindheim said. "The crowds out here this week (at TPC Colorado) are as big as a Tour event. That's probably one of my biggest things is the crowds and dealing with the pressure and just knowing that I can get it done."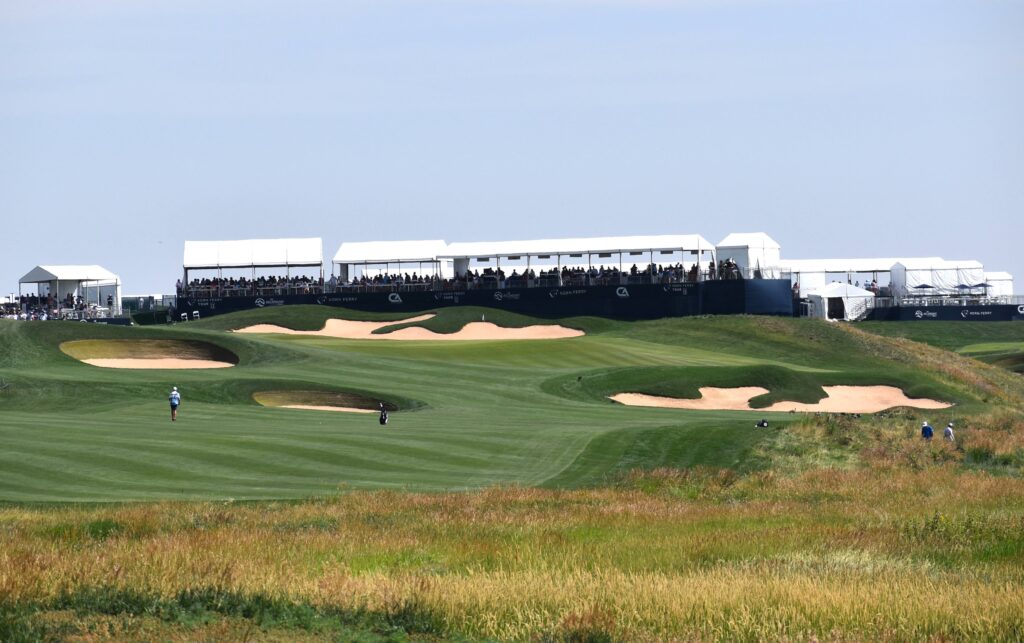 A pretty sizable crowd attended Sunday's final round at TPC Colorado.



Notable: William Mouw, who a year ago won the Trans-Miss Amateur at Denver Country Club, and 2022 Inspirato Colorado Open runner-up Rico Hoey were paired together for Sunday's final round. Mouw closed with a 69, leaving him at 6 under par overall, good for 25th place. That gives new new pro top-25 showings in each of his last four Korn Ferry Tour starts. Hoey, who has already locked up his 2024 PGA Tour card thanks to a stellar first half of the year on the Korn Ferry Tour, posted a 71 (-4 overall) en route to a 39th-place showing.
Local Scores: Here are the scores for the players with strong Colorado ties who competed in The Ascendant this week:
MISSED 36-HOLE CUT
Former Cheyenne resident and onetime CU golfer Josh Creel 71-73–144
Fort Collins resident Sam Saunders 71-74–145
Former CU golfer Jeremy Paul 71-74–145
Former Air Force Academy golfer Tom Whitney 71-74–145
Valor Christian and CSU grad Jake Staiano 74-76—150
Denver native and former CU golfer Jonathan Kaye 77-78–155
For all the scores from The Ascendant presented by Blue, CLICK HERE.

About the Writer: Gary Baines has covered golf in Colorado continuously since 1983. He was a sports writer at the Daily Camera newspaper in Boulder, then the sports editor there, and has written regularly for ColoradoGolf.org since 2009. He was inducted into the Colorado Golf Hall of Fame in 2022. He owns and operates ColoradoGolfJournal.com