Late surge nets former LPGA player Clariss Guce the Inspirato Colorado Women's Open title and $100,000; former CU golfer Brittany Fan had lead until costly 4-putt; Boulder's Kelsey Webster captures low-amateur honors
By Gary Baines – 6/3/2022
Clariss Guce was very particular about what she heard — and didn't hear — regarding where she stood on the leaderboard during Friday's final round of the Inspirato Colorado Women's Open. And, as it turned out, a little bit of mind games played by her amateur pro-am partner, Butch Carlson of Boulder, probably didn't hurt.
"It's a funny story," the 32-year-old pro from Artesia, Calif., relayed on Friday afternoon after she claimed victory at Green Valley Ranch Golf Club. "I had just birdied 14 and my pro-am partner Butch, he was glancing at the leaderboard (online). I asked him, 'How's it looking?' I was like, 'Don't tell me if I'm leading, but I just want to know how it's looking.' He said, 'You're in the hunt. You might need a couple of more birdies."
Actually, at the time Guce was ahead by two strokes.
"On 17, I made (another birdie) and did a big fist pump, thinking, 'Oh my gosh I'm back into it,'" Guce added. "Then on 18, I was like, 'Now I've got to know (how I stood) just in case I need to go for it (in two on the par-5 finishing hole). He's like, 'Oh you're up by five.' So I was like, 'Oh, OK.'
"It was a great week and I had a great playing partner. He kept things light. I was getting a little anxious there when I was going on a run, but he kept things light and made things easier. It's a week I'll always remember."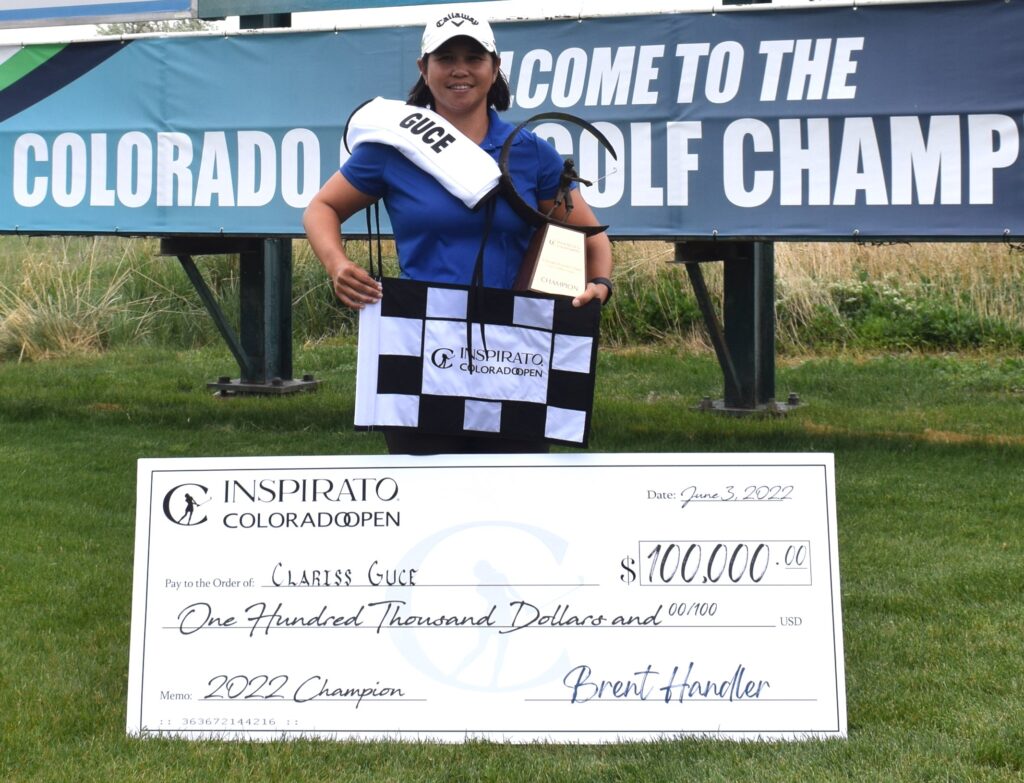 And why not? After all, it isn't every tournament that you win $100,000 — as Guce (pronounced Goose-EE) did on Friday. In fact, never before had she won nearly that amount in a single event as the Women's Open, with Inspirato coming on board as title sponsor this year, increased its first prize to match that of the men's Inspirato Colorado Open.
"It's definitely almost life changing because it is an enormous amount of money," Guce said. "That's a person's salary — a high salary. It's giving me a lot more leeway in terms of being a little bit more comfortable when I go back out on the Epson Tour. I'll also be able to save and afford a lot of things.
"I'll probably buy my parents something nice. Their anniversary is coming up in a couple of months. My dad always wants a new TV so I guess I'll buy him his TV. He's been wanting it since last Christmas. Other than that, I think I'll just save it. I don't know. I've never had that much money before. … It's enormous amount of money, which is such a privilege to play for."
And, for the record, Guce actually won $102,800 this week as she and Carlson captured the pro-am title as well — by two shots — with a 25-under-par total.
In the championship competition, despite trailing by two strokes as she walked up to the 12th green, Guce emerged with a five-stroke victory, matching the largest margin at a Colorado Women's Open since 2005. She played her final seven holes in 4 under par en route to a bogey-free 5-under 67 on Friday, which gave her a 14-under 202 total.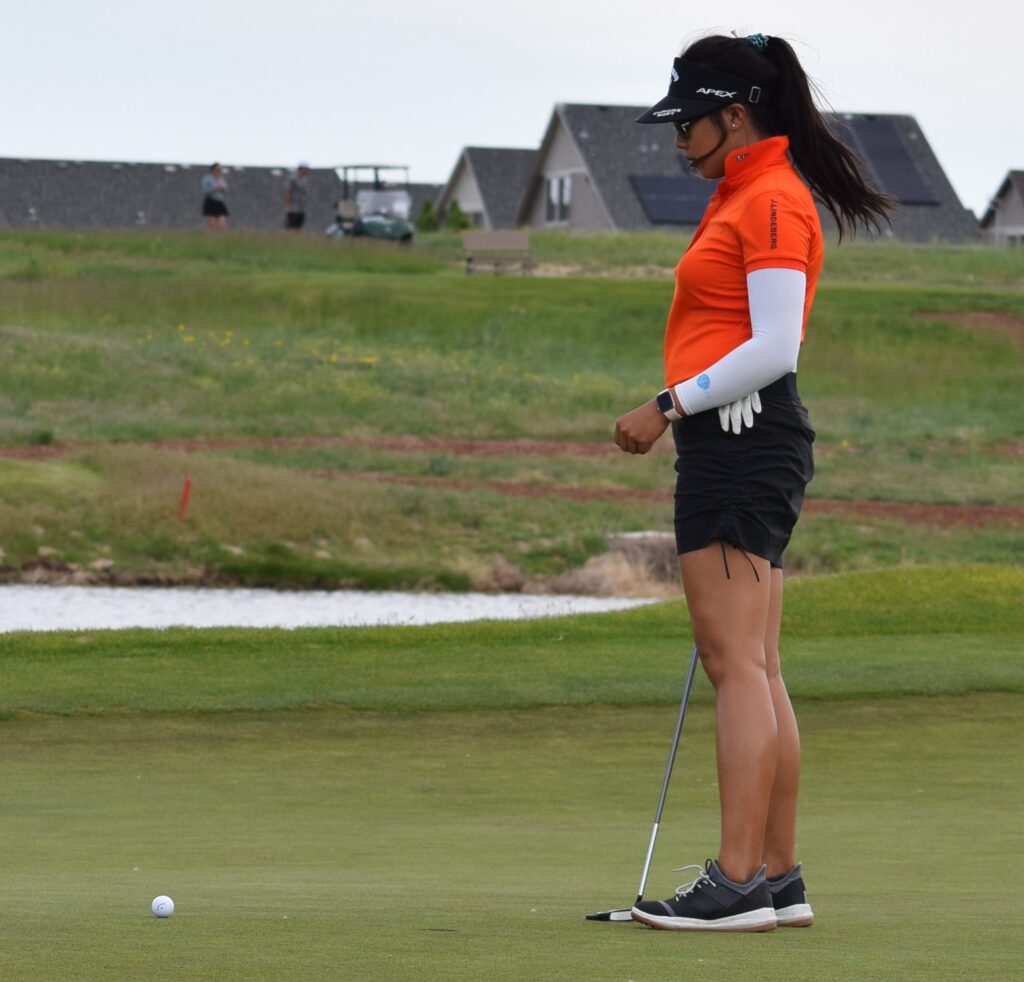 Former University of Colorado golfer Brittany Fan played her first 12 holes in 5 under par on Friday to take a two-stroke lead. But she was derailed by a four-putt double bogey on the par-3 13th hole, where she mis-fired twice inside of 4 feet. Just like that, she went from one ahead to one behind, and she'd never again regain the top spot.
"It kind of just seemed like a careless 1-foot tap-in that you miss," Fan said after the round. "It's not like I was rushing, but it kind of just slipped right over my head. From that point, I kept telling myself to shake it off and try to keep giving myself birdie opportunities, and they've got to drop. There were a couple that almost dropped, but you just can't make errors like that in the final round.
"It was an unfortunate slip-up."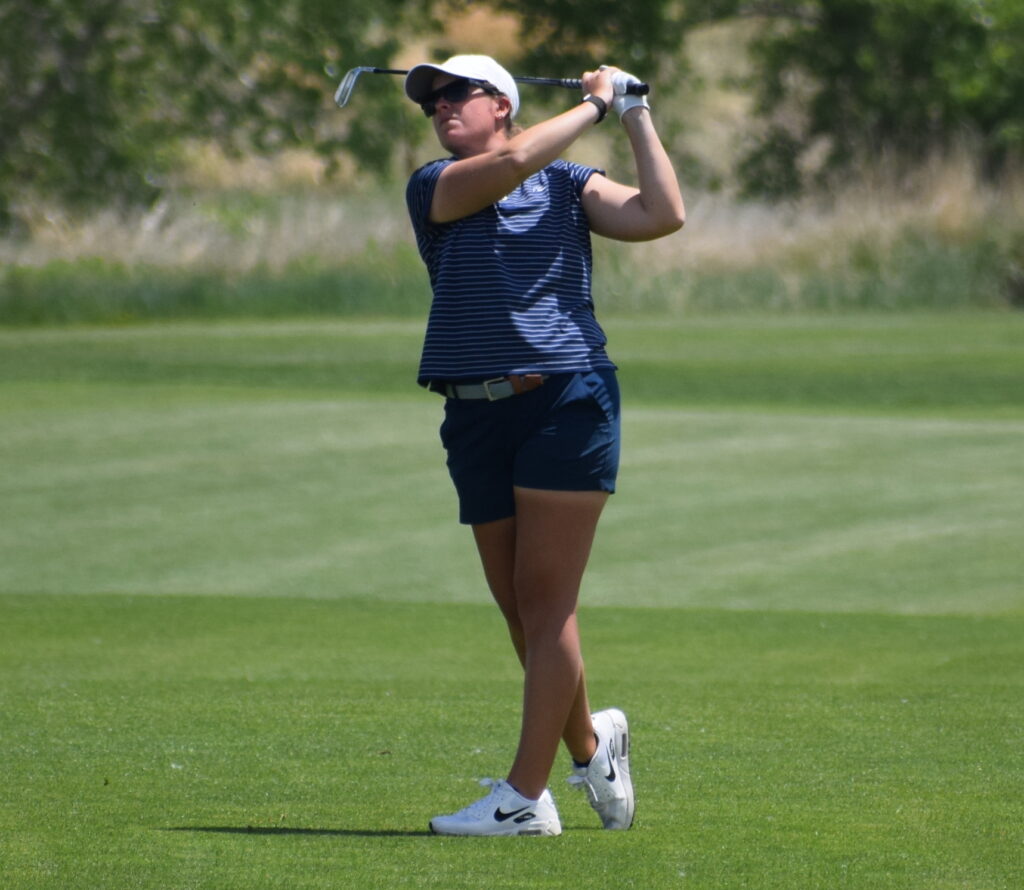 After such a stellar start on Friday, Fan played her final six holes in 3 over par. Her final-round 70 left her in a second-place tie at 207 with 2016 champion Lauren Coughlin of Charlottesville, Va., who closed with a 69. The two each earned $15,500 — not a bad payday, but a far cry from Guce's $100,000.
"I'm going to look at the positives and what can I take from this week moving forward," said Fan, who plays regularly on the Epson Tour. "I was striking the ball well and the putter felt really good in my hands. Hopefully I'll take that mojo to the next couple of events. It was definitely good to get that confidence boost."
Defending champion Savannah Vilaubi of Downey, Calif., came on strong after an opening-round 75 to tie for fourth place at 208 with Haley Moore from Escondido, Calif. Vilaubi went 66-67 in the final two rounds.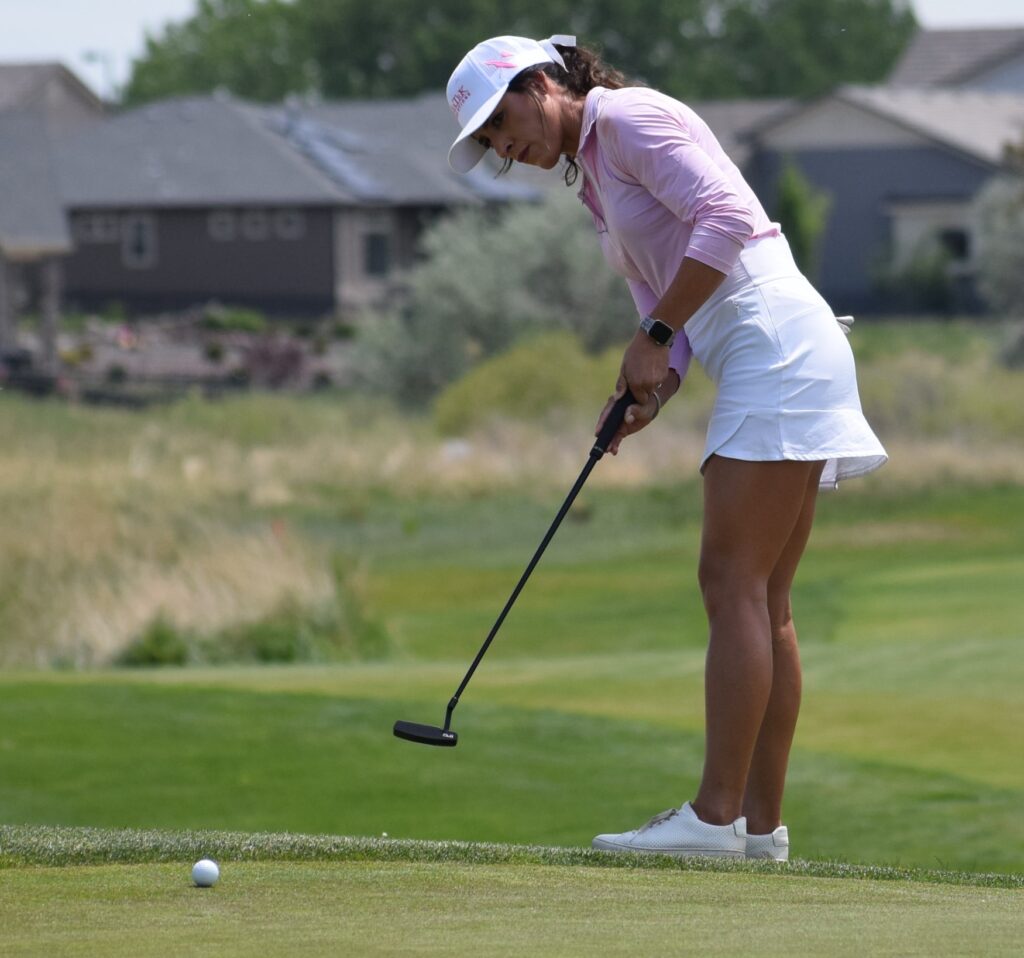 Amateur Kelsey Webster of Boulder was the top Colorado finisher, tying for sixth place at 210 with pro Brooke Matthews of Rogers, Okla. That earned Webster low-amateur honors (see more below).
Because of considerable midweek rain, competitors played lift, clean and place through all three rounds of the CWO.
Just when Fan four-putted, Guce put her rally into high gear. She birdied No. 12 from 6 feet, missed a 3-foot birdie try on No. 13, and carded birdies of 4 feet on 14, 7 feet on 15 and 20 feet on 17. In that stretch, she went from two behind to five ahead.
"The first time I played here (at the Colorado Women's Open) was 2015 and I lost in a playoff to Allison Emrey, a good friend of mine," Guce said. "So coming full circle and actually being able to win one is satisfying."
Guce said Friday's victory is her first in a tournament of this magnitude since she won twice in the summer of 2016 during her rookie season on the Symetra Tour, which has since become the Epson Tour. Guce went on to play the LPGA Tour basically full time in 2019.
"Every single win is special definitely," said Guce, who was born in the Philippines but has spent the great majority of her life in southern California, including playing college golf at Cal State Northridge. "This week is probably the best in terms of, I've been struggling ever since Covid started and have been working really hard since the last season was disappointing. I was getting close, but wasn't able to string together three good rounds. Now to be able to break through and string together some good rounds and win, hopefully it opens the floodgates for the rest of the season for me. I'm definitely excited about it and the progress I've made this year."
Coincidentally, Guce has a strong link to last year's Colorado Women's Open champion, Vilaubi. They played junior golf together in southern California, competed in the same conference in college, and now cross paths quite a bit on the Epson Tour.
"We've known each other since we were like 12 years old," Guce said. "She was the first one to greet me after I tapped in (for the win Friday). It's kind of a cool thing."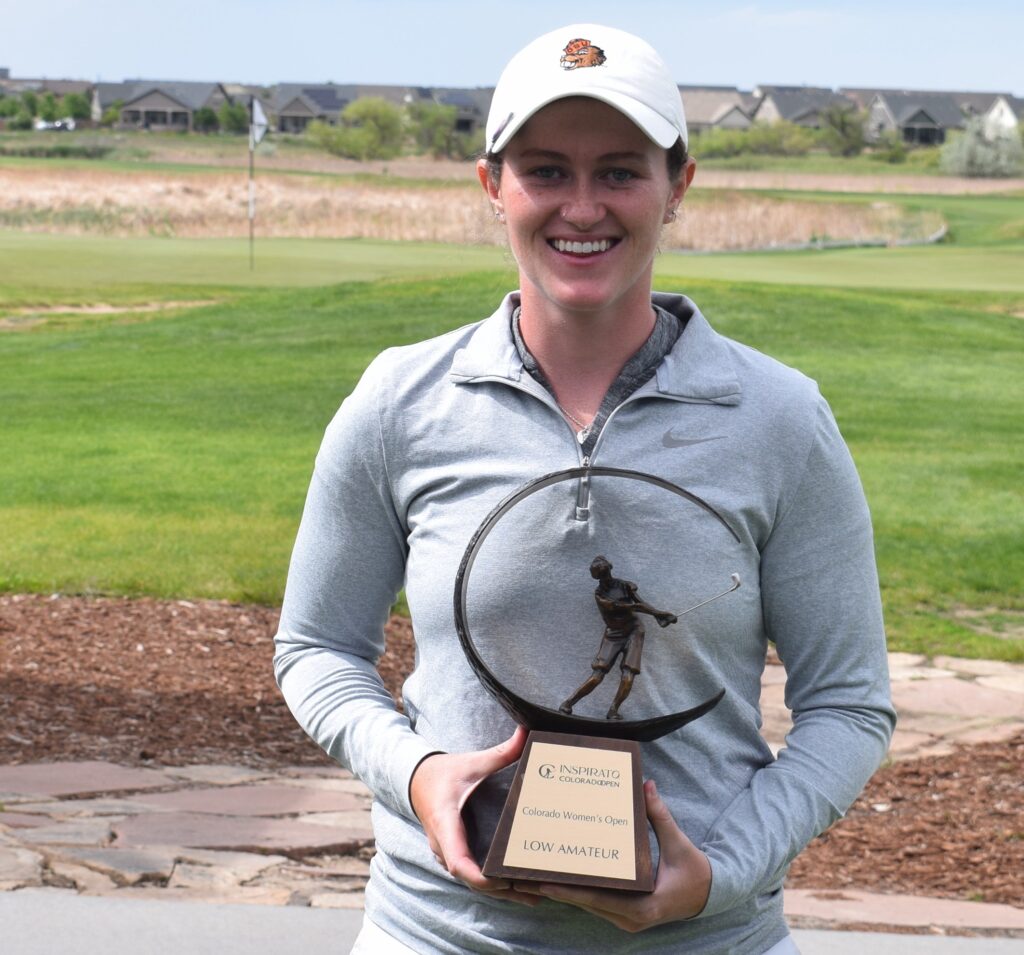 Breakthrough for Boulder's Kelsey Webster: When Kelsey Webster competed in her first Colorado Women's Open in 2016 as a high school golfer from Fairview in Boulder, she remembers seeing Jessica Dreesbeimdieke accepting the award for being the low amateur that year.
"I had always dreamed about being low-am," Webster said on Friday. "I remember six years ago specifically seeing the low-am prize being given and thinking, 'I want that to be me someday.'"
And so it came to pass, six years later.
Webster, who transferred last summer from the University of Colorado to Oregon State — where Colorado native Dawn Shockley is the head coach — joined Dreesbeimdieke, Jennifer Kupcho, Carol Flenniken, Paige MacKenzie, Becca Huffer, Jenny Coleman and plenty of other notables who have earned low-amateur honors at the CWO.
The 22-year-old tied for sixth place overall and prevailed by two over Utahn Tess Blair in the amateur competition. Webster went 72-68-70 for a 6-under-par 210 total.
"It feels incredible. It definitely means a lot," said Webster, who ranked this week as the No. 1 golf accomplishment of her career. "I've had a really good year with golf and this is an awesome way to cap that and look to one more year of (high-level competition). Knowing I had the low-am lead going into the last day and being able to pull it out, it's really big for me.
"Golf is frustrating about 98 percent of the time and it's a process. And the past few years have been hard. But I've been grateful for every bit of that process, including that time at CU-Boulder and now being able to go to Oregon State and see my game excel and see how far I've come in one year."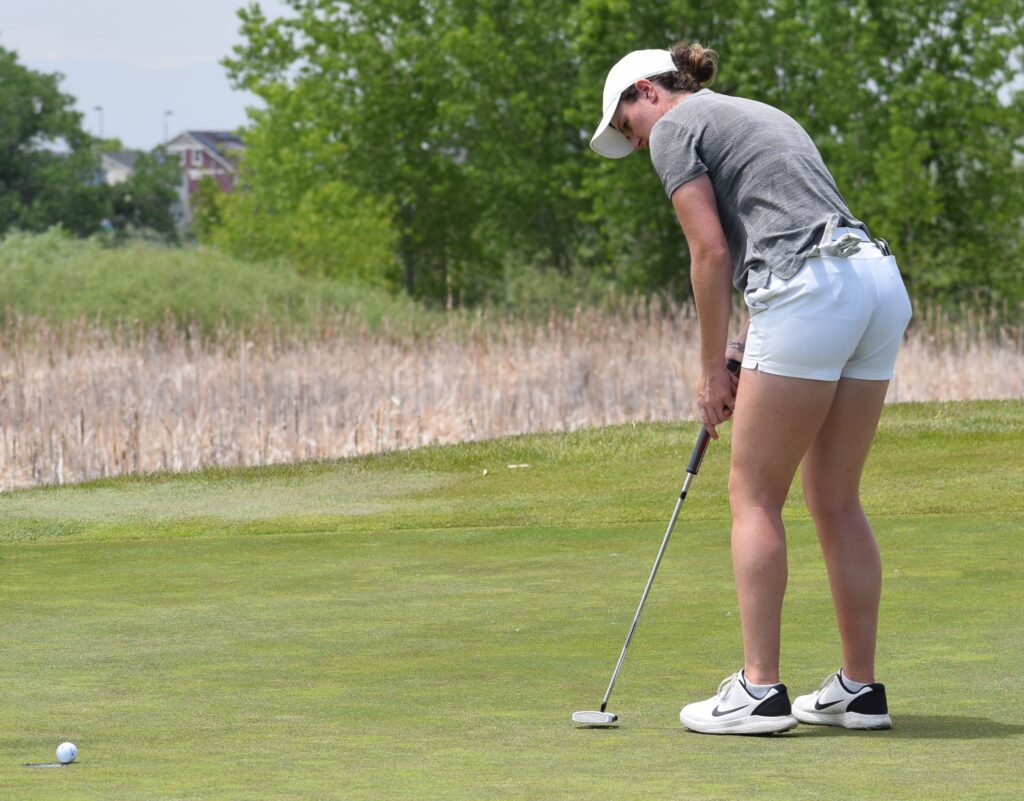 Back in 2016, Webster was paired with Lauren Coughlin in the early rounds when the pro went on to win the Colorado Women's Open. And this year, she again was paired with Coughlin — and for all three rounds.
"It was definitely good and comforting to be around people that I knew," Webster said. "Today felt like the same thing I was doing the past two days. I was trying to stay focused and patient just like I was the past two days. And my swing felt a lot better this third day than the first two days, when I scrambled really well."
Also helping Webster stay calmer on Friday was her caddie and girlfriend, University of Denver golfer Alyson Bean.
"It was awesome having her on the bag — an awesome comfort to have," Webster said. "She played a massive part in the win today in keeping me calm and having fun and not worrying too much."
In some ways, the Colorado Women's Open was a carryover of Webster's strong play during the college season as she tied for fifth in the Pac-12 Championship and posted three other top-20 finishes.

Notable: Two former University of Colorado golfers — besides Webster — finished in the top 10 overall on Friday as Fan was second with a 207 score and Robyn Choi was eighth at 211. … Two-time Colorado Women's Open champion Becca Huffer of Monument had another strong showing in the tournament as she tied for 11th place at 212. Since 2008, Huffer owns two victories, thee second-place finishes and a ninth at the CWO. … Gerina Mendoza (Piller), owner of 40 top-10 finishes in her LPGA career, followed up her opening-round 74 with scores of 69-70 to place 14th at 3 under par.

For all the scores from the Colorado Women's Open, CLICK HERE.