Promotion gives former CGA staffer Pete Lis his 'dream' job as PGA Tour rules official
By Gary Baines – 2/8/2021
Eighteen years ago this month, Pete Lis began working for the CGA — as a USGA P.J. Boatwright Intern. It was a fine job for a 22-year-old who had golf in his blood.
Using a decade at the CGA as a career launching pad, Lis recently started another job, one that has made a dream come true.
Where a decade ago Lis might have been overseeing any of a myriad of CGA championships or USGA qualifiers in Colorado, so far this year he's worked tournaments at Kapalua and Waialae in Hawaii, Torrey Pines in San Diego and last week at TPC Scottsdale.
Such is the life of a PGA Tour rules official.
Lis, the CGA's director of rules and competitions from 2006 to 2013, has truly hit the big time in the world of golf rules officials. Since Jan. 1, he's been one of just 16 people who serve in that role on the PGA Tour.
And, as you might expect, he's pretty darn excited about it.
"It's very difficult to put into words," Lis said in a phone interview with ColoradoGolf.org last week. "It's been a dream come true. It's kind of interesting: Feb. 3rd, 2003 — exactly 18 years to the day (as of last week) — I started at the Colorado Golf Association as an intern, which is kind of cool.
"I told (executive director) Ed Mate right from the start that this was something I wanted to do. I wanted to be working with the best players in the world (and) with the best staff in the world on a daily basis at the highest level of golf. For that to happen, it seems like it was a short time, but it was a lot of work, a lot of getting to know people and meeting people and learning from a lot of very knowledgeable people in the game, and taking that and applying it and here I am. There are so many people who have helped me get to here in this 20-year period. It's a dream come true."
Lis didn't tell many people outside his immediate circle about the promotion — which came after working on the Korn Ferry Tour for two seasons — but those who didn't know may have found out eight days ago if they were watching golf on TV.
On Sunday of the Farmer's Insurance Open at Torrey Pines in San Diego, Lis was called in for a ruling during the back nine of the final round. Viktor Hovland was just a stroke out of the lead at the time, but he pulled his second shot on the par-4 14th hole into the penalty area left of the green.
Hovland was taking a drop just inside the red line, but on a slope, so after two drops and his ball rolling into the penalty area both times, he had to place it, and wanted to get things right. Lis' assistance was pretty straightforward, but, given that Hovland was in contention, it took place with CBS cameras rolling.
Apparently, viewers took notice, including some in Colorado.
"After the Viktor Hovland ruling, by the time I got back to my cart I had 10 text messages on my phone," Lis said. "So it's definitely a little different. Everybody has been so supportive of me throughout my career. All the notes that I received congratulating me knowing that this was something that was a dream come true … a lot of people have mentioned that to me. All my close friends have known that this is something I've wanted to do for a long time, so obviously everybody is very happy for me."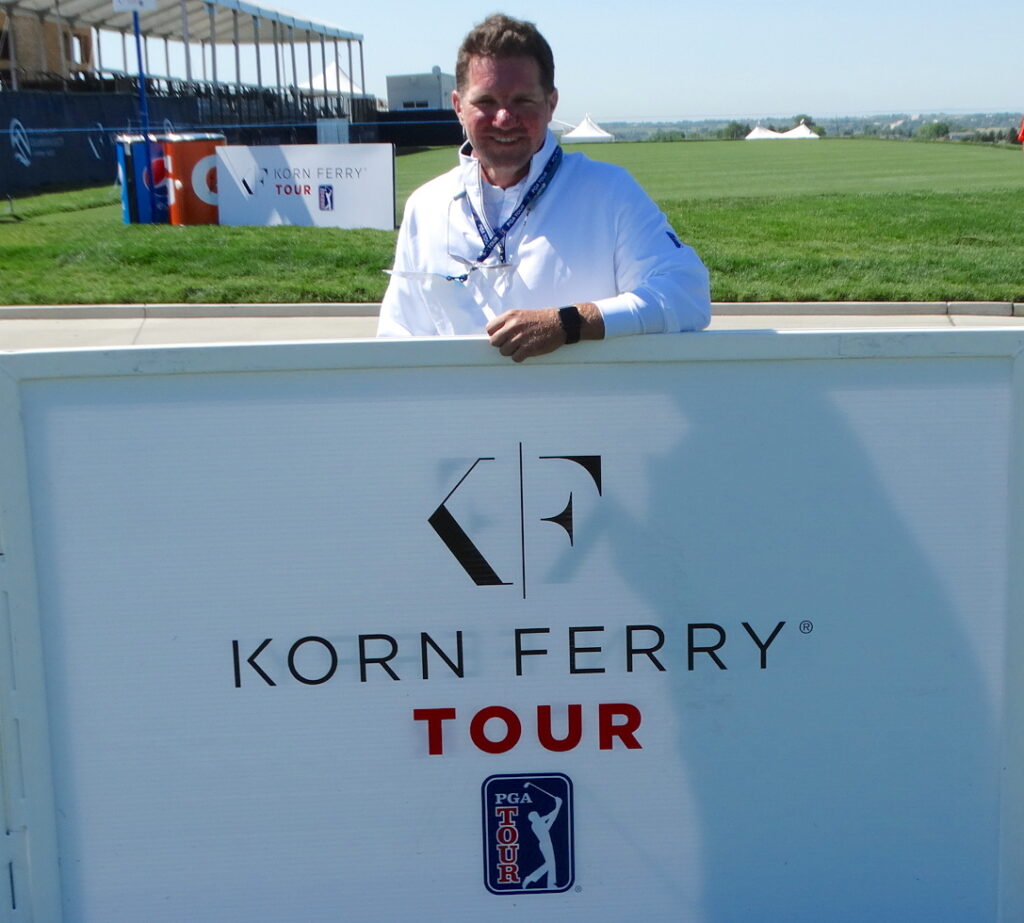 Indeed, Lis has been building toward this for quite a while. There was his decade at the CGA, six years as a rules official on the LPGA Tour, then about 21 months in the same job on the Korn Ferry Tour, which is owned and operated by the PGA Tour and which serves as a feeder circuit.
One of the reasons Lis was able to be promoted so quickly since joining the PGA Tour "family" was that four veteran rules officials — including two of the most well known — retired, or are on the process of retiring, at roughly the same time.
Slugger White and Mark Russell, officially vice presidents of competitions, are bowing out after roughly 80 combined years as rules officials on the PGA Tour. White will work about 10 tournaments in 2021 as part of the transition, while Russell will serve as a consultant.
Also retiring are rules officials Dillard Pruitt and John Lillvis.
Given the losses, three officials were promoted from the Korn Ferry Tour to the big leagues: Lis, Mike Peterson and Jordan Harris. Meanwhile, Gary Young becomes the head of rules and tournaments administration. (Feb. 11 Update: Mate noted that Peterson served as a Colorado PGA intern during the 1990s.)
"I was first tuned into (the changes) in October" at the PGA Tour's Bermuda Championship, Lis said. "That's when I was asked if I wanted to come over to the PGA Tour staff full time, and obviously it was a no-brainer decision. I officially started Jan. 1."
Essentially, Lis joined the PGA Tour staff about 21 months after becoming a Korn Ferry rules official, a period during which he helped out at a handful of PGA Tour events. So did he expect a promotion to be a possibility so soon after he went from the LPGA to the Korn Ferry?
"Definitely not this quick," said Lis, who turned 40 in August. "I figured I'd be out (on the Korn Ferry Tour) for a few more years just getting to know some of the guys and learning some of the processes of the PGA Tour and the differences. But obviously I'm excited that it happened this quick. I didn't think it would be in a year and a half or just shy of two years.
"I didn't really tell a whole lot of people (about the promotion); it wasn't something I broadcasted. I think there was an article that announced Mark and Slugger's retirement and my name was a small footnote at the bottom of that. When people read that, my phone started lighting up a little bit more."
While there are many good golf rules officials, even during his time at the CGA Lis demonstrated he may have what it takes to advance to another level. Of course, he has the Rules of Golf down pat. In fact, during his time with the LPGA Tour, Lis served on the prestigious USGA Rules of Golf Committee from January 2017 until April 2019 — during a key period of rules modernization in the game.
When Lis received the job at the LPGA in 2013, Dustin Jensen, a CGA staffer at the same time as Lis and now a vice president for student affairs and dean of students at the University of Jamestown in North Dakota, recounted an amusing anecdote.
When Lis and Jensen first worked for the CGA, they shared an apartment.
"He was a diehard about the Rules of Golf," Jensen said of Lis. "He sat out on the patio at our apartment and was reading the original Rules of Golf or a book like that and happened to fall asleep. He was catching a suntan and had his shirt off. He fell asleep with the book laying on his stomach, and he ended up having the outline of the book burned into his stomach. We thought that was pretty funny. He loved the Rules of Golf to the point that he would burn them into his chest."
And Lis has never shied away from making tough calls as a rules official. In fact, at the 2011 CGA Public Links Championship, he assessed slow-play penalties to two competitors, one of which would have been in a playoff if not for the stroke he had to add to his final-round score. He also once penalized a defending champion at the Colorado Open.
Lis is "as good as I've ever seen in a Rules situation — and I mean that," Mate said in 2013 as Lis was departing the association's staff. "He's like a five-tool athlete; he can do it all. He understands the Rules and the principles behind them. He's a people person and he works well in a group. And he's level-headed."
Lis came to the CGA for his Boatwright internship after being an assistant golf professional in Massachusetts. Following a year as an intern, late in 2004 he joined the CGA's full-time staff as assistant director of course rating and handicapping, a post he held until 2006. Then he took took over the rules and competitions job he held for seven years.
And now, less than eight years after departing the CGA, Lis is making rulings for the most prominent golfers in the world.
"It's something I've known I wanted to do since I started at the CGA," he said. "As I said, I didn't think it would happen this quickly, but it was always in the back of my mind as a goal I had in my career."
In his "rookie year" on the PGA Tour, Lis said he will be on duty for 28 weeks inn 2021, working 24 events and also serving as an advance rules official for four of those. When "advancing" an event, he arrives a week prior to tournament week to finalize course set-up/marking and work with tournament staff on structure locations etc., and with agronomists.
Next up — after being at home this week in Wilmington, N.C. — Lis will spend two weeks at the Puerto Rico Open, being an advance official then working the tournament Feb. 25-28.
As noted, Lis was part of the officiating crew that worked the Farmers Insurance Open in San Diego in late January. That, of course, is where Patrick Reed won a day after taking a controversial free drop on the 10th hole. There, Reed marked and picked up his ball in the rough before calling in a rules official, thinking the ball might be embedded. Though Reed indicated he didn't know it at the time, the ball had taken a short bounce before coming to rest.
The ensuing brouhaha caused the rules officials to be more in the spotlight than usual as official Brad Fabel was left to make a ruling after Reed had already picked up the ball and set it aside.
"I think we try to not pay a whole lot of attention to what's going on outside the ropes," in this case regarding the social-media firestorm that ensued regarding Reed, Lis said. Generally speaking, "we'll all get together and evaluate a ruling itself. If we make a mistake, we learn from it. On the particular case of Patrick, I don't want to comment a whole lot on it other than (to say) he did everything he was entitled to do under the Rules of Golf. We all know that internally. It doesn't wear on us. We've all had a high-profile ruling in same way, shape or form throughout our career. We put it behind us. It was just another player on the golf course, so we're on to the next week in great spirits."
As for Lis personally, as noted he also received some TV air time at the Farmers with the Sunday ruling assistance he gave Hovland.
"I think now I don't even really notice the cameras," he said. "When I first started on the LPGA — the LPGA has a lot of televised events — that was definitely a little stressful. All of a sudden when you see this camera in your face and you're dealing with a player, at first you get a little nervous for sure. But now I don't even really notice the camera is there; I'm just focusing on what the player needs, so I tune all that (other stuff) out. In the back of my mind I know most likely there's a camera on me. But a lot of the time there's a camera on you and (the footage) is not even shown. That's (part of the reason why) it doesn't even faze me anymore."
Of course, such pressure-packed situations come with the territory when working for the most prominent golf tour on Earth. But rules officials also get a fair amount of time away from the circuit, so Lis spends almost half the year in his adopted hometown of Wilmington.
Lis married former CWGA staffer Kelley Mawhinney in October 2019 and both play their fair share of golf these days in Wilmington when the opportunity presents itself.
"We joined a club, so she is playing a heck of a lot more golf, which is good," Lis said of Kelley, who does work for a non-profit organization.
Asked how much he gets to tee it up personally, Lis said, "I'm not going to tell you how many rounds I've played because I don't know if that needs to be public, but it's quite a few." Lis owns a USGA Handicap Index of 1.7.